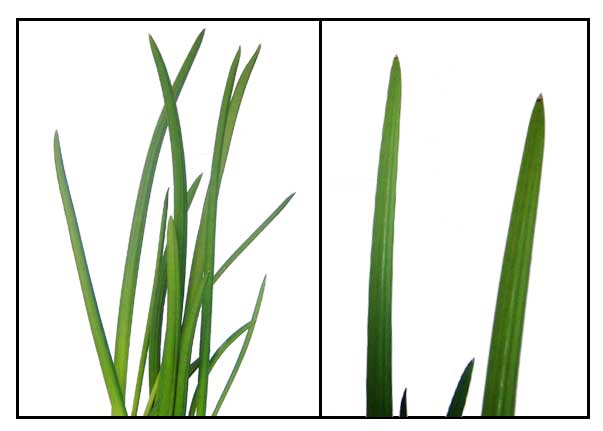 Botanical snippet
- Genus "Sansevieria" was named after Count Pietro Sanseverino of Naples, Italy. He was a patron of horticulture in the late 1700s. "Cylindrica" refers to the rigid and cylindrical leaves.
Botany
Espada is a cylindrical, succulent perennial herb. Leaves are are green, swordlike, cylindrical and rigid, furrowed or grooved along its entire length, with pointed tips, sometimes with a dark green striped pattern, growing to a height of 2 feet or more, up to about 3 centimeters thick. Flowers are very small, white, fragrant, and crowded in small inflorescences (cymes), greenish or tinged with red, blooming once a year.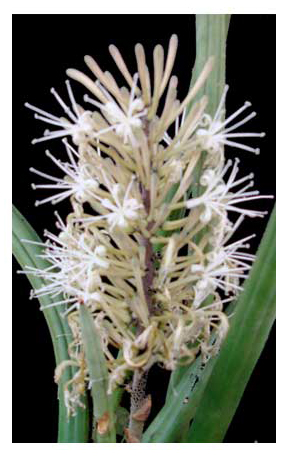 Distribution
- Recently introduced to the Philippines.
- Planted as an ornamental.
- Native to Nepal and South Africa.
Constituents
- Microstructural analysis of leaves of S. cylindrica showed the presence of structural fibers and arch fibers. (4)
- Study yielded three steroidal saponins from aerial parts.
- Study of methanol extract of aerial parts isolated a new steroidal saponin, β-hydroxy-kryptogenin-1-O-α-l-rhamnopyranosyl-(1 → 2)-α-l-arabinopyranoside (1), a new homoisoflavanone, (3S)-3,7-dihydroxy-8-methoxy-3-(3′,4′-methylenedioxybenzyl) chroman-4-one (2) and the known saponin alliospiroside A (3). (see study below) (8)
- Phytochemical screening of leaves yielded steroids, flavonoids, saponins, tannins, and phenolic acids. (see study below) (9)
- Study of aerial parts isolated a new dihydrochalcone (1) and two new steroidal saponins (2 and 3), along with three known steroidal saponins (4-6). (see study below) (10)
- Proximate analysis of air-dried nonflowering aerial parts yielded a moisture content of 7.52%, total ash 9.83%, water soluble ash of 2.94$, acid-insoluble ash 3.42%, crude fiber content of 13.43%, and methanolic extractive value of 35%. Phytochemical screening of extract yielded sterols, carbohydrates and/or glycosides, flavonoids, coumarins and saponins. Total phenolic content was 4.82 mg GAE/g, and total flavonoid content was 5.13 mg QE/g d.w. (see study below) (11)
Properties
- Study of Sansevieria cylindrica showed the flexural modulus of Sansevieria cylindrica fiber composite is much higher than those of jute or silk fiber composites. (see study below) (3)
- Considered diuretic, laxative, anthelmintic, anti-rheumatic.

Parts utilized
- Leaves, tubers.
Uses
Folkloric
- No known folkloric medicinal use in the Philippines.
- Used as anthelmintic, laxative, and diuretic.
- In Myanmar, used for dysentery and diarrhea. (6)
- In Sri Lanka, used for snake bites, dental caries, headache.

Studies
• Steroidal Saponin / Inhibition of Capillary Permeability: Study yielded a new steroidal saponin from the leaves of Sansevieria cylindrica. The saponin showed no haemolytic effects in the in vitro assays and demonstrated inhibition of the capillary permeability activity. (1)
• Air Cleaning Plant: Sansevieria species are believed to have air purifying properties, removing indoor toxins like formaldehyde, trichlorethylene, benzene, xylene, toluene.
• Natural Fiber / Potential Commercial Applications: Study evaluated the tensile, flexural and dielectric properties of composites made by reinforcing Sansevieria cylindrica as a new natural fiber into a rubber based polyester matrix. Results showed Sansevieria cylindrica with a unique dielectric strength with potential for electrical insulation applications, in addition to fabrication of lightweight materials in automobile building, packaging industry, partition panes, etc. (3)
• Hybrid Fibers: Study reports on use of hybrid fibers such as Sansevieria cylindrica and tamarind fruit fibers to reinforce the epoxy matrix on mechanical and thermal properties. Epoxy filled with Tf and Sc showed remarkable improved in flexural strength and modulus. Hybrid reinforcement of filler in polymer shows significant improvement in dielectric strength of composites. (4)
• Antitrypanosmoal Activity:Study showed antitrypanosomal activity against T. evansi with IC50 (µg/ml) of 208.6±29.5. (6)
• Antibacterial: Extracts of S. cylindrica showed good antibacterial potential against Staphylococcus aureus, S. epidermis and S. pyogenes and against gram-negative bacteria viz. Salmonella spp. and Shigella dysenteriae. (7)
• Radical Scavenging Activity: Study of aerial parts yielded a new steroidal saponin (1) , a new homoisoflavanone (2), and the known saponin alliospiroside A (3). Compound 2 exhibited radical scavenging activity comparable to ascorbic acid. (see constituents above) (8)
• Antioxidant / Antidiabetic / Leaves: An ethanol extract and its methanol fraction of S. cylindrica leaves showed significant antioxidant and antidiabetic activities. The methanol fraction showed maximum phenolic content. The ethanol extract showed 80.5% inhibition of of DPPH radicals at 100 µg/mL concentration. The methanol fraction exhibited 57.9% inhibition of glucose-6-phosphatase enzymes at 100 µM concentration. (9)
• Cytotoxic Dihydrochalcone and Steroidal Saponins / Aerial Parts: Study of aerial parts isolated a new dihydrochalcone (1) and two new steroidal saponins (2 and 3), along with three known steroidal saponins (4-6). The compounds were assayed for cytotoxicity against three human tumor cell lines HT116, MCF7, and HepG2. Compound 1 showed cytotoxicity against MCF7. Compounds 1, 3, and 6 showed moderate cytotoxicity against the three cell lines while compound 66 showed marked cytotoxicities against all tested cell lines. (10)
• Antioxidant / Anti-Inflammatory / Antiulcer / Aerial Parts: Study of air-dried non-flowering aerial parts showed no toxicity up to 1 g/kbw. Methanolic extract showed significant central and peripheral analgesic effect. On carrageenan-induced rat paw edema assay, the extract showed inhibition but lower than reference drug indomethacin. In the ulcer model induced by indomethacin, there was significant protection against ulcer formation. In thioacetamide-induced acute hepatopathic encepalopathy model, extract treated rats showed significant improvement in plasma AST and ALT. (see constituents above) (11)
• Textile Properties of S. cylindrica: Study reports on the spinning of S. cylindrica fiber to determine the physical properties of blended S. cylindrica yarn in terms of breaking force, actual blend ratio, yarn and twist direction. Results showed the blended yarn exhibited yarn realization and possessed acceptable properties comparable to polyester/pineapple and polyester/water hyacinth which have been successfully used for clothing and apparels. Study suggests other natural fibers may be blended with S. cylindrica. (12)

Availability
Ornamental cultivation.
Plants in the cybermarket.