Botany
Duhat s a smooth tree about 8 to 15 meters high with white branchlets and reddish young shoots. Leaves are opposite, shiny and leathery, oblong-ovate to elliptic or obovate-elliptic, 6 to 12 centimeters long, the tip being broad and shortly pointed. Panicles are borne mostly from the branchlets below the leaves, often being axillary or terminal, about 4 to 6 centimeters long. Flowers are small, numerous, scented, pink or nearly white, in clusters, without stalks, borne in crowded fascicles on the ends of the branchlets. Calyx is funnel-shaped, about 4 millimeters long, and 4-toothed. Petals cohere and fall all together as a small disk. Stamens are numerous and about as long as the calyx. Fruit is oval to elliptic, 1.5 to 3.5 centimeters long, dark purple or nearly black, luscious, fleshy and edible with a sweet astringent taste; containing a single large seed.
Distribution
- Found throughout the Philippines, planted, and in many regions spontaneous.
- Probably of prehistoric introduction from Malaya.
- Also occurs in the Indo-Malayan region generally.
Constituents
- Early study of seeds yielded neither alkaloid nor enzyme, but an abundance of starch and tannin. Proximate analysis showed: Moisture 8.0, starch (diatase) 41.4, crude fiber 2.3, pentosans 2.1, protein 6.3, ash 2.9, dextrin 2.1, and tannin 6.0.
- Seeds yield glycosides, a trace of pale yellow essential oil, fat, resin, albumin, chlorophyll2, an alkaloid- jambosine3, gallic acid, ellagic acid, corilagin and related tannin,3,6-hexahydroxydiphenoylglucose and its isomer 4,6- hexahydroxydiphenoylglucose, 1-galloylglucose, 3-galloylglucose, quercetin and elements such as zinc, chromium, vanadium, potassium and sodium. Unsaponifiable matter of seed fat contains β-sitoterol.
- Phytochemical screening of the seeds yielded alkaloids, proteins and amino acids, flavonoids, phenols, glycosides, saponins, tannins, steroids, triterpenoids.
Properties
- Considered astringent, carminative, stomachic, diuretic, anti-diabetic, anti-diarrheal.


Parts used
Fruit and bark.
Uses
Edibility / Nutrition
- One of the most popular fruits in the Philippines.
- Ripe fruit is eaten outright.
- Juice can be made into wine; used in the manufacture of red wine, "tinto dulce."
- Fruit is a good source of calcium and a fair source of iron.
- In Malaya, vinegar is made from the juice of the unripe fruit.
Folkloric
- In the Philippines, decoction of bark given internally for dysentery.
- Bark decoction also used as an enema.
- Diarrhea: Liberal amounts of the fleshy portion of the fruit.
- Decoction of the bark used as a gargle or mouthwash for gingivitis and mouth ulcerations.
- Fresh juice of the bark given with goat's milk for diarrhea in children.
- Bark decoction as an astringent wash for wounds.
- Ripe fruit is astringent and considered an efficient remedy for diabetes. Decoction of leaves and bark also used for the same purpose, but the ripe fruit is considered the best.
- Pulverized dried seeds also used for diabetes.
- Powdered seeds and root-bark used for diarrhea.
- In India, seeds used for diabetes. Bark used for diarrhea, dysentery, and spongy gums. Poultice of leaves used for skin complaints. Powdered seeds also used for metrorrhagia.
- In Unani medicine, seeds used as liver tonic, to enrich the blood, strengthen the teeth and gums, and as lotion to remove ringworm of the head.
- Fruit is used as astringent in bilious diarrhea; used as a gargle for sore throat and as lotion in tinea capitis.
- Vinegar prepared from juice of the ripe fruit used as stomachic, carminative, and diuretic.
- Juice of leaves, alone or with other astringents, used for dysentery.
- Bark used for sore throats, indigestion, appetite loss, leucorrhea, bronchitis, asthma, ulcers and dysentery.
- In Brazil, leaves and fruits used to treat infectious diseases, diabetes and stomachaches.
Others
· Wine and fruit drink from the ripe fruits. Seeds used for fodder.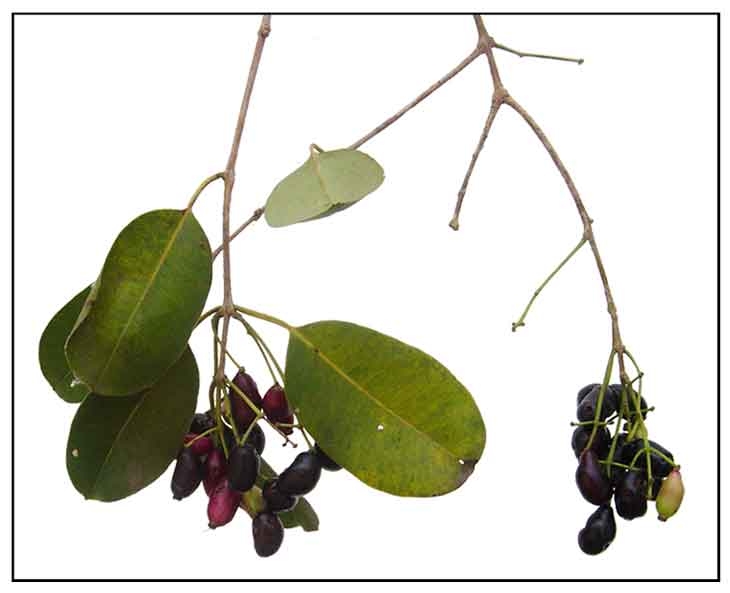 Studies
• Anti-Diabetes: Animal study of aqueous extract from SC bark showed stimulation of development of insulin positive cells from the pancreatic duct epithelial cells.
• Anti-Diabetic / a-glucosidase: Study of SC seed kernel extracts in vitro and in Goto–Kakizaki (GK) rats showed inhibition of a-glucosidase as a possible mechanism for its anti-diabetic effect.
• Phytochemicals: Investigation on a Tropical Plant, Syzygium cumini from South India: Phytochemical screening of extracts of Syzygium cumini seed revealed alkaloids, amino acids, phytosterols, saponins, steroids, tannins and triterpenoids. These phytochemicals probably explain the plants medicinal properties.
• Anti-inflammatory / Seeds: The study on SC extracts established the anti-inflammatory activity of the SC seed.
• Anti-inflammatory / Leaves: Study of methanol extract of leaves showed the SC leaf had remarkable acute and chronic anti-inflammatory actions in the tested rodent models.
• Radioprotective: (1) Influence of Seed Extract of Syzygium Cumini (Jamun) on Mice Exposed to Different Doses of .GAMMA.-radiation : SCE treatment protected mice against radiation sickness and mortality against all doses and showed an increase survival. (2) Study demonstrated jamun extract protected mice against radiation-induced DNA-damage and inhibition of radiation-induced free radical formation may be one of the mechanisms of radioprotection.
• Gastroprotective: The gastroprotective effect of tannins extracted from duhat (Syzygium cumini Skeels) bark on HCl/ethanol induced gastric mucosal injury in Sprague-Dawley rats: The study suggests the tannins extracted from SC have gastroprotective and anti-ulcerogenic effects.
• Antioxidant / Tannins: (1) Study isolated tannins from the fruit of SC and suggests the use of the fruit as a significant source of natural antioxidants. (2) Study showed a significant correlation between extract concentration and percentage of free radical inhibition or lipid peroxidation. Authors suggest the antioxidant property of the fruit skin may come in part from the antioxidant vitamins, phenolics, tannins and anthocyanins present in the fruit.
• Red Wine Source: Study prepared a red wine from the anthocyanin-rich fruit of SC through fermentation using wine yeast.
• Central Nervous System Activity: Animal study of seed extract of SC showed dose-dependent depressant effect of locomotion attributed to the presence of saponins.
• a-Amylase Inhibition / Anti-Hyperglycemic: Study of 11 medicinal plants showed Syzygium cumini seeds with strong inhibition of a-amylase activity. Crude ethanolic and aqueous extracts reduced glycemia of diabetic rats. The bark showed anti-hyperglycemic activity on oral glucose tolerance testing. Seed extract yielded betulinic acid and 3,5,7,4'-tetrahydroxy flavanone. The compound showed high a-amylase inhibitor activity, but the inhibitory activity of the individuals compounds needs further testing and verification.
• Anti-Cervical Cancer: Study of Z cumini extract showed inhibition of growth and induction of apoptosis in HeLa and SiHa cervical cancer cell lines in a time- and dose-dependent manner.
• Anti-Allergic: Study of on the aqueous leaf extract of Syzygium cumini showed the main components to be hydrolyzable tannins and flavonoids. Results showed inhibition of paw edema, edema induced by histamine, prevention of mast cell degranulation and consequent histamine release in Wistar rat peritoneal mast cells. The findings demonstrate an anti-allergic effect; the anti-edematogenic effect is attributed to inhibition of mast cell degranulation.
• Prophylactic Anti-Septic Effect: Study concluded that treatment with S. jambolanum has a potent prophylactic anti-septic effect not due to a direct microbicidal effect but rather, associated with a recruitment of activated neutrophils to the infectious site and to a diminished antiinflammatory response.
• Antibacterial / Glucoamylase Inhibitor / Anti-Diabetic: Study of ethanol extract of seeds showed moderate to good antibacterial activity against E. coli, B subtilis, P aeruginosa and S aureus. It also showed to be a potent inhibitor of glucoamylase and suggests a hypoglycemic function in type-2 diabetes that may be independent of functioning B-cells.
• Cardioprotective: Study of a methanolic extract of SC seeds on isoproterenol-induced myocardial infarction in rats confirmed a cardioprotective effect.

Availability
Wild-crafted.
Seasonal fruiting.