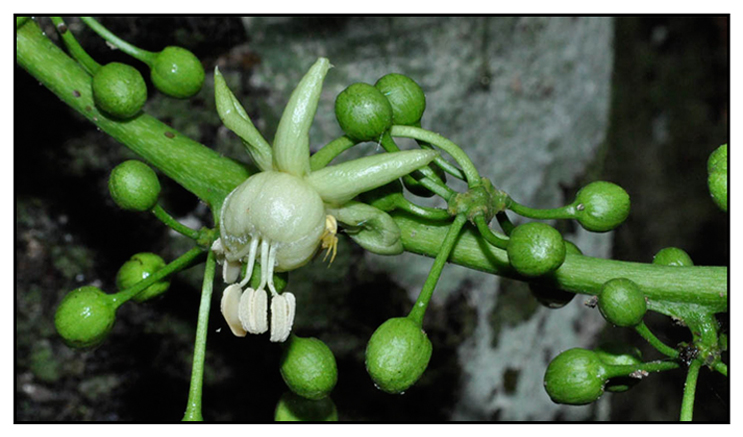 General info
- The genus Hydnocarpus (Flacourtiaceae) includes approximately forty species of shrubs and trees occurring in south western India, Sri Lanka, Myanmar, Indo-China, southern China, Thailand (7 species), Peninsular Malaysia (12), Sumatra (12),Java (2), Borneo(17), The Philippines (5) and Sulawesi (2). Hydnocarpus kurzii, Hydnocarpus alcalae and Hydnocarpus anthelmintica used to be cultivated, but with the advent of synthetic leprosy drugs in the 1960's, this cultivation has lost its importance. (6)
Botany
Dudoa is a small tree reaching a height of 5 meters. Leaves are oblong-ovate or oblong, 20 to 25 centimeters long, 9 to 11 centimeters wide, entire and smooth, with pointed tip and somewhat rounded base. Flowers are yellowish, about 3 centimeters across, borne on simple racemes on the trunks and branches which are about 50 centimeters long. Sepals are five, ovate, about 1.2 centimeters long, and smooth. Petals are five, elliptical, about 0.8 centimeter long, and hairy on the margins. Fruit is large, hard, woody, brownish, smooth, obovoid, 20 to 25 centimeters long, and 10 to 14.5 centimeters wide, containing 80 to 90 oblong-elliptic or ovoid seeds which are dull brown with gray longitudinal stripes, which are about 3 centimeters long and embedded in whitish pulp.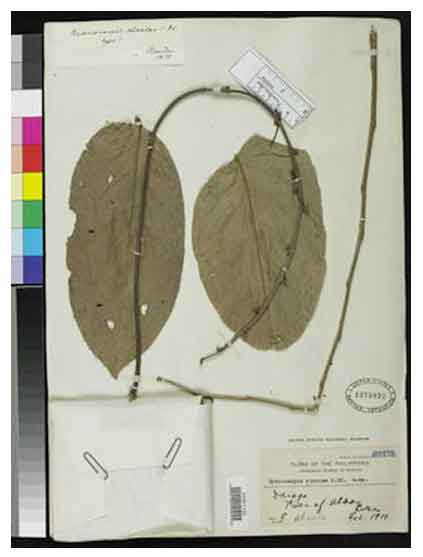 Distribution
- An endemic species in forests at low altitudes in Albay Province, Luzon.
- Cultivated in Laguna and other provinces.
- Considered a "Threatened" plant in the Philippines..

Constituents
- Seeds yield 65.5% fixed oil.
- More than 90% of the free acids consists of chaulmoogric acid, with palmitic acid making up most of the remaining portion, with only traces of oleic acid. (11)
- Seed coat yields 3.73% of resin acid.
- Study yielded two naphthol esters of chaulmoogric acid and 2 chaulmoogryl naphthlamines.
- Study of nuts and oil yielded: average weight of fruit 420 gms; hulls 59.68%; seeds, do 40.32; moisture in seeds, do 60.50; oil in dry seeds, do 65.50, melting point, 52 degrees; specific gravity at 30° C, 0.9502; iodine value (Hanus) 93.10; saponification value, 188.90. (4)
- Study of freed acids of the oil yielded: melting point, 59°; specific gravity at 30°m 0.9342; iodine value (Hanus) 98.6; acid value cc. 0.1N alkali 37.4; saponification value 193.0. (4)
Properties
- Irritating property of the oil may come from the resins.
- Wound healing.

Parts used
Oil, seeds.

Uses
Folkloric
- Hydnocarpus oil and its derivatives were once used extensively for the treatment of leprosy.
- Oil extracted from seeds used for wound healing.
- Chaulmugra oil once used in the treatment of laryngeal tuberculosis for the relief of pain and dysphagia. (7)

Studies
• Chaul-moogryl Derivatives: Chaulmoogra oil obtained from Hydnocarpus alcalae yielded double esters chaulmogrul methyl lactate, chaulmoogruyl ethyl lactate, chaulmoogrul n-butyl salicylate. The double esters decomposed in hot weather, needling cool storage. (1) Study has stated that more than 90% of free acids from the oil of Hydnocarpus alcalae C. DC. consists of a compound identical in properties with chaulmoogric acid. (Brill, Harvey, 1916) (10)
• Oil of Hydnocarpus / Antileprotic / Wound Healing / Incision Wound and Dead Space: Anecdotal reports have claimed that leprosy patients who used hydrocarpus oil capsules exhibited more rapid wound healing. Study evaluated the effect of oil of hydnocarpus in wounds experimentally inflicted on male Wistar rats. In the incision model, there was a significant increase in body weight and strength of scar tissue, while in the dead space model there was increased strength of collagen tissue and hydroxyproline content. Results showed oil of hydnocarpus, besides antileprotic activity, may have adjunctive benefits in wound healing in leprosy patients. (2)
• Effect of Hydnocarpus Oil on Excision Wounds: Study concluded the use of oil in the excision wound model topically (alone or as a paste) or administered orally promoted epithelization without affecting wound contraction. (3)
• Chaulmugra Oil for Laryngeal Tuberculosis: An JAMA article in January 1922 reported on the experience of the author with chaulmugra oil in the treatment of laryngeal tuberculosis: (1) The chief value of chaulmugra oil is relief of pain and dysphagia. (2) Relief is continuous, in contrast to that produced by cocaine. (3) There is no untoward side effects to the larynx, and can be used with previous cocainization. (4) Improvement seems better compared to other drugs. (7)
• Chaulmoogra Oil: Chaulmoogra oil is a fixed oil obtained from fresh ripe seeds of Hynocarpus species. H. wightiana is the major source of chaulmoogra oil. The fixed oil is characterized by the presence of cyclopentenyl fatty acids (CFAs), hydnocarpic, chaulmoogric and gorlic acids as major constituents. Studies on the oil and isolated acids have showed potential activity against Mycobacterium leprae and was effective in treating early cases of leprosy. Study reviews the literature on chaulmoogra oil, use, chemistry, and pharmacology. (8)

Availability
Wild-crafted.