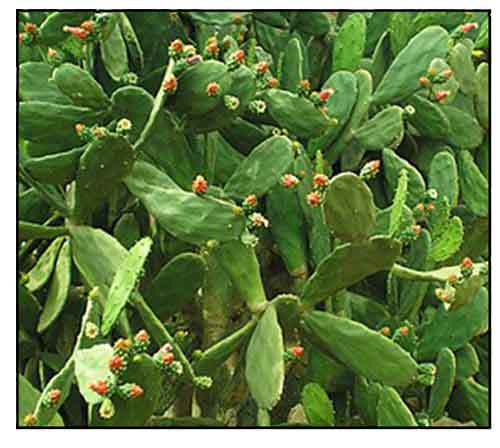 Gen info
- Opuntia cochenillifera is a species of cactus in the subfamily Opuntioideae. It is endemic to Mexico, but widely introduced.
- It was described in 1753 by Carl Linnaeus as Cactus cochenillifer, and was renamed in 1768 by Philip Miller as Opuntia cochenillifera. (27)
Botany
Dilang-baka is a cactaceous, fleshy, erect. branched, leafless plant, 1 to 3 meters high. Stems are stout, with thick joints, oblong-ovate, green, fleshy, compressed, 15 to 25 centimeters long, with small, scattered, white cushion-like bodies which are unarmed or may bear small spines. Calyx is green. fleshy, oblong-ovoid, 3 to 8.5 centimeters long. Corolla is red, about 2.5 centimeters long. Fruit is ovoid, about 3.5 centimeters long, fleshy and purplish.
Distribution
- Introduced.
- Planted in the Philippines, here and there, for ornamental purposes.
- Naturalized in some regions subjected to long dry seasons.
- Native to Mexico.
Constituents
- Study of cladodes and fruits for phytoconstituents yielded phenols, alkaloids, flavonoids, saponins, tannins, and resin; the fruits also yielded terpenoids. In both cladode and fruits, dominant phytochemicals were flavonoids (5.8% and 6.1%), phenols (4.1% and 3.38%), and alkaloids (2.05% and 1.75%), respectively. (17)
- Phytochemical screening of cladodes yielded minerals, vitamins, amino acids, and small amounts of lipids. Nutrient analysis of cladodes yielded (per 100 g) 94.12% water, 3.33% carbohydrate, 2.2% total dietary fiber, 1.32% protein, 1.15% total sugars, 1.14% ash, and 0.09% total lipids. It was also found rich in potassium, calcium, and magnesium. (19)
Properties
- Tonic, refreshing, anthelmintic.
- Considered anti-inflammatory, analgesic, stomach-protective.
- Studies antibacterial, antifungal, phytoremediative, glycemic, radical scavenging, anti-inflammatory properties.

Parts used
Joints, stems, mucilage.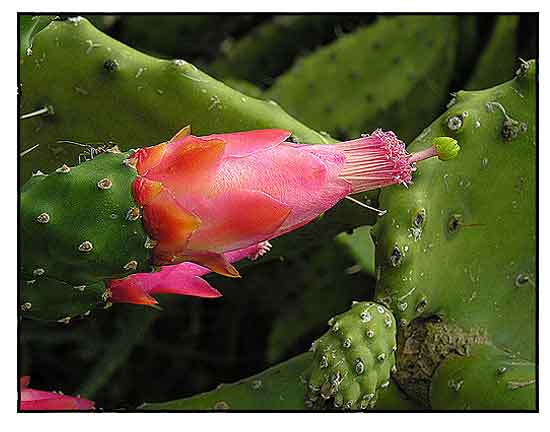 Edibility
- Both fruit and pads are edible after removing the spines and small hairy prickles (glochids) that penetrate the skin.
- Avoid the spine and any cactus part with white sap.
- Fruit can be eaten raw or cooked and has a raspberry like flavor.
- Thornless pads are peeled, eaten raw, cooked, or added to salads.
- Pads are rich in vitamin A.
- Tender cladodes are harvested when they reach 112-13 centimeters in length and weigh almost 40 g. (Nerd, The cladodes are almost free pf spines and glochids. (Dumotier and Mizrahi, 1997) Green leaves on the cladode is an indicator of freshness. Thickening of the cuticle and cladodes is undesirable and reduces quality. (Rodriguez-Felix and Cantwell, 1988) Cladodes maintain reasonably good quality for 12 days at 20° C and 85% RH. Packed individually in PVC film, quality is maintained for 3 weeks at 12°C. (Nerd, Dumotier and Mizrahi, 1997) (21)
Folkloric
• In India, used for pain and inflammation.
• Used for menopause and hot flashes.
• In Tobago and Trinidad, used for scorpion and snake bites, diabetes, hypertension, kidney and urinary problems.
• In Mexico, joints are applied as poultices for rheumatism, erysipelas, ophthalmia, earaches and toothaches.
• In Tamil Nadu, joint mucilage used for treatment of toothache. (23)
• Split pads are emollient, used as poultices for rheumatism; backed for ulcers, gout and wounds. Also, used for warts, kidney problems, measles, and as vermifuge for gastrointestinal parasites.
• In the Guianas, stem "pads" are applied to treat fungal skin infections, fever, and as shampoo for fine, delicate hair. Roasted branches are sliced and applied as poultice to relieve pain, swelling, and localized burning from filaria. Sap used for baby's colds and wheezing. Grated stems mixed with soft grease and corn meal warmed and applied externally for chest colds and fever associated with pneumonia. Leaves used for spleen problems. (8)
• In Guatemala, leaf infusion used for treatment of diabetes.
• In the Lucayan Archipelago used for circulatory problems (cooling the blood), obstetrical pains after childbirth, treatment of ringworm and dysuria associated with urinary tract infections. Tea is used for treating rheumatism, arthritis, and gout. Plant decoction also used for bathing and as shampoo. (24)
Others
• Veterinary: In Trinidad and Tobago, used in ethnoveterinary medicine for joint problems in horses, applied directly to the injured area. For anhydrosis, rachette joints are pounded up and put in water, and given to horses to drink to induce sweating and reduce the temperature. Rachette (N. cochenillifera) also used in combination with glycerine and Epsom salts to treat inflammation. (9)
• New Age drink: In the unending search for longevity through the all-natural and herbal, post-Noni juice and post-Mangostan, the new drink in the herbal-block, ready to drink, thorn-free, spine-free - Sonoran Bloom Nopalea.
• Forage / Fodder: Widely used in semiarid regions as a forage crop. Material not sold in the market is used as dairy cattle fodder. (14)
• Dye: The synonym Nopalea cochenillifera means 'cochineal-bearing (an edible red dye), which is specific to the cactus. It provided food for the cochineal insect, which is the source of the red cochineal dye. In the past plant was cultivated as host plant for the cochineal insects (Dactylopius coccus), which are harvested, killed, and made into red dye cochineal.
Studies
• Diabetes Studies / Increase Blood Glucose Effect: Studies have failed to find support for its traditional use in the treatment of diabetes. Moreover, in one study, there was even an increase in baseline blood glucose levels. An oral glucose tolerance test showed the stems of NC increased blood glucose in mice. (2)
• Reproductive: Studies show limited support for use in reproductive problems.
• Antibacterial / Antifungal: Study showed the cactus possesses antibiotic activity against C albicans, E coli and Salmonella enterica var typhimurium. The hexanic and chloroformic fractions of dried NC were more effective than fresh pads in inhibiting C albicans growth. (4)
• Antibacterial / Antifungal: Study evaluated the in vitro antimicrobial activity of Nopalea cochenillifera. An ethanol extract showed good antibacterial activity and inhibitory activity against microorganisms tested viz., E. coli, S. typhi, Micrococcus, K. pneumonia, S. aureus, C. albicans, C. glabrata, among others. Total polyphenols and flavonoids were significant when compared to standards of gallic acid and rutin. (11)
• Phytoremediation Potential: Cactaceae Nopalea cochenillifera cell cultures transform various toxic textile dyes, including Red HE7B into less phytotoxic, non-hazardous metabolites. The significant induction of various enzymes (laccase, tyrosinase, azoreductase) and 2,6-dichlorophenolindophenol reductase) indicated the involvement of these enzymes in the transformation pathways of Red HE7B. (12)
• Phytoremediation / Chromium: Study investigated the hexavalent chromium VI tolerance and accumulation in in vitro grown N. cochenillifera plants. Results showed N. cochenillifera has a potential as hyper-accumulation plant of Cr VI and a promising candidate for phytoremediation purposes. (15)
• Antimicrobial / Cladode and Fruits: Study evaluated the antimicrobial activity of chloroform and methanolic extracts of Opuntia cochenillifera cladode and fruits. The ME was found effective against E. coli, B. subtilis, S. aureus, P. aeruginosa, Candida albicans and C. glabrata at 40 mg/ml. (16)
• Mucilage: Study reports on the extraction, functional and physiochemical properties of O. cochenillifera cacti. Results showed appreciable carbohydrate and protein contents. Phytochemical analysis yielded alkaloids and terpenes/steroids. The mucilage demonstrated water- and oil-holding capacities of 2.78 g water/g dry mucilage and 1.80 g oil/ g dry mucilage, respectively. As textile dye remover, it showed 70% removal rate from aqueous solution. Results suggest a natural material with potential for use as additive in chemical, food, pharmaceutical and cosmetics industries, and for decontamination processes. (18)
• Radical Scavenging Activity / Cladodes: Study evaluated the radical scavenging activity of Opuntia cochenillifera cladodes b y DPPH method. Results showed concentration-dependent free radical scavenging activity. The antioxidant capacity was lower compared with gallic acid. The antioxidant properties of O. cochenillifera extract may be related to its chlorophylls content, which was been showed to prevent oxidative DNA damage via scavenging of DPPH radicals. (19)
• Antimicrobial / Stems: Study evaluated the antimicrobial activity of stem extracts against some specific pathogenic and non-selective bacteria isolated from industrial (tannery, tobacco, sugar mill) waste water. Dichlormethane and methanol extracts showed better antibacterial activity against K. pneumoniae strain and testing samples waste water bacteria from tobacco and sugar industries. (20)
• Pretreatment Treatment of Water Followed by Household Slow Sand Filters: Household slow sand filter (HSSF) performance in continuous and intermittent flows was evaluated when influent water was treated with natural anticoagulant extracted from O. cocheniillifera. Water under study, used as influent, had turbidity of 111 ± 17.3 NTU. Clarifying water with O. cochenillifera was best at 30 mg L in natural pH, generating clarified water with turbidity satisfactory to filter operation (7.83 NTU). Results showed higher efficiency of intermittent flow HSSF in removal of E. coli. (25)
• Anti-Inflammatory in DNBS-Induced Colitis / Phenolic-Rich Extract: Study evaluated the phytochemical profile of N. cochenillifera extract, acute toxicity and anti-inflammatory effect DNBS (2,4-dinitrobenzenesulfonic acid-induced colitis in rats. Total phenolic content per gram of dry extract was 67.85 mg. Acute toxicity study with dose of 2000 mg/kg extract by oral route showed no signs of toxicity, mortality, or significant changes in biological and hematologic parameters. Macroscopic analysis of the colon showed decreased disease activity index. Levels of IL-1ß and TNF-α decreased, IL-10 increased, MD and MPO enzyme levels were decreased, along with down-regulation MAPK/ERK2 and NF-B p65 pathway markers in colon tissue. Histopathological and immunohistological analysis showed improved epithelial integrity. Results suggest the extract has potential in maintaining remission of colitis. (26)
Availability
- Wildcrafted.
- Ornamental cultivation.
- Seeds and plants in the cybermarket.