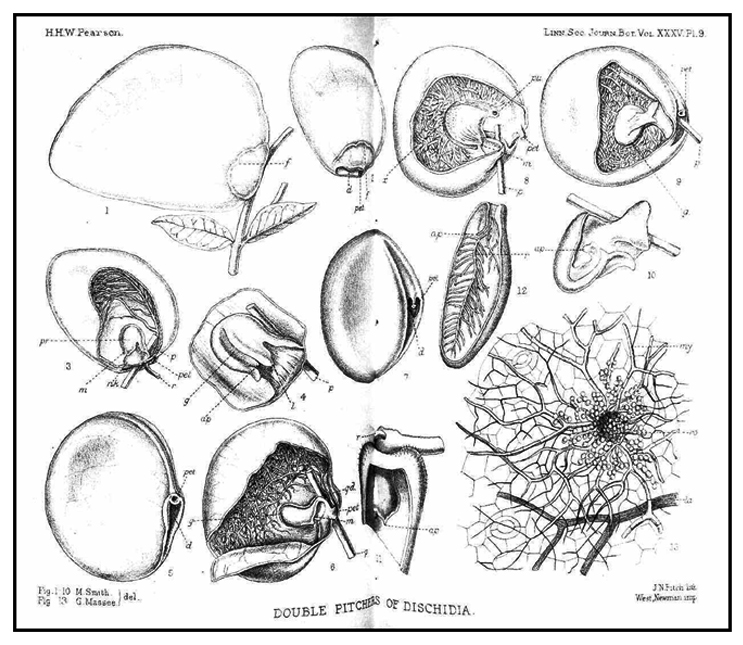 Gen info
- Dischidia is a plant genus in the Milkweed family, Asclepiadaceae, comprising about 80 known species which all grow as epiphytes, native to tropical areas of China, India, and most areas of Indo-China. (1)
- Dischidia are closed aligned with the genus Hoya, but is poorly known and understudied. (1)
Botany
Dapo-sa-boho is an herbaceous, epiphytic, often-twining, smooth vine usually growing on dead bamboos, with slender, pendulous branches. Leaves are opposite, and of two kinds: the normal - elliptic-ovate to lanceolate, thick and fleshy, 1.5 to 2.5 centimeters long; and the inflated - 4 to 6 centimeters long, 4 to 5 centimeters wide, and usually about 2 centimeters thick, the interior being more or less filled with rootlets from the leaf-axil and with a much smaller, interior ascidium which is usually the domicil of a colony of small black ants. Inflorescence is axillary, solitary, and umbellate, with a peduncle 1 to 2 centimeters long. Flowers number 3 to 8 in each umbel. Calyx is small and green. Corolla is cylindric, red, and about 8 millimeters long. Follicles are slender, and 5 to 7 centimeters long.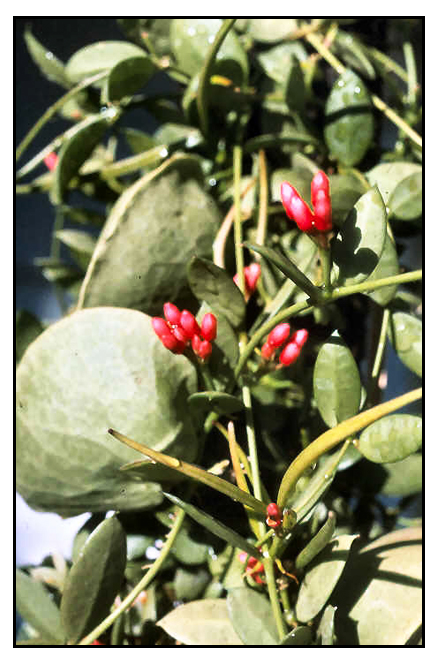 Distribution
- Found on dead or drying climbing bamboo (Schizostachyum) at low altitudes in Bataan, Rizal, and Laguna Provinces in Luzon.

Parts used
Leaves

Uses
Folkloric
- Leaves are crushed, salted, and applied externally on a piece of cloth to goiter.
Studies
• No studies found.

Availability
Wild-crafted.