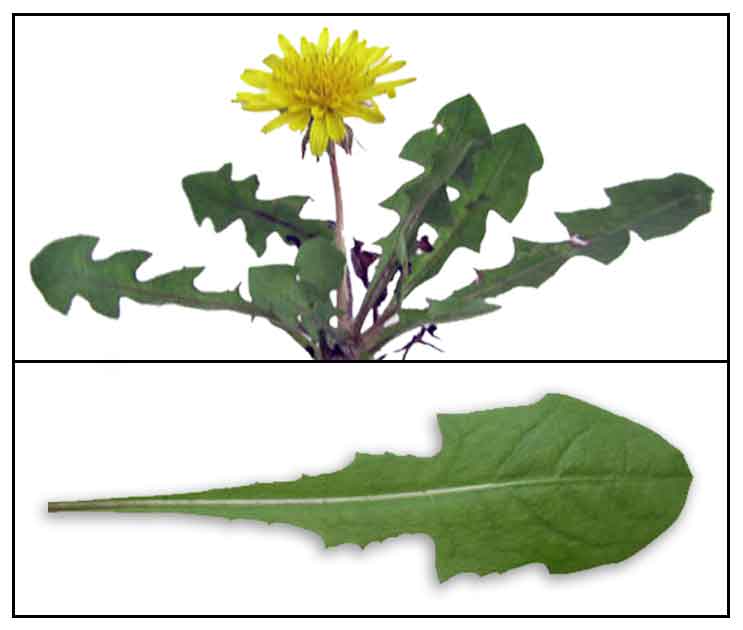 Gen info
The word Dandelion derives from the old French dent-de-lion, meaning "lion's tooth." referring to the toothed edges of its leaves. It has been in use medicinally since the 10th century.
Botany
Dandelion is a milky perennial herb. Roots are vertical. Leaves are all radical, smooth, or woolly on the crown and scape. Leaves are stalkless, oblanceolate, spatulate or oblong, 7 to 20 centimeters long, toothed and pinnatifid in the margins; lobes are pointed and more or less toothed. Heads are solitary and grow on stalks 10 to 20 centimeters long with numerous golden yellow flowers. Involucre is bell-shaped, 1.5 to 2 centimeters long. The inner involucral bracts are erect, and often thickened or clawed at the tip; the outer ones are ovate, or linear, appressed, and more or less recurved. Achenes are narrowly obovoid, ribbed, and about 3 millimeters long, with the beak one-half as long as the body.
Distribution
- Found wild in the Benguet Subprovince, Luzon, as a naturalized species on lawns, at an altitude of about 1,400 m.
- Introduced, being a temperate zone weed.
- Native of Europe.


Constituents
• Plant contains inosit, asparagine, a reducing sugar, a bitter principle, saponin, tyrosinase, palmitic acid, oleic acid, linoleic acid, resinic acids, cholin.
• The flowers contain inulin and a bitter alkaloid, taraxacin.
• The milky juice contains taraxin, inosit, and taraxacerin.
• The root contains an abundance of sesquiterpene lactones (taraxacin and taraxacerin). Other compounds include beta-amyrin, taraxasterol, and free sterols.
• Contains an antioxidant, luteolin.
• Chemical analysis yielded flavonoids (rutin, hiperoside, quercetin), hydroxycinnamic acid derivatives ( caffeic acid, chlorogenic acid), catechic tannins, sterols, triterpenes, carotenoids, coumarins and mucilages.
• Leaves yielded glycosides, alkaloids, phenolic compounds, tannins, flavonoids and proteins. Results also showed high concentrations of trace elements K, Ca, Na, Fe and low concentrations of Zn, Cd, and Cu. (See study below) (15)
• Among vegetables, dandelion is one of the richest source of beta-carotene (11,000 µg/100 g leaves, same as carrots). (26)
• GC-MS and NMR stud of hexane and ethyl acetate extract of leaves yielded major compounds of sesquiterpene lactones (α-santonin, glabellin, arborescin, and estafiatin), monoterpene (9,10-dimethyltricycle [4.2.1.1 (2,5)]decane-9,10-diol), phytosterol (Stigmasta-5,22-dien-3-ol acetate), terpenes (lupeol acetate, pregn-5-en-20-one-3-acetyloxy-17-hydroxy, 2-hydroxy-4-methoxy benzaldehyde), and coumarin (benzofuranone 5,6,7,7-a-tetraaldehyde-4,4,7a-trimethyl). (see study below) (27)
Properties
• Aperient, depurative, diuretic, laxative,stomachic, tonic.
• Root is milky and bitter.
• Studies have suggested antioxidant, anti-inflammatory, analgesic, anti-cancer, hypoglycemic, hepatoprotective, diuretic, antibacterial properties.

Parts used
Roots, leaves.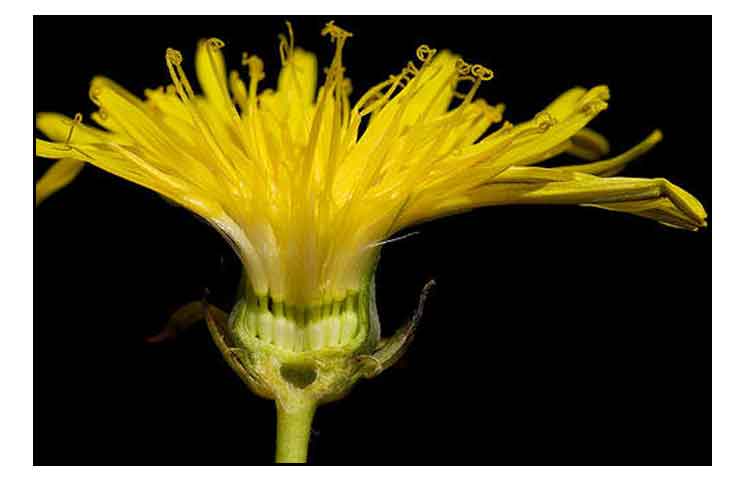 Uses
Edibility / Nutritional
- Used by some as salad component.
- Leaves are a rich source proteins, calcium, phosphorus, dietary fiber, and vitamins A, B, C and D.
- The Hutsuls on the Romanian and Ukranian sides of Bukovina use fresh leaves as salad ingredient. Flowers eaten as snack or added to salads. Flowers Flowers soaked in water are filtered, boiled with sugar into a syrup or honey consistency.   (29)
Folkloric
• Its multiplicity of uses rates it a herbal cure-all, especially for the treating hepato-biliary disease and as a diuretic.
• in Europe, widely used for gastrointestinal ailments. It is taken as broth with leaves of sorrel and egg yolk for chronic liver congestion.
• Used for its gently laxative effect and as bitter tonic in atonic dyspepsia.
• Promotes appetite and digestion.
• Root preparation used for a variety of conditions: fevers, diabetes, eczema, scurvy, bowel inflammation.
• Pounded poultice of leaves applied to wounds and cuts.
• As a drink: 20 gms of root to a cup of boiling water, take 3-5 glasses a day.
• Juice of the stalk used to remove warts.
• Powdered dried roots used with coffee, and a substitute for coffee when roasted and powdered.
• Extract of dandelion used as remedy for fevers and chills.
• Infusion used to treat anemia, jaundice and nervousness.
• Decoction of root herb taken for scrofula, eczema, scurvy and various skin eruptions.
• Used for eczema and acne.
• Native American Indians have used infusions and decoctions of the root and herb for kidney diseases, dyspepsia and heartburn.
• In the Caribbean basin countries, used as antidiabetic.
• Traditional Arabian medicine has used it for liver and spleen diseases.
• Used in Chinese medicine for hepatitis,bronchitis, pneumonia, as a topical compress for mastitis.
• In Udhampur, India, locals cooks the leaves as vegetable especially as pre- and post-pregnancy food for women to overcome weakness. (28)
• The Hutsuls of Bukovina eat fresh flowers to treat cough. (29)
Others
• Wine: Dandelion wine.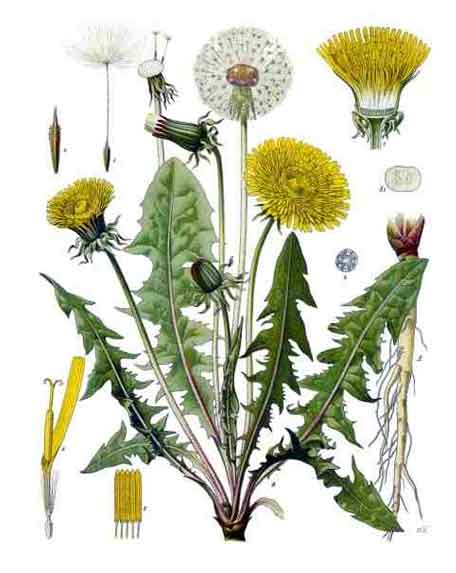 Studies
• Liver cancer: South Korean study suggests that Taraxacum officinale decreased cell viability and increased the TNF-alpha and interleukin-1alpha production.
• Lipid metabolism: Dandelion water extract had effects on lipid metabolism: decreased total cholesterol and triglycerides while increasing the HDL-cholesterol in diabetic rats.
• Anti-inflammatory / Anti-angiogenic / Antinociceptive: The study showed Taraxacum officinale contains anti-angiogenic, anti-inflammatory and antinociceptive activities through inhibition of NO production and COX-2 expression and/or oxidative activity. (4)
• Anticancer: Study of aqueous extracts from mature leaves, flowers and roots investigated tumor progression related processes. Results showed anti-carcinogenic activity on breast and prostate cancer cells with inhibition of cell proliferation and invasion, and suggests that the extracts or individual components may be of value as novel cancer agents. (5)
• Antioxidant / Radical Scavenging: Study identified flavonoids and coumaric acid derivatives from the dandelion flower. The dandelion flower extract suppressed both superoxide and hydroxyl radical. (6) Study evaluating water extracts of roots, stems, and flowers of T. officinale by DPPH and FRAP assays showed significant radical scavenging activity.       (20)
• Hypoglycemic Effect: (1) Animal studies have shown hypoglycemic activities attributed in part to the high inulin content of the plant. (2) A Study reports a case of hypoglycemia attributed to ingestion of dandelion. (7)
• Cytotoxicity / Antitumor: Previous studies have indicated Taraxacum officinale exhibits anti-tumor properties. In a study investigating its effect on cytotoxicity and production of cytokines in human hepatoma cell line, results showed cytotoxicity effects through TNF-a and IL-1a secretion in Hep G2 cells. (8)
• Diuretic / Human Data: In a pilot study, fresh leaf hydroethanolic extract was ingested by volunteers to investigate whether increase urinary output and frequency would occur. T. officinale ethanolic extract showed promise as a diuretic. (10)
• Effect on Blood Cells: In a study on female mice, dandelion hydroalcoholic extract was injected intraperitoneally in various test doses. Results showed a dose-dependent increase in hemoglobin and WBC. A crude extract of dandelion leaf decreased the growth of MCF-7AZ breast cancer cells and blocked invasion of LNCap prostate cancer cells. (11)
• Hepatoprotective / Roots: Study evaluated roots extracts of T. officinale and Berberis vulgaris against carbon tetrachloride-induced liver toxicity in rats. Results showed dose-dependent amelioration of CCl4-induced liver damage. There was significant inhibition of hepatic micro vesicular steatosis in both groups. (12)
• Pharmacognostical / Phytobiological: Study yielded the presence of flavonoids, hydroxycinnamic derivatives catechic tannins, sterols, triterpenes, carotenoids, coumarins and mucilages. Flowers and leaves showed a higher amount of polyphenols compared to stems and roots. Assay of aqueous extracts showed concentration dependent effects on cell division - mitoinhibitory or stimulatory. (13)
• Antibacterial / Leaves: Watery and alcoholic extracts of leaves showed in vitro antibacterial activity attributed to some of its phytoconstituents (glycosides, alkaloids, phenolic compounds, tannins, flavonoids, proteins and tract elements). (15)
• Bioactive Compounds: Study the anti-inflammatory, immunomodulator triterpenes and phytosterols in Taraxacum officinale and Morus nigra to find optimal extraction technology. Liofilized aqueous and methanolic extracts of exhibited significant antioxidant activity in in vitro models. Study identified fenoloid components in T. officinale—apigenin-7-O-?-glucosid, luteolin-7-O-?-glucosid and chlorogenic acid—as possibly responsible for scavenging activity. (16)
• Effect on Fertility and Reproductive Efficiency: Study evaluated the effect of T. officinale on reproductive efficiency and pituitary-thyroid-testes axis of adult male rabbits. Results showed a significant decrease in testicular weight seminiferous tubules diameter and decrease in sperm count. Prolonged drenching of extract caused infertility. (17)
• Reduction of Adipogenesis and Lipogenesis: In vitro study evaluated the ability of T. officinale to inhibit adipocyte differentiation and lipogenesis. Leaf and root extracts identified caffeic and chlorogenic acids as main phenolic constituents. Results suggest a significant role for T. officinale extracts during adipogenesis and lipid metabolism, and suggests a potential candidate for the treatment of obesity. (18)
• Antibacterial / Leaves: Study of methanol and chloroform extracts of Taraxacum officinale showed antibacterial activity against all test bacterial pathogens: P. aeruginosa, E coli, S aureus, Bacillus subtilis, and Micrococcus luteus. Activity was attributed to the presence of secondary metabolites: alkaloids, tannins and flavonoids. (19) Study evaluated the biological constituents and antibacterial activity of leaves of T. officinale. The extract was highly active against Staphylococcus aureus (MIC 200 µg/mL) and moderately active against E coli and K. pneumonia (MICs 400 µg/mL and 800 µg/mL, respectively). (see constituents above) (27)
• Hepatoprotective / Leaves / CCl4-Induced Hepatotoxicity: Study of ethanolic extract of leaves—more than the n-hexane extract—showed hepatoprotective effect against CCl4-induced liver tissue toxicity, attributed to the presence of various polar phytochemicals more prevalent in the extract.    (21)
• Anti-Physical Fatigue Effect: Study evaluated the effect of T. officinale extracts supplementation on physical fatigue based on forced swimming capacity in mice. Results showed an anti-physical fatigue effect, with enhanced maximum swimming capacity, delayed lowering of blood glucose, and prevention of lactate increase and triglyceride concentrations. (22)
• Apoptosis in Drug-Resistant Human Melanoma Cells / Roots: Study showed dandelion root extract specifically and effectively induces apoptosis in human melanoma cells without inducing toxicity in noncancerous cells. (25)
• Antidiabetic / Review: Review summarizes the studies on dandelion on its potential as anti-diabetic, its chemical components, and mechanisms of action in T2DM. A possible explanation for its anti-T2DM effect may be its interaction with factors involved in the metabolic syndrome (lipid metabolism, glucose metabolism, protein metabolism, α- and ß-cell dysfunctions. (26)
• Taraxasterol: A pentacyclic-triterpene present in high amounts in dandelion roots year-round. It is also found in esculent plants, i.e., legumes, cereals, nuts, seeds, and plant oils. TS has known anti-inflammatory properties with potential as treatment for inflammatory diseases. It has shown chemopreventive properties and inhibitory effects on inflammatory ear edema in mice. (26)
• Chlorogenic and Chicoric Acid / CGA / Antioxidant: CGA, an ester of caffeic acid and quinic acid, is the richest phenolic component of dandelion. Natural CGA is a more effective antioxidant than the synthetic commercial standard Trolox®. Study of a fractionated ethyl acetate extract of roots showed CGA as the most common component (31.06 mg/g). CGA has potential as anti-diabetic, antioxidant, and anticarcinogenic. (26)

In the news
* 30 Patients to Test Dandelion's Cancer-Killing Potential:Thirty patients are being recruited in a phase one clinical study (Dandelion Root Project) to investigate the potential cancer-killing abilities of dandelion root extract, focusing on patients with end-stage blood related cancers including lymphoma and leukemia. The study will take plat at the Windsor Regional Cancer Center. (24)

Availability
- Wild-crafted.
- Cultivated for its flowering plant.