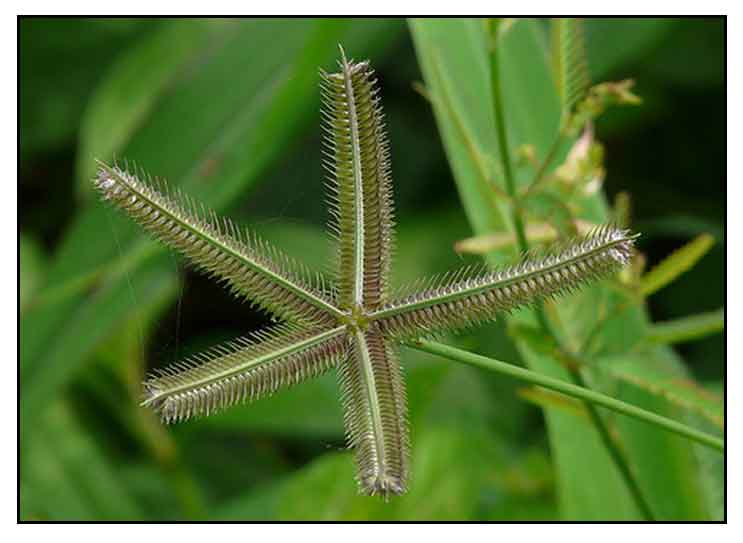 Botany
Damung-balang is a rather coarse grass, variable in habit, 15 to 60 centimeters high, the basal parts decumbent, usually more or less creeping and rooting, the flowering stems erect or ascending. Leaves are narrowly linear, 5 to 18 centimeters long, 2 to 6 millimeters wide, with the sheaths loose, and imbricate. Spikes number 3 or 4, rarely only 2, digitately radiating from the top of the peduncle, 1 to 5 centimeters long, 5 to 7 millimeters thick. Spikelets are numerous, and densely crowded, spreading, and about 3 millimeters long, 3- to 4-flowered, the first glume ovate and acute, the second, obliquely awned. Flowering glumes are cuspidate-awned, the cusps recurved.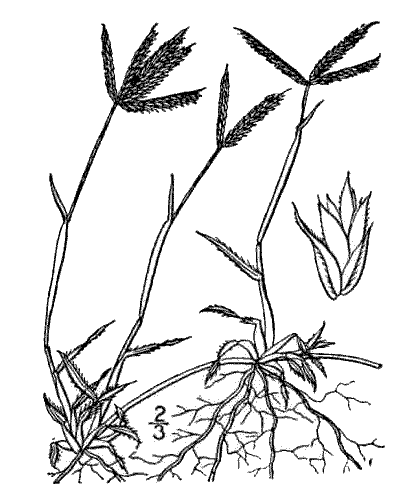 Distribution
- A common weed throughout the Philippines in settled areas at low and medium altitudes.
- Pantropic in distribution.
Constituents
- Ash (6.9%) is rich in lime (20.67%) with SiO (24.17%) and chlorine (6.76%).
- Reported to contain cyanogenetic glycosides.
- Phytochemical screening yielded saponins, terpenoids, phenolics, alkaloids.
Properties
• Astringent, anthelmintic, tonic.

Parts used
Whole plant, seeds.

Uses
Edibility
- A famine food in Africa
- Seeds used for making chapaties or haluwa and eaten as a cooling agent .
Folkloric
- Decoction of plant, in fresh or in dry state, used internally for dysentery and acute hemoptysis.
- In Africa, decoction of seeds used to relieve pains in the region of the kidney; stems and leaves applied externally for treatment of ulcers.
- In traditional Thai medicine, use for diuretic, anti-inflammatory and anti-pyretic effects.
- In India, juice of fresh plant used for fevers. Used externally for wounds and ulcers.
- In Indian medicine, grass is used for imparting medicinal properties of Takra (buttermilk) in intestinal, biliary, and urinary diseases. (5)
- In Manipur , juice of fresh plants prescribed in fevers. (2) Decoction of plant given in small pox. (6)
- In Saudi folk medicine, whole plant used in treating wounds. (7)
- In India, decoction of grain used to alleviate pains in the region of the kidney; herbaceous parts applied externally to treat ulcers. (9)
- In Kenya, crushed leaves used for treatment of heartburn. Whole plant considered a healing vegetable and used in convalescing patients. (11)
- In Central Punjab, Pakistan, dried grain eaten by women suffering from bellyache after childbirth. Seeds used for treatment of typhoid fever. (12)
Others
- Fodder.
- Rituals: Punghai considered by the Meitei tribe as a sacred plant; used in rituals.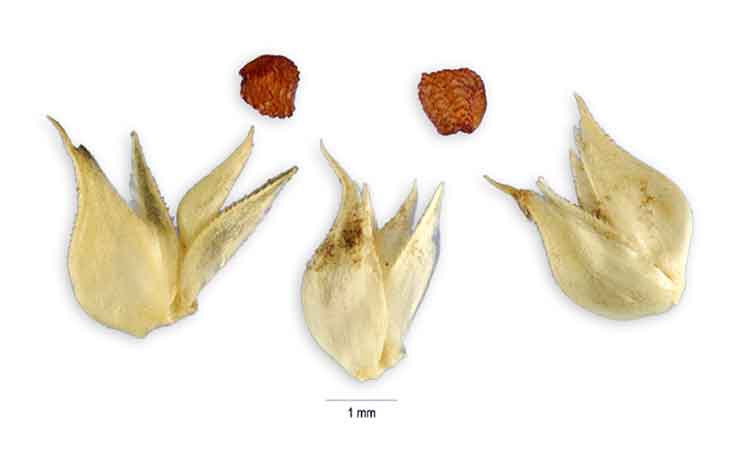 Studies
• Apoptotic Induction Activity: Study of grass extracts of D. aegyptium and Eleusine indica showed selective inhibitory growth inhibition effect on human lung cancer and cervical cancer (HeLa) cells. The activity was probably mediated through induction of apoptosis. (1)
• Antimicrobial: Study evaluated methanolic extracts of nine medicinal plants from Saudi folk medicine for phytochemical compounds and antimicrobial potential against seven standard bacteria, viz., E coli, B. cereus, S. typhi, K. pneumonia, P. aeruginosa, S. aureus and fungus Candida albicans. Most of the plants, including D. aegypticum, showed some degree of antimicrobial activity. (7)
Availability
Wild-crafted.