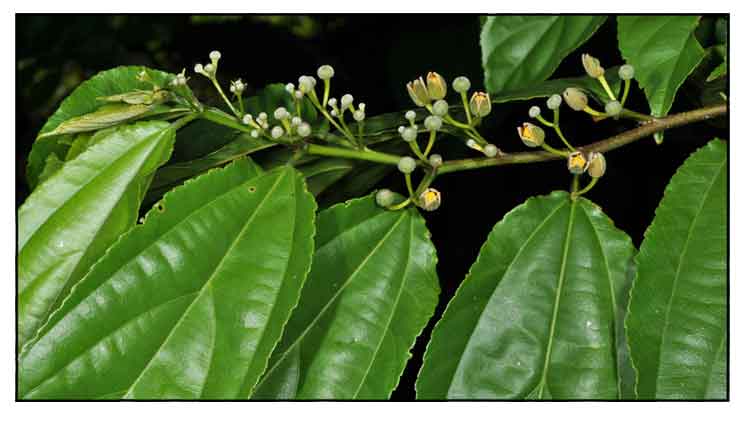 Gen info
- Grewia is a large flowering plant genus in the mallow family Malevolence.
- The genus was named by Carl Linnaeus in honor of the English botanist Nehemiah Grew (1641-1712), whose study of pollen laid the groundwork for modern-day palynology. (4)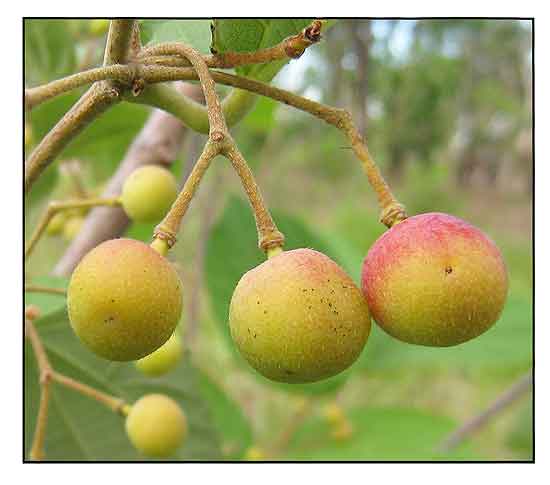 Botany
• Grewia multiflora is a shrub or small tree. Branchlets sparsely stellate, glabrescent. Stipule filiform, 1-1.5 × ca. 0.1 cm, caducous; petiole 6-8 mm, tomentose; leaf blade oblong-lanceolate, 7-17 × 2.5-4.5 cm, papery, glabrous or very sparsely hairy adaxially, hairs simple and stellate, in vein axils, lateral basal veins to 1/2 as long as leaf blade, lateral veins 5-6 pairs, base cuneate or broadly cuneate, margin serrulate, apex long acuminate. Cymes 2-3 in axils, 3-flowered; peduncle slender, 1.2-2.5 cm. Pedicel 1-1.2 cm, sparsely stellate. Bracts subulate, ca. 4 mm. Sepals ca. 1.3 × 0.3-0.5 cm, densely yellow-brown pubescent abaxially. Petals ca. 3 mm. Androgynophore 2-4 mm. Drupe 4-lobed, glabrous; exocarp not separating. (Flora of China)
Distribution
- Native to the Philippines. (1)
- Common in thickets and secondary forests.
- Native to Bangladesh, Borneo, China, India, Laos, Malaya, Myanmar, Nepal, Pakistan, Sumatera, Thailand, Vietnam. (2)

Parts used
Leaves, bark.

Uses
Edibility
- Fruit is edible.
Folkloric
- In Benguet, Philippines, used for tongue ailments.
- Manobo and Mamanwa tribes of Surigao del Sur, Philippines, use soaked bark for teething. (3)
Others
- Ethnoveterinary: In India, leaf paste applied to bone cracked area, tying up with cloth, cotton, and bamboo sticks for 3-5 days. (5)
- Wood: Due to small size, wood of Grewia species is generally used for making small articles where toughness is required, such as tool handles, shafts of golf clubs, bows, pestles, shingles, and billiard cues. (6)
- Fiber: Bark is a source of fiber, used for making rope.
Studies
• No studies found.
Availability
Wild-crafted.