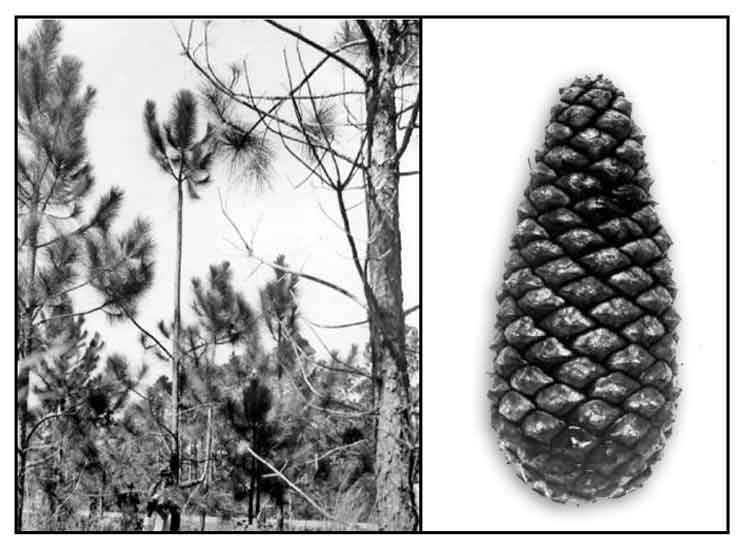 Botany
A fast-growing evergreen tree growing to a height of 30 meters. Leaves are in fascicles of 3 to 5, glossy dark green, up to 30 centimeters long. Cones are conic-oblong, up to 15 centimeters long.
Distribution
Recently introduced to the Philippines.
Found in the high altitude areas of the Mountain Province.
Occasionally cultivated in the lowlands where it thrives poorly.
Constituents
• Crude leaf extracts showed resin characteristics with pH around 3.), attributable to phenolic acid.
• Bark yields procyanidins.
Parts used
Leaves, bark, latex.
Uses
Folkloric
No recorded folkloric medicinal use in the Philippines.
Studies
• Antioxidant / antimutagenic: A study showed Pinus caribeae and C. citratus extracts were antigenotoxic suggesting antimutagenic components and activity unlike its antioxidant activity.
• Antimicrobial: One of the plants extracts in a study to evaluate antimicrobial activity, Pinus caribaea showed moderate activity against Bacillus sp.
• Larvicidal / Aedes aegypti / Lignins: Study evaluated the larvicidal activity of dried leaf extracts of Pinus caribaea against Aedes aegypti. Results showed the acetone extract to be the most active, and the larvidicldal activity was associted with lignin concentration.
• Pulping Studies: Study evaluated Pinus caribaea var. hondurensis and Pinus oocarpa for their potential as pulpwood species. Caribaea yielded 45% and P.occarpa yielded 46% of pulp with a kappa no of 40. All mechanical and thermo-mechanical pulps from these species were suitable for newsprint.
• Procyanidins / Anti-Cancer / Radical Scavenging Activity: Study evaluated the biological activities of procyanidins from the bark of Pinus caribaea. Study showed strong radical scavenging activity using a DPPH assay. Study also showed a stronginhibition effect of the bark procyanidins on promyelocytic cells HL-6), an effective inhibition on human adenocarcinoma cells BGC-823, and human hepatocellular carcinoma cells BEL-7402.
• Bark Tannins / Antigenotoxic Against Gamma-Rays: Study evaluated the genotoxicity and antigenotoxicity of a tannin fraction from the bark of Pinus caribaea against gamma-rays. Results showed antigenotoxic activity against gamma-rays when in experimental E. coli cells were pre- or co-treated with the extracts, but no during post-irradiation treatment.


Availability
Wildcrafted.