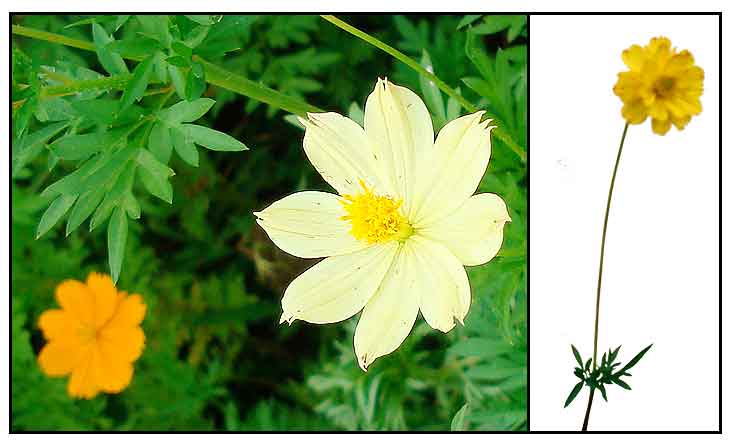 Botany
Annual herb growing to 30-120 centimeters tall. Leaves are opposite, pinnately cut; with narrow lanceolate lobes. Flower stalk is up to 20 centimeters long. Ray flowers are 8, spreading, pale to golden yellow, toothed at the margins; disk flowers with exerted anthers. Many introduced hybrids with flowers ranging from pink, magenta to white.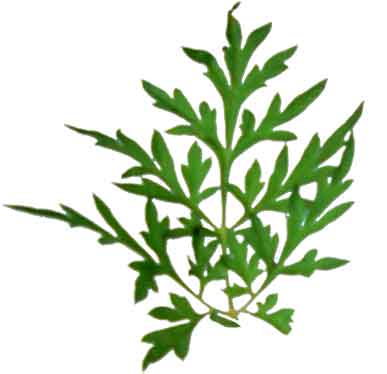 Distribution
Cultivated throughout the Philippines.
Constituents
• Phytochemical studies yielded 2 '-hydroxy-4,4 '-dimethoxychalcone from the flowers and quercetine and 3stigmasterol-3-0-beta-D-glucopyranoside from the leaves. source
• Has yielded butein, known for its antioxidant activity.
• Study of whole plant yielded two novel 15(10-1)abeomuurolane sesquiterpenes, cosmosoic acid (1) and cosmosaldehyde (2). (5)
• Essential oil of flowers yielded major constituents of 2,6-di-tert-butyl-4-methylphenol and the sesquiterpenes β-caryophyllene and germacrene D. (Aguiar et al., 2013). (8)

Properties
• Studies have suggested antioxidant, antimalarial, anti-icteric, antibacterial, hepatoprotective, and repellent activities.
Parts utilized
Rhizomes.
Uses
Folkloric
- No recorded folkloric use in the Philippines.
- Leaves and aerial parts used for intermittent fever.
- In Brazil, traditionally used for malaria. source
Others
• Dye: Flower yields a yellow dye with sunlight fastness when used on wool.

Studies
• Anti-Malarial: An ethnobotanical study showed Cosmos sulphureus to have activity against Plasmodium. (1)
• Butein / Antioxidant: Butein has been isolated from Cosmos sulfureus. Butein has been reported to be a powerful antioxidant against lipid and LDL peroxidation and has also exhibited anti-inflammatory activities, aromatase inhibition, cyclooxygenase inhibition and angiotensin converting enzyme inhibition, etc.
• Mosquito Repellent: Study of petroleum based extract of crushed plant extract of yellow cosmos was effective in the repulsion of mosquitoes. (4)
• Potential Hyperaccumulator for Cadmium: In a study screening plants for potential hyperaccumulator for cadmium from contaminated soil, the maximum bioconcentration factor (BCF) was obtained for margiold, followed by cosmos, sunflower and Guinea grass for all cadmium treatments. (7)
• Anti-Schitosomicidal / Antibacterial / Essential Oil: In a study scre The essential oil extracted from the flowers of B. sulphurea displays schistosomicidal properties and exhibited significant antibacterial activity. (Aguiar et al., 2013 and Ram et al., 2013) (8)
Availability
Cultivated.