Gen info
- Etymology: The genus Microsorum refers to the small-sized sori. The species epithet punctatum means "with a pock-marked surface of spotted".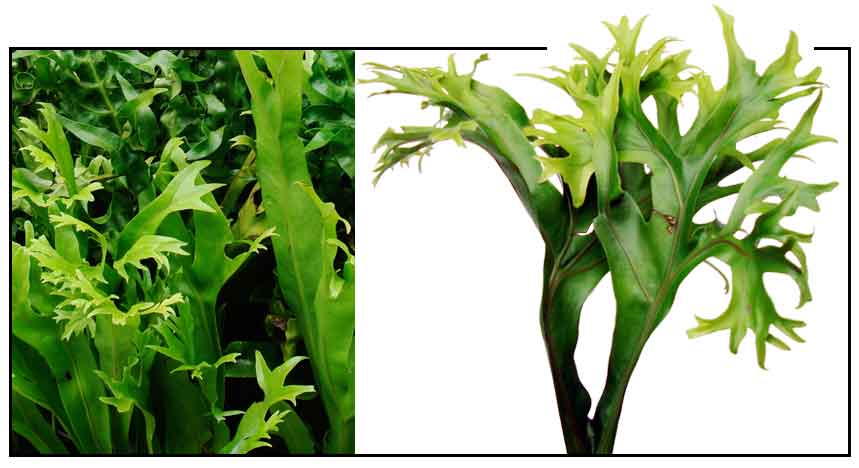 Botany
Climbing bird's-nest fern is a robust ground fern. Rhizomes are shortly creeping, thick, about 8 millimeters in diameter. Leaves are attractive, bright green, elongated, tufted, more or less ruffled at the margins and forking in various segments at the apex.
Microsorum punctatum is a fern with short-creeping rhizomes, can be found as an epiphyte, terrestrial plant or grown on surfaces of rocks. Fronds are produced close together, thick, leathery, narrowly egg-shaped, elliptic, spoon to lance-shaped, variable in length up to 1.75 m long, 15 cm wide. The mid rib is raised on both surfaces of the fronds. The edge of the foliage vary from smooth, wavy or irregularly lobed. The sori are small, round, scattered along the veinlets on the underside, measuring 0.2 - 0.5 cm wide. Rhizomes are slender, short-creeping covered in lattice-like scales. The scales are spoon-shaped to triangular shaped, measuring 1.5 - 8 mm long by 0.5 - 3 mm wide. (15)

Distribution
- Recently introduced; not widespread in the Philippines.
- (Native, as per Plants of the World Online). (4)
- Cultivated as an indoor plant.
- Widespread in the Old World.
- Reported in the Pacific islands, Malesia, tropical Asia, from southern China to India, Madagascar and Africa.

Constituents
- Ethanol extract yielded alkaloids, flavonoids, terpenes, phenols.
- Phytochemical screening of various leaf extracts yielded phenols, flavonoids, polyphenols, and sterols. (see study below) (7)
- Phytochemical screening of methanolic extract of fronds yielded alkaloids, anthraquinones, phenolics, saponins, and terpenoids; rhizomes yielded anthraquinones, phenolics, saponins, and terpenoids. (see study below) (9)
Properties
- Vulnerary, antibacterial.
- Studies have suggested antimicrobial, alpha-glucosidase inhibitory, cytotoxic, antioxidant, anti-inflammatory properties.
Parts used
Leaves, juice.
Uses
Folkloric
- In Baler, Quezon, used as purgative, diuretic, and for wound healing. (14)
- Decoction of plant used for coughing fits.
- Leaf juice used as purgative or enema.
- Leaf juice also used as diuretic and for healing wounds.
- Used in traditional medicine of Nicobarese tribes.
- Tribal people of the Palani hills from South India, leaf ground into juice applied to cuts and wounds, and as anti-inflammatory. (8) Tagin and Galo tribe of Arunachal Pradesh use paste of leaves for anti-inflammatory properties. (10)
- In Malaysia, used for coughing fits; used in preparation of enemas. (11)
- In Bangladesh, frond juice used for treatment of abdominal disorders. Paste made from fronds applied for wound healing. Juice from fronds used for treatment of urination problems. (16)
Others
- Apong: Leaves are used in the preparation of Apong (a kind of rice beer) in Dhemaji and Lakhimpur district. The Misings offer Apong in different rituals to pacify the spirits.
- Ornamental: In Baler, Aurora, used as ornamental decoration for weddings, birthdays, graduations and burials. (14)
Studies
• Antibacterial: Ethanol extract of whole plant showed inhibition zones towards various bacterial strains viz. E. coli, Micrococcus lutea, Serratia marcesens, Pseudomonas aeruginosa. (2)
• Antimicrobial: Study evaluated the antimicrobial activity of Microsorum punctatum and M. scolopendria against 11 bacterial and 8 fungal strains. Ethanol and aqueous extracts of both plants showed comparable antimicrobial activity. (3)
• Cytotoxicity / Glucosidase Inhibitory Activity: Study evaluated the cytotoxic activity of six edible and medicinal ferns. All the fern extracts investigated, which included M. punctatum, all showed cytotoxicity toward K562 cells . Concentration-dependent increase in antiglucosidase activity was observed in all fern extracts, except C. interruptus. The EC50 for antiglucosidase activity ranked in ascending order: C. dentata < P. irregularis < N. acutifolia < C. arida < M. punctatum. The EC50 of M. punctatum was 25-fold higher than that of myricetin. EC50 values of cytotoxic activity was 399.68±48.60 µg/mL while antiglucosidase activity was 1345.73 ±139.44 µg/mL. (5)
• Antibacterial in Bacterial Cutaneous Diseases / Leaves: Study evaluated the antibacterial activity of leaves of M. punctatum against bacteria involved in skin infections. Pseudomonas aeruginosa was the most sensitive organism, with MIC and MBC values of 25 mg/ml and 50 mg/ml, respectively. (see constituents above) (7)
• Antioxidant / Anti-Inflammatory: Study evaluated methanolic extracts of rhizome and fronds of three ferns collected in Bukidnon, Philippines for antioxidant and anti-inflammatory activity. DPPH radical scavenging activity as percentage DPPH inhibition and egg albumin denaturation assay was highest for M. punctatum rhizome extracts with recorded values of 56.58 ± 2.35% and 64.80 ± 5.79%, respectively. (see constituents above) (9)
• Silver Nanoparticles / Anti-Inflammatory / Fronds: Study reports on a cost-effective and eco-friendly synthesis of silver nanoparticles using Microsorum punctatum frond extract. The biosynthesized AgNPs significantly inhibited thermally induced albumin denaturation indicating capability to control protein denaturation involved in inflammatory processes. (13)

Availability
- Wildcrafted.
- Ornamental cultivation.