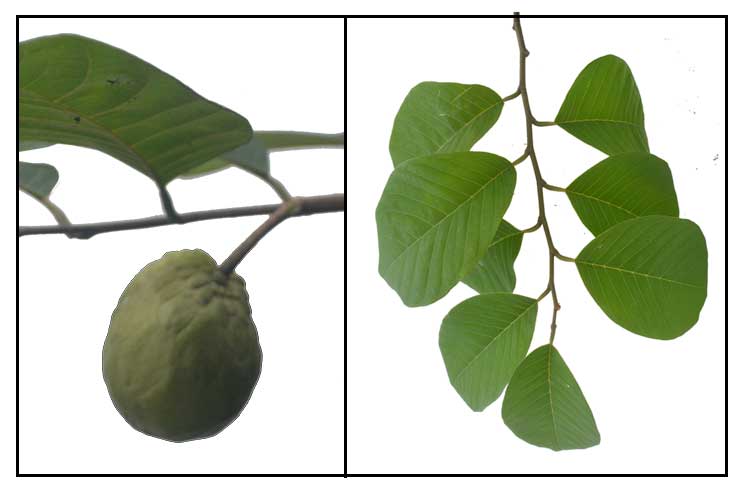 Botany
Cherimoya is a small deciduous tree that grows to a height of 10 meters, low branched, shrubby, spreading 5 to 9 meters. Leaves are alternate, two-ranked, with minute hairy petioles, ovate to elliptic, short and pointed at the apex, slightly hairy at the upper surface, velvety on the lower surface. Flowers are fragrant and solitary, on short, hairy stalks along the branches, with 3 outer, greenish, fleshy, downy petals and 3 smaller, pinkish inner petals. Fruit is cone- or heart-shaped, 10 to 20 centimeters long, up to 10 centimeters wide, containing numerous hard, brown or black glossy seeds, 1 to 2 centimeters long.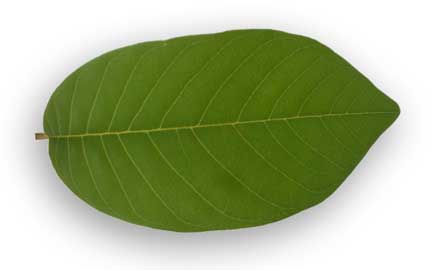 - In Peru, cherimoyas are classified according to degree of surface irregularity: Lisa (almost smooth), impresa (with fingerprint depressions), umbonada (rounded protrusions), papilonado or tetilado (fleshy, nipple-like protrusions), tuberculada (conical protrusions with wartlike tips). (1)
Distribution
- Introduced.
- Cultivated for its edible fruit.
- It does well in the Mountain Province at an altitude above 2,460 feet.
- Native to southern Ecuador and northern Peru.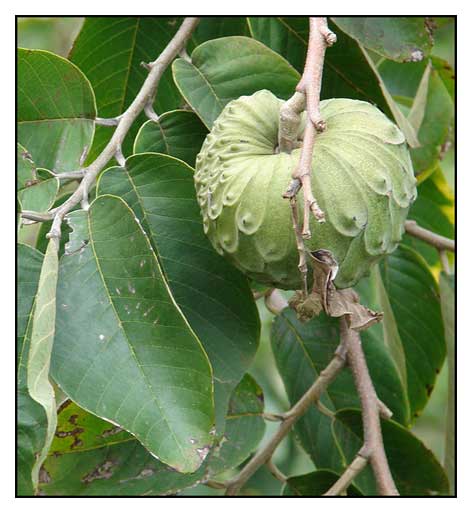 Constituents
- Plant yields alkaloids, flavonoids, glycosides, saponins, tannins, carbohydrates, proteins, phenolic compounds, phytosterols, and amino acids. (12)
- Nutrient analysis per 100 g of fruit (1 cup=160gm) yields: (Principle) energy 75 Kcal, carbohydrates 17.71 g, protein 1.57 g, total fat 0.68 g, cholesterol 0 mg, dietary fiber 3 g; (Vitamins) folates 23 µg, niacin 0.644 mg, pantothenic acid 0.345 mg, pyridoxine 0.257 mg, riboflavin 0.131 mg, thiamin 0.101 mg, vitamin A 5 IU, vitamin C 12.6 mg, vitamin E 0.27 mg; (Electrolytes) sodium 7 mg, potassium 287 mg; (Minerals) calcium 10 mg, copper 0.069 mg, iron 0.27 mg, magnesium 17 mg, manganese 0.093 mg, phosphorus 26 mg, zinc 0.16 mg' (Phytonutrients) carotene-ß 2 µg, cryptoxanthin-ß 1 µg, lutein-zeaxanthin 6 µg. (7)
- Bioassay-guided fractionation of ethanol extract of leaves yielded five phenolic compounds: caffeic acid, quercetin, kaempferol, nicotinflorin, and rutin. (see study below) (3)
- Yields numerous bioactive chemicals i.e., annonaceous acetogenins, annocherine A, cherianoine, annocherine B, chermolin, annomolin, romucosine H, anonaine, among others.
- GC-MS analysis of essential oils of fresh leaves, flowers, and fruits obtained by steam distillation yielded 60 constituents. Main constituents in the oil of leaves were bicyclogermacrene, trans-caryophyllene and δ-amorphene; flowers yield main constituents of bicyclogermacrene, α-terpinolene and germacrene D, and oil of fruits yielded main constituents of β-pinene, α-terpinolene, β-fenchyl alcohol and α-pinene. (see study below) (10)
Properties
- Studies have suggested antioxidant, hypolipidemic, antidiabetic, antiprotozoal properties.

Toxicity
- Seeds, like all Annona speices, are toxic and should be removed from the pulp before blending.
- Blindness can result from the juice of crushed seeds coming in contact with the eyes. (6)
- Seeds and twigs contain several alkaloids including (+)-reticuline, (-)-anonaine, liriodenine, and lanuginosine. (6)
- Ingestion of 0.15g of seed resin can cause symptoms resembling atropine effects. (6)

Parts used
Seeds, rind.

Uses
Edibility
- Fruit is juicy, slight sweet, and a little tart, with a delicious flavor cross between a pineapple and banana. Added to fruit salads and various dessert recipes. Pulp may be blended with orange juice and lime juice.
- Caution: seed is toxic. (see toxicity above)
Folkloric
- In Mexican traditional medicine, used for treatment of diarrhea and dysentery.
- Powdered seed mixed with grease as treatment for parasitic skin diseases.
- Seeds are toasted, peeled, and pulverized to a powder, taken with water or milk as potent emetic or cathartic. Decoction of rind taken to treat pneumonia. (6)
Others
- Insecticide: Crushed seed used as insecticide. (6)
Studies
• Antiprotozoal / Kaempferol / Leaves: Bioassay-guided fractionation of ethanol extract of leaves yielded five phenolic compounds: caffeic acid, quercetin, kaempferol, nicotinflorin, and rutin. In vitro antiprotozoal assay showed kaempferol was the most potent antiamoebic and antigiardial compound with IC50 values of 7.9 µg/ml for Entamoeba histolytica and 8.7 µg/ml for Giardia lamblia. (3)
• Antioxidant and Hypolipidemic Effects / Leaves: Study evaluated the antioxidant effect of oral administration of methanol extract of Annona cherimola leaf on antioxidant enzymes and lipid peroxidation in blood-Triton WR 1339 induced rat. Results showed improvement of antioxidant enzymes associated with an increase in body weight control and healthier lipid profiles suggesting antiobesity and hypolipidemic effects. (4)
• Alkaloids / Annona cherimola x Annona squamosa / Leaves: Atemoya is an interspecific annonaceous hybrid between A. cherimola Mill. and A. squamosa L. Phytochemical screening yielded seven alkaloids, including two aporphine (annonaine and asimilobine), three oxoaporphine (lanuginosine, liriodenine, and lysicamine) and two proaporphine (pronuciferine and stepharine). The species is an important source of aporphine akaloids with a high relationship with other Annona species. (8)
• Cytotoxic Cyclic Heptapeptide / Seeds: Methanol extract of seeds yielded a new cyclic heptapeptide, cherimolacyclopeptide C. It exhibited significant in vitro cytotoxic activity against KB cells, with an IC50 value of 0.072 µM. (9)
• Antimicrobial / Essential Oil: GC-MS analysis of essential oils of fresh leaves, flowers, and fruits obtained by steam distillation yielded 60 constituents. Study reported In vitro antimicrobial activity of three essential oils and some of their major constituents against five gram (±) bacteria and one fungus. (see constituents above) (10)
• Antihyperglycemic / Rutin / Leaves: Study evaluated an ethanol extract of A. cherimola, subsequent fractions, and rutin on alloxan-induced type 2 diabetic rats. Bioactive-guided fractionation of EEAc yielded a major antihyperglycemic compound, rutin. EEAc attenuated postprandial hyperglycemia. Results suggest rutin as an a-glucosidase inhibitor was responsible in part for the antihyperglycemic activity of A. cherimola. (11)
Availability
- Cultivated.
- Seeds in the cybermarket.