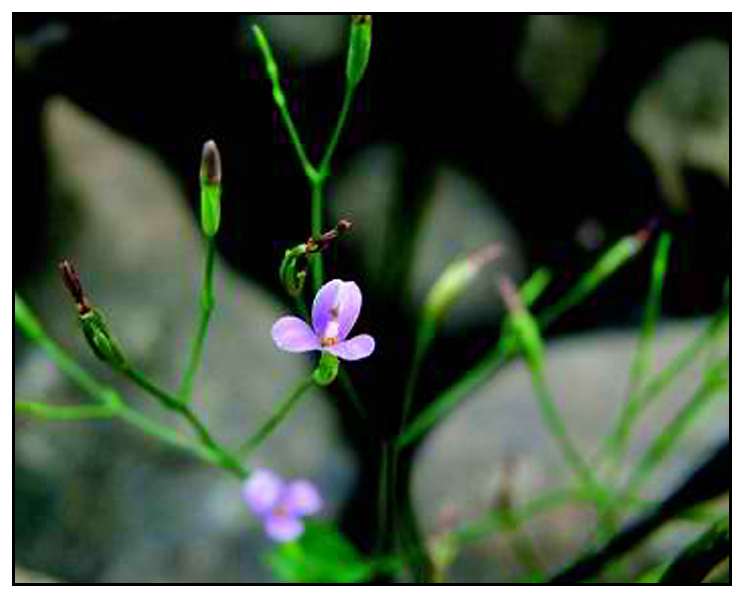 Gen info
- Canscora comprises approximately 15 species, occurring in tropical Africa, Asia and Australia. South-East Asia is richest in species, with 7 species in Thailand.
Botany
Chang-bato is a slender, much-branched, erect, smooth, annual herb, 10 to 50 centimeters high, with four-angled stems. Leaves are opposite and very thin; the lowers ones are lanceolate, 4 to 7 centimeters long, and pointed at both ends; the upper leaves are much smaller and ovate, gradually merging into bracts. Flowers are slender stalks, about 1 centimeter in length, borne in lax, diffuse panicles. Calyx is 5 to 6 millimeters long, with slender teeth. Corolla is white and has four lobes, 2 of which are longer than the others. Fruit is an oblong capsule, and as long as the calyx.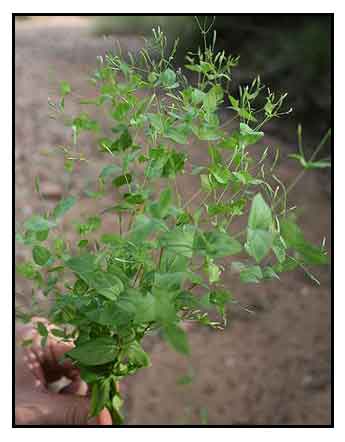 Distribution
- Native to the Philippines.
- In Ilocos Norte, Apayao, Bontoc, Benguet, Nueva Viscaya, Pangasinan, Zambales, Bulacan, Rizal, Cavite, and Quezon Provinces in Luzon; and in Mindoro.
- On cliffs and In ravines along streams from sea level to an altitude of 1,500 meters.
- Also occurs in tropical Asia and Africa through Malaya to tropical Australia.
Constituents
- Aerial parts and flowering tops yield free xanthones, xanthone glucosides, (-)-loliolide, methoxy- and hydroxyxanthones and its 3-O-rutinosyl derivative. Roots contain β-amyrin, friedelin, gentianine, xanthones, and 16 xanthones including mangiferin. Ash of the herb renders salts containing iron, potassium, calcium, nitrates and carbonates. (Asolkar et al., 1992).
- Yields ß-amyrin and xanthones.
- Phytochemical screening yielded alkaloids, flavanoids, phenols, steroids, anthracene glycosides and triterpenoids. (7)
Properties
- Considered laxative, alterative, and nerve tonic.
- Studies suggest antioxidant, antibacterial, anti-cholinesterase inhibition properties.

Parts used
Entire plant.

Uses
Edibility / Culinary
- In the Philippines, plant has been used as substitute for tea.
- Leaves eaten after boiling.
Folkloric
- Entire plant, in decoction, used as tonic and antigastralgic.
- Used as substitute for C. decussata, which is a laxative, alterative and nerve tonic.
- In India, fresh whole plant used for schizophrenia. (6) Used for piles and skin diseases.
- In Madhya Pradesh, India, plant decoction taken for nervous debility. Leaf paste applied externally in inflammation. (9) In Rajasthan, plant paste used as nerve tonic. (10)
- In Ayurveda, used as febrifuge, stomachic, tonic, antidote, aphrodisiac, laxative, alterative, sedative, CNS depressant, nervine, anticonvulsant, antitubercular, anti-inflammatory; used for stomachaches. Paste of roots and flowers taken with milk as sedative for nervous disorders, epilepsy, insanity. (12)
- In Jhakhand, India, leaf paste inserted in the vagina for easy expulsion of fetus. (13)

Studies
• Glycosyloxyflavan / Diffutin / Adaptogenic: Study has isolated a glucosyloxyflavan, diffutin. Glucosyloxyflavans, individually or in combination, are reported to produce varying degrees of adaptogenic (anti-stress / anti-anxiety) activity in animal models. (1)
• Antioxidant / Acetylcholinesterase Inhibition: Study analyzed the antioxidant and acetylcholinesterase inhibitory properties of five medicinal plants, including C. diffusa. C diffusa was one four that showed dose-dependent acetylcholinesterase inhibition and significant DPPH radical scavenging. (2)
• Antibacterial: Study evaluated 22 methanol extracts of plant belonging to 12 families for antibacterial activity. Of the plants, five, including Canscora diffusa, were found to more effective against both Gram positive and Gram negative bacteria. (5)
• Antibacterial: All tested extracts showed antibacterial activity against test organisms viz. Staphylococcus aureus, B. subtilis, Rhodococci sp., Escherichia coli, Proteus mirabilis, Pseudomonas sp., Salmonella sp., and Bacillus sterothermophilus. Results suggest potential use for therapeutic treatments of gastrointestinal disorders, diarrhea and skin diseases. (7)
Availability
- Wild-crafted.