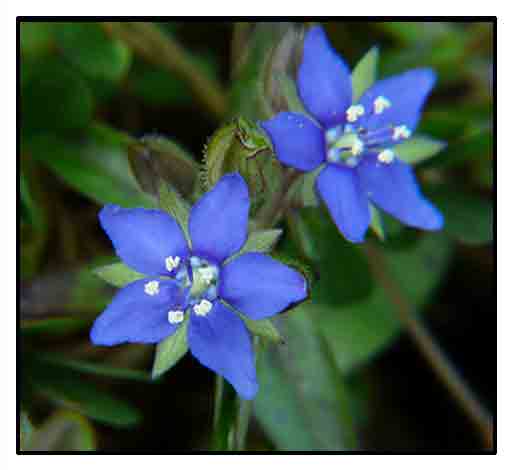 Botany
Hydrolea zeylanica is an annual, ascending or procumbent, sparingly branched, nearly smooth herb, a few centimeters to 1.2 meters in length, and rooting at the lower nodes. Leaves are lanceolate, 2 to 12 centimeters long, 6 to 12 millimeters wide, and pointed at both ends. Flowers are very numerous, bright blue, and borne in racemes. Sepals are hairy, green, oblong-linear, and about 5 millimeters long. Corolla is 8 to 10 millimeters in diameter, with ovate lobes. Fruit is a capsule, ovoid, 4 millimeters long, surrounded by the persistent calyx-lobes, and contains numerous, minute, oblong seeds, less than 0.5 millimeters long.
Distribution
- Found in northern Luzon to Mindoro, probably in most islands and provinces, in open wet places, often common in rice paddies as a weed.
- Also occurs in Indian to China and through Malaya to tropical Australia.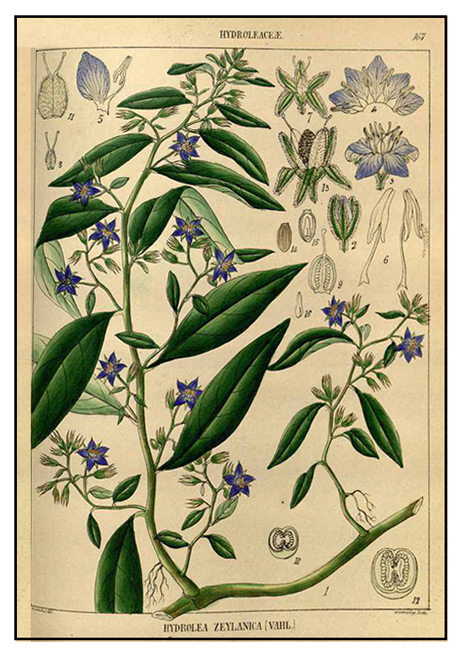 Constituents
- Shoots yield flavanoids - kaempferol and quercetin.
- Study of flavonoid content of shoots showed: total flavonoids, 10.1/100 g fw, dry matter 18.3, quercetin 2.2, kaempferol 7.9. (3)
- Ethyl acetate fraction yielded total phenolic and flavonoid contents of 286.33 ± 9.16 mg GAEeqv/g and 208.24 ± 5.56 mg Querqv/g, respectively. (see study below) (4)
- Preliminary phytochemical screening of methanol extract of leaves yielded glycosides, flavonoids, sterols, tannins, terpenoids, alkaloids, and phenolic acids. (see study below) (8)
- A chloroform fraction of whole plant yielded three bioactive compounds viz., stigmasterol, kaempferol, and p-coumaric acid. (see study below) (9)


Properties
- Leaves are considered to have healing and antiseptic properties.
- Studies have suggested antioxidant, antiulcer properties.

Parts used
Leaves, twigs.

Uses
Edibility
- Considered edible, but underutilized.
- In India, shoots are eaten as vegetable. (11)
Folkloric
- Leaves, beaten into a pulp, used as poultice to facilitate healing of neglected and callous ulcers.
- In southern Assam, India, leaves and twigs used for diabetes. (1)
- In Ayurveda, leaf poultice used for ulcers.
- In the Hazaribag district of Jharkhad, India, leaves considered antiseptic. Decoction of leaves used for healing ulcers. (11)
- In Bangladesh, pulp of plant applied as poultice on neglected and callous ulcers; also used for pain. (12) A mixture of leaves of H. zeylanica, Crinum asiaticum, Datura metel, Calotropis gigantea and roots of Bombax ceiba, bark of Terminalia arjuna, camphor, and oil of turpentine are macerated together and boiled, and the decoction used for massaging painful areas of rheumatism. (13)
Studies
• Antiulcer / Antioxidant: Study evaluated the antioxidant and antiulcer activities of H. zeylanica in diclofenac and pylorus ligation induced ulcers inn rats. Results showed significant (p<0.01) reduction in gastric volume, free and total acidity, ulcerative index and significantly (p0.01) reduced gastric pH and % protection in both models. The ethyl acetate fraction showed better antioxidant activity than other fractions. There was significant reduction (p<0.01) in MDA and increased in GSH, CAT levels in gastric tissues. The antiulcer properties were attributed to phenols and flavonoids contents. (see constituents above) (4)
• Anthelmintic / Whole Plant:Study of aqueous and methanolic extracts of whole plant against Pheretima posthuma showed anthelmintic activity as evidenced by paralysis (p<0.01) at lower doses and death at higher concentration of 100 mg/ml. Albendazole was used as standard drug. (5)
• Hepatoprotective / Carbon Tetrachloride Toxicity / Leaves:Study evaluated the hepatoprotective activity of methanolic leaf extract in carbon tetrachloride intoxication rats. Pretreatment showed effects on AST, ALT, ALP, and total bilirubin comparable to standard drug silymarin. Histologically, there was also decreased necrotic zones and hepatocellular degeneration. (6)
• Gastroprotective / Cold Restraint Stress Induced Ulcers / Leaves:Study investigated the antiulcer activity of methanolic extract of leaves of H. zeylanica using ethanol and cold restrained stress induced ulcer models in rats. The ME at 500 mg/kg showed maximum inhibition of gastric acid, free acid, and total acid and significant reduction in ulcer index. However, the activity was less than that of ranitidine. The activity may be attributed to the cytoprotective action of the extract or strengthening of gastric and duodenal mucosa with enhancement of mucosal defense mechanism. (7)
• Wound Healing / Leaves: Study evaluated the wound healing property of H. zeylanica methanol leaf extract on excision and incision would models in rats. The leaf methanol extract showed wound healing potential as evidenced by increased the rate of wound contraction, decreased the period of epithelization and increased skin breaking strength. (see constituents above) (8)
• Antidiabetic: Study evaluated ethanol extract and various fractions powdered whole plant for in vivo antidiabetic activity using streptozotocin induced diabetic male wistar rats. A choloroform fraction showed highest decrease in blood glucose, total cholesterol, and serum triglyceride levels at 75.11%, 59.77%, and 35.98%, respectively. The fraction yielded three bioactive compounds viz., stigmasterol, kaempferol, and p-coumaric acid, which were presumed to be responsible for may of its pharmacologic properties. (9)

Availability
Wild-crafted.