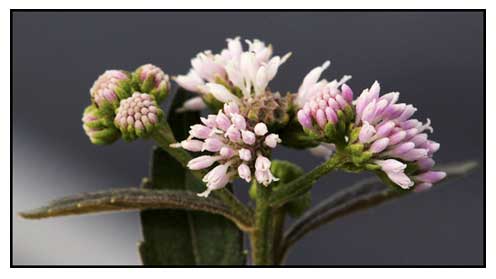 Botany
Bungbungtit is an erect, smooth or somewhat hairy, leafy herb, 30 to 120 centimeters in height. Leaves are narrowly or broadly elliptic-lanceolate, 4 to 9 centimeters long, pointed at both ends, glandular-dotted, and toothed on the margins. Flowering heads are very numerous, 4 to 6 millimeters in diameter, peduncled, with purplish or reddish flowers.
Distribution
- In thickets, in stream depressions, and in mossy forests at an altitude of 1,300 to 2,300 meters, in Lepanto and Benguet Subprovinces in Luzon.
- Occurs in India to eastern Africa and to Malaya.
Constituents
- Study isolated a novel spiro-monoterpene-5-methylcoumarin, named spiro-ethuliacoumarin, from the aerial parts.
- Phytochemical screening yielded tannins and flavonoids.
- Study yielded 5-methylcoumarin derivatives: isoethuliacoumarin A, B, and C, ethuliconyzone, and 5-methycoumarin glucoside.
- Extracts of aerial parts yielded 3-O-acetyl lupeol, lupan-3-ol, ethuliacoumarin (1) and 7-O-methyl apigenin (Genkwanin), besides a mixture of isoethyliacoumarin A (2), isoethuliacoumarin C (3). (see study below) (11)
Properties
- Considered aphrodisiac, oxytocic, stomachic, anthelmintic.
- Studies have suggested antimicrobial, molluscicidal, anthelmintic, cytotoxic, antioxidant properties.

Parts used
Leaves, whole plant.

Uses
Edibility
- Leaves cooked; rarely eaten.
Folkloric
- In Liberia, juice is squeezed in to the eyes for headache; root, along with red peppers, given by enema for constipation; leaves eaten by pregnant women to prevent abortion.
- Zulus use the plant as a remedy for intestinal parasites, for abdominal disorders and for colic.
- In Madagascar, infusion of the plant used for dysentery, hemoptysis and bruises.
- In Brazil, plant used for flu, bronchitis, cough; as anthelmintic; for respiratory and back problems.
- Pounded leaves applied over sprains and fractures.
- Boiled leaves used for wounds and traumatic hemorrhages.
- Used for treatment of scabies.
- Root decoction used as aphrodisiac.
- In Madagascar and Nigeria leaves used as remedy for cancer.
- In Tanganyika, root decoction taken as abortifacient, leaf sap taken for diarrhea. In Liberia, root with red pepper used as enema for constipation; sap squeezed into the eyes for headache. (9)

Studies
• Coumarins / Antimicrobial: Study of methanol extract of aerial parts yielded 2 new monoterpene coumarins: 9-hydroxyethuliacoumarin and 1′,2′-epoxyethuliacoumarin. Antibacterial activity was determined against E Coli, Pseudomonas and Serratia spp and Bacillus cereus and S. aureus. (1)
• Molluscicidal: Study identified the molluscicidal principles of Ethulia conyzoides as ethuliacoumarin A and isoethuliacoumarin A. Ethuliacoumarin A was also found to be cercaricidal and ovicidal. (3)
• Anthelmintic: Study of the alcoholic extract of aerial parts of E. conyzoides var. gracilis Asch. & Schweinf. exhibited significant anthelmintic activity invitro against Ascaris lumbricoides. Ethuliacoumarin A was found responsible for the anthelmintic activity. (4)
• Cytotoxicity: In a study investigating the cytotoxic activity on HeLa cell line of the ethanolic extracts of 16 Nigerian plants used for the treatment of cancer, Ethulia conyzoides showed moderate cytotoxic activity. (5)
• Free Radical Scavenging / Antioxidant: A methanol extract was evaluated for antioxidant activity using the free radical scavenging activity of DPPH, TAC, and estimation of total phenolic content. Results showed a concentration-dependent antioxidant activity. Tannin and flavonoid content may be responsible for the high antioxidant activity. (7)
• Antioxidant / Aerial Parts: Study evaluated the in vitro antioxidant potential of petroleum ether, acetone, and ethanol extracts of Ethulia conyzoides aerial parts. All extracts exhibited high antioxidant activity in DPPH, reducing power, FTC, and TBA assays, with the acetone extract showing highest activity. (10)
• Acaricidal / Aerial Parts: Study evaluated the acaricidal potential of E. conyzoides aerial parts and its isolated compounds against larvae and adults of Tetranychus urticae Koch. The ethyl acetate fraction and ethuliacoumarin (1) showed potent activity against larvae and adults of T. urticae with LC50 values of 11.58 and 17.86 ppm for the EA fraction and 12.72 and 19.22 ppm for compound 1. (see constituents above) (11)
Availability
Wild-crafted.