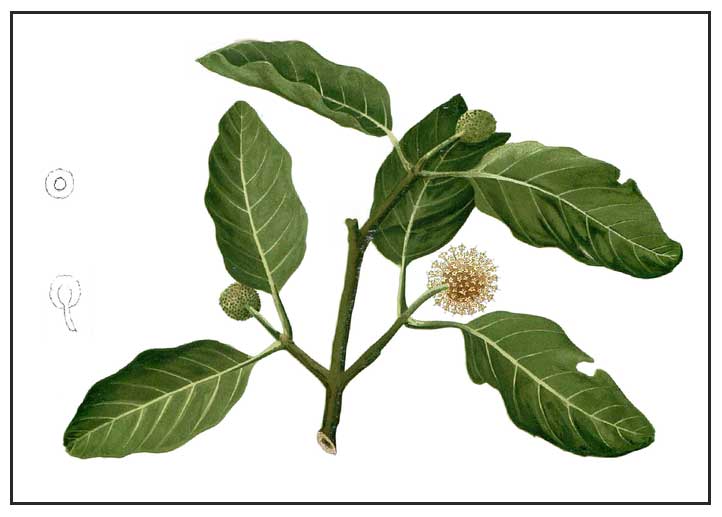 Gen info
- Nauclea is a genus of flowering plants in the family Rubiaceae. The name derives from Greek words naus, meaning "ship" and kleio, meaning "to close"", referring to the resemblance of the cells of the capsule to a ship's hull. (10)
Botany
Bulobangkal is a tree reaching a height of 25 meters and a diameter of 50 centimeters. Leaves are leathery, ovate, 8 to 20 centimeters long, pointed at the tip, rounded or pointed at the base, on petioles about 2 centimeters long. Flowers are yellow, occurring in rounded heads. The lower part of the flower, including the ovaries, are united to form a sort of ball from which the corollas project like pins from a pin cushion. When the corolla falls off, the ball enlarges and becomes a fruit. Fruit is fleshy, brown, pitted on the surface, rounded and about 2 centimeters in diameter.
Distribution
- Found in primary forests at low altitudes in Isabela, Quezon, Zambales, Camarines, Sorsogon and Albay Provinces in Luzon; in Masbate, Leyte, Negros and Mindanao.
- Native to Assam, Borneo, Java, Lesser Sunda Is., Malaya, Maluku, Philippines, Sulawesi, and Sumatra. (14)
- Planted to stabilize river banks; occasionally planted as a hedge plant. (11)
Constituents
• Study yielded a new apoptotic monoterpenoid indole alkaloid, subditine, together with four known compounds. (See study below) (2)
• Phytochemical screening of methanolic crude extracts yielded phenolic compounds, flavanoids, terpenoids, alkaloids, phytosterols, and saponins in the heartwood of young and mature plants, while only phytosterols were detected in hexane extracts. (see study below) (4)
• Study isolated angustoline monohydrate--1-(1-Hydroxyethyl)-7,8-dihydroindolo- [2,3-a]pyridine[3,4-g]quinolizin-5(13H)- one (angustoline) monohydrate. (6)

Properties
• Studies have suggested antimicrobial, antioxidant, and antiproliferative properties.
Parts used
Bark, leaves.
Uses
Edibility
- Young leaves and fruits are edible. (12)
Folkloric
- Decoction of bark used to regulate menstruation.
- In Borneo, Dayak women treat the skin with natural ingredients, one of which is taya cortex (Nauclea subdita). (7)
Studies
• Subditine / Antiproliferative / Anti-Prostate Cancer / Bark: Study yielded subditine, a new apoptotic monoterpenoid alkaloid, together with four known compounds, from the bark of Nauclea subdita. Subditine demonstrated the most potent cell growth inhibition activity against LNCaP with an IC50 of 12.24 — 0.19 µM and PC-3 with an IC50 of 13.97 ± 0.32 µM. Subditine treatment exerted antiproliferative effect on LNCaP and PC-3 human prostate cancer cells through induction of apoptosis. (2)
• Total Phenolic Content / Free Radical Scavenging / Heartwood: Study of heartwood parts of Nauclea subdita showed a total phenolic content of 760 nm. Methanolic extracts was checked for antioxidant activity using a DPPH assay. Results from the study showed a potential source of natural antioxidants for food and nutraceutical applications. (3)
• Antioxidant / Heartwood: In a study for total phenolic content and antioxidant activity, the young heartwood of N. subdita trees yielded high TPC than mature heartwood. Extracts of heartwood parts showed promising free radical scavenging activity in DPPH assay in a concentration dependent manner. (see constituents above) (4)
• Antimicrobial / Stem Bark: Study evaluated the antimicrobial activity of Nauclea subdita against six pathogenic microorganisms. Mature trees showed more potent zones of inhibition than young trees. The extract was more potent to both marine bacteria, Vibrio parahaemoliticus and V. alginolyticus, while Candida albicans and Aspergillus niger were resistant to it. (5)
• Antioxidant / Tyrosinase Inhibitory: Study evaluated the antioxidant and tyrosinase inhibitory activity of a stable gel formulation of taya cortex extract. Results showed inhibition of tyrosinase extract with IC50 of 568.58 µg/mL in L-tyrosine and 1374.69 µg/mL in L-DOPA, larger than standard kolic acid. The extract showed significant antioxidant activity (<50 µg/mL) with IC50 of 15.69 µg/mL compared to standard quercetin of 10.12 µg/mL. Safety study showed the gel preparation as safe to use topically while increasing skin elasticity changes. (7)
• Immunostimulant / Hematological Effects / Leaves: Study evaluated the efficacy of different doses of N. subdita leaf extract on hematological and histological changes in kidney and liver of catfish (Pangasius hypophthalmus) infected by Aeromonas hydrophila. N. subdita leaf extract reduced mortality caused by A. hydrophila. There was reduction in inflammation by decreasing the activity of neutrophils, monocytes, and lymphocytes, along with increase in decreased levels of Hb and Hct. Liver and kidney necrosis were also decreased. Results indicated the leaf extract stimulated immunity and increased resistance of the catfish. Study suggests a potential source for future drug development and food applications. (9)
• Angustine / Hematological Effects / Leaves: Study evaluated the ß-glucuronidase inhibitory effect of compounds isolated from Nauclea subdita and Alpinia pahangensis, together with their mode of inhibition, and interactions with the enzyme. Angustine (1) and (E)-labda-8(17),12-dien-15,16-dial (2) were secondary metabolites isolated from Nauclea subdita and Alpinia pahangensis, respectively. Both exhibited potent inhibitory activities against ß-glucuronidase enzyme, with IC50 of 5.6 ± 0.70 µM for N. subdita. The compounds were non--competitive inhibitors, Compound 1 was predicted to be a more active inhibitor through in silico molecular docking and molecular dynamics simulation studies. (11)
• Subtidine / Anticancer / Bark: Study isolated subtidine, a monoterpene indole alkaloid, from the bark of N. subdita. It was found to activate apoptosis in a dose-dependent manner un human prostate cancer cells through the intrinsice pathway. Subtidine treatment led to higher p53 expression and downregulation of Bcl2 and Bcl-xL, thus inhibiting their anti-apoptotic activity. (13)
Availability
Wild-crafted.