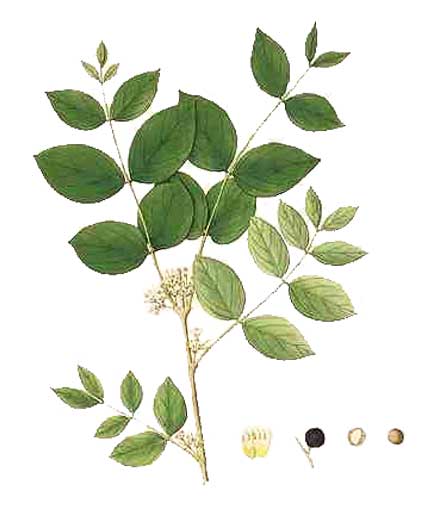 Botany
Bukuan is a woody climber. Leaves are opposite, elliptic or ovate, 10 to 18 centimeters long, 6 to 7.5 centimeters wide, pointed at the tip and rounded at the base. Flowers are white, small, borne on compound inflorescences in the axils of the upper leaves. Fruit is rounded, bright orange red, purple-black when ripe, and 3 to 4 centimeters in diameter, containing one flat seed.
Distribution
- In primary forests at low and medium altitudes in Ilocos Norte, La Union, Bulacan, Bataan, Laguna, Rizal, Quezon, and Sorsogon Provinces in Luzon; and in Mindoro.
- Also found in India, Sri Lanka, Myanmar, Zaire, Madagascar.
Constituents
- Extracts of roots, stem bark and seeds yielded alkaloids, flavonoids, lignins, glycosides, phenols, saponins, sterols and tannins.

Properties
- In Ayurveda, considered lithotriptic, emetic, diaphoretic.
- Considered emmenagogue.
- Seeds used to treat eye diseases, calculi, and diabetes.
- In Unani, seeds considered astringent, aphrodisiac, tonic, diuretic.

Parts used
Bark, seeds, roots, fruit.

Uses
Folkloric
- In the Philippines, decoction of bark taken internally as an emmenagogue.
- Also used for throat troubles.
- In India, seeds used to purify water for drinking.
- In Ayurveda, used as lithotriptic, used for strangury, urinary discharges. Roots used for leucoderma; fruits used for eye diseases, poisoning and hallucinations. In traditional medical systems, seeds used for treatment of hepatopathy, gastropathy, nephropathy, gonorrhea, leucorrhea, gastropathy, diarrhea, renal and vesical stones, diabetes.
- In Unani, seeds used as astringent for bowels, as aphrodisiac, diuretic.
Others
- Seeds are rich source of polysaccharide gum used in the paper and textile industries.
- Ripe seeds used for clearing muddy eater.

Studies
• Hepatoprotective / Antioxidant: In a study on CCl4-induced acute hepatic injury in experimental rats, the aqueous extract showed significant hepatoprotective activity, similar to the standard drug Silymarin. Reduced enzymic and nonenzymic antioxidant levels and elevated lipid peroxide levels were restored to normal by administration of the seed powder and aqueous extract. (2)
• Antidiarrheal: Study in a rat model of methanol extract of dried seeds of Strychnos potatorum showed an antidiarrheal effect with decreased frequency of defecation and reduced wetness of faecal droppings in castor oil-induced diarrhea, and reduced PGE2-induced enteropooling. (3)
• Antinociceptive / Antipyretic: Study showed S potatorum powder and extract to possess significant analgesic and antipyretic activity. The observed effects suggest the inhibition of prostaglandins and other mediators involved in nociception. (5)
• Antiulcerogenic: Study in the seed powder and aqueous extract of Strychnos potatorum exhibited antiulcerogenic activity by both antisecretory and mucoprotective actions. The antiulcerogenic potential was compared with the standard antiulcer drug, ranitidine. (6)
• Anti-Arthritic: Study showed both aqueous extract and whole seed powder exhibited reduction in rat paw edema volume and significantly normalized blood and biochemical abnormalities, and further confirmed by histopathologic and radiologic studies. (7)
Availability
Wild-crafted.