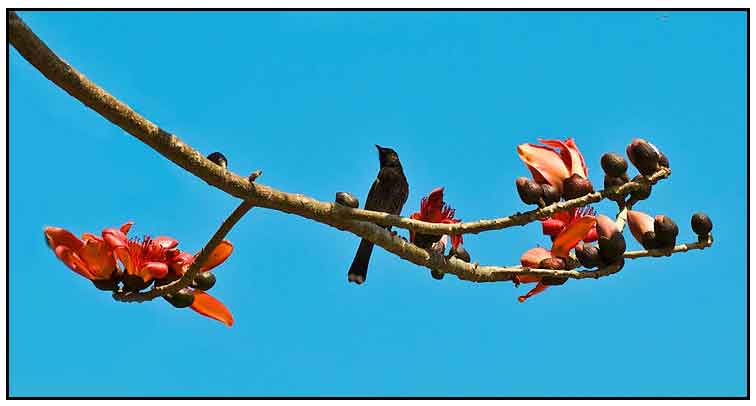 Botany
Buboi-gubat is a large tree growing to a height of 25 to 30 meters or more. Trunk is up to 3 meters in diameter, covered with few or many, very large conical prickles with corky bases. Leaves are deciduous and smooth. Leaflets are 5 to 9, oblong or oblong-lanceolate, 10 to 20 centimeters long. Flowers are large, red, 8 to 10 centimeters long, appearing before the leaves, fascicled at or borne near the ends of the branches. Capsules are hard, woody, oblong, about 15 centimeters long. Valves are silky within. Seeds are numerous, smooth, obovate and embedded in silky hairs.
Distribution
- Found in Abra, Bulacan, Nueva Ecija, Bataan and Rizal Provinces in Luzon; in Mindoro; in Camiguin de Misamis; and in Mindanao.
- Scattered in secondary and primary forests, at low and medium altitudes.
- Also reported from India to southern China, and southward to Sumatra and Java.

Folklore
In Trinidad and Tobago folklore, the tree is the "Castle of the Devil," where Bazil, the demon of death, was lured and imprisoned by a carpenter. In 2002, the tree was cut down by government non-believers, releasing the resident demon who has caused a skyrocketing of crime.
Constituents
- Gum for the bark yields katechuic acid, sugar, 'semulrot,' ash with CaCO3, MgCO3, etc.
- Study reports gum yields tannic and gallic acids.
- Seed oil yields 94.5% mixed fatty acid of oleic acid as major constituent, along with myristic, palmitic, arachidic, and linoleic acid.
- Flowers yielded seven flavones: vicenin, linarin, saponarin, cosmetin, isovitexin, xanthomicrol, and apigenin.
- Seeds yield n-hexacosanol, palmitic acid, octadecyl palmitate, gallic acid tannic acid, 1-gallyl-B-glucose, ethyl gallate and a mixture of a, B, and y-tocopherol.
- Chemical analysis of flowers yielded ten flavonoids, quercetin, quercetin-3-O-ß-D-glucopyranoside, quercetin-3-O-ß-D-glucuronopyranoside, rutin, sexangularetin-3-O-sophoroside, vitexin, isovitexin, vicenin 2, kaempferol-3-O-rutinoside, and kaempferol-3-O-ß-D-glucuronopyranoside; three xanthones, isomangiferin, mangiferin, and 7-O-methyl mangiferin; four coumarins, esculetin, scopoletin, fraxetin, and scopolin; and seven other compounds, blumenol C glucopyranoside, benzyl-ß-D-glucopyranoside, phenylethyl rutinoside, protocatechulic acid, chlorogenic acid, methyl chlorogenate and vanillic acid. (18)
- Flowers yielded twenty-four compounds, including 10 flavonoids: quercetin (1), quercetin-3-O-ß-D-glucopyranoside (2), quercetin-3-O-ß-D-glucuronopyranoside (3), rutin (4), sexangularetin-3-O-sophoroside (5), vitexin (6), isovitexin (7), vicenin 2 (8), kaempferol-3-O-rutinoside (18), and kaempferol-3-O-ß-D-glucuronopyranoside (23); three xanthones, isomangiferin (9), mangiferin (10), and 7-O-methyl mangiferin (11); four coumarins, esculetin (12), scopoletin (13), fraxetin (14), and scopolin (21); and seven other compounds, blumenol C glucopyranoside (15), benzyl-ß-D-glucopyranoside (16), phenylethyl rutinoside (17), protocatechulic acid (19), chlorogenic acid (20), methyl chlorogenate (22) and vanillic acid (24). (20)
- Study of leaves yielded eleven compounds: taraxeryl acetate (1), squalene (2), taraxerone (3), beta-sitosterol palmitate (4), taraxerol (5), 4-methyl stigmast-7-en-3-ol (6), 1H-indole-3-carboxylic acid (7), 6-O-palmitoylsitosteryl-D-glucoside (8), 12beta-hydroxyl-pregnane-4, 16-diene-3, 20-dione (9), loliolide (10) and 5-(hydroxymethyl) furfural (11). (22)
Properties
- Considered astringent, cooling, stimulant, diuretic, aphrodisiac, demulcent, anti-dysenteric, and tonic.
- Studies have suggested antioxidant, antimicrobial, anti-inflammatory , analgesic, anabolic, hepatoprotective, hypotensive, hypoglycemic properties.
- Seeds are surrounded by silky hairs similar to those of Ceiba pentandra but whiter.
- Bast of the tree is colored orange-buff.
- Fiber is often confused with 'buboi.'
- Roots are considered astringent, restorative, alterative, aphrodisiac.
- Gum is very astringent and styptic.
- Roots are considered stimulant and tonic.
- Tap-root, especially of young plant, is considered demulcent, tonic, slightly diuretic and aphrodisiac.
- Bark considered demulcent, diuretic, tonic and slightly astringent.
- Flowers considered laxative and diuretic.

Parts used
Roots, leaves, gum, bark, flowers.


Uses
Folkloric
- Roots used for diarrhea, dysentery, boils, diabetes, snake bites, leucorrhea,.
- Roots used as restorative for phthisis.
- Roots externally applied for swellings and rheumatic pains.
- Tap root used for gonorrhea and dysentery; also as an emetic.
- Bark used externally as paste for inflammation and skin eruptions.
- Stems and bark used for headaches, snake bites, asthma, dental caries.
- Gum used for diarrhea, dysentery, menorrhagia.
- Fruits used for urinary problems.
- Leaves, ground and mixed with milk, used for urgency and painful urination.
- Leaves, ground into a paste, used for skin eruptions.
- Flower petals, squeezed and soaked in human's or cow's milk, used as soothing application for infant's conjunctivitis.
- Dry young fruit used for calculous affections and chronic inflammation of the kidney and urinary bladder; used for strangury and all causes of mechanical dysuria.
- Fruit used for weakness of the genitalia.
- Seeds, alone or combined withy cumin and anise-seeds and an eighth part of silicious bamboo secretion, used for gonorrhea and associated urethral discharge, chronic cystitis, consumption, catarrhal infections
- "Cotton" used externally for padding splints and covering burnt and inflamed surfaces.
- In Guinea, roots as used as emetic.
Others
- Pillows: Fiber used for stuffing pillows.
- Ropes: Bast of tree used for making ropes; of good tenacity, but too scarce for commercial production. Rope produced from it said to be suitable for use in the dry season.

Studies
• Antiangiogenic: Study of methanol extract of stem barks of Bombax ceiba exhibited significant antiangiogenic activity on in-vitro tube formation on human umbilical venous endothelial cells. (1)
• Hypotensive / Shamimicin: Study yielded shamimicin from the stem bark of Bombax ceiba, along with lupeol, which was found to possess potent hypotensive activity. (2)
• Antioxidant: Study of methanol extract of Bombax ceiba showed antioxidant activity in assays – DPPH, lipid peroxidation and myeloperoxidase activity.
• Blood Glucose Reduction: In Sprague-Dawley rats, a dose of 500 mg/kg of Shamimin, a C-flavonol glucoside from B Ceiba, produced a significant reduction of glycemia.
• Blood Glucose Reduction: In a comparative study of herbal plants, chloroform and alcoholic extract of bark of B. ceiba showed significant reduction of blood glucose level in alloxan-induced diabetic Wistar rats compared to control and glibenclamide.
• Free Radical Scavenging: Phytochemical screening showed high amount of phenolics (30.95%) and tannins (15.45%) and very good dose-dependent DPPH radical scavenging activity. The strong in vitro and in vivo antioxidant potential of the root powder validates its use in diabetes mellitus and heart disease as described in traditional medicine. (6)
• Hepatoprotective / INH and Rifampin: Study concluded the methanolic extract of BC did not completely revert the hepatic injury caused by INH and Rifampin, but it could limit their effects to the extent of necrosis. The reason for the hepatoprotective effect may be due to the flavonoids and sesquiterpenoids with its free-radical scavenging. (7)
• Antimicrobial: Study of methanol extract showed activity against multi-drug resistant Salmonella typhi• Antimicrobial / Bark: Study of various extracts of BC bark for antibacterial and antifungal activity showed effective activity against all tested pathogens: S. aureus, S. pyogenes, K. pneumonia, E. coli, K. aerogenes, N. gonorrhea and Candida albicans. An aqueous extract showed a higher zone of inhibition.
• Anti-Helicobacter Pylori Activity: Ethanolic extracts of Bombax malabaricum exhibited strong anti-Helicobacter pylori activities.
• Aphrodisiac: Root extract was evaluated for aphrodisiac activity in sexually active and inactive male mice. The extract significantly reduced mount latency, intromission latency, ejaculation latency, and post-ejaculatory interval. (9)
• Anabolic Effect: Root has been traditionally used for debility and impotence. In this case study of a patient with involuntary and idiopathic weight loss treated with CB root powder with milk, weight lost was regained, with normal body mass, a 147% rise in fibrinolytic activity and marked improvement in total antioxidant status. Results document the anabolic potential of BC root powder. The effect may be possibly explained by the presence of high amounts of steroids in the root, with an activity like 5-a-reductase, an enzyme catalyzing the conversion of testosterone to 5-a-dihydrotestosterone (DHT), which might provide the androgenic effect. (10)
• Cardioprotective Effect: Study showed a cardioprotective potential of an aqueous flower extract against Adriamycin-induced myocardial infarction in rats. An antioxidant effect is suggested. (11)
• Diuretic Effect / Fruits: Study investigated the diuretic effects of aqueous ethanol extracts of fruits in an acute model in rats. Results showed a diuretic action, with marked increase in urinary Na+ and K+ levels. The diuresis induced was almost similar to furosemide and HCTZ. (16)
• Anti-Inflammatory Effect / Fruits: Study evaluated the in-vitro anti-inflammatory activity of crude extracts of Bombax ceiba bark by HRBC membrane stabilization method. Results showed significant anti-inflammatory activity, the ethanol extract >aqueous extract. (17)
• Antioxidant Effect / Bark: Study evaluated the antioxidant potential of aqueous and ethanolic extracts of bark of B. ceiba in antioxidant screening models such as DPPH, ABTS, NO and superoxide radical scavenging activity, lipid peroxidation inhibition, ferric oxide reduction, and total antioxidant capacity. The extracts showed potent antioxidant activity in all models studied. (18)
• Immunomodulatory / Antioxidant / Bark: Study evaluated the antioxidant and immunomodulatory activity of methanol extract of bark in normal and immunosuppressed mice models. Extract showed a significant upregulation of cytokines (IL-6 and TNF-α) in comparison to control. The immunostimulant property was attributed, in part, to its antioxidant capacity. (21)
• Effect on Spermatogenesis, Sexual Behavior and Erectile Function: Study evaluated aqueous extracts of roots for effects on sexual behavior and spermatogenesis in male albino rats. Mount, intromission and ejaculation frequencies were significantly improved. Penile erection index was higher. An increase in serum testosterone was also observed. (22)
Availability
Wild-crafted.