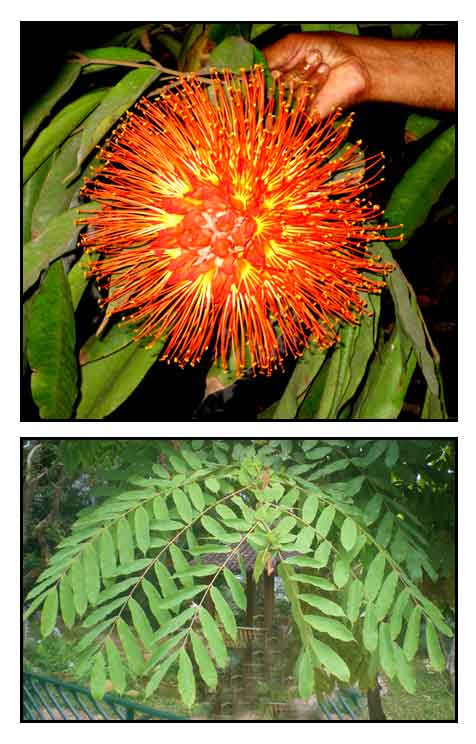 Gen info
- Brownea is a genus of about 30 species in the family Fabaceae, subfamily Detatioideae.
- Rose of Venezuela is one of the species in the genus Brownea.
- Genus was named in honor of Dr. Patrick Browne, 1720-1790, an Irish botanist and physician. (8)
Botany
Brownea is a small tree with stout branches, growing to a height of 6 meters. Trunk is grayish-brown with lightly furrowed bark. Shoot and leaf stalks are downy. Leaves are compound, elongated and pinnate with 12 to 18 pairs of oblong or lanceolate leaflets ending in a bristly-like point. Leaflets increase in size from proximal to distal end of the leaf. New leaves are lax, pale green with tiny pink and cream dots, maturing into a uniform shade of green. Inflorescences are globular, containing numerous crimson, red, deep pink or purple tubular flowers, each with projecting stamens and style. Flower heads are up to 20 centimeters in diameter, usually dangling below the foliage. Pods are 9 to 13 by 3.5 centimeters, light brown when matured, spindle shaped, entire along margins, shortly beaked at the apex, 2 to 4 seeded. Seeds are 2 by 1.5 centimeters, oval, brown-colored, glabrous, and veined.
Distribution
- Introduced.
- Cultivated for the beautiful flowers.
- A decorative tree in tropical gardens.
- Asia-tropical found in Java, Peninsular Malaysia, Philippines, Papua New Guinea.
- Endemic to Brazil, Ecuador, Honduras, Venezuela and Columbia.
Constituents
- Aqueous extract of flowers yielded tannins, saponins, glycosides, alkaloids, flavonoids, and coumarins, with absence of triterpenoids and steroids. (see study below) (4)
- Study of ethyl acetate extract yielded catechin (1), quercitrin (2), trans-taxifolin-3-O-α-L-rhamno-pyranoside (3), 13R-hydroxy9Z, 11E-octadecadienoic acid (4), and 13R-hydroxy-9Z, 11E-, 15Z-octadecatrienoic acid (5). (see study below) (5)
- LC-MS analysis of bark extract yielded three compound: 6-beta-O-2',3'-dihydrocinamonyl-12-hydroxy-(13) 15-en-16,12-olide-18-cassaneoic acid (1) Rutin (2), and Quercetin (3). (7)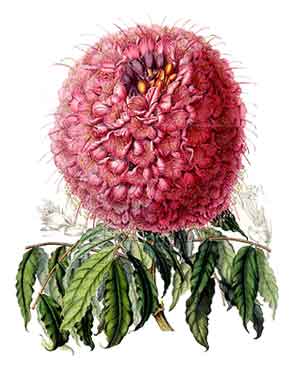 Properties
- Flowers produce copious amounts of nectar and are attractive to humming birds and butterflies. (3)
At night, it has been observed that the leaves rise and expose the flowers to the dew, sinking down again in the morning to protect the flowers from the sun. (3)
- Studies have suggested cytotoxic, anti-menorrhagic, kinase inhibitory, anti-plasmin activities.

Parts used
Flowers, bark.

Uses
Folkloric
- No reported medicinal use in the Philippines.
- In Venezuelan folk medicine, flowers used as anti-hemorrhagic in women with heavy menstrual bleeding (menorrhagia). (4)
- Used for dysentery, diarrhea, and bleeding.
- Infusion of dried flowers used for dysentery. Bark used to reduce bleeding and facilitate clotting of blood. Used as contraceptive by indigenous tribes in the Ecuadorian and Colombian amazon. (8)
Others
- Wood: Used for making small tools and handicrafts.

Studies
• Effect on Coagulation and Fibrinolytic System / Flowers: Study evaluated the in-vitro effects of aqueous extract of B. grandiceps flowers on the coagulation system and fibrinolysis. Prothrombin time (PT), partial thromboplastin time (PTT) and thrombin time (TT) were measure to determine the effects on the extrinsic, intrinsic, and common coagulation pathways. Fibrinogenolytic and fibronectinase activities were also evaluated. Results showed the presence of fibrinogenolytic, fibronetinase and anti-FXa (Factor Xa) components in the extract, plus anti-plasmin compounds that could be acting as antifibrinolytic, thus delaying fibrin degradation in pathophysiological processes. The anti-plasmin compound, along with pro-coagulant components may be responsible for reducing heavy menstrual bleeding in women, since a deficiency of one or more blood coagulation factors viz. factor 7, 5 and 10 is a potential cause of menorrhagia. (4)
• Cytotoxicity / Kinase Inhibitory Effect: Study of ethyl acetate extract of Brownea grandiceps isolated five known isolated metabolites and the cytotoxicity screening of them was performed against MCF-7 and HepG2 cell lines. Quercitrin showed the highest activity against breast cancer. The postulated mechanism of quercitrin was proved by kinase inhibitory effect alongside with docking study. (see constituents above) (5)
• Browplasmin / Anti-Plasmin Activity / Flowers: Study evaluated B. grandiceps extract to isolate and characterize the compound responsible for reported anti-fibrinolytic activity. The active compound was a condensed tannin, Browplasminin, which is capable of inhibiting the plasmin activity in a dose-dependent manner. it also has a minor effect on the FXa activity. Results suggest that Browplasminin is a good plasmin inhibitor and could be responsible for reducing heavy menstrual bleeding in women. (6)
• Seasonal Variation of Volatile Oil / Anti-Mycobacterial / Anti-Inflammatory / Leaves: Study showed the season of collection highly affected the volatile profile of B. grandiceps. Methyl salicylate and hexanal were the most abundant identified components. The leaf oil showed potential anti-mycobacterial activity comparable to isoniazid. The leaf oil showed aniti-inflammatory effect comparable to indomethacin. Results suggest potential for an anti-mycobacterial and anti-inflammatory agent. (9)
• Radioprotective / : Radiation-Induced Enteritis / Leaves: Radiation enteritis is the most common complication of radiotherapy in patients with pelvic malignancies. Study evaluated Study evaluated the radioprotective activity of the total hydro-alcoholic extract (BGE) and ethyl-acetate soluble fraction (EAF) pf Brownea grandiceps leaves. EAF preserved the integrity of intestinal mucosa of irradiated rats. EAF showed antioxidant activity against radiation-induced oxidative damage. It also alleviated intestinal inflammation by repressing the NF-kB/TGF-ß pathway. Secondary metabolome fingerprints of BGE and EAF were characterized by GC-MS. Identified metabolites supported the observed radioprotective activity. (10)
Availability:
- Ornamental cultivated.