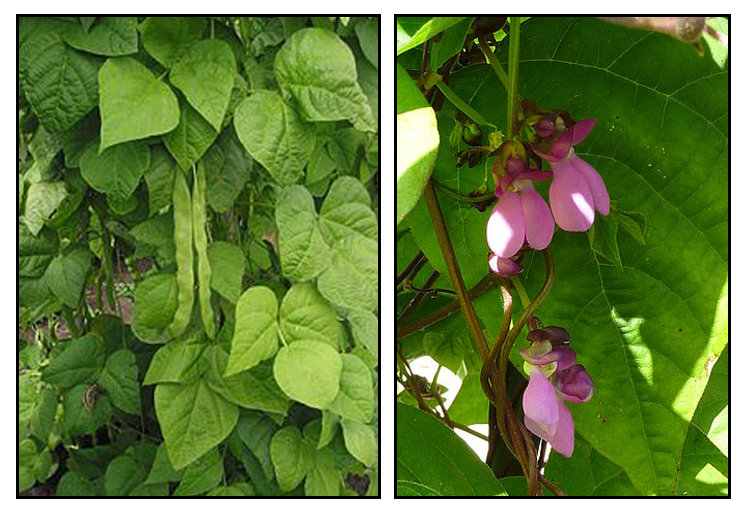 Botany
Phaseolus vulgaris is an herbaceous annual herb, erect and bushy, 20 to 60 centimeters tall, or twining with stems 2 to 3 meters long. Leaves are alternate, green or purple, trifoliate, stipulate, petiolate, with a marked pulvinus at base. Leaflets are ovate, entire, 6 to 15 centimeters long, 3 to 11 centimeters wide. Flowers are in lax, axillary, few-flowered racemes, variegated, white, pink or purple, about 1 centimeter long. Pods are slender, green, yellow, black, or purple, cylindrical or flat, 8 to 20 centimeters long, 1 to 1.5 centimeters wide. Seeds are 4 to 6, usually glabrous, sometimes puberulent, with prominent beaks, white, red, tan, purple, grey, or black, often variegated, reniform, oblong, or globose, up to 1.5 centimeters long. (3)
Distribution
- Intensively cultivated in La Trinidad, Benguet, Philippines.
- Originated in Central and South America.
- Widely cultivated in the tropics, subtropics, and temperate regions. Roughly 30% of world production is in Latin America. (3)
Constituents
- Nutritive analysis yield 6.2% protein, 0.2% fat, and 63% carbohydrate. Analysis of a dried bean brand yielded moisture 12.0%, protein 22.9%, fat 1.3%, carbohydrates 60.6%, minerals 3.2%, calcium 260 mg, phosphorus 410 mg, iron 5.8 mg, and 348 calories/100 g. Vitamin contents were: thiamine 0.6, riboflavin 0.2, nicotinic acid 2.5, ascorbic acid 2.0 mg/100. Another source yielded Na 43.2, K 1160, Ca 180, Mg 183, Fe 6.6, Cu 0.61, P 309. (3)
- Study of seeds for bioactive compounds yielded alkaloids, anthocyanin, carbohydrate, catechin, fiber, flavonoids, glycosides, phasine, phytic acid, quercetin, polyphenols saponins, steroids, tannins, and terpenoids. (5)
Properties
- Beans considered depurative, resolvent, carminative, diuretic, antidiarrheal, emollient. (3)
- Studies has suggested antioxidant, antidiabetic, osteoprotective properties.
Toxicity
• Roots reported to cause dizziness and human beings and animals. Seeds reported to contain trypsin and chymotrypsin inhibitors. Eating of a few raw beans has been reported to cause poisoning, notably sickness and diarrhea, which was attributed to phasin, a toxalbumin destroyed by cooking. (3)

Parts used
Pods, leaves.

Uses
Edibility
- Immature pods are cooked and eaten as vegetable.
- Immature pods marketed fresh, frozen, or canned.
- Leaves used as pot herb. In Java, young leaves are eaten as salad. (3)
Folkloric
- Beans have been used for acne, burns, diabetes, diarrhea, dropsy, dysentery, eczema, sciatica and tenesmus. (3)

Studies
• Effect on Collagen Content: Study investigated the effect of an aqueous pod extract of Phaseolus vulgaris on collagen content and characteristics in the tail tendon of streptozotocin-induced diabetic rats. The a/ß ratio of acid- and pepsin-soluble collages was significantly decreased in STZ-diabetic rats. Extract treatment significant reduced the accumulation and cross-linking of collagen. Results showed a positive influence of P. vulgaris pods on the content of collagen and its properties in STZ-diabetic rats. (4)
• Hypoglycemic / Antidiabetic / Leaves: Study showed an aqueous extract of leaves possess hypoglycemic and antidiabetic properties, ameliorating high levels of marker enzymes. (6)
• Antioxidant / Antidiabetic / Leaves: Study of an aqueous extract of P. vulgaris pods in rats with STZ-induced diabetes showed antioxidant activity with a significant reduction in thiobarbituric acid reactive substances and hydroperoxides and significantly increased the reduced glutathione, superoxide dismutase, catalase, glutathione-peroxidase and glutathione S-transferase in liver and kidneys of rats with STZ-induced diabetes. (7)
• Enhanced Weight Loss: Study evaluated the effect of a dietary supplement containing 1,000 mg of P. vulgaris extract derived from white kidney bean. The extract was previously shown to inhibit the activity of the digestive enzyme alpha amylase and inhibit starch reabsorption with associated weight loss. This randomized, double-blinded, placebo controlled study conducted on 101 volunteers with BMIs between 25-40 showed clinically and statistically significant decrements in body weight and waist circumference. (8)
• Phytohemagglutinin: Phytohemagglutinin derived from red kidney bean can cause malabsorption and diarrhea when fed to rats. Study evaluated the effect of PHA on ion transport in the rabbit ileum in vitro.
• Osteoprotective Effect / Postmenopausal Osteoporosis: Phytoestrogens and phytoestrogen-containing plants are explored for potential use in the treatment of estrogen-related disorders. Study evaluated the anti-osteoporotic effect of the phytoestrogen-rich plant Phaseolus vulgaris. Treatment with P. vulgaris seeds prevented estrogen deficiency-induced osteopenia without affecting the uterine mass. Results suggest a potential candidate for the treatment of postmenopausal osteoporosis. (9)
• In Vitro Binding of Bile Acids: Study evaluated the in vitro binding of bile acids by kidney bean (P. vulgaris), black gram (Vigna mungo), bengal gram (Cicer arietinum) and moth bean (Phaseolus aconitifolins). All four beans tested showed varying degrees of bile acid binding. Relative bile acid binding on DM was 12%, TDF (total dietary fiber) 12%, and IDF (insoluble dietary fiber) 14%. for kidney bean was 3% and 11%. Results on bile acid binding suggest a potential to be explored for lowering blood lipids, lipoprotein, and atherosclerosis risk. (10)
• Antioxidant / Antidiabetic: Study on long-term oral administration of aqueous P. vulgaris pods extract showed, besides a pronounced hypoglycemic effects, a positive influence on liver and kidney function markers in STZ-induced diabetic rats. It also inhibited free radical production and liver peroxidation and activated antioxidant enzymes in liver and kidneys of the STZ-induced diabetic rats. (11)
• Catecholamines / L-Dopa and Dopamine: Catecholamines are key metabolites found in the nervous system and endogenous deficiency is associated with patho-physiological disorders. Study investigated the amount of L-DOPA and dopamine in the leaves and roots of three species of legume family viz. Pisum sativum (garden pea), Phaseolus vulgaris (haricot bean) and Vicia faba (broad bean). Results showed all three cultivars accumulated different levels of L-DOPA and dopamine in leaves and roots. (12)
• Blocking Carbohydrate Absorption and Weight Loss: A proprietary fractionated white bean extract of P. vulgaris has been shown to inhibit the digestive enzyme alpha-amylase, possibly preventing or delaying digesting of complex carbohydrates, potentially resulting in weight loss. In a 4-week randomized, double-blind, placebo controlled study of 25 healthy subjects consuming 1000 mg of a white bean extract vs placebo. The tertile of subjects who consumed the most carbohydrates showed a significant reduction in both weight and waist size with the addition of the white bean extract compared to placebo group. (13)
Availability
Cultivated.