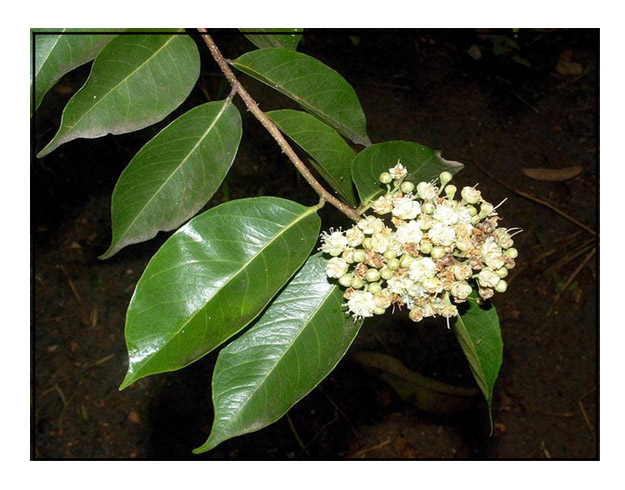 Gen info
- Maranthes is a genus of plant in the family Chryobalanaceae, described as a genus in 1825.
- Etymology: The genus is derived from Greek 'maraino', meaning 'to wither', referring to the long-persistent withered calyx and stamens before the fruit. (6) The species epithet "corymbosa" is Greek for "cluster", referring to the clustered inflorescences. (1)
- In Singapore, Maranthes corymbosa is listed as a Heritage Tree . Two are found at the Fort Canning Park. (6)
Botany
Maranthes corymbosa is a tree growing up to 40 meters with trunk diameter of up to 1.5 meters. Bark is smooth, grey brown, and hard. Leaves are alternate, stalked. Leaf blade is leathery, oblong-lanceolate or oblong-ovate, 6.5-14 by 2.5-8 cm. Leaves have 2 prominent glands at the junction of the leaf stalk and the lower leaf surface Flowers are about 10 mm wide, growing on branched flowering shoots. Petals are white, tinged with pink, 3-6 mm long. . Edible fruit is ellipsoid, 3-4 by 1.5-2 cm. (3)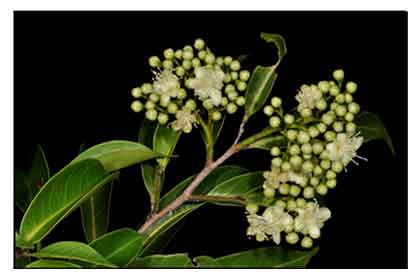 Distribution
Distribution
- Native to the Philippines.
- Also native to Bismark Archipelago, Borneo, Caroline Is., Jawa, Lesser Sunda Is., Malaya, Maluku, New Guinea, Northern Territory, Queensland, Santa Cruz Is., Sulawesi, Sumatra, Thailand.
- Found in forests from sea level to 1,500 meters elevation.
- Fruit is popular with many bird species and may account for its wide distribution.
Constituents
No studies found.
Properties
- Study has suggested antitumor, photocytotoxic properties.

Parts used
Stem bark.

Uses
Edibility
- Fleshy fruit is edible.
Folkloric
- No reported folkloric medicinal use in the Philippines.
- Stem bark of this species has shown antitumor activity.
Others
- Construction: Wood used for posts and various construction needs. (2)
- Agroforestry: One of the most cyclone and termite resistant shade trees. (4)
Suitable for planting in streetscapes, parks, and gardens for its bushy crown. (3)
Studies
• Photocytotoxicity / HL60 Human Leukemia Cell Line: Study evaluated 155 extracts from 93 terrestrial species of plants for photo-cytotoxic activity using HL60 human leukemia. Twenty nine plants including Maranthes corymbosa were able to reduce the cell viability by more than 50%. Results suggest the main photosensitisers from terrestrial plants are likely based on the cyclic tetrapyrrole structure and photosensitisers with other structures, if present, are present in minor amounts or are not as active as those with the cyclic tetrapyrrole structure. (5)
Availability
Wildcrafted.