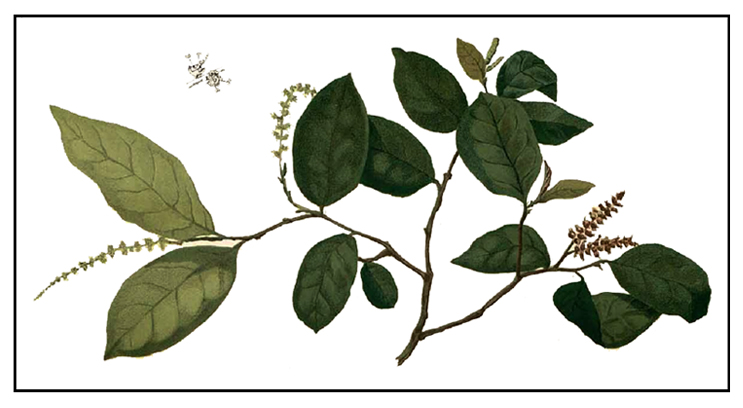 Botany
Binayuyo is a small deciduous tree growing to a height of 16 meters. Bark is light grey.Leaves are simple, alternate, shortly petioled, broadly elliptic or orbicular obovate, 6 to 11 centimeters long; margins entire and pubescent; base rounded, rarely obtuse; apex rounded, sometimes mucronate. Male flowers are yellowish green, grouped into much branched spikes. Sepals usually 5, with 4 to 5, 2 to 2.5 millimeters long stamens with filaments free. Female flowers are many, grouped in branched racemes with very short pedicels. Drupes are small, about 4.5 millimeters in diameter, dark purple when ripe and agreeably acid.
Distribution
- Found in southern China, Myanmar, Thailand, Cambodia, Laos, Vietnam, Malaysia, Indonesia, New Guinea, Australia, Philippines. (9)
Constituents
- Preliminary phytochemical screening of leaves yielded phenols, tannins, glycosides, saponins, reducing sugar, flavones, xanthoproteins, and coumarins. (2)
- Leaves showed physical constants of total ash, 8%; moisture, 69%; dry weight, 31%; stomatal index 32, and vein islet number 80. (2)
Properties
- Studies have suggest antioxidant, hypoglycemic, anxiolytic, sedative, properties.

Parts used
Leaves, fruit.

Uses
Edibility
- Leaves and fruits are edible.
- Fully ripe fruit can be eaten raw, cooked, or made into jams and jellies. (9)
- Shoots have a sour flavor; used as vegetable and spice.
- In India, leaves used as vegetable in rural areas of Western Ghats.
Folkloric
- In India, leaves applied as paste for headaches.
- Leaves used for fever.
- In Thailand, leaf decoction used for blood nourishment. In Vietnam, leaves and bark used for cough and rheumatism. In China, stems used for menstrual disorders. In Bangladesh, leaves used to enhance breast milk production. In Thailand, flowers used for herpes simplex. In Cambodia, used for stomachaches. (7)
- Fruit is purgative; stems are emmenagogue Leaves used as poultice for headaches, scurf, fevers, and abdominal swellings. (9)
Others
- Wood: Used for construction. (9)
Studies
• Antioxidant / Hypoglycemic: Study investigated the antioxidant and hypoglycemic potential of a crude methanolic extract of A. ghaesembillla. Results showed significant hypoglycemic potential with dose dependent decrease in blood glucose. The crude extract also showed moderate to strong antioxidant potential attributed to the presence of polyphenolic compounds and its ability to scavenge free radicals.  (3)
• Acute Toxicity Testing: Acute toxicity testing of crude methanolic extract performed on Sprague-Dawley rats showed no mortality and nontoxicity up to 5000 mg/kg. (3)
• Anxiolytic / Sedative: Study evaluated the anxiolytic and sedative activities of methanol and chloroform extracts of Antidesma ghaesembilla fruits using rodent behavioral models. Results showed the fruit extracts to possess significant neuropharmacological activity with strong sedative and anxiolytic potential. (4)
• Vomifoliol / Megastigmane / Leaves: Study isolated vomifoliol, a megastigmane derivative, from the leaves of Antidesma ghaesembilla. Naturally occurring megastigmane derivatives have been previously found to have antiproliferative, anticancer, and cytotoxic effects. (5)
• Antioxidant / Fruits: Study investigated methanolic extracts from ten fruits for anthocyanin, flavonoids and phenolic acid constituents, and antioxidant capacity. Mao khipia (Antidesma ghaesembilla Gaertn.) and mao luang (Antedesma bunius) showed highest radical scavenging activity correlating with total phenolic and anthocyanin contents in the berry extracts and scavenging activity. (6)
• Brine Shrimp Lethality: Study evaluated an ethanolic extract of Antidesma ghaesembilla to assess for potential pharmacologic activities by Brine Shrimp Lethality Assay (BSLA). A 50-50 ethanol extract showed potential bioactive components with the most toxic concentration at less than 10 ppm toxic in both acute and chronic LC50 values. (10)
• Antioxidant / Leaves: Study evaluated the antioxidant capacity of extract of leaves. The leaves showed higher antioxidant activity when compared to standards with higher catalase (0.220 mg) and polyphenolic content (653.46 ± 1.09 mg/100g). (11)

Availability
Wild-crafted.