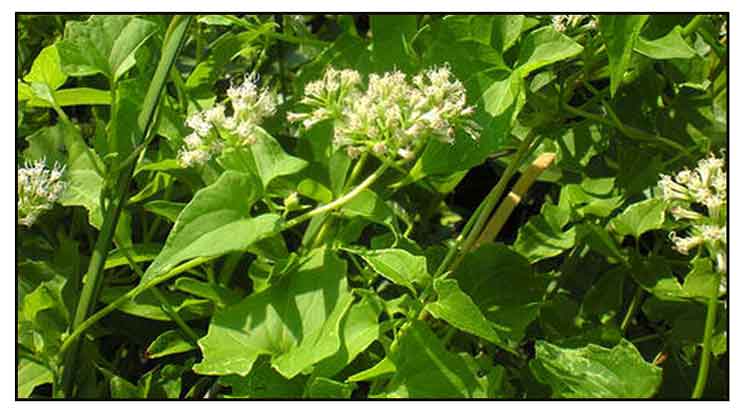 Botany
Bikas is a smooth vine. Leaves are long-petioled, deltoid-ovoid or ovate heart-shaped, 4 to 10 centimeters long, with pointed tip, rounded, heart-shaped, or truncate base, and toothed margins. Heads are 4-flowered, cylindric, 6 to 9 millimeters long, borne in compound inflorescences. Achenes are smooth, glandular, linear-oblong, and 2.5 to 3 millimeters long. Pappus is composed of one series, whitish or salmon colored.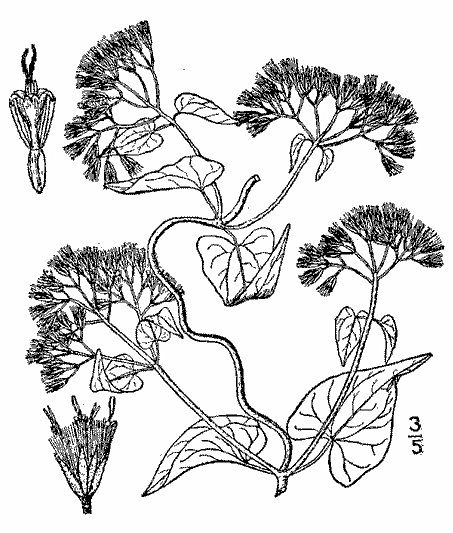 Distribution
- In thickets at low and medium altitudes, ascending to 1,600 meters, in most islands and provinces, from northern Luzon to Palawan and Mindanao.
- Probably a native of tropical America.
- Now pantropic in distribution.

Constituents
- Yields stigmasterol, beta-sitosterol, sesquiterpene dilactones, mikanolide, dihydromikanolide, scandenolide.
- Phytochemical screening yielded flavonoids, steroids, alklaloid, tannin, gum and saponin.
- Phytochemical screening of ethanol extract of leaves yielded reducing sugars, flavonoids, saponins, alkaloids, tannins, phlobotannins, steroids, cardiac glycosides, amino acids. (see study below) (18)
Properties
- Root considered anti-inflammatory, hepatoprotective and adaptogenic.
- Traditionally used as anti-bacterial, anti-ulcer, anti-inflammatory, anthelmintic, and analgesic.
Parts used
Leaves, leaf juice.

Uses
Edibility
- In some places, leaves used as soup vegetable.
Folkloric
- In southern Nigeria, decoction used for coughs; leaf juice used as remedy for sore eyes.
- In East Africa, the Tongas used the plant as remedy for snake and scorpion bites.
- Infusion of plant given for affections of the stomach and intestines.
- Leaves used by the Malays by rubbing it onto the body for itches.
- In Java, leaves used for poulticing circumcision wounds and other wounds.
- In India, leaves used for itchiness and as wound plaster.
- In Bangladesh, decoction used for treatment of gastric ulcer.
- In southern Africa, leaves applied to wounds.
Others
- Used as cover crop to prevent erosion.
- Used as cattle fodder.

Studies
• Anticarcinogenic Biological Response: Study showed the intracellular contents of active intermediates of various xenobiotics including chemical carcinogens would be reduced by specific enhancement of drug-detoxifying enzymes in the liver of rats treated with the plant extract. (1)
• Essential Oil / Leaves: Essential oil of the leaves of Mikania cordata yielded four majors constituents: a-pinene (20%), germacrene D (19.8%),beta-pinene (8.7%) and alpha-thujene (7.1%). (2)
• Anti-Inflammatory: Study of the methanolic fraction of M. cordata root extract showed significant anti-inflammatory effects in exudative, proliferative and chronic phases of inflammation and also showed an antipyretic activity. (3)
• CNS Changes: Study showed root extract induces profound behavioral changes, especially the disappearance of aggressive behavior. It also showed strong narcotic effects and analgesic effects.
• Anti-Stress Activity: Study on stress-induced alterations in central neurotransmitters showed pretreatment with M cordata root extract prevented decreases in adrenaline and noradrenaline and increases in 5-HT, while dopamine was further increases. Dose-depended biochemical responses may be the possible mechanism of the anti-stress activity of this plant extract.
• Anti-Ulcer: Study of alkaloidal fraction from M. cordata on diclofenac-induced gastric ulcer showed the bioactive principles of M. cordata have anti-ulcerogenic effects. Results validate the use of the plant in Bangladesh for treatment of gastric ulcer. (4)
• Anti-Inflammatory / Antipyretic: A methanolic extract of roots showed an inhibitory effect on carrageenan and other mediator-induced edema. The extract also exhibited inhibitory effects on sodium urate-induced experimental gout. Results showed significant anti-inflammatory effects in exudative, proliferative and chronic phases of inflammation, and also showed an antipyretic effect. (7)
• Antibacterial: An ethanol extract of leaves showed moderate concentration-dependent antibacterial properties. Maximum inhibition was seen against Shigella flexneri and Staphylococcus aureus. It showed no apparent in vitro toxicity in the brine-shrimp lethality bioassay. (8)
• Essential Oil / Flowers: Study of essential oil from flowers yielded forty-two compounds. The main constituents were beta-cubebene (12.95%), allo-aromadendrene (11.67%), beta-caryophyllene, 1H-inden-1-one, 5-(1, 1-dimethylethyl)-2, 3, beta-himaohalene, trans-alpha-bergamotene, limonene, and beta-ocimene. (9)
• Phytochemicals / Potential Medicinal Constituents: Study of aqueous extracts yielded thirty compounds, while an ethanolic extract yielded thirty-four. The aqueous compounds included 2,3-pentanedione, glycerin, acetic acid, 2,3-butanediol, and caryophyllene oxide -- compounds that are considered pharmaceutically relevant. The ethanolic compound yielded a small amount of sequelene. (10)
• CNS Depressant Effect: Study of a methanolic fraction of root extract on experimental animals exhibited potent CNS-depressant action: alteration in general behavior pattern, reduction in spontaneous motility, hypothermia, potentiation of pentobarbitone-sleeping time, analgesia, reduction in exploratory behaviour and suppression of aggressive behavior. It also showed antagonism to amphetamine toxicity. (11)
• Antibacterial / Leaf Extract Ointment Formulation: Study evaluated the toxicological and antimicrobial properties of eskwater leaf extract. Results showed three doses of ointment formulation produced inhibition on growth of MRSA (Methicillin Resistant Staphylococcus aureus), with potency comparable to Vancomycin at concentration of 0.32 mg. There was no inhibition in fungal growth. (12)
• Anthelmintic / Antiemetic: A methanolic extract showed anthelmintic activity in a Pheretima posthuma model. The extract also showed antiemetic activity. (13 )
• Herbal Ointment for Superficial Injuries: An herbal ointment from a methanolic extract evaluated on superficial injuries showed significant activity against Staphylococcus aureus and Bacillus sp. compared to mupirocin. Antioxidant activity of the extract showed scavenging activity attributed to the presence of flavonoids and tannins. (14)
• Anti-Cancer Effect / Human Breast Adenocarcinoma Cells: Study evaluated the potential of M. cordata as an anti-cancer agent against MCF-7 breast cancer cells. Fraction 6 induced non-specific cytotoxicity via apoptosis and oxidative pathways. Fractions 7, 10, and 11 exhibited selective cytotoxicity against MCF-7 breast cancer cells through mechanisms other than apoptosis and oxidation. (16)
• Antinociceptive / Cytotoxic / Antibacterial / Leaves: Study evaluated extract of dried leaves for antinociceptive, cytotoxic, and antibacterial activities in animal models. Results showed significant writhing inhibition in acetic acid-induced writhing in mice, moderate cytotoxic activity against brine shrimp Artemia salina, and antibacterial activity against test microorganisms. (17)
• Cytotoxicity / Mineral Composition / Leaves: An ethanol extract of leaves did not show any noticeable toxicity in brine shrimp lethality bioassay. Study of mineral composition yielded (±SD): calcium 303.00 ± 3.60, potassium 116.67 ± 1.53, magnesium 54.67 ± 1.15, phosphorus 0.09 ± 0.005, sulphur 0.58 ± 0.02, iron 85.67 ± 1.53, manganese 5.67 ± 0.60, and zinc 36.00 ± 1.73. (see constituents above) (18)
• Anti-Diarrheal / Leaves: In vitro study evaluated the antidiarrheal activity of ethanolic extracts of leaves of Mikania cordata and Litsea monopetala in a mice model of castor oil-induced diarrhea. ratThe extracts sowed potent antidiarrheal activity with a statistically significant p value of p<0.01 and p<0.05, respectively. (19)
• Ulceroprotective / Roots: Study evaluated a methanolic fraction of Mikania cordata root extract for possible ulceroprotective activity in male Sprague-Dawley rats. While there was alteration in volume, acidity and peptic activity of gastric juice in pylorus-ligated rats, there was significant and dose-dependent promotion of gastric mucus secretion. Results suggest the antiulcer activity may be due to modulation of defensive factors through an improvement of gastric cytoprotection. (20)
• Antimicrobial Activity against MRSA / Leaf Ointment: Study evaluated the toxicological and antimicrobial properties of ointment formulation of eskwater leaf extract through acute dermal toxicity and antimicrobial activity caused by Methicillin-resistant S. aureus (MRSA) and Trichophyton mentagrophytes. While there was no inhibition of fungal growth, it showed partially active action against MRSA ATCC 43300 (13.66 ± 0.5778)/ . Extract showed no toxicity based on OECD 404 guideline. (22)
• Radical Scavenging Activity: In a study of crude methanolic extracts of six medicinal plants of Bangladesh, Mikania cordata showed mild antioxidant activity (IC50 > 300 g/ml)/ (23)

Availability
Wild-crafted.