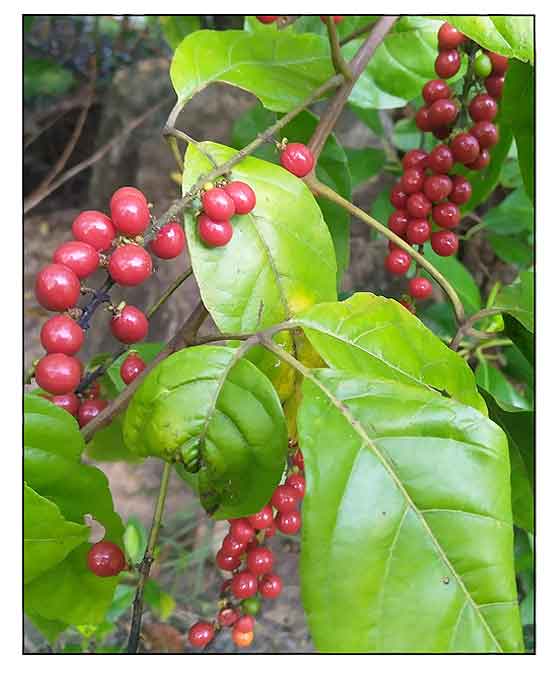 Gen info
- Allophylus is considered by some as a monotypic genus.
- The species' wide variation in appearance has led to a discussion that the genus is polyphyletic and is in need of taxonomic revision. (3)
- Allophylus is widespread throughout the tropics and subtropics. Most authors estimate the number of species in the range of 150-200, but the species are difficult to delimit.   (14)
- It was first described and named Rhus cobbe in 1753 by Carl Linnaeus in Species Plantarum. It was later renamed Allophylus cobbe by William Forsyth Junior in 1794 and published in Botanical Nomenclator. (3)

Botany
Allophylus cobbe is a monoecious or dioecious, evergreen to partly deciduous, shrub or small to medium-sized tree up to 25 m tall, sometimes a woody climber; bole often crooked, branching low, up to 30 cm in diameter; bark surface smooth. Twigs glabrous to stellate hairy. Leaves arranged spirally, digitate, (1-)3(-5)-foliolate, exstipulate; leaflets usually dentate. Inflorescence axillary, either simple or composed of a few raceme-like thyrses, sometimes paniculate. Flowers unisexual, zygomorphic, 4-merous; sepals persistent; petals with a 2-lobed, usually bearded scale inside; stamens 8, filaments hairy; disk present; ovary superior, deeply 2(-3)-lobed with 1 ovule per cell, style 1. Fruit drupaceous, usually with 1 seed, globular to obovoid, dull orange-red. Seed without an aril. Seedling with epigeal germination; cotyledons emergent, fleshy; first pair of leaves opposite, subopposite or arranged spirally, usually 3-foliolate with serrate or lobed leaflets, subsequent leaves arranged spirally. (1)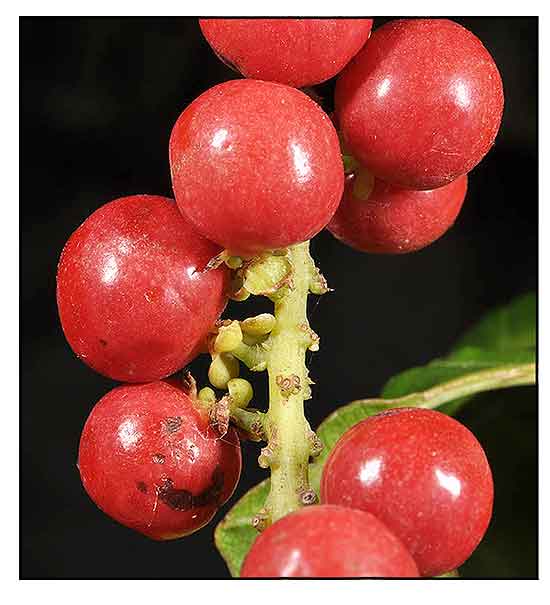 The described size of Allophylus cobbe varies greatly from place to place. In Australia it is known as a small to large shrub, and "never a tree". In India, it is described as a "shrub to small tree", while in Papua New Guinea it is described as a tree "up to 25 m high".  Compound leaves are usually trifoliolate but may have from one to five leaflets. Petiole may be from 2 to 11 cm (0.8 to 4.3 in) long, the petiolules of the leaflets up to 1 cm (0.39 in) long. Leaflet blades are acuminate, obovate or elliptic, with pointed tips and cuneate bases, and margins may be crenate towards the distal end. Leaf surfaces vary from glabrous to tomentose. Many small actinomorphic flowers to 2 mm (0.1 in) diameter are borne on a 2–16 cm (0.8–6.3 in) long inflorescence, which is racemose and may be branched or unbranched. Fruit is a glabrous red drupe measuring from 4 to 16 mm (0.2 to 0.6 in) in diameter, containing a single large seed. (3)
Distribution
- Native to the Philippines.
- Also native to Andaman Is., Bangladesh, Cambodia, Indian, Laccadive Is., Laos, Malaya, Maldives, Myanmar, Nicobar Is., Sri Lanka, Vietnam. (2)
- In everwet areas and seasonal climatic conditions, in primary and secondary forests and shrub vegetation, on sandy or rocky shores, in mangrove forest and freshwater swamps, up to 1,500 m altitude. (1)
- Occasionally planted as ornamentals.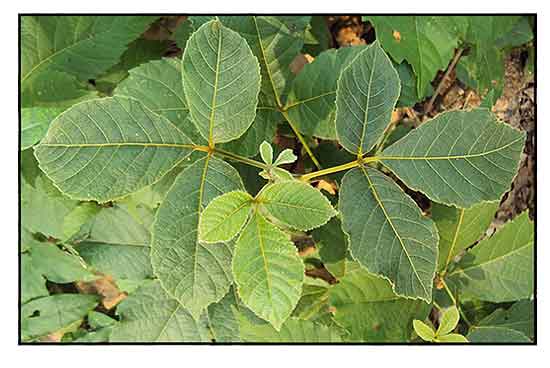 Constituents
- Preliminary phytochemical analysis of crude powder extract of leaves yielded various secondary metabolites, namely: alkaloids, flavonoids, glycosides, phenols, lignans, sterols, tannins, anthraquinone and reducing sugar. (see study below) (4)
- Preliminary analysis of ethanol extract of leaves yielded alkaloids, flavonoids, tannins, and glycosides. HPLC confirmed the presence of polyphenolic compounds such as (+)-catechin hydrate, (-)-epicatechin, caffeic acid, p-coumarin acid and quercetin. (see study below) (5)
- GC-MS study of young leaves yielded seven compounds, major compounds of which were 1,1-diethoxy ethane (82.97%), phytol (7.07%) and hexanoic acid (3.67%). (see study below) (6)
- Qualitative analysis of young and mature leaves revealed tannins (++,+++), phlobatannins (+,+) steroids ( -,++), terpenoids (++,+++) glycosides (-, ++), flavonoids (++,++), respectively. Young and mature stems yielded tannins (++,+++), phlobatannins (+,+++), steroids (-,+), terpenoids (+,+++), cardiac glycosides (absent), flavonoids (++,++), respectively. Roots yielded tannins (+++), phlobatannins (+), terpenoids (++), flavonoids (++) with absence of steroids and cardiac glycosides. (13)
Properties
- Studies have suggested anticancer, cytotoxic, antibacterial, antifungal, analgesic, anti-inflammatory, wound healing, anti-biofilm antipyretic, antifeedant, hepatoprotective properties.

Parts used
Leaves, roots bark.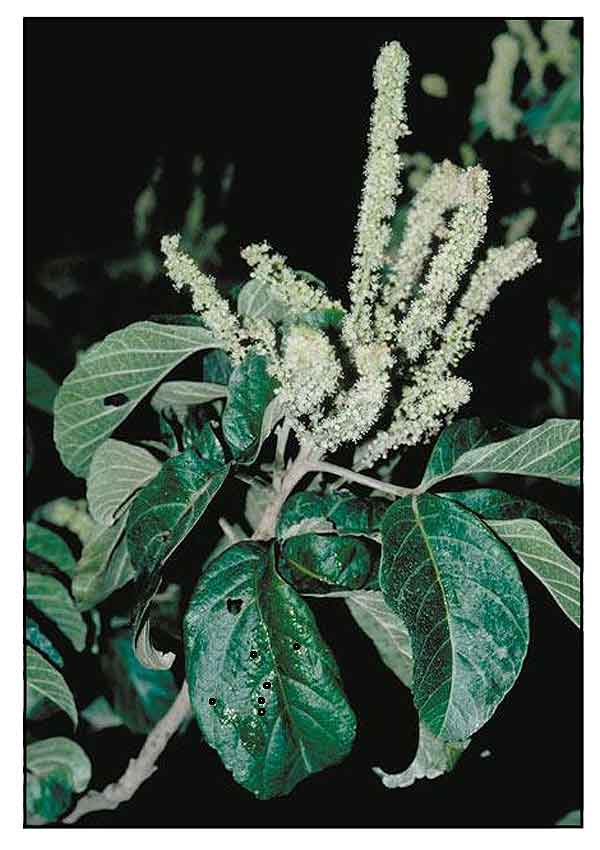 Uses
Edibility
- Fruits are edible, sweet to slightly sour.
Folkloric
- Extracts or decoctions of leaves, roots, and bark used for treating stomachaches, bruises, and fever. In Mindanao, scraped bark applied to rigid abdomen and bark to burns.
- Leaf infusion or decoction used as mouthwash.
- Leaf juice applied to rashes.
- Leaves ground with quickline applied with heat to relieve stomach pains.
- In Ayurveda and other traditional medical systems used for treatment of ulcers and wounds, bone fractures, rashes, bruises, diarrhea, fever, stomach ache, and as mouthwash.
- In Bangladesh, used as oxytocic and antidiarrheal by traditional practitioners. (7)
- In Sri Lanka, root decoction used for diarrhea. Whole plant used as emmenagogue and astringent; also used to treat fractures. (8)
- Leaf paste applied on scabies. Root powder mixed with honey used for diarrhea. Leaf juice drunk to cure ulcers. (11)
- Allophylus is used against elephantiasis, inflammation, edema, bone fractures, dyspepsis, anorexia, diarrhea, and gastric ulcers. (12)
Others
- Wood: Light- to medium-weight hardwood, with density of 640 kg/m3; the sapwood, 330 kg/m3 at 15% moisture. Wood considered weak and non-durable. (1) Used for firewood, roofing, making bows, canes, hilts, rafts, and fish traps.
- Fish poison: Fruits used as fish poison in New Guinea. (1)
- Host plants: Species is host plant for moths and butterflies. (3)
Studies
• Anticancer on Prostate Cancer Cell Lines / Antioxidant / Leaves: Study evaluated the phytoconstituents, antioxidant activity and anticancer activity of A. cobbe leaf extracts on DU-145 and PC-3 prostate cancer cell lines. The aqueous extract showed highest phenolic content (91.96 mg/g FAE) and showed most potent antioxidant activity at 100 mg/ml (64.71%). IC50 was 431.10 µg/mL for DU-145 362.08 µg/mL for PC-3 cell lines while standard paclitaxel showed IC50 of 0.3 µM/mL. Morphological changes were observed in cancerous cells undergoing apoptosis. (see constituents above) (4)
• Anti-Inflammatory / Analgesic / Antioxidant / Leaves: Study evaluated the analgesic, anti-inflammatory and antioxidant effects of ethanol extract of Ac leaves. On analgesic testing by hot plate and acetic acid writhing in mice, the extract increased the licking time of hind paw, comparable to diclofenac; and also showed good analgesic effect in acetic acid induced writhing test. The extract reduced carrageenan induced paw edema formation, highest at 58.88% (250 mg/kg) at 3rd h of study. Radical scavenging activity markedly increased with increasing concentrations, comparable to ascorbic acid (99.3%) inhibition. (See constituents above) (5)
• Phytol / Leaves: GC-MS study of young leaves yielded seven compounds, including 1,1-diethoxy ethane (82.97%), phytol (7.07%) and hexanoic acid (3.67%). Phytol possesses anti-radical, anticancer, antibacterial, and anti-inflammatory properties as well as use in artificial synthesis of vitamin E and vitamin K in cosmetics and fragrance industry. (6)
• Antimicrobial / Cytotoxic / Whole Plant: Study evaluated whole plant extracts of Allophylus cobbe for antimicrobial activity by disk diffusion method against Gram negative, Gram positive pathogenic bacteria and seven fungi, and cytotoxic activity using brine shrimp lethality assay. Mild to strong antimicrobial activity was observed. Ethanol extract showed strong inhibition against Trichophyton spp. A petroleum ether extract showed strong cytotoxicity in the brine shrimp lethality bioassay. (7)
• Wound Healing / Plant: Study evaluated the wound healing activity of A. cobbe leaves in topical ointment formulation in excision wound model in albino rats. Effects were assessed by rate of wound closure, period of epithelization and histopathology. Black ointment base and gentamycin ointment (1% w/w) served as control and standard. The formulations did not cause any skin irritation. Topical application on excision wound in rats caused significantly (p<0.05) higher rate of wound healing and reduced epithelization period in a dose-related manner. Histologically, there was complete epithelization with increased collagenation, compared to the 1% gentamycin ointment. (8)
• Antioxidant / Cytotoxicity Against Human Hepatocellular Carcinoma (HepG2) Cells: Study evaluated leaf and bark extracts of selected plants in Sri Lanka for cytotoxic properties on HepG2 cells. Hexane, dichloromethane, ethyl acetate, and methanol extracts of A. cobbe leaves showed potent cytotoxicity against HepG2 with IC50s of 9.388, 6.8, 19.95, and 11.3 µg/mL, respectively. (9)
• Hepatoprotective / Paracetamol Toxicity / Leaves: Study evaluated the hepatoprotective activity of ethanolic extract of Allophylus cobbe (EEAC) leaves against paracetamol induced hepatotoxicity in rats. Treatment of animals with EEAC at 200 and 400 mg/kg showed significant dose dependent decrease in SGOT, SGPT, ALP, acid phosphatase, creatinine, and lipid peroxidation (LPO) levels and significant increase in protective enzymes superoxide dismutase (SOD), catalase (CAT), glutathione (GSH) and total proteins and tissue biochemical parameters. Histopathologically, pretreated animals showed minimal liver damage. Hepatoprotective activity was attributed to presence of bioactive components having antioxidant potential. (11)
• Antifeedant: In a study of 29 solvent extracts from 20 Sri Lankan plants examined for antifeedant activity against 4th instar larvae of Mexican bean beetle, Epilachna varivestis Muls., Allophyllus cobbe was one of nine that showed strong antifeedant activity. (12)
• Hepatoprotective / Attenuation of Oxidative Stress and Chemically-Induced Toxicity / Leaves: Study evaluated the hepatoprotective activity of A. cobbe ethanol leaf extract in both acute and chronic chemically induced hepatic disorders in Wistar rats. Oral administration of the extract at dose of 2000 mg/kg was shown to be safe, with no signs of behavioral, neurologic toxicity, or mortality. Hepatoprotective activity was attributed to the presence of quercetin flavonoid. (15)
• Silver Nanoparticles / Antibacterial / Antibiofilm Activities / Leaves: Study reports on the simple, reliable, cost-effective and green synthesis of AgNPs using leaf extract of Allophylus cobbe. Combination of the AgNPs with antibiotics resulted in significant antimicrobial and antibiofilm effects at lowest concentration of the AgNPs. Significant enhancing effects were observed for ampicillin and vancomycin against Gram negative and Gram positive bacteria, respectively. (16)
• Antipyretic / Acute Toxicity Study / Leaves: Study evaluated the invivo antipyretic activity of various extracts of leaves of A. cobbe in endotoxin (Lipopolysaccharide from E. coli serovar 0127:B8) induced pyretic models in adult Wistar rats. No acute toxic symptoms were observed on oral administration of 2000 mg/kg. Phytochemical analysis yielded phenolics, alkaloids, glycosides, tannins, terpenes, and flavonoids. The reduction in temperature from the aqueous extract was comparable to paracetamol. The antipyretic response could be due to the presence of one or more components of polar nature. (17)
Availability
Wild-crafted.