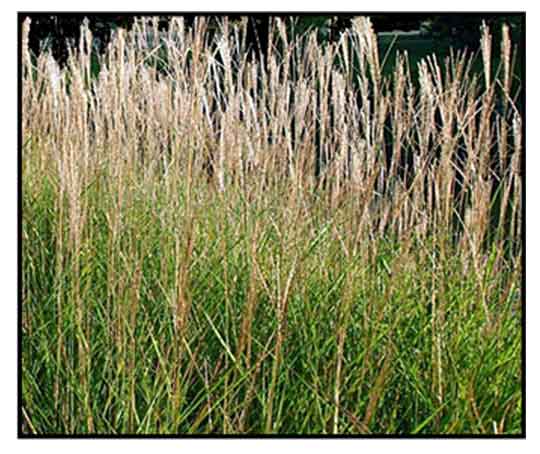 Gen info
- Miscanthus, or silvergrass, is a genus of African, Eurasian, and Pacific Island plants in the grass family, Poaceae, containing about 20 species.
- Miscanthus species reported in the Philippines are Miscanthus floridulus, M. sinensis, and M. depauperatus. Micanthus floridulus and M. sinensis share similar folkloric medicinal and craft uses.
- Etymology: the genus name Miscanthus derives from Greek word miskos meaning a 'stem', and anthos meaning 'flower' referring to the stalked spikelets. The specific epithet sinensis derives from Latin meaning 'from China'.
- It is widely cultivated as an ornamental plant in temperate climates around the world. Many cultivars have gained the Royal Horticultural Society's Award of Garden Merit. (11)
Botany
Miscanthus sinensis is a robust, tufted, erect, perennial grass, 1.5-2.5 m tall. Leaves radical and cauline; blade 50-80 cm × 0.2-2 cm, stiff, very scabrous on the margin, pale or slightly glaucous beneath, midrib thickened toward base. Inflorescence a corymbose panicle, 20-30 cm long, main axis shorter than the 7-many raceme-branches; racemes 15-30 cm long; spikelets as in M. floridulus but longer, 5-7 mm long, tuft of hairs 7-12 mm long, awn 8-15 mm long. (1)
Miscanthus sinensis is an herbaceous perennial grass, growing to 0.8–2 m (3–7 ft) tall, rarely 4 m (13 ft), forming dense clumps from an underground rhizome. Leaves are 18–75 cm (7–30 in) tall and 0.3–2 cm broad. Flowers are purplish, held above the foliage.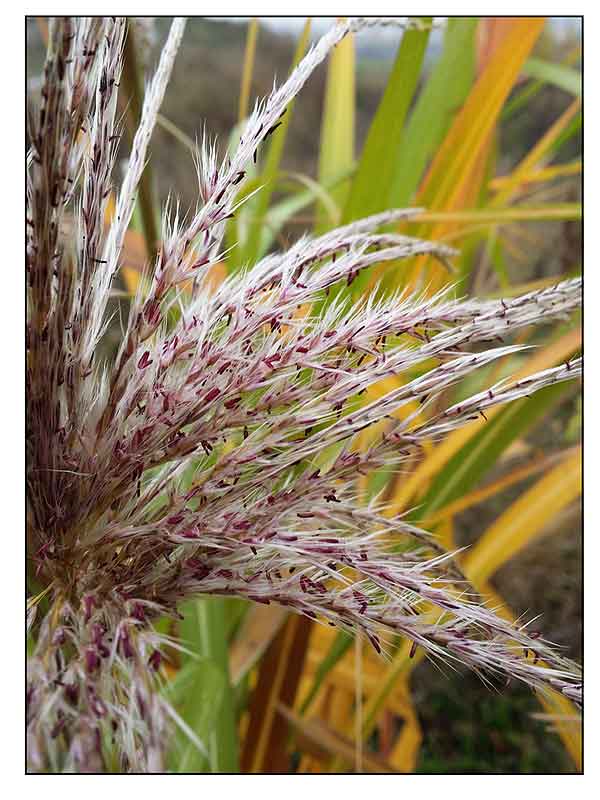 Distribution
- Native to the Philippines.
- Also native to Borneo, China, Hainan, Japan, Jawa, Kazan-retto, Korea, Laos, Maluku, Nansei-shoto, Ogasawara-shoto, Taiwan, Thailand, Vietnam, etc. (3)
- A perennial or rhizomatous geophyte that grows primarily in the temperate biome. (3)
- It has become an invasive species in parts of North America.
Constituents
- The ultimate fibers of Miscanthus have an average length of 1.4-`1.5 mm, a lumen width of 7 µm, and a cell wall thickness of 6 µm. Straw contains 38-48% α-cellulose, 26-34% hemicelluloses, 18-24% lignin, and 2-6% ash. The α-cellulose and lignin levels decrease from base to top of stem, the opposite of hemicelluloses and ash. In a UK study, chemical Miscanthus pulps were superior in yield (42-52%), tensile strength and tear strength compared to wheat straw, but inferior in brightness. Energy content of Miscanthus is about 16-19 MJ/kg dry matter. (1)
Properties
- Studies have suggest antioxidant, phytoremediative, anti-allergic, skin-whitening, wound healing, hair-growth promoting properties.

Parts used
Shoots, flowers.

Uses
Edibility
- In East Kalimantan, shoots are eaten as vegetable. (1)
Folkloric
- In the Philippines, decoction of Miscanthus shoots used for treatment of cough. In Indo-China, juice or decoction used on bites from wild animals. (1)
Others
- Ornamental cultivation: Grown as lawn or border ornamentals for their silvery or white plumelike flower clusters. Dried heads often used in decoration.
- Crafts: Stems and used for thatching, making house walls, floor coverings, baskets, toys, and souvenir items. Also used for fences, 'balag' for climbing of vegetables, and drying racks for tobacco. In Luzon, split stems used to make screens and window shades. In the Moluccas and Papua New Guinea, stems are made into arrow shafts. (1)
- Paper: Used for paper making.
- Fuel: Stems used as fuel in the Philippines and Indo-China. (1)
- Fodder: In the Philippines, leaves used as fodder for water buffaloes. (1)
- Dye: In Japan, M. sinensis is cultivated as forage plant and used as source of yellow dye for use on wool and silk. The yellow coloring substance is probably tricin. (1)
- Industrial potential: In Europe, Miscanthus is being investigated as a renewable source of energy and potential source of fiber for composite materials like MDF (medium density fiberboard) and chipboard, pulp for paper and packaging, biodegradable geotextiles, fibers and sorbents, and insulation.

Studies
• Antioxidant / Lignins: Study evaluated the antioxidant capacity of lignin from Miscanthus sinensis, its physico-chemical properties and phenolic groups content. The antiradical activity of the analyzed lignin samples was closely related with the used fractionating process (soda, organosolv, and autohydrolysis treatments). (4)
• Wound Healing / Skin Whitening Potential / Flowers: Study evaluated the effects of absolute extracted from M. sinensis var. purpurascens flowers (MSPFAb) on skin wound healing and whitening-related responses in keratinocytes or melanocytes. The MSPFAb induced proliferation, migration, and syntheses of type I and IV collagens in keratinocytes. Treatment with MSPFAb decreased serum-induced melanoma cell proliferation and inhibited tyrosinase activity and melanin contents in α-MSH-stimulated melanoma cells. Results suggest MSPFAb may promote wound healing and whitening-associated activities in dermal cells, with potential for wound healing and as skin whitening agent. (5)
• Inhibition of Allergy-Induced Cutaneous Reactions: Study evaluated the inhibitory effect of the glycoprotein fraction (fraction 2) from M. sinensis on biphasic cutaneous reactions in mice passively sensitized with IgE. Intraperitoneal injection of F2 inhibited biphasic ear swelling response in passively sensitized mice in a dose dependent manner. F2 also inhibited vascular permeability in mouse ear induced by injection of compound 48/80, histamine, or serotonin. F2 also inhibited scratching behavior as well as ear edema. The inhibitory effect of F2 on IgE-mediated allergic inflammatory reaction was attributed to protection of mediator-induced vascular permeability and inhibition of an inflammatory reaction. A sedative response is responsible for the inhibition of allergy-induced scratching reactions. (6)
• Hair Growth Promoting Activity / Flowers: Study evaluated the hair growth-promoting effect of M. sinensis var. purpurascens (MSP) flower extract on invitro and invivo models. MSP down-regulated TGF-ß1 and up-regulated HGF and ß-catenin in hDPCs. Treated mice showed earlier transition of hair follicles from telogen to anagen phase. Stem cell factor in hair follicles was up-regulated in the MSP-treated mice (p<0.01). Results suggest the MSP flower extract may have hair growth-promotion properties. (7)
• Phytoremediation of Pesticide Contaminated Soil: Study evaluated the potential of M. sinensis for revitalization of soil polluted by organochlorine pesticides (OCPs). Results showed that when M. sinensis grew in OCP-polluted soil without amendments to it,  the wide range of compounds, i.e., α-HCH, β-HCH, γ-HCH, 2.4-DDD, 4.4-DDE, 4.4-DDD, 4.4-DDT, aldrin, dieldrin, and endrin, was accumulated by the plant. The amendment of OCP-polluted soil by Tween 20 speeds the remediation process, and incorporation of AC permitted to produce the relatively clean biomass for energy. (8)
• Phytoremediation of Mercury Polluted Sites: Study evaluated the phytoremediation potential of M. sinensis on mercury polluted sites at concentration from 1.48 to 706 mg kg. Mercury bioconcentration and translocation factors were close to or greater than 1 when exposed to soil mercury-polluted soils. Results suggest M. sinensis was a promising energy crop linking biofuel production and phytoremediation of mercury-contaminated sites. (9)
• Inhibition of IgE Antibody Formation in Immune Responses: Study evaluated the effects of four different plant extracts of spikes of Miscanthus sinensis, P. communis, I. cylindrica var. major, and spikelets of Coix lachryma-jobi on IgE antibody formation in mice. Of the four, the water extract of M. sinensis showed appreciable inhibitory effect on IgE formation. An undializable fraction of the extract, MSIS, showed the most potent inhibitory activity on IgE formation. The MSIS clearly suppressed IgE formation in both primary and secondary immune responses from injection of dinitrophenyl (DNP)-ovalbumin (OVA) antigen. (10)
Availability
- Wild-crafted.
- Ornamental cultivation.