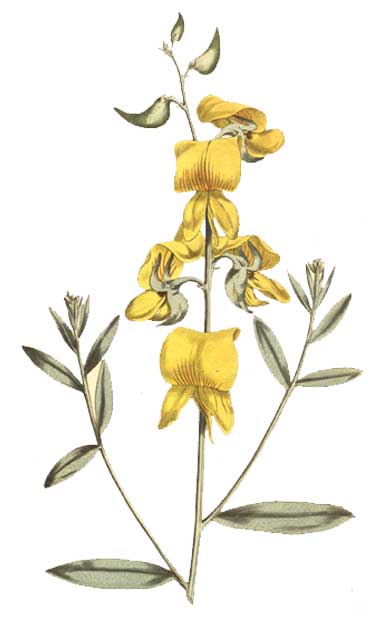 Etymology
- The genus name Crotalaria means rattle, indicative of the sound made by the seeds when shaken in the mature pods. The species name juncea was given by Linnaeus referring to the plant's green, rushlike, scantily leaved branches resembling Spartium junceaum, the Spanish broom of the Mediterranean region. (16)
Botany
Bengal hemp is an erect, stiff branched, half-woody herb, usually about 1 meter high, with all the parts finely hairy. Leaves are simple, linear-oblong to oblong, 4 to 10 centimeters in length. Flowers are scattered, on terminal racemes, 8 to 20 centimeters long. Calyx has long lobes and densely covered with brown hairs. Corolla is yellow and about 2.5 centimeters long. Hairy pods are oblong, and about 3 centimeters long.
Distribution
- Occasionally cultivated in the Philippines.
- Naturalized in the Ilocos Norte Province.
- Introduced from India.
Constituents
- Leaves contain an abundance of mucilage, a little solid fat and a resin soluble in ether.
- Phytochemical screening of ethanol extract of flowers and seeds yielded steroids, triterpenes, flavonoids, phenolics and glycosides.
- Preliminary phytochemical screening of leaves yielded carbohydrates, steroids, triterpenes, phenolics, flavonoids, alkaloids, amino acids, saponins, glycosides, tannins, and volatile oils.
- Physiochemical analysis of leaves yielded (%w/w): total ash value 5.9, acid insoluble ash 2.7, water soluble ash 3.9, sulphated ash 5.1, moisture content 11, foreign matter 0.04, alcohol soluble extract value 5.84, water soluble extract value 20.4, and crude fiber content 52.6. (13)
- Studies of plant fiber yielded 10% moisture, 67.8% cellulose, 16.6% hemi-cellulose, 3.5% lignin, 0.3% pectin, 1.4$ water solubles and 0.4% fat and wax. (13)
- Seeds yield 0.074% of toxic dehydropyrrolizidine alkaloids (DHPAs) (isohemijunceines 0.05%, trichodesmine 0.016%, and junceine 0.008%). (13)
- Seeds yield 45.19% carbohydrates, 36.43% protein, 4.22% oil, 10,85% moisture, and 3.31% ash.
- Oil analysis yielded palmitic acid (16.01-18.09%), stearic acid (7.29-10.15%), oleic acid (6.69-14.41%), linoleic acid (54.44-6236%), linolenic acid (0.7-7.86%). myristic acid (0.197%). arachidic acid (1.99%) and behenic acid (1.369%). (13)
- Defatted seed cake yielded an amino acid composition (g/100g) of: essential amino acids (isoleucine 1.17, leucine 2.10, lysine 1.67, phenylalanine 0.92, threonine 0.88, tryptophan 0.53, tyrosine 0.78 and valine 0.96); and non- essential amino acids ( alanine 2.12, arginine 2.72, glutamic acid 9.45, glycine 1.53 and proline 1.10). (13)
- Phytochemical screening of seeds of C. juncea yielded alkaloids, glycosides, saponins and tannins, and an absence of steroids, flavonoids, and reducing sugars. (see study below) (18)
- Alcohol extract of seeds yielded alkaloids, steroids, glycosides, saponins, flavonoids, fixed oils, phenols and tannins. (see study below) (24)
Properties
- Leaves are considered refrigerant, demulcent, emetic, purgative, emmenagogue and abortive.
- Root is astringent.
- Seeds are corrective of blood.
- Studies have shown anti-inflammatory, anti-ulcerogenic, hypolipidemic, antifungal, antibacterial, antidiarrheal, hepatoprotective, antispermatogenic, antioxidant properties.

Parts used
Roots, seeds, leaves.

Uses
Edibility
- Flowers are reportedly edible; pickled.
Folkloric
- Infusion of bitter leaves are used externally and internally for gastric and bilious fevers accompanied by skin diseases like impetigo and psoriasis. Also used as emmenagogue.
- Root is used for colic and as astringent in epistaxis.
- Seeds used to purify the blood.
- Powdered seeds, mixed with oil, used to make the hair grow.
- In India, used for anemia, impetigo, menorrhagia, psoriasis.
- In Jamaica, herb used for treatment of hemoptysis.
Others
- Poison: Seeds are reported to be poisonous to livestock; however, seeds are reportedly fed to horses in the Soviet Union and to pigs in Rhodesia. (11) The seeds of many Crotalaria species contain toxic pyrrolizidine alkaloids. Trichodesmine is the principal toxic alkaloid in C. juncea. C. juncea should not be fed to horses, and intake of hay by cattle should be restricted to 10% of their diet. (16)
- Fiber: Cultivated for the strong bast fiber extracted from the bark, more durable than jute. Used to make twine, rug yarn, cigarette and tissue papers, fish nets, cordage, etc. (11) It is not as strong as hemp (Cannabis sativa). (16)
- Forage: Used as forage in Sri Lanka and southern Africa. Leaves and stems are dried, as animals do not eat them green. While drying the forage avoids adverse effects, animals still suffer toxic effects when fed large amounts of seed. (16)
- Paper-making: Three properties make sunn hemp ideal for paper-making: (1) good yield of bleachable sulphate pulps. (2) pulp strength properties, and (3) length-to-width ration of bast fiber is greater than that of wood fibers. (16)
- Biofuel: Potential for bioenergy production. (see study below12) (20)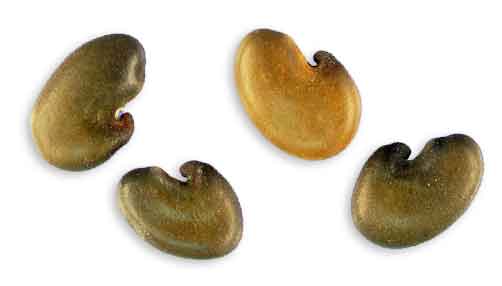 Studies
• Anti-Inflammatory / Anti-Ulcerogenic: Study showed CJ extract significantly inhibited adjuvant induced arthritis in rats. It also possessed anti-ulcerogenic property which may be due to an appetite suppressant effect. (1)
• Toxicological Studies on Seeds: Study showed the administration of a dose of 200 mg/kg of extracts of seeds on liver, kidney, spleen and adrenals of adult rats caused significant alterations. Organ net weight decreased, histology showed disintegration necrosis and degeneration in the liver, renal tubular cell degeneration and exfoliation, zona glomerulosa hypertrophy in the adrenals, and splenic increase in megakaryotic cells and lymphocytes. (2)
• Antispermatogenic / Hormonal Effects: Study evaluated the antifertility activity of various extracts of Crotalaria juncea seeds in male mice. Results showed decrease in testis and accessory organ weights, with spermatogonia, spermatocytes, spermatids and sperm counts were reduced. The ethanol extract showed the most potent antispermatogenic activity. Study concludes that various extracts arrest spermatogenesis and are likely to have antiandrogenic activity. (3)
• Antibacterial / Seeds and Flowers: Study of ethanol extract of flower and seed parts revealed significant antibacterial activity against E. coli, K. pneumonia, P. aeruginosa, S. aureus and V. cholera. The antibacterial activity may be linked to the phenolic content. (4)
• Seed Oil Fatty Acid / Antioxidant / Anti-Inflammatory / Antibacterial: Study showed (1) high amount of linoleic acid (62%) in C. juncea seed oil. (2) concentration-dependent antioxidant activity (3) dose-dependent anti-inflammatory activity comparable to diclofenac sodium. (4) Moderate antibacterial activity. (5)
• Paper Pulp: Preliminary screening and small scale pulping tests showed the species to possess good pulping characteristics with a potential for a high macerate yield and prepared pulps suitable for a wide variety of end uses. CJ bast fibers are particularly suitable for cigarette paper use because of high cellulose and low ash content. (6)
• Dehydropyrrolizidine Alkaloids: C. juncea belongs to a genus known to produce toxic dehydropyrrolizidine alkaloids. Extracts of roots, leaves, stems and seeds were analyzed for their presence. The alkaloids occurred mainly as N-oxides in roots, stems and leaves, but mainly as free bases in seeds. Because of disease in humans resulting from exposure to the alkaloids, study suggests a value in determining and assessing routs of potential exposure viz. exposed animal-derived products (meat and milk), bee products (honey and pollen) and seed contamination of grain products. (9)
• Biofuel Promise: USDA research suggests farmers in the Southeast could use the tropical legume sunn hemp for biofuel. In 2004, a year with ample rainfall, the resulting hemp biomass yield totaled more than 4.5 tons per acre, close to the 82.4 gigajoules of energy per acre, close to the energy contained in 620 gallons of gasoline, and well within the ballpark of other bioenergy crops with yields ranging from 30 to 150 gigajoules per acre. (12)
• Antihypercholesterolemic Effect: Study evaluated an ethanolic extract of Crotalaria juncea whole plant for antihypercholesteromic effect in in vivo studies in rats fed with a high-fat diet. Results showed potential benefit as an antihypercholesterolemic agent as evidenced by influences in several blood lipid and metabolic parameters (decreased levels of TC, LDL, VLDL, TG, HDL+VLDL, VLDL+LDL, LDL/TC, AI, SGOT, SGPT, and elevated levels of HDL, HDL/TC, significantly (p<0.01 & p<0.05) in a dose-dependent manner. (14)
• Contraceptive Effect: Study searched traditional medicinal plants having contraceptive properties in rats, mice, and hamsters. Of 14 plants with confirmed contraceptive action, significant contraceptive effects were seen with Crotalaria juncea, together with Verbena hydrida, V. bonariensis and P. tuberosa. (also see study [3] above) (15)
• Effect on Estrous Cycle and Ovarian Activity / Seeds: Petroleum ether, benzene, and alcohol extracts of seeds of C. juncea administered orally to adult female mice resulted in irregular estrous cycle with prolonged estrus and metaestrus and reduc3ed diestrus and proestrus during experimental periods. Alcoholic extract of seeds showed estrogenic activity in immature mice by early opening of the vagina, premature cornification of the vaginal epithelium and increases in uterine weight. (17)
• Antioxidant / Seeds: Extracts of Crotalaria juncea seeds were screened for phytochemicals and antioxidant activity by inhibition of DPPH radicals. Results showed potent antioxidant properties. Aqueous alcoholic fraction and methanol extract showed the highest radical scavenging activity against DPPH radical. (see constituents above) (18)
• Comparative Antimicrobial Activity Against Xanthomas oxanopodis / Seeds: Study evaluated the efficacy of antimicrobial peptides from four medicinal plants, i.e., Glycine max, Crotalaria juncea, Adenanthera pavonina and Lawsonia inermis against Xanthomas oxanopodis pv. punicae, an obligatory parasite of Pomegranate (Punica granatum). While all extracts exhibited antibacterial activity against Xanthomas, C. juncea showed the stronger antibacterial activity with 31 ± 1.5 mm zone of inhibition. (19)
• Anti-Obesity / Hypoglycemic / Leaves: Study evaluated the effect of ethanolic extract of leaves on lipid profile, body weight, and blood glucose levels of high fat induced hyperlipidemic and obese male Albino rats and compared it with standard Simvastatin. Results showed dose dependent antihyperlipidemic and antihyperglycemic activity as evidenced by a significant decrease in cholesterol, triglycerides, LDL, VLDL, blood glucose and body weight. HDL was also significantly increased compared to control group. Activity was attributed to the presence of flavonoids and saponins. (21)
• Hepatoprotective / Thioacetamide Toxicity: Study evaluated a petroleum ether extract of seeds for efficacy against thioacetamide induced acute hepatic injury in rats. Silymarin was used as reference drug. Biochemical parameters measured were SGOT, SGPT, ALP, bilirubin, antioxidant enzymes SOD and catalase in the liver tissue. Results showed the C. juncea seed extract possessed hepatoprotective potency in a dose dependent manner as eviidenced by reduction of elevated marker enzmes and increase of decreased antioxidant enzyme activity. (22)
• Antifertillity / Seeds: Study evaluated various seed extracts for antifertility effects administered intraperitoneally in male albino mice. Results showed decrease in number of spermatogonia, spermatocytes and spermatids in testis along with reduced caudal spermatozoa. Biochemical testing showed increase cholesterol and significant reduction in protein and glycogen content. The increased cholesterol along with degeneration of Leydig cells indicated inhibited steroidogenesis. Of the extracts, the ethanol extract showed more antispermatogenic and antisteroidogenic potency. The EE also showed androgenic activity in immature mice as suggested by reduction in weight of accessory organs. (23)
• Post-Coital Anti-Implantation / Pregnancy Interruption Potency / Seeds: Study evaluated various extracts of C. juncea seeds for anti-implantation and pregnancy interruption activities in female albino rats. An alcohol extract was found to be most effective. The adverse effects on fertility are reversible upon withdrawal of extract treatments. The alcohol extract was also found to possess estrogenic activity. (see constituents above) (24)
• Antidiarrheal / Leaves: Study evaluated the antidiarrheal effects of methanol extract of leaves of C. juncea against castor-oil induced diarrhea model and small intestine transit model in rats. At doses of 200 and 400 mg/kg p.o. the MECJ reduced castor-oil induced frequency and consistency of diarrhea. The extract showed marked reduction in number of diarrheic stools and modest reduction in intestinal transit. (25)
• Antioxidant / Antimicrobial / Germination and Growth-Promoting / Leaves and Roots: Study evaluated the antioxidant, antimicrobial, hemolytic, germination and growth-promoting properties of C. juncea. Crude proteins were abundant in the water extracts. Maximum antioxidant activity was found in the methanol extract of leaves. It showed very little antimicrobial activity against Bacillus cereus and B. subtilis. Germination and growth of the plant were significantly promoted by the ME of root compared to the leaf. Results suggest C. juncea can be incorporated in the fertilizers to promote the yield. (26)
• Degumming / Production of Natural Gum / Seeds: Oil extracted from C. juncea contain 70% of gum. Study reports on several methods of degumming to maximize the yield of gum. Maximum oil yield for two types of degumming processes are 0.59% and 0.69% for hot water and pure O-phosphoric acid treatment, respectively. Rheological characterization shows the gum solutions are shear rate dependent and the behavior is shear-thinning (pseudoplastic). Temperature dependent viscosity decreased with increasing shear rate. (27)
• Lipid Lowering and Antioxidant / Unusual Amino Acid from Seeds: Study of seeds isolated an unusual amino acid, i.e. 2-amino-5-hydroxyhexanoic acid (1). The amino acid showed dose-dependent lipid lowering activity in vivo and good in vitro antioxidant activity. The cyclized compound, 3-amino-6-methyltetrahydro-2H-pyran-2-one (2) showed better lipid lowering and antioxidant profile than the parent compound. (28)

Availability
Wild-crafted.
Seeds in the cybermarket.