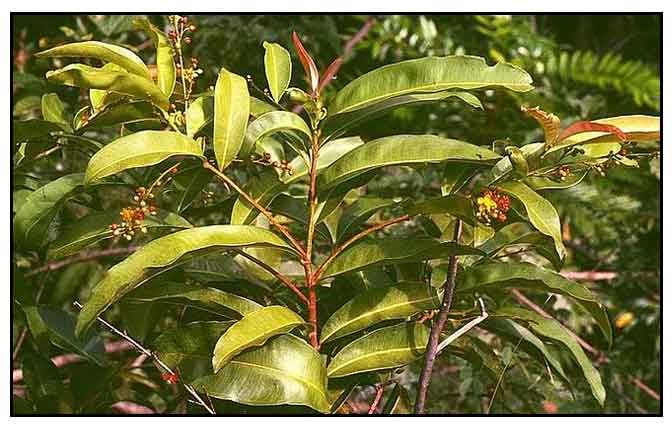 Botany
Barsik is a smooth, small, much-branched tree. Leaves are distichous, lanceolate, 6 to 12 centimeters long, pointed at both ends, and with toothed margins. Veins on the blade are very close and numerous, with 2 marginal one near the edge. Flowers are numerous, yellow, very small, and borne on large pyramidal, terminal and axillary panicles. Fruit, which consists of 5 carpels or fewer, surrounded by persistent sepals, is ovoid, 7 to 18 millimeters long, black, and shining. Seeds are erect, with a green embryo.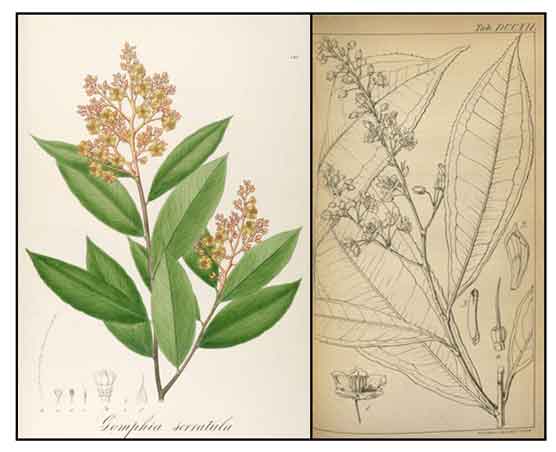 Distribution
- Found in primary forests at low altitude in Cagayan, Ilocos Norte, Zambales, Quezon, and Camarines Provinces in Luzon; and in Mindoro, Culion, Busuanga, Palawan, Balabac, Masbate, Romblon, Panay, Guimaras, Negros, and Mindanao.
- Also reported from India, Indonesia, Malaysia, and Singapore.
Constituents
- Roots yield gallocatechin.
(3)
Properties
- Roots and leaves are bitter, considered tonic, stomachic, antiemetic.

Parts used
Roots and leaves.

Uses
Folkloric
- In Tarlac, decoction of bitter roots and leaves used as tonic and for curing stomachache.
- In Malabar, decoction of roots and leaves used as tonic, stomachic, and antiemetic.
- In India, roots used as antiemetic. (3)
- In the Kerala forests of India, gum used in treatment of rheumatism and chronic skin diseases. (4)
- In Thailand, decoction of root used for bodily discomforts. (5)

Studies
• Flavonoids / Leaves: Study evaluated an alcoholic extract of leaves for total flavonoid content. Results showed a total of 720 µg/mg in cold alcoholic leaf extracts, a high content probably responsible for antioxidant activity, and makes the plant a promising candidate as a natural source of antioxidants with high value. (2)
Availability
Wild-crafted.