Botany
Baraibai is a shrub, although it may sometimes grow in to a small tree, up to 6 meters high. Leaves are shiny, lanceolate to oblong-lanceolate, 13 to 25 centimeters long, narrowed and pointed at both ends, furnished with slender nerves. Flowers are white, fragrant, about 5 centimeters across, on terminal inflorescences. Calyx tube is short, with spreading, pale-green lanceolate lobes, about 2 centimeters long. Corolla tube is slender, greenish-white, enlarged above, about 4 centimeters long; the five-lobed limb white with a purple center, spreading, about 5 centimeters in diameter. Fruit is a drupe, smooth, ellipsoid or ovoid, 5 to 8 centimeters long, flattened on one side, with a fibrous endocarp, and containing one oily seed.
Distribution
- Along the seashore throughout the Philippines.
- Also reported in tropical Asia through Malaya to tropical Australia and Polynesia.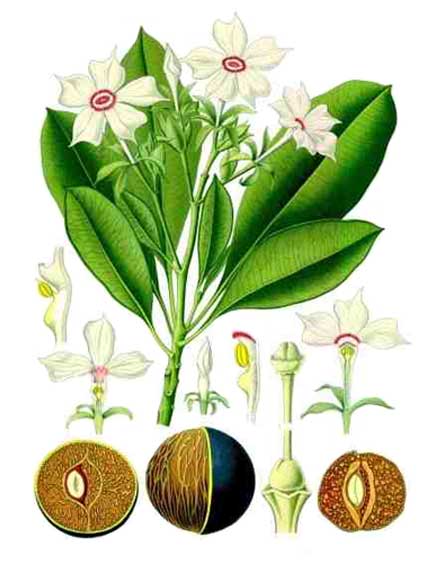 Constituents
- Seeds yield a glucoside known as cerebrin.
- A bitter principle, odollin, has been isolated.
- Fixed oil content is 57.8%, olein 62%, palmitin and stearin, 38%.
- Cardenolide monoglycosides: Study yielded six minor monosides (digitoxigenibn, acofriosides, and tanghinigenin) and major monosides 17b- and 17a-neriifolin and 17b- and 17a-deacetyhanghinin.
- Study of the bark yielded two new compounds: 1,3-bis(m-carboxylphenyl)-propan-2-one and 2-(m-carboxylphenyl)-3-(m-carboxylbenzyl)succinic acid.
- Study of ethanol extract of roots and stems yielded 20 compounds and identified 8: two cardiac glycosides, (-)-17β-neriifolin, and 17β-Digitoxigenin-β-D-glucosyl-(1→4)-α-L-thevetoside; two iridoids, Cerbinal, Coniferaldehyde; one organic acid, Vanillic acid; and two lignans, (-)-olivil and (+)-Cycloolivil; and 8-Hydroxypinoresinol.
- Study of ethanol extract of leaves yielded carbohydrates, alkaloids, tannins, steroids, flavonoids, and glycosides. (see study below) (16)
- Study of air-dried leaves yielded glucos-3-ulosyl-thevetosides of 17-digitoxigenin and 17a-tanghinigenin; rom fresh leaves, oleagenin glucosyl- thevetoside and digitoxigenin gentiotriosyl-thevetoside were isolated besides known glycosides, glucosyl-thevetosides of digitoxigenin and tanghinigenin. (17)
- Leaves yielded seven triterpenoids: (1) (23Z)-9, 19-cycloart-25-ene-3β,24-diol (2), euphorbol (3), ursolic acid (4), 2α-hydroxyursolic acid (5), 3-O-acetyl ursolic acid (6), and α-amyrin (7). (18)
- Study of stems and roots yielded cardiac glycosides, (-)-17β-neriifolin (1), and 17β-Digitoxigenin-β-D-glucosyl-(1→4)-α-L-thevetoside (2), two iridoids, Cerbinal (3), Coniferaldehyde (4), one organic Acid, Vanillic acid (5), and two lignans, (-)-olivil (6) and (+)-Cycloolivil (7), 8-Hydroxypinoresinol (8). (see study below) (20)
Properties
- Seed are reported to be toxic.
- Emetic and purgative.
- Studies have shown antitumor, antioxidant, antifungal properties.

Parts used
Leaves, latex

Uses
Folkloric
- Milky sap and leaves are emetic and purgative.
- Bark is purgative.
- Fruit combined with Datura used for hydrophobia.
- Red fruit, when fresh, rubbed on legs for rheumatism.
- Latex is rubifacient on the skin.
- Fruit kernel used as abortifacient.
- Oil rubbed on skin to cure itches.
- In Java, along with heating oils, rubbed on skin as rubifacient to cure colds.
- In Burma, oil applied to hair as an insecticide.
Others
- Wood: Soft wood produces a fine charcoal, which the Siamese used in 1778 for gunpowder.
- Illuminant: In Penang, oil of seeds used as an illuminant.
- Poison: In Benua, sap is mixed with "ipoh" to produce a poison. In the Philippines, used as fish poison in small streams.

Toxicity
• Seeds are toxic.
• Green fruit employed to kill dogs.
• Latex causes blindness.
• Fruit kernel is an irritant poison, which may cause vomiting, purging, collapse and death.
• Plant with its cardiac glycoside content has cause of suicidal or homicidal deaths.
• Suicide Reports: Sri Lankan study reports 7 deaths attributed to C. manghas self-poisoning, with typical features of cardenolide poisoning – cardiac dysrhythmias and hyperkalemia.
Studies
Quisumbing's compilation lists C. manghas and C. odollam as synonyms, while some list them as separate species. Studies below are for both.
• Cardenolide Monoglycosides / Leaves: Study of air-dried leaves of F odollam and C. manghas yielded glucos-3-ulosyl-thevetosides of 17a-digitoxigenin and 17a-tanghinigenin. Fresh leaves yielded oleagenin glucosyl- thevetoside and digitoxigenin gentiotriosyl-thevetoside. (1)
• Cytotoxicity: In a Japanese study of the methanol extracts 39 seashore plants examined for cytotoxic activity against human leukaemia cells (K562 cells), five extracts, including C manghas, greatly inhibited the growth of K562 cells. The effect was attributed to DPT(deoxypodophyllotoxin) isolated from the fresh leaves of H. nymphaeaefolia. (4)
• Tanghinigenin / HL-60 Cell Apoptosis: Study isolated tanghinigenin, a cardiac glycoside, from the seeds of Cerbera manghas. Tanghinigenin reduced the viability of human promyelocytic leukemia HL-60 cells in a time- and dose-dependent manner, and efficiently induced apoptosis in HL-60 cells. (6)
• Phenylpropionic Acid / Cytotoxicity: Study isolated two new phenylpropionic acid derivatives, cerberic acids A and B, from the bark of C manghas. Compound one exhibited weak cytotoxic activity against HepG2, MCF-7 and HeLa cell lines. (7)
• Cytotoxicity / Ceribinal / Neriifolin: Bark, wood and leaf extracts of C manghas displayed potent cytotoxicity to A2780 human ovarian cancer cell line assay. Study isolated cerbinal, a known iridoid, a major component of bark and wood extracts, and the most cytotoxic in the fractionation process. Neriifolin, a minor component of the leaf extract, as a 100 times more active than cerbinal in the A2780 cytotoxicity assay. (8)
• Antioxidant / Antitumor: Twenty-eight compounds were isolated from a petroleum ether extract of roots. Three glycosides exhibited strong inhibitory activity against chronic myelogenous leukemia, human gastric carcinoma, and human hepatoma cell lines. An ethanol and methanol extract of roots showed antioxidant activity. Three lignans showed strong antioxidant activity.
• Antioxidant / Phytochemical Screening: Study isolated three compounds, one 14β (H) steroid (triticusterol) and two benzoic acid derivatives, from the carbon tetrachloride soluble fractions of a methanol extract of stem bark of Cerbera odollam. Various extracts and fractions of the bark showed moderate potent antioxidant activity, strongest with the chloroform soluble fraction. (10)
• Anticancer: Study evaluated the cytotoxicity of the leaf of C. odollam against two breast cancer cell lines against two breast cancer cell lines (T47D and MCF7), two ovarian cancer cell lines (SKOV3 and CaOV3) and a normal (Vero) cell line. Bioassay guided isolated yielded 17βH-neriifolin, which showed potent anticancer activity against MCF7, T47D, SKOV3, CaOV3 and Vero cell lines. (11)
• Suicide Tree / Cerbera odollam: Seeds are known to be extremely toxic. The tree is reported to be responsible for 50% of plant poisoning cases and 10% of the total poisoning cases in Kerala, India, used for both suicide and homicide. (12)
• CNS Toxicity and Effects of C. odollam Leaf Extract: Study evaluated the immediate and delayed toxicity of C. odollam leaf extract in mice. A doses less than maximal dose, the leaf extract significantly decreased mice spontaneous motor activity, increased reaction time to thermal stimulus, reduced duration of pentylenetetrazole-induced tonic seizures and mortality, and potentiated sodium pentobarbital-generated hypnotic effects. (13)
• Antifungal: Study of extracts of leaves of C. manghas showed antifungal activity. The antifungal activity was best against Fusarium oxysporum f. sp cubense. (14)
• Antioxidant / Analgesic: Study of ethanolic extract of leaves showed significant analgesic effect in acetic acid induced writhing in white albino mice. Extract also showed antioxidant property in a free radical scavenging assay. (see constituents above) (16)
• Self Poisoning / Seeds or Fruits: Study reports self poisoning as significantly common among young unmarried males in the Batticaloa district of Easter Province of Sri Lanka. Toxicity risk did not correlate with the number of seeds. Symptoms are non specific. AV conduction defects are common. Multiple activated charcoals alone were safe and adequate in most cases. Severity of toxicity correlated with mortality. (19)
• Antioxidant / Anti-Tumor / Cytotoxicity: Extracts showed strong cytotoxicities. Among the isolated compounds, three cardiac glycosides exhibited strong inhibitory activity towards chronic myelogenous leukemia (K562), human gastric carcinoma (SGC-7901) and human hepatoma (SMMC)cell lines. Root extracts showed better antioxidant activity than the stems. Three lignans showed good antioxidant activity. (see constituents above) (20)
• 2′-epi-2′-O-Acetylthevetin B / Apoptosis / Human Hepatocellular Ca: 2′-epi-2′-O-Acetylthevetin B (GHSC-74), a cardiac glycoside was isolated from the seeds of C. manghas, inhibited the growth of HepG2 cells by inducing S and G2 phase arrest of cell cycle and triggering apoptosis via mitochondrial disruption including caspase-dependent and independent pathways, and ROS generation. (21)

Availability
Wild-crafted.