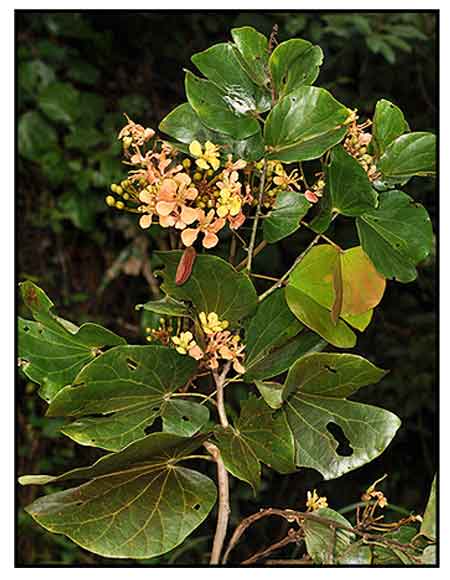 Gen info
- Etymology: The genus name Bauhinia honors the brothers Jean (1541-1613) and Gaspard (1560-1624) Bauhin, Swiss botanists. The species epithet integrifolia is a combination of Latin terms integer meaning 'entire' and folium mean leaf.
Botany
Bauhinia integrifolia is a large-tendrilled liana with rusty-woolly, grooved young branches. Leaves alternate; stipules minute, early caducous; petiole 1-5 cm long; blade ovate to orbicular, 6.8-12.4 cm × 7.5-12.5 cm, base deeply cordate, apex entire, emarginate, shallowly or deeply bifid, 9-11-veined. Inflorescence a more or less dense panicle composed of corymbose racemes; flower buds globose, ovoid or ellipsoid, hypanthium tubular; flowers bisexual; calyx splitting into 2(-3) lobes; petals 5, obovate, 8-15 mm long, claw short, orange turning red; stamens 3, staminodes 2, minute; ovary subsessile, rusty-woolly. Fruit a legume, oblong, up to 20 cm × 5 cm, glabrescent, 5-8seeded, dehiscent. Seed ovateorbicular, about 2 cm in diameter. (2)
Distribution
- Native to the Philippines.
- Grows primarily in the wet tropical biome. (1)
- Also native to Borneo, Lesser Sunda Is., Malaya, Sumatera, Thailand. (1)
- A common lowland species, found up to 1200 m altitude.

Constituents
- Phytochemical screening of stems yielded alkaloids, anthraquinones, steroids and triterpenoids, with absence of flavonoids, glycosides, saponins, and tannins.
Properties
- Studies have suggest anti-angiogenic, non-cytotoxic, antibacterial properties.

Parts used
Leaves, stems, roots.

Uses
Folkloric
- In the Philippines, decoction of roots used for coughs and applied as post-partum medicine. (2)
- The Manobo tribe herbalists use decoction of B. integrifolia stems to treat relapse experienced by mothers after childbirth; also used as abortifacient and for birth control. (3)
- In Johor (Peninsular Malaysia), leaf juice used for stomach disorders. (2)
- Leaf juice used for stomach problems. (2)
- Used for treatment of snakebites.
- Roots used for treatment of syphilis.
Others
- Cordage / Tying: Durable stems used for tying. Strong bast made into rope and bowstrings. (2)

Studies
• Anti-Angiogenic / Non-Cytotoxic / Stem: Study evaluated the anti-angiogenic and cytotoxic potentials of 70% acetone and water extracts of B. integrifolia stems. Using duck chorionallantoic membrane assay, both extracts exhibited dose dependent anti-angiogenic activity. As concentration increased from 10 gm to 1000 mg/mL, the formation of new blood vessels decreased. On brine shrimp lethality assay, both extracts were non-cytotoxic. (4)
• Antibacterial / Stem: Study of stem extract showed antibacterial properties against two gram positive strains, Bacillus cereus and Staphylococcus aureus. Extracts showed no activity against E. coli, K. pneumonia, A. niger and S. cerevisiae.
Availability
Wild-crafted.