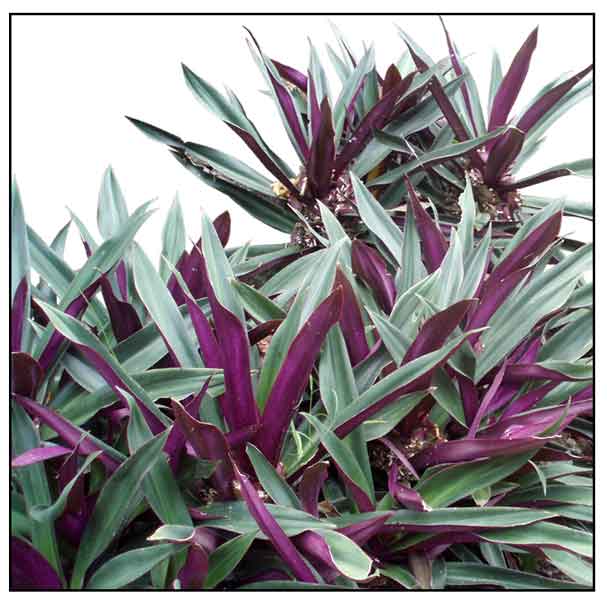 Etymology
- Tradescantia is named after John Tradescant senior, gardener to Charles I. He collected the first tradescantia from Virginia in the USA. Spathacea refers to the spatula-like leaves. Its common names are Moses-in-the-cradle, Oyster Plant and Boat Lily.
- Moses in a Cradle: The small white three-petaled flowers (Moses) arise from within the boat-shaped purple bracts (the cradle) nestled between the leaf axils.
B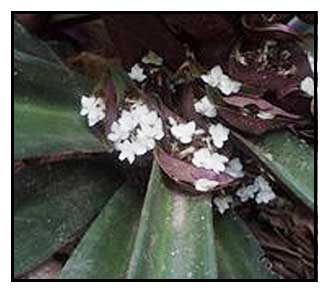 otany
Bangka-bangkaan is a stout perennial herbaceous, somewhat fleshy plant, 0.5 meters in height or less, the stem thick and unbranched. Leaves are lanceolate, acuminate, 40 to 60 centimeters long, 4 to 6 centimeters wide, fleshy, the upper surface dark green, the lower purple.  Flowers are numerous in each inflorescence, fascicled, white, about 1 centimeter in diameter. Inflorescence, axillary, short, peduncled, the flowers surrounded by 2 large, imbricate, laterally compressed, distichous, 3 to 4 centimeters long purplish bracts.
Distribution
- Ornamental cultivation.
- Scarcely established.
Constituents
• Phytochemical studies yielded alkaloids, flavonoids, steroids, saponins, cardiac glycosides, terpenoids, tannin and phenolic compounds and oil.

Properties
• Decongestant, expectorant, blood refrigerant, antidysenteric.
• Reported anti-inflammatory, anticancer, insecticidal, antimicrobial, antifertility properties.
• Studies have suggest antioxidant, antibacterial, antimutagenic, antigenotoxic, antitumor properties.
Parts utilized
Flowers, leaves.
Collect the whole year round. Sun-dry.

Uses
Folkloric
• Decoction of dried or fresh leaves used for cough, colds, hemoptysis, whooping cough, nose bleed.
• Bacillary dysentery, blood in the stool.
• Used for lymphatic tuberculosis.
• In Singapore, sold in markets as both ornamental and medicinal: Boiled in water, it is believed to have cooling properties.
• In Thai medicine, used for fever, cough and bronchitis.
• In Cuba, frictions and cataplasms used to treat wounds. In the Caribbean, poultice of leaves used for asthma. (11)
• In Puerto Rico, decoction of leaves used in the treatment of psoriasis. (15)

Caution !
The plant sap is considered poisonous. Contact may cause stinging and itching of the skin and eyes. Ingestion may cause irritation of the lips, mouth, throat and abdominal pain.
Studies
• Anti-tumor / Chemoprevention: Aqueous crude extract of Rhoeo discolor decreases the formation of liver preneoplastic foci in rats – In Mexico, Rhoeo discolor has been used to treat cancer. A study was done to validate its antitumoral property. It showed a reduction of preneoplastic lesions and justifies continuing further studies for its chemoprevention potential. (1)
• Antigenotoxic, Antimutagenic and ROS Scavenging Activities: (1) Extensively used in traditionally medicine in Mexico for the treatment of superficial mycoses, a study was done to evaluate its antimutagenic and antigenotoxic activities. The extract was neither mutagenic nor genotoxic. It showed dome radical scavenging, less than a-tocopherol and more than ascorbic acid. (2)
• Antimutagenic Mechanism: Study of antimutagenic mechanisms showed the extract might be used to avoid DNA damage by alkylation, corrected alkylguanine transferase protein encoded with ogt gene. (5)
• ·Antimicrobial / Phytochemical Constituents: Phytochemical studies yielded alkaloids, flavonoids, steroids, saponins, cardiac glycosides, terpenoids, tannin and phenolic compounds and oil. Study showed good inhibitory activity with dose-dependent increase in effect. K pneumonia was found to be most susceptible. (4)
• Stimulation of Human Lymphocyte Proliferative Response: Study evaluated the effects of various extracts of 8 Thai medicinal plants for in vitro stimulating human lymphocyte activity. All the extracts significantly stimulated human lymphocyte proliferative responses at varying concentrations. (9)
• Antimicrobial / Phenolic Rich Extracts: Study evaluated the in vitro activity of phenolic rich extracts against chosen microorganisms of human health importance viz., Listeria innocua, Streptococcus mutans, Escherichia coli, Pseudomonas aeruginosa and Candida albicans. While P. aeruginosa was least affected by extract exposure, low doses of the extracts produced significant bacteriostatic and bactericidal effect on the rest of the microorganisms. (13)
• Anticancer / Hepatoprotective: Study showed the protective effects of Rhoeo discolor aqueous crude extract against rat liver cancer using the resistant-hepatocyte model. The aqueous crude extract reduced the number and area of preneoplastic lesions. Results suggest justification for pursuing studies on chemoprevention strategies as an option in the treatment of cancer. (14)
• Antioxidant / Leaves: Study evaluated aqueous leaf extracts of Rhoeo spathacea for antioxidant (DPPH, FRS, FRP, and FIC assays) and antibacterial activity. Infusions and decoctions were found to have comparable TPC and antioxidant activity with other herbal teas. Both decoction and infusion showed antibacterial activity against six species of Gram positive and four species of gram negative bacteria, notably MRSA and Neisseria gonorrhea. (16)

Availability
- Wild-crafted.