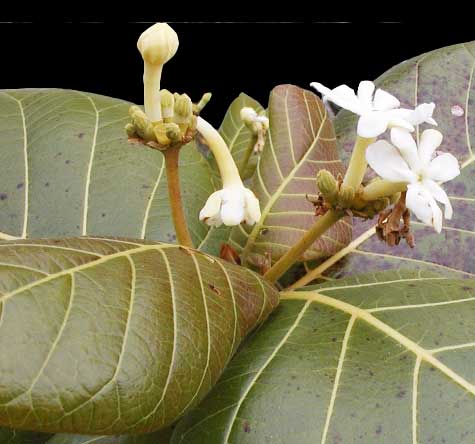 Botany
Banaro is a tree, 5 to 15 meters high, with a rounded sprawling crown. Leaves are hairy beneath, obovate, 10 to 25 centimeters long, 7.5 to 20 centimeters wide, small at the tip, rounded or heart-shaped at the base. Flowers are white, fragrant, about 3 centimeters across, with a yellow corolla-tube 2.5 to 5 cm long, borne in axillary inflorescences in terminal clusters, 3 to 11 centimeters long. Fruit is without a stalk, green but later whitish, rounded but rather flattened, 2.5 to 3 centimeters wide, faintly and closely ribbed, with 4 to 6 cells, each cavity having one seed.
Distribution
- Scattered along the seashore throughout the Philippines.
- Pantropic, always occurring along the seashore, sea cliffs, beach thickets, and low land forests.
- Widely distributed from East Africa to India and through Malaysia to the South Pacific.
Constituents
- Phytochemical analysis identified alkaloids, flavonoids, triterpenoids, carbohydrates, tannins, phenols, gums and mucilage.
- Bark reported to yield loganic acid and secologanin.
- Study on various extracts of leaves yielded proteins, amino acids, carbohydrates, alkaloids, flavonoids, phytosterols, saponin, phenols, tannins, fixed oil, glycerine, cardiac glycosides, glycosides, terpenoids, and coumarin. The water extract yielded the maximum number of secondary metabolites. (10)
- Chemical profiling of leaves by GC-MS yielded 53 components: Cladosporide A (27.34%) provided the largest peak; with duvatriendiol (0.01%) and docosanoic acid, 1,2,30porpanetriyl ester (CAS) (0.01%) yielded the least peaks. (11)
Properties
- Flowers are very fragrant, open in the evening, fall before dawn.
- Considered febrifugal, antidiarrheic, anticholinergic, vulnerary

Parts used
Bark, leaves.

Uses
Folkloric
- In the Dutch Indies, bark is use to cure chronic dysentery.
- In Indo-China, applied to wounds and abscesses.
- In India, the inner bark traditionally used to treat epilepsy; also used in diarrhea. Decoction of leaves are used to treat cough, colds and sore throats. The inner bark traditionally used in epilepsy.
- Inner bark used in the treatment of conjunctivitis.
- Leaves used as poultices.
- In the Marshall Islands, flowers are pounded and mixed with mother's milk for weakness and lethargy in newborn babies. Juice of flowers squeezed into the vagina as a douche. Infusion of flower juice drank for postpartum internal bleeding. Also used for treating hemorrhoids and headaches. Fruit mixed with coconut is considered a fast-acting antidote for fish poisoning. (6)
- In Kiribati, skin of fruit mixed with a part of root of Scaevola, used for treating venereal diseases.
- In Tonga, tea made from the inner bark used to treat epilepsy.
- In Tahiti, used as antidiarrheic, febrifugal, and anticholinergic.
- In New Guinea, bark preparation used for dysentery.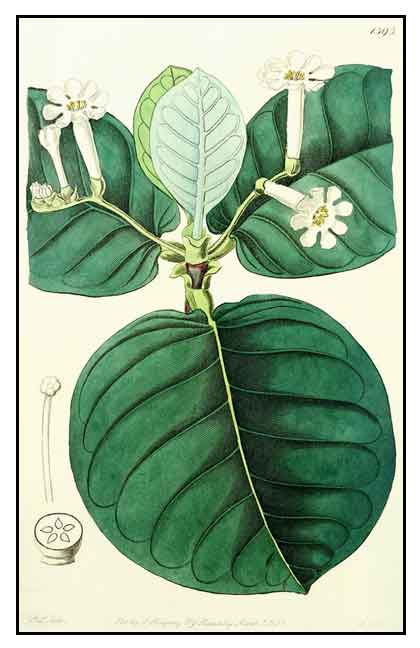 Others
• Flowers: Because of their fragrance, girls in the Pacific wear them in their hair. The Fijians and Samoans string them into necklaces.
• Herbal Baths / Ritual Use: In the Marshall Islands, flowers buds are used in the preparation of deodorizing herbal baths. Ritual Use: Flowers are pounded and rubbed over the body while bathing. As part of a ritual use, flower buds, crushed and pounded, made into an "O," and mixed with a teaspoon of mother's milk, and given to newborn baby.
• Essential Oil: In India, it is reported that some kind of attar is prepared from the flowers.

Studies
• Antidiarrheal / Inner Bark: Study of the ethanol extract of the inner bark of Guerttarda speciosa for anti-diarrheal effects against castor oil-induced diarrhea model in rats showed marked reduction in the number of diarrhea stools and reduction in the weight and volume of the intestinal contents, as well as reduction of in intestinal transit. (1)
• Anti-Seizure / Effect on Biogenic Amines on Rat Brain: Study of ethanol extract of GS to examine biogenic amines concentrations in rat brain after induction of seizures suggests G speciosa increased the monoamines on rat brain which may decrease the susceptibility to maximum electroshock of pentylenetetrazole induced seizure in rats. (2)
• Anti-Seizure / Bark: Study of inner bark sowed significant antiseizure activity against various models of epilepsy. (4)
• Antibacterial / Antifungal: Study showed both the chloroform and ethanolic extract exhibited potent antifungal and antibacterial activity. (3)
• Antiepileptic / Antioxidant: Study evaluated the effect of an ethanolic extract of GS on antioxidant enzymes in rat brain after induction of seizures by MES and PTZ. Anticonvulsant activity was dose-dependent and may be attributed to the antioxidant properties and the delay in the generation of free radical in MES and PTZ induced epilepsy. (5)
• Nitric Oxide Scavenging / Antioxidant: Study evaluated the in-vitro antioxidant activity of various extracts of G. speciosa leaves using Nitric Oxide scavenging activity assay. The water extract showed highest antioxidant activity (IC50 77.22±0.60 µg/ml), and also showed the maximum amount of phenols (115.81±0.67 TAE/g extract) compared to the other extracts. (12)

Availability
Wild-crafted.