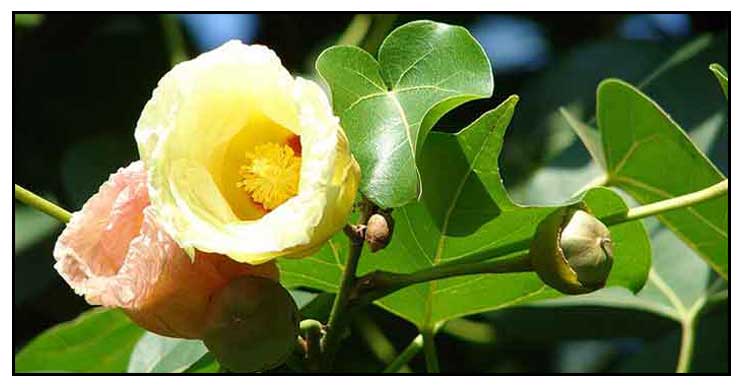 Botany
Banago is a tree that grows to a height of about 10 meters. Branchlets and under surface of the leaves are covered with small, brownish scales. Leaves are glossy, broadly ovate, 8 to 15 centimeters long, with pointed tip and very broad, slightly heart-shaped base. Flowers are borne singly on the axils of leaves. Calyx is truncate, about 1.5 centimeters in diameter. Corolla is yellow, dark-purple inside the base, about 5 centimeters long, with strongly imbricate lobes, turning purplish as it ages. Capsules are rounded and flattened, about 2 to 3 centimeters in diameter.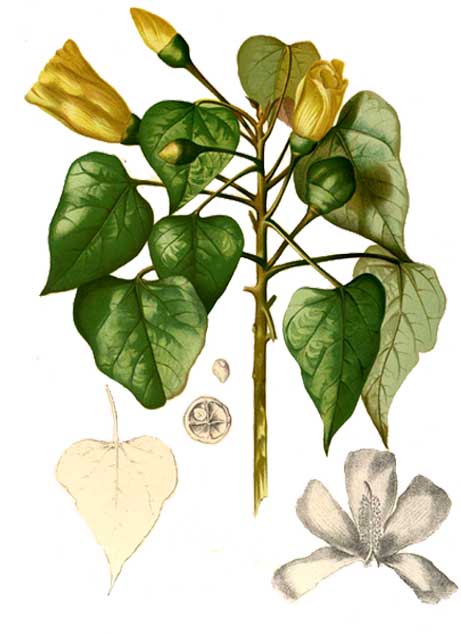 Distribution
- Throughout the Philippines along the seashore.
- Pantropic in similar habitats.

Constituents
- Seeds contain water, 10%; raw protein, 24.88%, and fixed oil (Thespesia oil).
- Study reports the ripe seeds to contain phosphoric acid and the heartwood a garnet-red resin.
- Phytochemical screening of ethanolic and aqueous bark extracts yielded carbohydrate, protein, tannins, phenol, flavonoids, terpenes, saponins, and gums. (
Properties
- Heartwood is hard, smooth and durable, of a dark-red color.
- Considered astringent, antifertility, antibacterial, anti-diarrheal, anti-inflammatory, antioxidant, purgative, hemostatic, and hepatoprotective.
- Bark considered alterative, depurative.
- Roots considered tonic.
- Leaves considered emollient.
Parts utilized
Bark, leaves, fruit.

Uses
Edibility
- Young leaves and green fruits said to be edible as vegetables when cooked.
- Young flower buds and leaves eaten raw or fried in butter. (29)
Folkloric
- Decoction of bark used internally as alterative, externally as an embrocation.
- Decoction of leaves used as emollient for itches.
- Juice of fruit used for herpetic diseases.
- In Mauritius, bark is considered depurative and as treatment for dysentery and hemorrhoids.
- Decoction of bark used for washing skin diseases.
- Ground bark mixed with coconut oil used for skin diseases.
- Heartwood used as remedy for bilious attacks and colic; the Malays use it for pleurodynia.
- Leaves applied to inflamed and swollen joints.
- Flowers used for itches.
- Fruit juices used in India as external application for psoriasis.
- Juice of fruit applied to warts.
- In Fiji, decoction of leaves used for coughs and headaches.
- In Tonga, leaf and bark decoction used for treating fevers in teething children.
- In Tahiti, fresh capsules are bruised, applied to the forehead for migraines.
- Yellow sap of peduncles used for insect bites.
Others
- Wood: Craftwood; used since ancient time for making bowls, utensils, jewelry, figurines and other craft items. Hawaiians make "poi" calabashes of it.
- Cordage: In some of the Pacific islands, outer bark used for making rope, inner bark for finer cordage.
- Ornamental: Provides a dense shade with attractive leaves and yellow flowers.
- Dye: Seed capsules yield a yellowish green color. Wood produces a yellow dye used to dye wool . Bark yields tannin used for tanning leather.
- Illuminant: Lamp oil can be made from seeds.
- Ceremonial: In Tahiti religious tradition, the milo tree was associated with the god of prayer, and planted around temples. Leaves are used by priests in ceremonial offerings.
- Fodder. Leaves are a good source of protein, calcium and phosphorus for livestock. (29)
- Erosion control: Tolerant of saline conditions and suitable for coastal erosion control. In India, planted for that purpose. (29)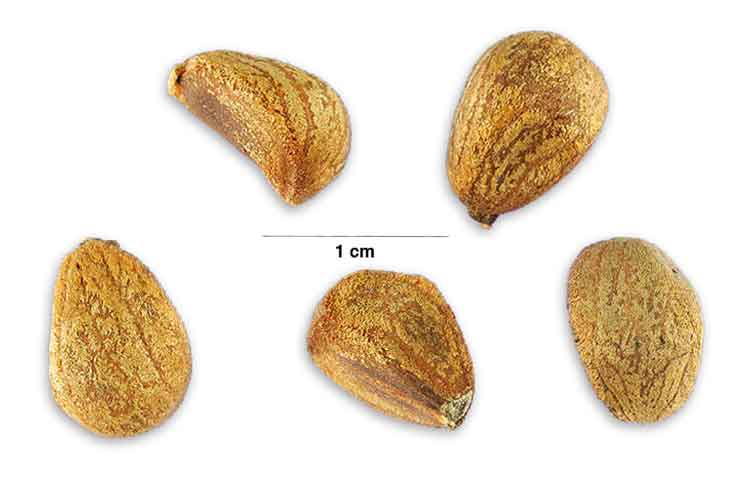 Studies
• Wound Healing / Fruit: Study showed the aqueous extract of the fruits of Thespesia populnea with significant wound healing activity in the excision wound and incision wound models in rats following topical and oral administration. (1)
• Antinociceptive / Anti-Inflammatory / Bark: Study of ethanolic extract of bark yielded alkaloids, carbohydrates, protein, tannins, phenols, flavonoids, gums, mucilage, saponins and terpenes. Results showed anti-inflammatory and analgesic activities. Acute toxicity studies showed no mortality even at the highest doses. (2)
• Antioxidant / Hepatoprotective: The aqueous and methanolic extracts of TP bark exhibited significant antioxidant activity against carbon tetrachloride-induced liver injury in rats. (3)
• Cognitive Effects / Potential Alzheimer Benefits / Hypolipidemic: Study on the TP extract showed multifarious beneficial effects, as memory improving property, cholesterol lowering, anticholinesterase and anti-inflammatory activities. It presents a promising candidate for improving memory and a worthwhile plant to explore for its possibilities in the management of Alzheimer patients. (4)
• Antibacterial / Flowers: Phytochemical studies of flowers yielded flavonoids, alkaloids, tannins and anthraquinone glycosides. The methanolic extract of flowers was active against 13 of 14 tested bacteria. Results show T populnea is not only an interesting source of antimicrobial activity but also a potential source of phenolic antioxidants. (5)
• Antimicrobial Synergism with Oxytetracycline: Study showed a synergistic activity of oxytetracycline with a methanolic extract of Thespesia populnea. It showed synergistic activity against all 12 tested bacteria, both gram+ and gram-, the highest against Shigella boydii. (6)
• Anti-Hepatotoxic / Rhamnoglucoside: Study on rats of ethanol extract of fractions of TP using a CCl4 model of liver injury showed significant anti-hepatotoxic activity. Study yielded a rare flavonoid, quercetin-7-O-rhamnoglucoside. (7)
• Anti-Psoriatic: Phytochemical study on bark extract yielded carbohydrates, glycosides, tannins, flavonoids, triterpenoids, phytosterols, proteins and lipid/oils. Study showed the pet-ether extract with maximum anti-psoriatic activity. Results indicate the plant TP is promising for further investigations to prove its anti-psoriatic activity. (8)
• Memory Enhancing: Study investigating the effects of TP bark on memory in rats showed it to be a promising candidate for memory improving and worthwhile exploring for its potential in Alzheimer management. (9)
• Anti-Implantation: Chromatographic pure principle from PE extract showed significant anti-implantation activity (60%) at 110 mg/kbw, while EAc extract showed a 48.6% effect. The active principles were found to be a mixture of two groups of long-chain fatty acids from GLC. (10)
• Anthelmintic Activity: Study investigating the anthelmintic activity of a polyherbal formulation containing herbs of Thespesia populnea (bark), Terminalia alata (bark), Clematis triloba (roots) and Ceratophyllum demersum (leaves) on adult earthworm Pheretima posthuma showed the ethanol extract to have a marked and potent anthelmintic activity. Individually, all the plants exhibit anthelmintic activity, but with a more potent effect when combined. (11)
• Cytotoxic / Antibacterial Sesquiterpenes: Study isolated eight sesquiterpenoids, populene A-H together with 11 known compounds. The cytotoxic activity was evaluated against four cancer cell lines (MCF-7, HeLa, HT-29 and KB). Antibacterial properties against B subtilis, S aureus, and E faecalis are presented. (12)
• Antidiabetic: Study showed an ethanol extract to have an anti-diabetic effect against STZ-induced diabetic rats through a possible mechanism of inhibition of free radical generation. (13)
• Antibacterial / Leaves: Study of methanolic leaf and callus extract exhibited significant antibacterial activity against drug resistant strains of E coli, Staphylococcus aureus, K pneumoniae and Salmonella typhi. (14)
• Chemopreventive / Antilipidperoxidative Potential: Study investigated the chemopreventive potential and antilipidperoxidative effect of an ethanolic extract of T. populnea on DMBA-induced hamster buccal pouch carcinogenesis. There was significant prevention of tumor incidence, tumor volume and tumor burden. Results conclude the ethanolic extract of TP bark has potent chemopreventive efficacy and significant antilipidperoxidative effect in DBMA induced oral carcinogenesis. (15)
• Hepatoprotective / CCl4-induced Injury: Study evaluated the hepatoprotective activity of an ethanol extract of the stem bark in carbon tetrachloride (CCl4)-induced liver injury in rats. Results showed hepatoprotective effect almost comparable to silymarin, the reference drug. (21) Study evaluated methanol and water extracts of bark of T. populnea for hepatoprotective activity against CCl4 induced liver damage. Extracts showed dose dependent reduction in enzyme parameters with increase in total protein levels. The MET showed higher protection than the AET. (28)
• Anti-Inflammatory / Membrane Stabilization / Fruits: Ethyl alcohol and aqueous extracts of Thespesia populnea were investigated for anti-inflammatory activity via prevention of hypotonicity induced HRBC membrane lysis. Results showed a biphasic anti-inflammatory effect. Diclofenac was used as standard. (24)
• Antibacterial / Bark: Study investigated the antibacterial activity of bark of T. populnea against four bacterial (S. aureus, S. pyogenes, E. coli, P. aeruginosa) and two fungi C. albicans, A. flavus). A petroleum ether extract showed significant activity against all organisms while ethanolic and aqueous extracts showed moderate to mild activity. (25)
• α-Amylase Inhibitory Activity/ / Anti-Diabetic / Leaves: Study evaluated the leaves of T. populnea for the presence of amylase inhibitors. Methanolic and ethyl acetate extracts of leaves were found to possess potent amylase inhibitory activity. Leaves also exhibited antioxidant activity. Results suggest T. populnea can mitigate postprandial hyperglycemia and ameliorate oxidative stress and help prevent diabetic complications. (26)
• Diuretic / Bark: Study evaluated various solvent extracts of dried bark powder for diuretic potential in albino rats. At 400 mg/kg, the extract showed significant increase in volume of urine, urinary concentrations of Na, K, and Cl. (see constituents above) (27)
• Wound Healing / Stem Bark: Study evaluated fine powder of stem bark for wound healing activity. Results showed significant acceleration of wound healing in excised wound model in wistar albino rats. (30)
• Apoptotic / Anticancer: Study showed decoction prepared with Thespesia populnea and Adenanthera pavonina exhibited anti-proliferative activity and induced apoptosis on Hep-2 cancer cells without any toxicity against Artemia salina. (31)
• Anti-Steroidogenic / Antifertility Effect / Bark: Study evaluated the anti-steroidogenic effect of T. populnea bark in adult female mice. There was significant reduction (p<0.05) in wet weight of both ovaries. The two ovarian enzymes ]3-,17-hydroxy steroid dehydrogenase and serum estrogen and progesterone also decreased (P<0.05) significantly. The antifertility effect of the methanolic extract was attributed to its anti-steroidogenic activity. (32)
• Effect on Cisplatin Induced Nephrotoxicity: Study evaluated the effect of Thespesia populnea on cisplatin-induced nephrotoxicity on male Sprague-Dawley rats. Thespesia populnea extract ameliorated cisplatin induced kidney and liver damage as evidenced by reduction in levels of serum urea, creatinine, AST, ALT, and bilirubin. Reduction in the biomarkers suggest a regeneration process. The activity might be attributable to nephroprotective compounds such as flavonoids, alkaloids, etc. (33)
• Diarrheal / Antimotility and Antisecretory Mechanisms / Stem Bark: Study evaluated fractions of aqueous fractions from stem barks of Thespesia populnea for antidiarrheal activity in castor oil induced diarrhea, prostaglandin E2 induced diarrhea and charcoal meal test as in vivo models. Results showed good antidiarrheal activity. Phytochemical analysis showed the presence of gums and mucilages. Possible mechanisms may be the combination of antisecretory and antimotility mechanisms, i.e., inhibition of elevated prostaglandin biosynthesis and reduced propulsive movement of the intestine. (34)

Availability
- Wildcrafted.
- Cultivated.