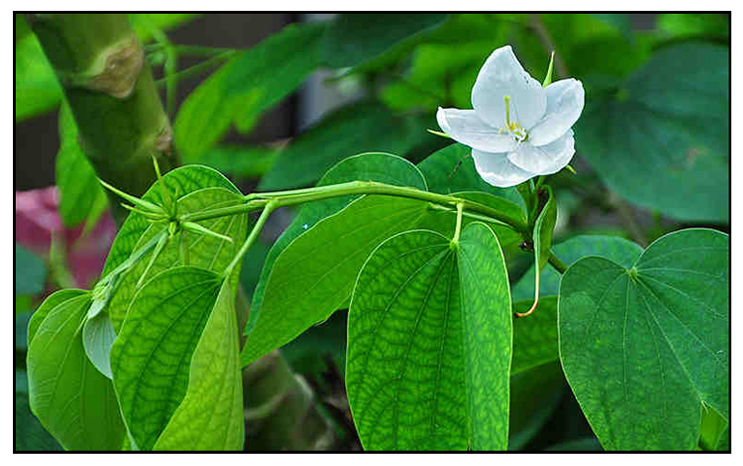 Botany
Bambang is a shrub growing to a height of 3 to 4 meters. Leaves are bilobed, 8 to 15 centimeters long and broad, deeply cleft from the tip to about one third of the length of the leaf. Base is somewhat cordate and the lobes are acute. Petioled is 1.5 to 4 centimeters long. Flowers are fragrant, showy and white, about 8 centimeters across; yellow-tipped stamens are ten. Pods are flat, up to 8 to 15 centimeters long and 1.8 centimeters broad.

Distribution
- Ornamental cultivation.
- Occurs in India, China to the Malay Peninsula.
Constituents
- Phytochemical screening of leaves yielded starch, alkaloids, flavonoids, tannins, reducing sugars, amino acids, and lignins. (6)
- Hydrodistillation of fresh leaves of B. acuminata for essential oil yielded nineteen compounds comprising 89.9% of leaf oil. Major constituents were phytol (65.90%), sesquiterpenoids ß-caryophyllene (13.87%) and caryophyllene oxide (3.15%). (7)
Parts utilized
- Leaves, bark, roots, flowers.
Uses
Folkloric
- No reported medicinal use in the Philippines.
- In India, decoction of bark and leaves used for biliousness and asthma. In Malaysia and Indonesia, used for cough and the common cold. (2)
- In India, bark and leaves used in treatment of bladder stones, venereal disease, and leprosy. Paste of leaves applied locally to treat skin diseases. Roots boiled in oil applied to burns. (2)

Studies
• Cytotoxic / Thrombolytic / Leaves: Study evaluated the cytotoxic and thrombolytic activity of a methanolic extract of leaves of B. acuminata. The extract showed remarkable cytotoxic activity in brine shrimp lethality bioassay, comparable to vincristin sulphate. It showed significant thrombolytic effect using streptokinase as standard. (4)
• Antidiarrheal / Leaves: Study evaluated methanolic extracts of B. acuminata for antidiarrheal and antimicrobial activity. A crude methanolic extract showed significant antidiarrheal activity with significant reduction in magnesium induced enteropooling and dose dependent effect in castor oil induced diarrhea. Study failed to show any antimicrobial activity. (5)
• Antibacterial / Seed: Crude extract from seed kernels of Bauhinia acuminata showed strong antibacterial activity against various pathogenic gram-positive and gram-negative bacteria; the most sensitive, Bacillus subtilis and the least sensitive, Pseudomonas aeruginosa. (8)

Availability
Ornamental cultivation.