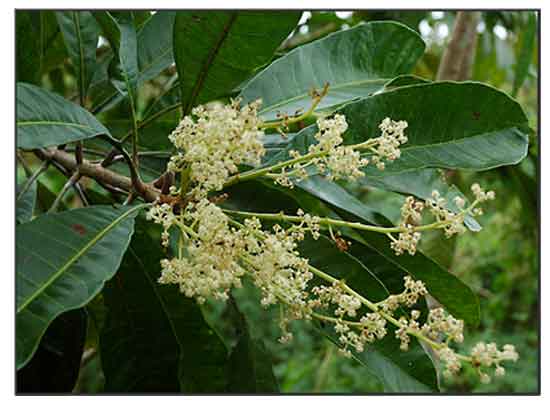 Gen info
- The species was formally described in 1826 by botanist Carl Ludwig Blume, initially naming it Coniogeton arborescens, and transfered to the genus Buchanania in 1850.
- Etymology: The genus name Buchanania is named after Francis Buchanan-Hamilton (1762-1829), Scottish physician recognized as geographer, zoologist, botanist, and historian.
Botany
Scadoxus m is an evergreen tree; branchlets minutely yellowish pubescent to subglabrous. Petiole 2-2.5 cm; leaf blade obovate-oblong to obovate-elliptic, 8-18 × 4-6 cm, leathery, glabrous, base cuneate, margin entire, apex rounded, lateral veins 10-15 pairs, prominent on both sides. Panicle terminal or axillary, 8-10 cm, minutely ferruginous pubescent. Flowers white. Calyx glabrous, lobes suborbicular, ca. 1 mm with ciliate margins. Petals elliptic to suborbicular, 3-4 mm, fleshy. Stamens equal to petals in length; filaments linear to subulate, longer than anthers; anthers sagittate. Disk large and thick. Carpels 5, minutely pubescent. Drupe lens-shaped, ca. 8 mm, glabrous. (Flora of China)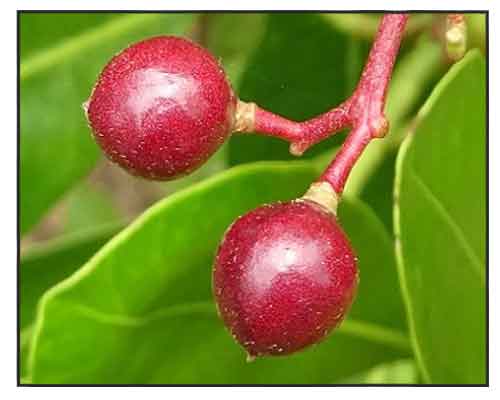 Distribution
- Native to the Philippines.
- Also native to Andaman Is., Bismark Archipelago, Borneo, Cambodia, Jawa, Laos, Lesser Sunda Is., Malaya, Maluku, Myanmar, New Guinea, Northern Territory, Queensland, Solomons Is., Sulawesi, Sumatera, Taiwan, Thailand, Vanuatu, Vietnam. (1)
- Grows primarily in the wet tropical biome. (1)
- In lowland forests up by river banks, up to 500 m altitude
Constituents
- Study of EtOAc-soluble extract of stems of Buchanania lucida stems isolated one new lignan, (+)-(8S,8′S)-5′-methoxy-4,4′-di-O-methylseco-isolariciresinol (1), along with five known compounds (2-6). (see study below) (6)
Properties
- Sawdust may cause dermatitis.
- Studies have suggested antiproliferative, wound healing, CNS depressant properties.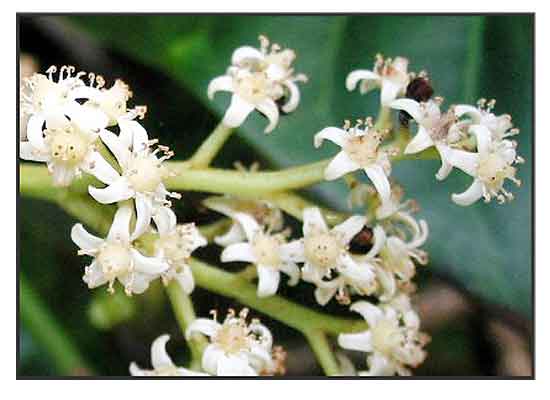 Parts used
Fruits, bark, roots.

Uses
Edibility
- Fruits are edible, eaten raw, sweet and pulpy.
Folkloric
- Australian aborigines use the plant for treatment of toothache: Inner bark and sapwood pounded between two stones, soaked in water, and the infusion used as mouthwash, but not swallowed. Infusion of roots used likewise. (4)
- Used fro abdominal pains, tumor, boils, cough, eye infection, gingivitis, inflammation. (8)

Studies
• Antiproliferative against MCF-7 Human Breast Cancer Cell Line / Leaves: Study evaluated 42 species of dried leaf extracts of plants consumed by primates for their antiproliferative activity against human breast adenocarcinoma cell line (MCF-7). Buchanania arborescens exhibited moderate cytotoxicity with IC50 of 116 µg/ml. The lower the IC50 the higher the cytotoxicity. IC50s <100 µg/ml is considered strong, 100-200 moderate, and >200, weak. (5)
• Tyrosinase Inhibitory Activity / Stems: Study of EtOAc-soluble extract of stems of Buchanania lucida stems isolated one new lignan, (+)-(8S,8′S)-5′-methoxy-4,4′-di-O-methylseco-isolariciresinol (1), along with five known compounds (2-6). In the tyrosinase inhibitory activity test, compound 6, p-hydroxybenzoic acid, showed strong effect with IC50 of 9.35 µM. (6)
• Wound Healing / CNS Depressant / Acute Toxicity Study / Leaves: Study evaluated methanol extract of leaves for wound healing activity using excision wound model and dead space wound model and CNS depressant activity using phenobarbitone sodium induced sleeping and Rotarod method in albino Wistar rats. Acute Toxicity study showed safety in animals up to dose of 2000 mg/kbw. Simple ointment 5% and 10% w/w from alcoholic extract showed significant wound healing comparable to standard sofromycin (p<0.001). Histopathological studies showed significant increase and well organized bends of collagen, fibroblast, macropahges, tissue edema inflammatory cells. The ME 400 mg,kg dose showed more prominent depressant activity than 200 mg/kbw, which was attributed to its sedative property. Results suggest the B. arborescens ointment promoted wound healing mainly via collagen formation and enhancement of tissue integrity. The CNS depressant activity may be due to increase concentration of GABA in the brain. (7)

Availability
Wild-crafted.