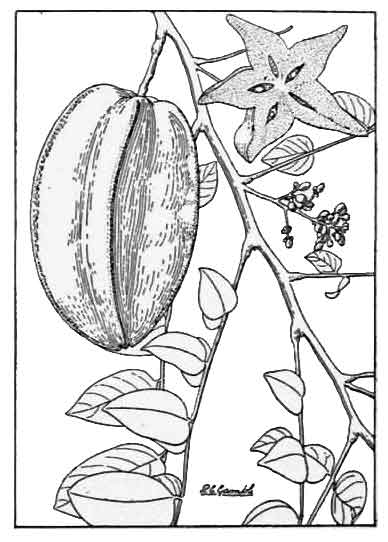 Botany
Balimbing is a small tree growing to a height of 6 meters or less. Leaves are pinnate, about 15 centimeters long. Leaflets are smooth, usually in 5 pairs, ovate to ovate-lanceolate, the upper ones about 5 centimeters long and the lower ones smaller. Pannicles are small, axillary and bell-shaped, 5 to 6 millimeters long. Calyx is reddish purple. Petals are purple to bright purple, often margined with white. Fruit is fleshy, green to greenish yellow, about 6 centimeters long, with 5 longitudinal, sharp and angular lobes. Seeds are arillate.
Distribution
- In cultivated and semi-cultivated areas throughout the Philippines.
- Introduced from tropical America.
- Now pantropic.
Constituents
- Studies indicate the presence of saponins, alkaloids, flavonoids and tannins.
- Seeds yield an alkaloid, harmaline, C13H14N20.
Properties
- Vermifuge, laxative, refrigerant, antiscorbutic, febrifuge, sialogogue, antiphlogistic, stimulant, emmenagogue, anodyne, emetic.
- Fruit is considered laxative, refrigerant, antiscorbutic, appetite stimulant, febrifuge, antidysenteric, sialagogue, and antiphlogistic.
- Seed regarded as narcotic, anodyne, emetic and emmenagogue.
Parts used
Leaves, flowers, seeds, fruit.
.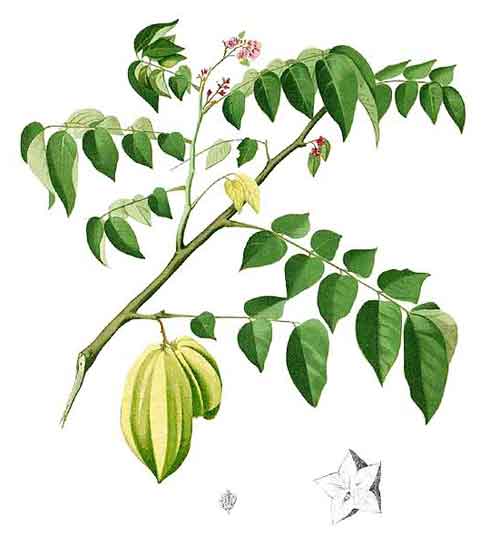 Uses
Edibility / Culinary / Nutritional
- Edible fruit is a source of iron (low in calcium) and vitamins B and C, oxalate and potassium.
- In the Philippines, the fruit is eaten with or without salt; the juice used for seasoning.
- Fruit used in making pickles and sweets.
- In Java, flowers are used in salads.
Folkloric
- Decoction of leaves used for aphthous stomatitis and angina.
- In Tonkin, flowers are used as vermifuge.
- Boiled flowers used to expel worms: 50 gms to a pint of boiling water; drunk in normal doses.
- Malays use a poultice of crushed shoots or leaves used externally for headaches, chickenpox, and ringworm.
- The Chinese and Annamites use the flowers for cutaneous affections; also use the fruit as an eye salve for ophthalmic affections.
- Leaves applied externally for fevers.
- Fruit syrup used as cooling drink for fevers.
- Decoction of leaves and fruit used to arrest vomiting.
- Fruit is laxative; also used for hematemesis, melena and other forms of hemorrhages.
- Decoction of fruit, 50 gms to a pint of boiling water, 4-5 glasses a day used for bleeding piles.
- Juice of fresh fruit for affections of the eyes.
- Seed is used for asthma and colic: Powdered seeds, 10 gms to a cup of warm water, drunk 4 times daily.
- In Brazil, used for headaches, eczema, vomiting, coughing and hangovers. Also, used as appetite stimulant, diuretic, antidiarrheal, and febrifuge.
- In India, the ripe fruit is used to stop hemorrhages and relieve hemorrhoidal bleeding.
- The dried fruit or juice used for fevers.
- Plant used as reproductive organ stimulant for both males and females. In females it is used to increase the flow of milk and menstrual fluid. It acts as an emmenagogue; sometimes used as abortive.
- Seed regarded as narcotic, anodyne, emetic, and emmenagogue. Seed powder, in doses of 1/2 to 3 drams or as watery infusion, considered a good anodyne in asthma, colic, and jaundice
Others
- Cleaning: The acid type carambola dissolves tarnish and rust, occasionally used for cleaning and polishing metal.
- Stain remover: Like kamias, fruit juice is used in washing clothes and to remove spots and stains.
Contains potassium oxalate which is used for dyeing.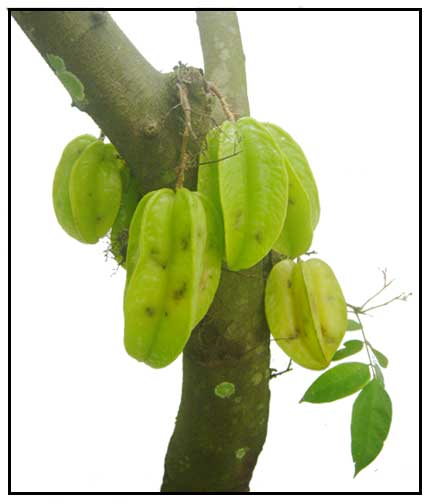 Studies
• Cardiac Effects / Negative Inotropic and Chronotropic Effects: The study showed that the A. carambola extract is an agent that strongly depresses the heart rate and the myocardial contractile force. Although the active compound has not been identified, its action on the L-type Ca2+ channels is important to explain the mechanism of action of this plant on the mammalian atrial myocardium.
• Fatal outcome after ingestion of star fruit (Averrhoa carambola) in uremic patients: The study warns that patients with renal failure who ingest star fruit may develop neurological symptoms and run the risk of death in severe cases. Hemodialysis, especially on a daily basis, is the ideal treatment for star fruit intoxication.
• Neurotoxicity: Report of study on 32 uraemic patients who ingested star fruit. Most common presenting symptoms were persistent hiccups, vomiting, mental confusion, psychomotor agitation, insomnia, paresthesias and seizures. Ideal treatment was daily hemodialysis.
• Antioxidant: Research reports the residues from star fruit juicing process is a rich and excellent source of extractable phenolic antioxidants.
• Convulsant / Neurotoxic Fraction: Study yielded a nonproteic neurotoxic fraction from the star fruit Averrhoa carambola. It was shown to inhibit GABA binding in a concentration-dependent manner. It produced behavioral changes in animals, including seizures - tonic-clonic to status epilepticus..
• Anti-Ulcerogernic Effect: Water-alcohol extract of A carambola showed significant anti-ulcer activity in the acidified-ethanol-induced ulcer model in rats, with no activity in the indomethacin and acute stress ulcerogenic models.
• Human Cytochrome P450 Inhibition: Fruit juice-drug interaction has been a concern since the discovery of the grapefruit juice-drug interaction. Other fruits have been found to inhibit CYP3A in vitro. Study showed star fruit juice inhibited the seven CYP isoforms tested, with the strongest inhibitory effect against CYP2A6 and the least towards CYP3A4.
• Hypotensive Effect: Study of aqueous extract of Averrhoa carambola demonstrated hypotensive effects, in part, attributed to inhibition of the contractile mechanisms involving extracellular Ca++ influx.
• Topical Anti-Inflammatory: Study in mice evaluated the topical anti-inflammatory effects of various extracts of leaves, fractions and flavonoids on skin inflammation. The ethyl acetate fraction was the most effective.
• Antioxidant / Antimicrobial: Nitric oxide radicals generated from sodium nitroprusside was inhibited by A. carambola fruit extracts at various stages of ripening. Methanolic and water extracts of fruits showed antimicrobial activity against E. coli, Salmonella typhi, Staph aureus and Bacillus cereus.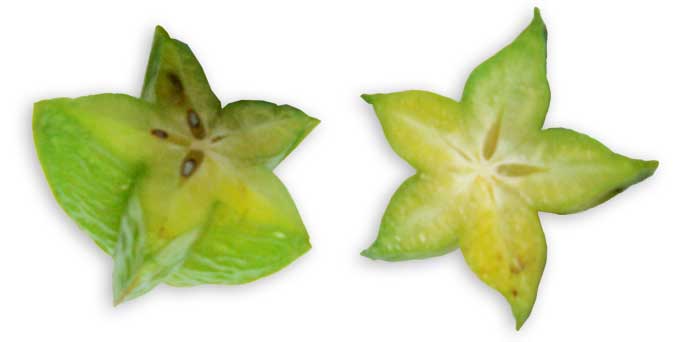 Toxicity / Caution !
• Report of toxicity and death in fruit consumption by patients with renal failure. Star fruit intoxication may be harmful and even life threatening in uremic patients. The neurotoxicity is classified into three levels of intoxication: (1) Mild, with hiccups, vomiting and insomnia. (2) Moderate, wirh psychomotor agitation, numbness and mental confusion, and (3) Severe intoxication, with worsening confusion, coma, seizures, hypotension and shock, in various confusing clinical presentations. Daily dialysis, is the ideal treatment and most efficient way of removing the neurotoxicity.
• High Potassium Content: Because of its high potassium content, star fruit should be one of the food substances that should be excluded from the diet of patients with renal failure.

Availability
Wild-crafted.
Limited backyard cultivation.