Gen info
- Genus ficus belongs to the Moraceae family with 40 genera and over 1000 species.
- Ficus is one of the most important plant groups in the tropical rain forest ecosystems and a major food source for frugivores.
- In the Philippines, Ficus is the fifth most speciose genus, comprising 104 species. A study in the three forest reserves of Central Mindanao University in Bukidnon revealed 12 species. While Ficus balete was the most abundant and widely distributed, Ficus crassiramea was the most visited by frugivores. (3)
- Etymology: The species epithet 'crassiramea' derives from Latin 'crassus' meaning 'thick', and 'ramus' meaning 'branch' -- referring to the stout twigs.
- Ficus crassiramea can start as an epiphyte in a tree branch, eventually sending aerial roots downward, sometimes encircling the trunk of the host tree and constricting its growth, sometimes out-competing and killing the host tree.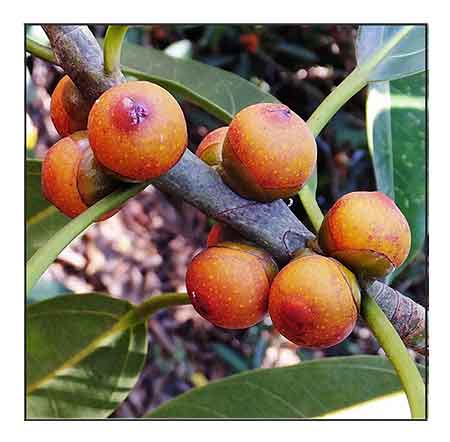 Botany
Ficus crassiramea is a hemiepiphytic tree with a large spreading canopy, growing up to 30 m tall. Bole is up t 61 cm diameter. It can Twigs are 5-18 mm thick with minute hairs concentrated at the stipular scars. Leaves are spirally arranged; stalked leaves with leathery leaf blades, long, narrow, 8-38 cm long by 3-16 cm wide, with rounded ends. Each leaf blade has 6-12 pairs of lateral veins, with the basal pair departing 0.2-1.0 cm above the base of the midrib towards the blade margins. Petiole is 2-8 cm long and 2-5 mm wide. Stiipules are usually 2-5 cm long. Axillary synconia are usually paired or single on the twig with three yellow, circular basal bracts, mostly 5-20 mm long, covering 1/6 to 2/3 of each synconium. Round synconia are 8-35 mm across, yellow to dark red with ripe, with ostioles 2-10 mm across.
Distribution
- Native to the Philippines.
- Also native to Bismark Archipelago, Borneo, Jawa, Malaya, Maluku, Myanmar, New Guinea, Solomon Is., Sulawesi, Sumatera, Thailand, Vietnam.
- In swamps and coastal forests at elevations up to 100 m. In alluvial sites, near or along sides of rivers and streams.
Constituents
- No studies found.
Properties
- Supports a wide range of bird species.
- Ficus species preferred by frugivores.

Parts used
Roots, bark, leaves.

Uses
Folkloric
- Roots, bark, and leaves pounded into a paste and applied to snake bites.

Studies
• No studies found.
Availability
Wild-crafted.