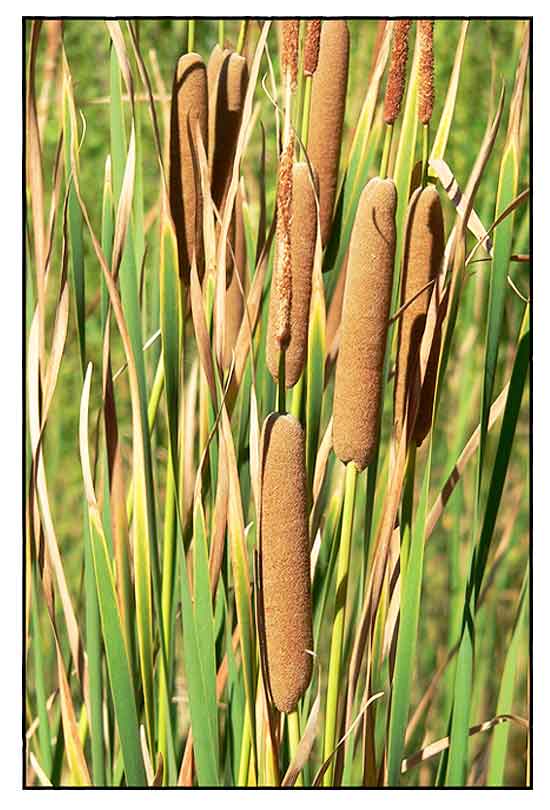 Gen info
- Typha domingensis is a perennial herbaceous plant of the genus Typha. It is found worldwide throughout temperate and tropical regions. (2)
- T. domingensis is sometimes confused with other Typha species, especially T. angustifolia.

Botany
Typha domingensis is a perennial wetland plant. Leaves are pale yellow-green in color, alternate, long, linear, flat and sheathing. 6-9 leaves per stem, up to 5/8 inch wide, flat on one side and convex on the other. Stems are pithy, simple, erect and 5-13 feet tall. Flowers are tiny, numerous, densely packed into a cylindrical spike at the end of the stem that can grow up to 8 feet; divided into an upper section of yellow, male flowers and lower cinnamon brown, sausage-shaped section of female flowers; gap between male and female flowers is about 2.5-5 centimeters. Seeds are tiny (about 1 mm) and hairy; dispersed by wind. (3)
Stems 0.7-2.5 m tall, stout. Leaves 40-150 cm × 3-8 mm, abaxially convex, transverse section semicircular. Male part of spikes 7-30 cm, with 1 or 2 bracts; bracts to ca. 32 cm, deciduous; female part of spikes 5-23 cm, distinctly separated from male part, with 1 bract at base, with sparse and curved hairs on axis. Male flowers: stamens 3, rarely 2; anthers ca. 1.4 mm. Female flowers with bracteoles; ovary lanceolate; stalk 3-6 mm, slender; styles 0.5-1.5 mm; stigmas linear to lanceolate, 0.8-1.5 mm, broader than styles; hairs on stalk shorter than style. Fruit fusiform. (Flora of China)
Distribution
- Native to the Philippines.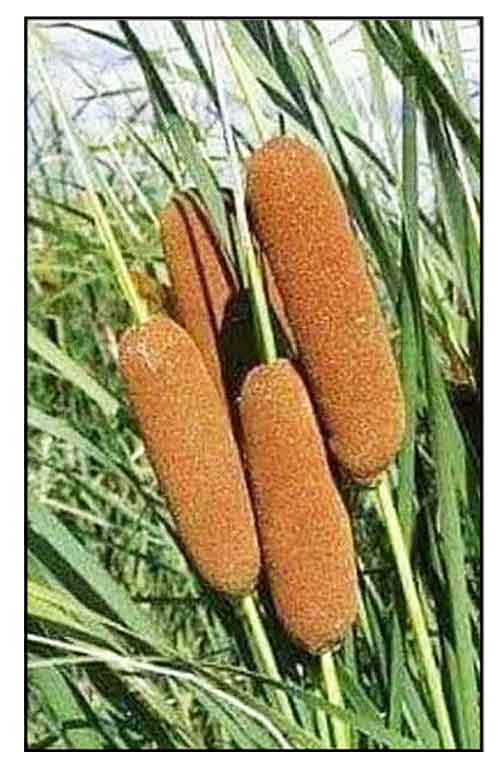 Constituents
- Qualitative phytochemical screening of methanol extract and n-hexane fraction revealed the presence of carbohydrates, proteins, glycosides, terpenes, steroids, resins, tannins, and phenols while amino acid, saponin, resins, and alkaloids were absent. (4)
- Study showed a methanolic extract has more total phenolic and total flavonoid contents (95.72 mg GAE/g, 131.66 QW/g, respectively) as compared to n-hexane fraction. (see study below) (4)
- Qualitative screening of chloroform fraction and butanol fraction revealed presence of carbohydrates, proteins, saponins, glycosides, steroids, terpenes, resins, tannins, and phenols while amino acids and alkaloids were absent. (see study below) (6)
- Phytochemical analysis of ethyl acetate extract of rhizome showed presence of reducing sugars, steroids, cardiac glycosides and absence of saponins, tannins, and flavonoids. (8)
- Phytochemical screening of crude extract of leaves showed the presence of alkaloids, tannin, steroids, phenol, saponins, flavonoids in aqueous and methanolic extracts, whereas carbohydrates, tannins, oils and fats were present in petroleum ether and chloroform extracts. The chloroform extract also contain contained flavonoids and phenols. (see study below) (20)
- Methanol extract of fruits yielded alkaloids, phenols, flavonoids, tannins and saponins. (see study below) (26)
Properties
- Considered the tallest of the cattails.
- Studies have suggested antioxidant, antibacterial, tyrosinase inhibitory, AChE and BuChE inhibitory, thrombolytic, antiviral, hypolipidemic, alpha-glucosidase inhibitory, antiatherosclerotic, hypotensive, antiobesity, phytoremediative, spasmolytic, vasorelaxant, bronchodilating, antifungal properties.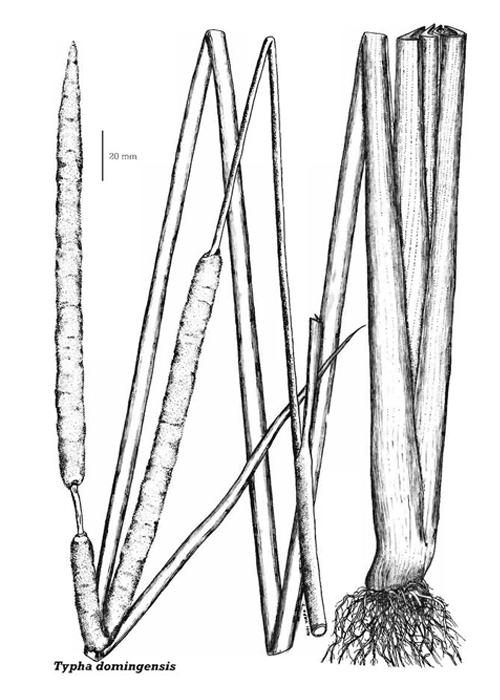 Parts used
Leaves, roots, flowers, fruit.

Uses
Edibility
- In the Mesopotamian marshes of southern Iraq, Khirret is a dessert made from the pollen of the plant. (2)
Folkloric
- In Turkish folk medicine, female inflorescences are used externally for burns and wound healing. (2) Pollens used for nosebleed, uterine bleeding, postpartum abdominal discomfort, and abscesses. Lower stem and leaves used as diuretic. (6)
- In Fiji, leaves used to treat stomach complaints.
- In India, roots used as folk medicine by tribes of Kinwat forest for treatment of dysuria: Two teaspoons of root extract mixed with half cup of curd is taken orally three times daily for three days. (30)
Others
- Phytoremediation: See studies below.
- Fiber: Seeds and leaves yield biodegradable fiber with potential for textiles and composites. (see study below) (21) (22)

Studies
• Antioxidant / Enzyme Inhibition / Thrombolytic: Flavonoid and total phenolic content confirmed its maximum antioxidant potential (ABTS 114.31 ± 8.17, FRAP 116.84 ± 3.01, DPPH 283.54 ± 7.3 & CUPRAC 284.16 ± 6.5 mg TE/g). In the case of in vitro enzyme inhibition study and thrombolytic activity, better results were observed for methanolic extract. The ME also showed maximum tyrosinase inhibition activity (74.51%) compared to n-hexane fraction (65.32%); kojic acid % inhibition was 85.58%). ME also showed acetylcholinesterase and butyrylcholinesterase inhibition activities of 97.11 and 72.88%, respectively. The cholinesterase inhibition was directly related to flavonoid contents. On thrombolytic activity, the n-hexane fraction showed higher activity than the methanolic extract. (see constituents above) (4)
• Antibacterial / Antviral Activity: Antibacterial activity was tested against eight bacterial strains i.e., Bacillus subtilis, B. pumilus, Micrococcus luteus, Staphylococcus aureus, S. epidermis, Bordetella bronchi septica, and Pseudomonas aeruginosa. Co-amoxiclav was used as standard. Both ME and n-hexane fraction revealed good concentration dependent antibacterial activity against activity. At higher concentrations (20 mg/mL) zone of inhibition was significant except for P. aeruginosa. Both ME and nH extracts showed strong antiviral activity against four viral strains, viz., influenza A virus (IAV), infectious bronchitis virus (IBV), Newcastle disease virus (NDV) and infectious bursal disease virus (IBDV). (4)
• Antioxidant / Iron-Chelating / Anti-Glucosidase Activities / Flowers and Fruit: Study evaluated the in vitro antioxidant, iron-chelating, and antiglucosidase activities of T. domingensis. Phenolic contents decreased in order of fruit > female flower > male flower. Superoxide scavenging showed EC50 of 3.5, 4.8 and 28.2 mg dry matter/ml for fruit, female flower, and male flower, respectively, while nitric oxide scavenging EC50s were 0.16, 0.65, and 0.95 mg DM/ml, respectively. Iron chelating EC50s were 4.86, 6.43, 10.88 mg DM/ml, for FF, MF, and fruit, respectively. Only fruit and female flower extracts exhibited antiglucosidase activity, with EC50s of 0.75 and 5.07 mg DM/mL, respectively. Results suggest fruit and female flower extracts are promising sources of natural antioxidants, iron chelators, and glucosidase inhibitors. (5)
• Biological Activities / Toxicity Testing: Polyphenolic quantification showed the n-butanol fraction of T. domingensis was comparatively rich in total phenolic and flavonoid contents (97.14 mg GAE/g and 362.5 mg QE/g, respectively). Both butanol (BF) and chloroform (CF) fractions showed antioxidant activity. Tyrosinase was the major enzyme inhibited by the BF and CF (78.67% and 68.09%, respectively). BF inhibition results of acetylcholinesterase and butyrylcholinesterase were higher than CF. On oral toxicity testing, the CF and BF did not show sign or symptom of morbidity or mortalilty for a period of 24 hours at concentrations of 0.1-3.0 g/kbw. (see constituents above) (6)
• Wound Healing / Flowers: Study evaluated ointment formulations of male and female flower inflorescences in 5% and 10% concentrations for wound healing potential in linear excision and circular excision wound models in rats and mice. Remarkable wound healing was observed only with female flowers inflorescence at 5% concentration in ointment base and its methanolic and aqueous extracts. Wound healing effect was comparable to reference ointment Madecassol®. (7)
• Alpha-Glucosidase Inhibitory / Antihyperglycemic Potential / Flowers: Study evaluated various fruit extracts for antiglucosidase and antioxidant activities. The acetone extract showed highest antiglucosidase (EC50 12.36 µg/mL) and radical scavenging (EC50 8.57 µg/mL) activities. A butanol fraction showed markedly stronger antiglucosidase activity (EC50 4.27 µg/mL) than quercetin (EC50 22.18 µg/mL). The BF also showed potent radical scavenging activity (EC507.20 µg/mL). BF was rich in TPro (proanthocyanidin) (735.65 mg/g) and was a competitive glucosidase inhibitor. TPro correlated with antiglucosidase (R2=0.709) and DPPH scavenging activities (R2=0.838). (10)
• Antihyperlipidemic / Hypotensive / Antiatherosclerotic: Study evaluated the antihyperlipidemic potential of Typha domingensis in diet-induced hyperlipidemia and associated complications in Wistar rats fed a high fat diet. Treatment groups received 100 and 300 mg/kg of 70% methanolic extract of TD. Atorvastatin was used as control. Results showed significantly lowered total cholesterol, triglycerides, and LDL. It produced anti-obesity effects as suggested by reduction in body weight. Histological studies revealed an anti-atherosclerotic effect. A decreasing mean arterial blood pressure showed hypotensive effects. (11)
• Pollen as Human Food: Only a few plants, mostly from the genus Typha, provide pollen as a source of human food. One of the most unusual is the pollen of "totora" (Typha domingensis). Paper reports on the gathering of T. domingensis pollen and modes of preparation, chemical composition, and consumption of edible products by seven ethnic groups of the Gran Chaco (Chulupi, Lengua, Maka, Mataco, Pilaga, Toba, and Toba-Pilaga) in Argentina and Paraguay. These ethnic groups do not eat any other kind of pollen other than that of T. domingensis. (12)
• Phytoremediation / Antibacterial: Study showed Typha domingensis can be used in reducing bacterial contamination of water for agricultural use. The plant was presented in places where water flows. The roots are always flooded, absorbing nutrients from the soil and releasing compounds that help reduce the impact of pathogens. The plant helps reduce, up to 98 percent, pollution by enterobacteria usually found in the intestine of mammals, which is involved in the development of disease. Study suggests that rather than removing T. domingensis as pests from drains, its proper management can help the ecosystem. (13)
• Effect of Plant Antigen on Asthma: Study evaluated the effect of plant antigen TYPHA on patients with allergic asthma and bronchitis by measuring the levels of immunological parameters IgE, CD23, CD300. Study showed an increase in the differential protein CD300 concentration 4 (IU/cm3) by 32% (p<0.05). Results suggest exposure to Typha sp. plant antigen affects the immune system of asthmatics and increase the incidence of asthma. (14)
• Silver Nanoparticles: Study reports on the green synthesis of silver nanoparticles using Typha domingensis as reducing agent. Results suggest typha is capable of synthesizing spherical shaped AgNPs with biological activity. (15)
• Phytoremediation of Heavy Metals: Study evaluated the ability of two emergent macrophytes, Typha domingensis and T. elephantina for accumulation of six heavy metals (PH, EC, Cu, Ni, Pb, and Zn) in an arid habitat in Saudi Arabia. PH, EC, Cu, Ni, Pb and Zn were significantly higher on T. elephantina sites, while Fe and Mn concentrations were significantly higher in T. domingensis. Typha domingensis allocated approximately 61.3% of its total biomass to leaves, 8.6% to flowers, 11.3% to peduncles, 9.8% to rhizomes, and 9.0% to roots. All investigated species showed bioaccumulation factor > 1.0 for all heavy metals. Results suggest both plants can be regarded as good candidates as phytoremediator for mitigating heavy metals pollution. (16)
• Anticancer / Human Breast Cancer Cells / Pollen: Study evaluated the anticancer activity of aqueous-ethanol extract of Typha domingensis pollen. Cytotoxic effect was tested against two breast cancer cell lines,, MCF-7 and MDA-MB231 in vitro. MTT was used to test the effect of pollen extract on cells proliferation. Results showed MCF7 cells estrogen receptor + (ER+) were sensitive (GI50 254 µg/ml) to pollen extract. The MDA-MB231 (ER-) cells were resistant to the same extract. Results suggest the TD aqueous ethanolic extract has potential as therapeutic candidate against ER+ breast cancer cells. (17)
• Phytoremediation of Mine Tailings / Manganese: Study showed T. domingensis is highly efficient in phytoremediation, especially a capacity to scavenge manganese, a potentially toxic micronutrient that can constitute a major ecological hazard. The amount of manganese correspond to 6,858 mg/kg in the plant shoots, compared to an average of 200 mg/kg for other species. Study showed TD has potential use in sustainable rehabilitation of areas affected by iron mine tailings. (18)
• Potential as Function Ingredient in Cake Making: Study evaluated the chemical compounds and potential of including pollen (Typha domingensis) in cake formulations. Active compounds in three polllen extracts i.e., aqueous, ethanol and hexane were determined by GC-MS study. The pollen contains many active compounds such as gamma-sitosterol, catechol, propionic acid, phenols, and palmitoleic acid. The pollen extracts showed good ability to inhibit free radical DPPH. The pollen contained good content of calcium, potassium, magnesium, and zinc (19.794, 23.620, 4.578 and 0.08 g/L, respectively. Sensory evaluation showed excellent potential of pollen as a function ingredient in cake making. (19)
• Phytoremediation / Industrial Wastewater / Roots: Phytoremediation is a cost effective method that uses plants to remediate contaminants from wastewater, soil, and sediments. Study evaluated the ability of T. domingensis to uptake heavy metals and its potential application for phytoremediation, focusing on its capacity to absorb and accumulate aluminum, iron, zinc and lead. Results showed T. domingensis was capable of accumulating the heavy metal ions preferentially from wastewater than from sediments. The accumulation attained highest values in roots, rhizomes, and old leaves. Rhizofiltration was found to be the best mechanism to explain Typha domingensis phytoremediation capability. (20)
• Fiber Source / Industrial Potential / Leaves and Seeds: Typha domingensis is a naturally growing plant under wetland conditions characterized by its high-quality leaf and seed fibers. Study extracted and characterize d fibers from leaves and seeds by water retting. Scanning electron microscopy showed typha fiber surface is smooth, fine, and circular in cross-section. Crystalline and chemical properties were very close to that of cellulosic fibers. Results suggest potential of biodegradable TD leaf and seed fibers in the manufacture of technical textiles and composites. (21)
• Fiber Source / Industrial Potential / Leaves and Seeds: Typha domingensis can be considered a source of long leaf fibers. Study reports on the extraction and its characteristics. Properties are dependent on extraction methods. While water-extracted leaf fibers show poor interlocking with polymer matrix, alkali treatment of fibers could improved composite properties. Good properties, high thermal stability, and low thermal conductivities suggest potential for Typha fibers as suitable alternative to expensive natural fibers and synthetic fibers in various polymer composites. (22)
• Spasmolytic / Bronchodilator / Vasodilating: Study evaluated the pharmacologic effects of Typha domingensis crude 70% aqueous-ethanol extract in gastrointestinal, respiratory, and vascular disease in a rabbit model. Td cause complete relaxation of spontaneous and K+ (80 mM)-induced contractions in isolated rabbit jejunum. Td exhibited relaxant effect on Carbachol (Cch)-induced contractions in isolated rabbit tracheal preparations. Td also cause relaxation of phenylephrine (1µM)-induced contractions in isolated rabbit aorta preparations. Effects were similar to verapamil, a standard calcium channel blocker. A possible calcium channel blocking activity could explain the spasmolytic, bronchdilator, and vasodilator activities of the extract. (23)
• Biorefinery Potential / Biomass: Study evaluated the biorefinery potential of fast-growing perennial grass T. domingensis. Kinetics and thermodynamic features of pyrolysis were computed. GC-MS study confirmed the presence of alkanes, alcohols, organic acids, esters, ketones, aldehydes, amides, and amines. Data indicated T. domingensis has substantial potential to become a feedstock of a sustainable biorefinery to produce bioenergy and biochemicals. (24)
• Antimicrobial Cattail Fibers: Study reports on the utilization of T. domingensis fiber for physicochemical impregnation of silver nanoparticles and benzalkonium chloride, in the development of a material with antimicrobial activity. Morphology analysis showed silver nanoparticles on the surface of bleached fibers. Results suggest the modified cattail fibers have potential for use as functional filler or coating in the development of antimicrobial composites. (25)
• Antidiabetic / Hepatoprotective / Fruit: Study evaluated the effect of methanolic extract of fruit of T. domingensis on biochemical parameters in adult male rabbits. Results showed significantly decreased (p<0.05) serum levels of glucose, AST, ALT, and ALP, with not significant difference (p>0.05) in levels of cholesterol and total proteins. Activities were attributed to alkaloids and flavonoids. Results suggest potential as an antidiabetic and hepatoprotective agent. (26)
• Nutritional Potential as Forage Option: Study evaluated the chemical-bromatological and digestibility in vitro of fiber of Taboa (T. domingensis) plants using palmetto, leaf, and inflorescence. Leaves showed high mineral matter (8.2%), crude protein (11.5%) and in vitro digestibility of fiber (83.1%), while inflorescence showed higher dry matter (22.6%), ether extract (2.1%), and lignin (26.9%). The plant leaves have potential as forage option due to nutritional value and cultivation of the plants at different heights in relation to sea level does not affect chemical-bromatological properties and digestibility of its fiber. (27)
• Antifungal / Rhizomes: Study evaluated potential antifungal activity in vitro of purified fractions from rhizome of Typha domingensis in cultures of Candida albicans, C. glabrata, C. parapsilosis, and C. tropicalis. Results showed antifungal activity of the semi-purified fraction (FrAcE) of ethyl acetate for the four species of Candida tested, with MFC vales of 10 mg/mL. Phytochemical analysis of FrAcE revealed the presence of flavonoids with previously described antifungal activity. Results support further studies for antifungal therapy based on the antifungal properties of T. domingensis rhizomes. (28)
• Umbelliferone / Anti-Asthma: Study evaluated the therapeutic effects of umbelliferone (30, 60, and 90 mg/kg), a coumarin isolated from T. domingensis in a mouse model of bronchial asthma. BALB/c mice were immunized and challenged by nasal administration of ovalbumin. Umbelliferone treatment (60 and 90 mg/kg) caused marked reduction of cellularity and eosinoph9il numbers in bronchoalveoolar lavage fluids from asthmatic mice, along with decrease in mucus production and lung inflammation. Reduction of IL-4, IL-5, and IL-13 were found in the BAL fluids of treated mice, similar to that found with dexamethasone. Results suggest umbelliferone attenuates the alteration characteristics of allergic airway inflammation. Study on mechanisms of action may contribute to the development of new drugs for treatment of asthma. (29)

Availability
Wild-crafted.