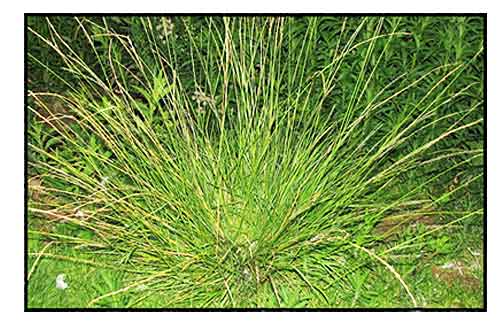 Gen info
- Sporobolus is a nearly cosmopolitan genus of plants in the grass family Poaceae.
- Etymology: The genus name Sporobolus derives from ancient Greek words 'sporos' meaning seed, and 'ballein' meaning to throw, referring to the dispersion of seeds. (5)
- The common name 'smut grass' comes from the inflorescence and upper leaves sometimes being coated in black smut fungus of the genus Bipolaris. (4)

Botany
Sporobolus indicus is a long-living annual grass, usually densely tufted, 0.5-1 m tall. Culm erect, slender, more or less compressed, glabrous, smooth. Leaves for the greater part crowded at base of culm; sheaths shortly ciliolate along margin, otherwise glabrous; ligule up to 0.5 mm long; blade linear, acute, margins smooth to scaberulous, 6-15 cm × 2-7 mm. Inflorescence a panicle; contracted, 7-60 cm long, dense; branches erect and often adpressed, lower ones 3-8 cm long; spikelets 1.3-2.6 mm long; lower glume up to 1 mm long; upper glume up to 1.7 mm long, oval-oblong, with attenuate or rounded, entire or slightly dentate apex, enervate or 1-nerved; palea as long as lemma or slightly shorter; stamens 2 or 3; anthers up to 1.1 mm long; stigma rather large, white. Fruit a utricle. Seed solitary, ovoid. Seedling with epigeal germination. Seed ellipsoid to oblong, about 1 mm in diameter, brown. (1)

Distribution
- Introduced to the Philippines.
- Native range is Tropical and Subtropical America.
- Also introduced to Assam, Bangladesh, Jawa, Laos, Lesser Sunda, Malaya, Sulawesi, Sumatera, Thailand, Vietnam, etc. (

2

)
- In dry sites, along roads and footpaths, in waste places, pastures and much trodden grass fields, preferring hard and stony soils. (

1

)
- In Austrailia and North and Central America, considered an invasive weed.


Constituents
- Study of methanol extracts of leaves, stems, and whole plant revealed the presence of phenols, tannins, anthocyanins, saponins, flavonoids, alkaloids, terpenoids, anthraquinones, with absences of glycosides, cardiac glycosides, and phlobatanins. (see study below) (7)

Properties
- In California, reported to cause dermatitis in some patients. (1)
(see study below: 8)
- Studies have suggested antioxidant, antimicrobial, allergenic properties.

Parts used
Whole plant.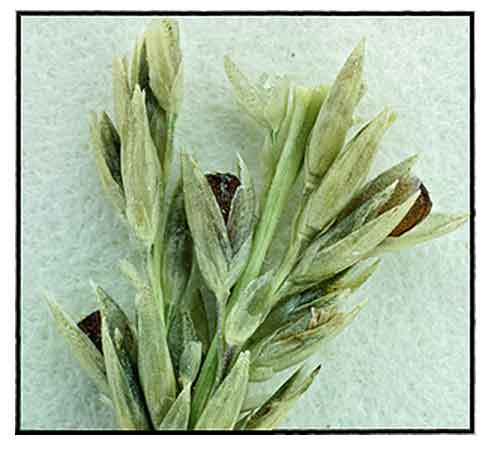 Uses
Edibility
- Seeds are edible, raw or cooked.
- Seeds have been used as famine food in Ethiopia.
- Seeds can be ground into a flour.
Folkloric
- No reported folkloric medicinal use in the Philippines.
- Plant used to enrich the blood, reduce swellings, treat gonorrhea. In some countries, considered an antifertility drug. (6)
Others
- Forage: Considered a fine, open pasture grass, its deep penetrating roots resistant to severe drought. The fodder is much relished by stock, but is too coarse for sheep. (4)

Studies
• Antioxidant / Antimicrobial: Study evaluated of plants with broad use in Cameroonian folk medicine, Sporobolus indicus and Dracaena deisteliana, for antimicrobial and antiradical properties of methanol extracts of leaves, stem, and whole plant. The whole extract of S. indicus exhibited inhibition zones varying between 7 (E. coli) and 14 mm (Acinetobacter spp). The whole plant extract of S. indicus also showed remarkable activity against B. cereus (MIC 6.25 mg/mL). Crude extract exhibited concentration dependent radical scavenging properties. (see constituents above) (7)
• Potential for Grass Pollen Allergy: Of potential allergen sources, pollen grains affect 40% of allergic individuals and significantly, 86.5% are specific to grass pollen grains. Study evaluated the effects of grass pollen grains on patients with allergic symptoms associated with asthma, dermatitis, rhinitis, and conjunctivitis and non-allergic patients recruited in Bayombong, Nueva Viscaya. Pollen grains from common grasses i.e., Cynodon dactylon, Axonopus compressus, Saccharum spontaneum, Sporobolus indicus, Chloris barbata, Oryza sativa, Zea mays, and Eleusine indica were collected. Total IgE and pollen specific IgE levels between allergic and non-allergic subjects revealed a significant difference (p<0.0001) between the two groups. Among pollen allergens, specific IgE showed a significant correlation (p<0.001). Western blot analysis present reactive proteins from all aqueous pollen extracts. Results of IgE reactivity suggest Sporobolus indicus and C. barbata can be added to the list of potential grass pollen grains allergen. (8)
Availability
Wild-crafted.