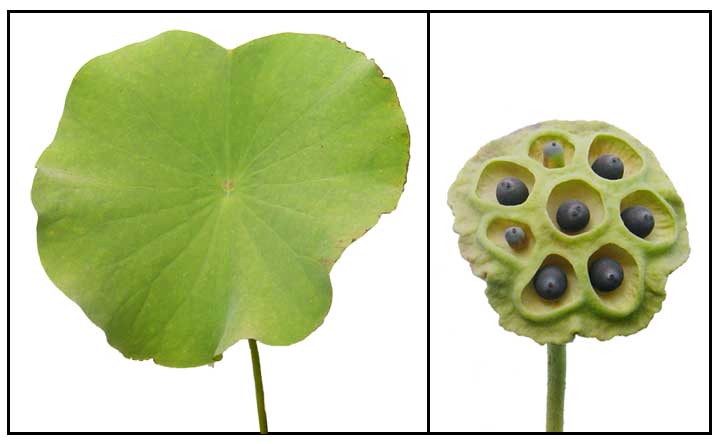 Gen info
- The Lotus is revered as India's most sacred plant. Like the rose in the west, it is a symbol of love and compassion. As a medicinal herb, it has been used in the Orient for over 1,500 years.
- N. nucifera has been celebrated in the folk history of China, Egypt, and India.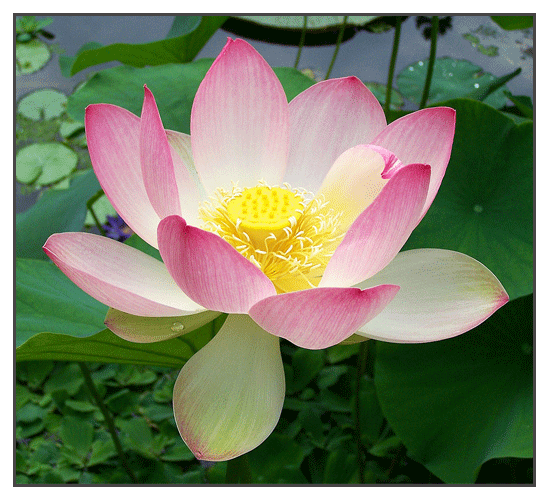 Botany
Lotus is a perennial, aquatic herb with creeping rootstock. Leaves are raised above the water, large, rounded, peltate, and 50 to 90 centimeters wide. Flowers are attractive, pink, red, or white, and 15 to 25 centimeters in diameter, standing out of the water. Flower has about 20 pink petals, 7 to 15 centimeters in length. Center of the flower is a large structure shaped like an inverted cone, on top of which are located ovules which later become seeds. Around the inverted cone are numerous yellow stamens. Mature fruit is formed by the enlargement of the spongy, cone-shaped structure in the center of the flower. Rich carpel (fruit and seed in one) is about 13 millimeters long, with a black, bony and smooth pericarp.
/>Distribution
- Abundant in marshes and shallow lakes, from northern Luzon to Mindanao.
- Cultivated as pond ornamentals.
- Probably prehistoric introduction to the Philippines.
- Native of Asia.

Constituents
- Nelumbine is present in dried seeds, cotyledons and young leaves.
- Seed contains flavonoids and alkaloids.
- Dried seeds contain nelumbine, protein 15.9%, carbohydrates 70%, ash 3.9%, vitamin C2 and CuO 0.59%.
- Rhizomes contain starch 9.7%, ash 1.1%, vitamin C1, asparagin 2%, protein 1.7%, and fat 0.1%.
- Study of stamen extract isolated kaempferol, kaempferol 3-O-D-glucopyranose, sitosterol 3-O-D-glucopyranoside and 2 flavanoids.
- A methanol extract of leaves yielded five norsesquiterpenes, four flavonoids, two triterpenes and one alkaloid: (E)-3-hydroxymegastigm-7-en-9-one, (3S,5R,6S,7E)- megastigma-7-ene-3,5,6,9-tetrol, dendranthemoside B, icariside B2, sedumoside F1, luteolin, quercetin 3-O-β-D-glucuronide, quercetin 3-O-β-D-glucoside, isorhamnetin 3-O-rutinoside, alphitolic acid, maslinic acid, and N-methylasimilobine. (See study below) (26)
- Ethanol extract of aerial parts yielded alkaloids, flavonoids, phenolic compounds, steroids, carbohydrates, protein and iron. (see study below) (41)
- Study lotus seed yielded ß-sitosterol, campesterol, and ß-amyrin as main phytosterols, and stigmasterol, isofucosterol, and dehydrolanosterol as trace phytosterols. Main fatty acids were linoleic acid, oleic acid, stearic acid, and linolenic acid. (see study below) (45)
- GC-MS analysis of ethanol extract of seeds yielded 38 phytoconstituents. Major constituents are lupeol (22.95%), octadecatrienoic acid-2-[(trimethylsilyl)oxy]-1- [[(trimethylsilyl)oxy] methyl]ethyl ester (Z,Z,Z) (7.86%), 2,3-dihydroxypropyl--cis-13-docosenoate (5.35%), oleanolic acid(5.19%), tristrimethylsilyl ether derivative of 1,25-dihydroxyvitamin D2 (3.36%) ,trimethylsilyl derivative of 2-monoolein (3.26%), lucenin 2 (3.02%), lupanol (2.95%), tetraneurin-a-diol (2.78%), carotene- 1,1',2,2'-tetrahydro-1,1'-dimethoxy (2.32%), 1-oxo-forskolin (1.99%), oleic acid-3-hydroxypropyl ester (1.78%), oleic acid trimethylsilyl ester (1.69%), betulin (1.61%), à-amyrin-trimethylsilyl ether (1.49%), stigmast-5-en-3- ol-(3á,24S)(1.43%), flavone-4'-OH,5-OH,7-di-O-glucoside (1.11%). (50)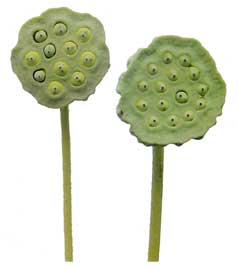 Properties
- Considered astringent, cardiotonic, febrifuge, hypotensive, resolvent, stomachic, styptics, tonic, and vasodilator.
- Used as astringent, cardiotonic, immunomodulator, antiviral, antitumor.
- Seeds are demulcent and nutritive.
- Filaments and flowers are cooling, sedative, astringent, bitter, refrigerant, and expectorant.
- Roots are mucilaginous, demulcent, and emmenagogue; considered by some as aphrodisiac.
- Leaves are antifebrile and antihemorrhagic.
- Studies have suggest antioxidant, anti-inflammatory, anti-diabetic, anti-obesity, antipyretic, hepatoprotective, nootropic, cytoprotective, antiangiogenic properties.
Parts utilized
Whole plant.

Uses
Edibility / Nutrition
• Lotus is a food plant. Almost all parts of the plant contribute to a diversity of cuisine.
• The unripe seeds are eaten boiled, raw, or roasted; the ripe seeds, boiled or roasted. The rhizomes, sliced, are eaten raw or cooked. The petioles, without the rough outer layer, and the leaves are boiled and eaten.
• In Indo-China, pollen and stamens are used to perfume tea.
• Roasted seed used as coffee substitute.
Folkloric
• Roots, rhizomes, and flowers are used as astringent.
• The leaves and seeds are used in poultices.
• Flowers, filaments and juice of flower-stalks are used in diarrhea, cholera, liver complaints, and fevers.
• A syrup made from the flowers used in coughs, to check hemorrhages in bleeding piles, menorrhagia and dysentery.
• Stamens are used for bleeding piles and parturition.
• Nodes of the rhizome used to stop bleeding.
• Astringent petals used for syphilis.
• Seeds used in leprosy and skin diseases; for spermatorrhea and erotic dreams.
• Roots and young leaves used for piles.
• The milky juice of leaves and flower stalks used in diarrhea.
• Leaves used as deterrent for skin maladies.
• Decoction of seeds used in dysentery and as diuretic.
• Pounded leaves applied to the body for high fevers, mucous membranes and skin irritation, and over the forehead for headaches.
• Embryo used in China and Malay for fevers, cholera, hemoptysis, and spermatorrhea.
• Rhizome root used as rejuvenating tonic.
• Receptacle/flower stalk used in Chinese medicine to stop internal bleeding caused by gastric ulcers; menorrhagia or parturient hemorrhage.
• Joints of rootstock used as hemostatic for hemoptysis, postpartum hemorrhages, hematuria and bloody stools.
• Decoction of flowers used for premature ejaculation.
• Decoction of floral receptacle used for abdominal cramps, bloody discharges.
• Flower stalk used for bleeding gastric ulcers, excessive menses, post-partum hemorrhages.
• Paste of root starch used for ringworm and other skin ailments.
• There is folkloric use in the treatment of cancer.
• In Chhattisgarh, India, the oil prepared from the roots is applied to the genitals to increase retention time.
• In India, used as antifertility agent by females of Rajasthan tribes of the Udaipur district. (13)
• The Malays use the astringent petals for syphilis.
• In Java petals used for diarrhea and vomiting.
• In Japan, the leaf of NN has been used for home remedy of the summer heat syndrome.
• In China, leaf used to treat obesity, also as vermifuge and antihemorrhagic; plant juice used in dysentery.
• In Siddha medicine, used as an aphrodisiac.

Studies
• Antioxidant / Seeds: Study of Nelumbo nucifera seeds yielded alkaloids, saponins, phenolics and carbohydrates with significant antioxidant activity. (4)
• Antioxidant / Leaves: Study showed the antioxidant capacity of lotus leaves is partially attributed to its flavonoids.
• Memory / Learning: Study in Wistar rats showed N. nucifera rhizome extract may improve learning and memory with enhancing neurogenesis in the dentate gyrus of the hippocampus. (5)
• Diabetes / Aldose Reductase Inhibition: Aldose reductase is the principal enzyme in the polyol pathway critical in the pathogenesis of diabetes. A methanol extract study showed an aldose reductase inhibitory activity. (6)
• Antipyretic: Ethanol extract study of NN showed dose-dependent antipyretic effect comparable to that of paracetamol, a standard antipyretic agent. (7)
• Antipyretic / Seeds: Study revealed seeds of red and white type of lotus (Nolumbo nucifera) is effective in reducing body temperature in yeast-induced pyrexia in rats. (17)
• Diuretic: A methanol extract study on the rhizomes of NN exhibited dose-dependent diuresis, with significant increase in natriuretic and chloruretic activity. (9)
• Hypoglycemic / Hypolipidemic: A methanol extract study evaluated the flavonoids from NN and showed significant reduction of fasting blood glucose, total cholesterol and triglyceride levels with an increase in HDL cholesterol suggesting future studies on its use for diabetes mellitus. (8)
• Antiobesity / Leaves: Nelumbo nucifera leaf extract study in mice was shown to impair digestion, inhibit absorption of lipids and carbohydrate4s, accelerate lipid metabolism and upregulate energy expenditure–all beneficial for the suppression of obesity. (10) Study of N nucifera peta extract showed antilipase activity, lipolytic, and antiadipogenesis effect in adipocytes in vitro. N. nucifera extract showed agonist and antagonistic effect towards central receptors involved in food intake. Results suggest further investigation on phytoconstituents for potential pharmacologic use in metabolic disorders, in particular obesity. (36)
• Anti-Inflammatory: Supplementation with Lotus Plumule significantly inhibited the production of pro-inflammatory cytokine TNF-a and increased anti-inflammatory cytokine IL-10. (11) Study evaluated the anti-inflammatory activity of red and white lotus seeds in albino rats using carrageenin-induced paw edema model in albino rats. Results showed anti-inflammatory activity in carrageenin-induced inflammation as well as COX-2 enzyme inhibition assay. (43)
• Hypoglycemic / Antidiabetic: Oral administration of ethanolic extract of rhizomes of NN markedly reduced the blood sugar of normal, glucose-fed hyperglycemic and STZ-induced diabetic rats. The extract exhibited 73% and 67% activity of tolbutamide in normal and diabetic rats, respectively. (12)
• Anti-Estrogenic: Nelumbo nucifera has anti-estrogenic effects without altering the general physiology of female rats. (13) Study showed that administration of N. nucifera to female rats caused estrogen inhibition due to its antiestrogenic nature. (Mutreju et al., 2008) (42)
• Psychopharmacologic Effects: Methanolic extract of NN was found to cause reduction in spontaneous activity, decreased exploratory behavior, reduction in muscle relaxant activity and potentiation of pentobarbitone induced sleeping time. (14)
• Cytoprotective / Antioxidant: Study confirms the cytoprotective and antioxidant activity of N nucifera and Aegle marmelos by stabilization of plasma membrane and modulation of antioxidant systems against stress induced by heavy metals in Cyprinus carpio. (15)
• Antimicrobial / Essential Oil: Study of Nelumbo nucifera pollen essential oil show inhibitory effect on growth of food borne pathogenic bacteria in low concentration suggesting the possibility for use as food preservation additive. (16)
• Antioxidative / Anti-Tyrosinase Activity: Study isolated kaempferol, kaempferol 3-O-D-glucopyranose, sitosterol 3-O-D-glucopyranoside and 2 flavanoids. A stamen extract showed antioxidative activity twice that of green tea and anti-tyrosinase activity at the same level as that of a mulberry extract. (19)
• Acute and Subchronic Oral Toxicity Study: The oral lethal dose of N. nucifera stamens extract in male and female rats is in excess of 5000 mg/kg and the no-observed-adverse-effect level of the extract is considered to be 200 mg/kg/day. (20)
• Antidiabetic / Flowers: Study evaluated the powdered sun-dried flowers and its aqueous and alcoholic extracts for use in the treatment of diabetes. Results showed significant hypoglycemia in fasting albino rabbits, in an effect comparable to tolbutamide. (23)
• Detoxifying Effect for Heavy Metals: Study evaluated the efficacy of Nelumbo nucifera and Aegle marmelos on common carp exposed to sublethal concentrations of combined heavy metals under laboratory conditions. Results showed N. nucifera and A. marmelos provide a detoxification mechanism for heavy metals in common carp. (24)
• Analgesic / Seeds: Study assessed the analgesic effect of red and white lotus seeds in albino rats using the tail flick method. Both seed extracts exhibited considerable analgesic effect in the acute pain model, less than the effect of Diclofenac group. (25)
• Phytochemical Analysis / Cytotoxicity against Human Cancer Cell Lines: A methanol extract of leaves yielded five norsesquiterpenes, four flavonoids, two triterpenes and one alkaloid. Compounds 6 and 10-12 exhibited considerable cytotoxicity against four human cancer cell lines in vitro using a SRB bioassay. (26)
• Phytoremediation: Lotus was evaluated for remediation of trace elements focusing on manganese (Mn, organic compounds and filtering aquaculture waste water. Results showed lotus to be an effective phyto-remediator of nutrient run-off and suspended solids from waste water from intense aquaculture systems. (27)
• Antidiabetic: Study evaluated a hydroalcoholic extract of N. nucifera on streptozotocin-induced diabetic rat. Results showed a significant reduction in blood glucose, cholesterol, triglycerides. (28)
• Antibacterial / Antioxidant: Study of extract of white flower of N. nucifera exhibited strong antibacterial and potent antioxidant activity when compared to the pink flowers. The activity was attributed to the presence of rich phytochemical constituents. (29)
• Antioxidant / Flowers: Study evaluated the antioxidant effect of flowers in isolated oxidatively stressed rat kidney. Results showed N. nucifera flowers exhibited decreased oxidative stress with increase in antioxidants and maintenance of marker enzymes in normal levels. (30)
• Atopic Dermatitis / Inhibitory Effect: Study evaluated the effect of N. nucifera leaf on the AD (atopic dermatitis) -like skin lesion induced by repeated DNCB epicutaneous skin application. Results showed suppression of clinical severity score, scratching behavior, and blood IgE levels, together with histopathologic reduction of epidermal thickening and mast cell degranulation. (31)
• Whitening Agent / Anti-Wrinkle: Study evaluated a water extract for cosmetic use potential. Whitening effect was measured by tyrosinase inhibition assay and DOPA-oxidase inhibition assay, and the anti-wrinkle effect by elastase inhibition assay. Results showed Nelumbo nucifera leaf, flower, and seed extracts possess strong possibility for whitening and anti-wrinkle cosmetic applications. (33)
• Antioxidant / Flowers: Study showed a dose dependent antioxidant effect of N. nucifera flowers in isolated oxidatively stressed rat kidney. (34)
• Antidiabetic / Rhizomes and Flowers: Study of Nelumbo nucifera rhizome and flower extracts in normal and streptozotocin induced diabetic rats showed promising antidiabetic effect, better than the hypoglycemic properties of standard drug Glimepiride. (35)
• Hepatoprotective / Flowers: Study of a 50% aqueous ethanolic extract of flowers of Nelumbo nucifera showed significant dose dependent hepatoprotective activity against carbon tetrachloride and paracetamol induced hepatotoxicity in Sprague-Dawley rats. (37)
• Renoprotective / Petals: Study showed N. nucifera petal extract possess potent protective effect against renal enzymuria and albuminura. Results showed near normalization of tubular marker enzymes as well as albumin. Activity was attributed to its high antioxidant property. (38)
• Antiangionic Effect / Leaves: Study evaluated the ability of N. nucifera leaf extracts to inhibit vascular endothelial growth factor (VEGF)-induced angiogenesis in vitro and in vivo models. Leaf extracts displayed potent antioxidant and inhibitory effects on VEGF-induced proliferation and tube formation, as well as CAM angiogenesis in vivo. The extracts also significantly blocked VEGF-induced ROS production in HUVECs, confirming possible anti-angiogenic mechanism. (39)
• 2H1M / Constituent of JZN: Study sought to identify the major active ingredient of the Chinese traditional medicine Jiang-Zhi-Ning (JZN). JZN contains fours Chinese medicinal herbs: Polygonum multiflorum, Fructus crataegi, Nelumbo nucifera, and Semen cassiae.Study isolated 2-hydroxy-1-methoxyaporphin (2H1M), an alkaloid from Nelumbo nucifera, one of the herbs that make up JZN, and identified as the constituent showing the major pharmacodynamic effect. Major metabolites of 2H1M were identified as N-demethyl-2-hydroxy-1-methoxyaporphine-2-O-glycuronic acid, 2-hydroxy-1-methoxyaporphine- 2-O-glycuronic acid and 2-hydroxy-1-methoxy-aporphine-2-O-sulphate. (40)
• Haematopoietic Activity / Aerial Parts: Study evaluated ethanolic extract of aerial parts on haematologic parameters in anema in rats induced by cyclophosphamide and haloperidol. Results showed the plant extract diminished the activity of cyclophosphamide and haloperidol at 200 mg/kg dose. (41)
• Anti-Herpes Simplex Virus / Seeds: A study reported anti-viral activity of lotus seed ethyl alcohol extract on herpes simplex type 1 (HSV-1) with marked inhibition of HSV-1 replication at dose of 100 µg/ml with IC50 of 50.0 µg/ml. Of various subfractions of butanol seed extracts (NN-B-1 to NN-B-9), NN-B-5 showed the highest anti-HSV-1 activity. Further testing showed NN-B-5 to inhibit acyclovir resistant HSV-1 replication. (Y C Kuo, et al., 2005) (42)
• Anti-Hyperlipidemmic / Fruits: Study evaluated the anti-hyperlipidemic potential of Nelumbo nucifera fruit in rabbits fed with high cholesterol diet. Results showed remarkable cholesterol lowering effects of the fruit extract at various doses, but particularly dominant at 200 mg//kg, with reduction of TC, TG, and LDL, with significant increase in HDL-C. (44)
• Effects of Phytosterols and Fatty Acids on Differentiation of Human Preadipocytes into Adipocytes / Seeds: Study investigated the effect of phytosterols and fatty acids isolated from lotus seeds on differentiation of human preadipocytes into adipocytes. Lipid droplets produced during adipogenesis were significantly decreased by treatment with phytosterols and fatty acids. Results suggest they could be used as effective ingredients in controlling obesity. (see constituents above) (45)
• Hypocholesterolemic Effects / N. nucifera and C. longa: Study evaluated the effects of different extracts of Nelumbo nucifera leaf and Curcuma longa on hypercholesterolemia in in vitro and in vivo models. A misture of N. nucifera 20% ethanol leaf extract (NL20E) with CLW (NC:e mixed equal ratio) showed remarkable combined hypocholesterolemic effect that block lipid accumulation. (46)
• Anticancer / Human Colon Cancer Cell Line / Stamen: Study investigated the anticancer activities of N. nucifera stamen ethanol crude extract in huuman colon carcinoma HCT-116 cells. Results showed cytotoxicity of the extract in HCT-116 cells through induced cellular apoptosis and suggest a potential powerful agent against colon cancer cells. (47)
• Inhibition of Airway Smooth Muscle Contraction / Leaves: Study evaluated lotus leaf alkaloids for smooth muscle relaxation. Aqueous extract of lotus leavesd inhibited the high K+ or Ach-induced precontraction of mouse tracheal rings. The AELL-induced smooth muscle relaxation was partially mediated by blocking voltage-dependent Ca++ channels and non-selective cation channels. Results suggest AELL plays a relaxant role in ASM, with a potential as complementary treatment to treat abnormal contractions of the trachea and asthma. (48)
• Hematologic Effects in Diabetes / Flowers: Study evaluated the effect of N. nucifera flower extract on hematological values and blood cell characteristics in diabetic rats. Results showed no effect on hematological values and blood cell character, but recovered WBC counts, lymphocytes and neutropils close to normal control. The significant increase in WBC counts is possible due to the immunomodulatory effects of flower extracts. (49)
• Phytoconstituents / Seeds: GC-MS analysis of ethanol extract of seeds yielded 38 phytoconstituents. The most dominant component is lupeol (22.95%), a triterpene, known to possess biologic activities, i.e., anticancer, antiprotozoal, anti-inflammatory, antimicrobial, and chemopreventive. Lucenin-2 possess antibacterial activity. Stimast-5-en-3-ol, a phytosterol, has antidiabetic property. (see constituents above) (50)
• Inhibitionof Neointimal Hyperplasia / Antiatherosclerosis / Leaves: Study evaluated the effect of Nelumbo nucifera leaf extract on intimal thickening of rat carotid artery. NL reduced intimal thickening by suppressing VSMC's (vascular smooth muscle cells) induced by tumor-necrosis-a. Results suggest NL has potential therapeutic value in the prevention of atherosclerosis or "accelerated atherosclerosis" in the restenosis after percutaneous transluminal coronary angioplasty. (51)
• Aphrodisiac Effect / Flowers: Study evaluated the aphrodisiac effect of N. nucifera in adult Wistar albino rats. Results showed effects on sexual arousal and performance with significant increase in testosterone levels. The aphrodisiac effect may be through mechanisms of vasodilation, generation of nitric oxide, elevation of androgens and gonadotropins. (52)
• Modulation of Memory Impairment and Brain Damage / Flowers: Study evaluated the effect of Nelumbo nucifera flowers on spatial memory and hippocampla damage in stressed rats. Results showed N. nucifera extract decreased memory deficit and brain damage, serum corticosterone, oxidative stress starus, AChE, and MAO-A and MAO-B activities. Results suggest potential neuroprotective and memory enhancing effects. (53)

Availability
- Wildcrafted.
- Cultivated.