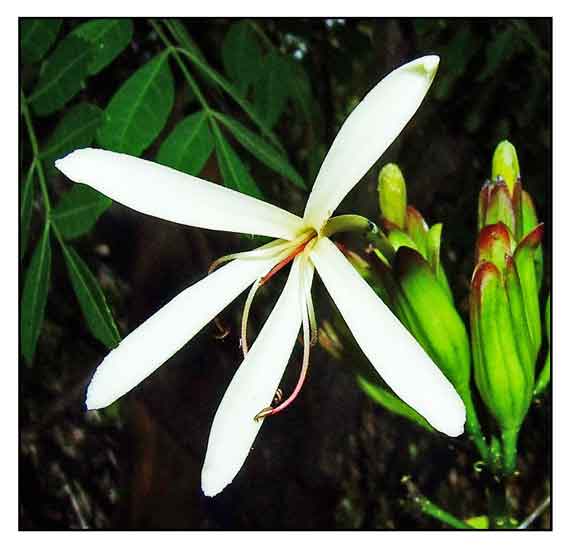 Botany
Bagauak-na-puti is a smooth shrub growing to a height of 1.5 to 4 meters. Leaves are oblong to elliptic-oblong, 11 to 18 centimeters in length, and 5 to 9 centimeters wide, with pointed tips and rounded base, and somewhat entire or slightly toothed margins. Leaf stalks are 4 to 10 centimeters long. Flowers are fragrant, and borne in terminal cymose panicles. Calyx is inflated, green at the time of flowering, oblong-ovoid, about 2.5 centimeters long, and 1 centimeter in diameter. Corolla-tube is slender, cylindric, 5 to 8 centimeters long and straw-colored or whitish; lobes are narrowly oblong or linear-oblong, spreading, and about 2.5 centimeters in length. Stamens are exserted, and purple. Fruit is fleshy, blue, somewhat rounded, and about 1 centimeter in diameter. Calyx in the fruit is thickened, red or purple, split in five, 2.5 to 3 centimeters long lobes, and spreading when the fruit is mature.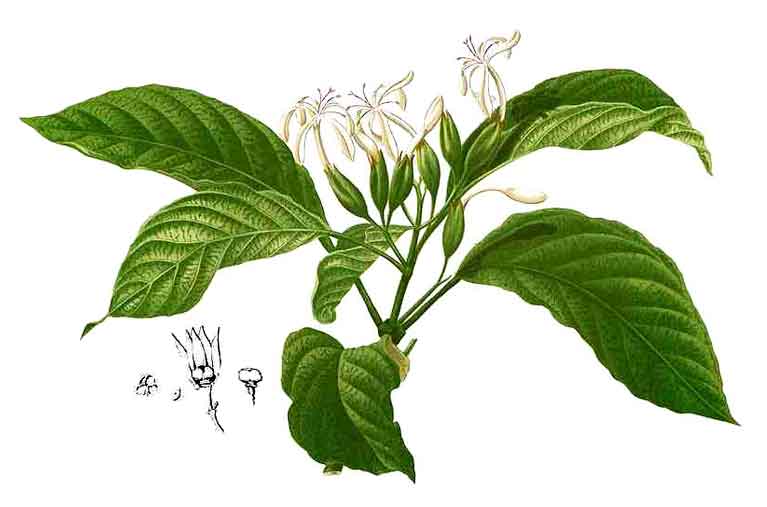 Distribution
- Common in thickets and secondary forests at low and medium altitudes from northern Luzon to Mindanao and Basilan, in most islands and provinces.
- Also occurs in Celebes and the Sulu Islands.
Constituents
- Phytochemical screening of leaves yielded alkaloids, saponins, flavonoids, steroids, and phenols, with absence of terpenes and tannins. (2)
Properties
-- Studies have suggested antioxidant, anti-anemic, antihyperlipidemic, antiatherosclerotic properties.
Parts used
Leaves, leaf juice.

Uses
Edibility
- Young leaves eaten as vegetable.
- Leaves used to add flavor and taste to many meat- and fish-based cuisine.
Folkloric
- In the Philippines, plant is used as an external remedy for chest and stomach complaints.
- Leaves are boiled and applied to carbuncles.
- Used by the Ayta community in Porac, Pampanga for stomach ache. (3)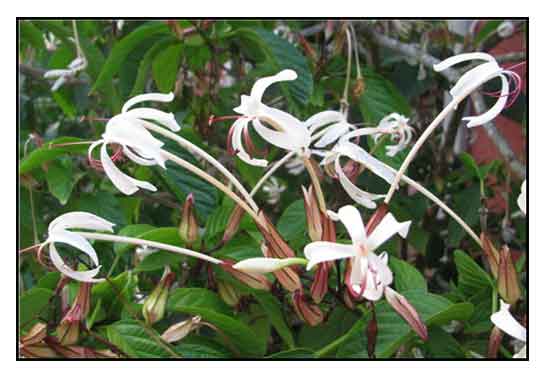 Studies
• Antioxidant / Leaves: A previous study has shown the beneficial effect of leilem as antihyperlipidemic and antiatherosclerotic. (see below) This study evaluated the phytochemical contents and antioxidant activity of ethanol extract of leilem leaves. The extract showed estimated phenolics and flavonoid content of 139.88 mg/g and 34.46 mg/g, respectively. Concentration of leaf extract required for 50% inhibition of DPPH radical scavenging effect was 565.45 µg/mL. At 1 mg/mL, the aqueous extract of leaves showed a ferric reducing power of 13.62 µmoles/mg in FRAP assay. Results suggest potential in vitro antioxidant activities. (see constituents above) (2)
• Antihyperlipidemic and Antiatherosclerotic / Leaves: A previous study has shown the beneficial effect of ethanol extract of leilem as antihyperlipidemic and antiatherosclerotic on the aorta of Wistar rats fed with high lipid and cholesterol diet. The leaf extract decreased triglyceride levels and increased HDL levels. It also improved the aorta by reducing the number of foam cells and thickness of the aortic wall. (2)
• Anti-Anemic / Effect on Hemoglobin Level / Leaf Juice: Study evaluated the effect of matel (C. minahassae) leaf juice and spiny amaranth (Amaranthus spinosus) leaf juice on hemoglobin level and RBC count on mice (Mus musculus). The matel juice demonstrated a significant effect (p<0.05) towards the hemoglobin level (p<0.05) with highest Hb level at 14.5 g/dL and RBC around 7.43x10/L. (4)

Availability
Wild-crafted.