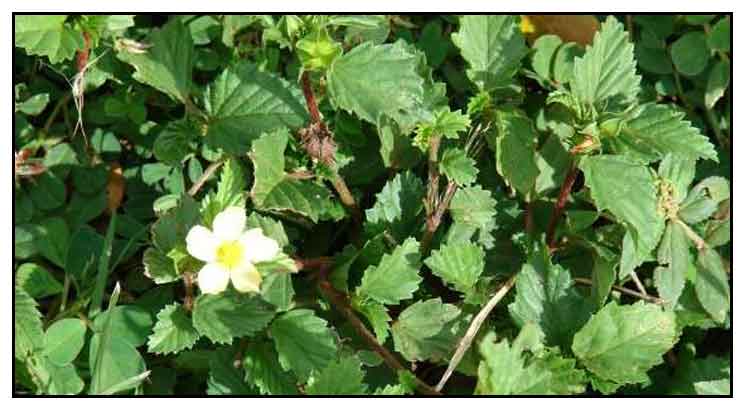 Botany
Babara is an erect, somewhat hairy, branched, half-woody perennial, about 1 meter high. Leaves are oblong to ovate-lanceolate, 2 to 5 centimeters long, with blunt tip, rounded base and irregularly toothed margins. Flowers are axillary and terminal. Calyx is green, about 7 millimeters long, with lanceolate and pointed lobes. Petals are yellow, about 8 millimeters long. Fruit has 8 to 12 reniform, compressed, hirsute carpels, 2 to 3 millimeters long, each carpel having 3 short, straight projections.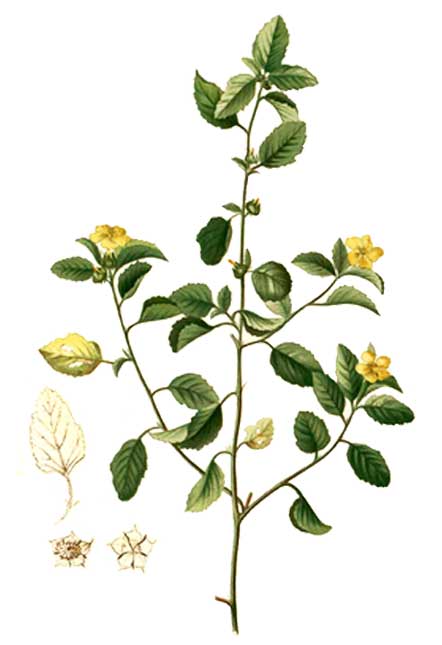 Distribution
- A common weed in and about towns throughout the Philippines.
- Probably of American origin.
- Now pantropic.
Constituents
- Studies on whole plant have yielded bioactive compounds such as stigmasterol, lutein, phenylethylamine, indole alkaloids, fatty acids (palmitic, oleic, linoleic, and sterulic), etc.
- Seed oil of MC contained palmitic acid (22.7%), palmitoleic acid (2.4%), stearic acid (2.7%), oleic acid (14.6%), linoleic acid (37%), malvalic acid (10.5%) and sterculic acid (10.1%).
- Phytochemical screening of leaves yielded alkaloids, tannins, amino acid proteins, and carbohydrates, with appreciable amounts of phenolic and flavonoid contents. Petroleum ether extract yielded ß-sitosterol. (16)
Properties
- Studies have shown anti-inflammatory, antipyretic, analgesic, antibacterial, hypoglycemic properties.
Parts utilized
Leaves.

Uses
Folkloric
- Leaves used for carbuncles.
- In Mexico, decoction of leaves used to clean wounds; also used for dysentery.
- In Tanzania, used for wounds and sores; also used as diaphoretic.
- In the West Indies, plant is considered resolvent and emollient.
- In India, flowers used in cough and lung diseases. Leaves used for jaundice.
- In Thailand, used for diabetes.
- In Pakistan, decoction of dried rhizomes are used as tonic and for relief of muscular pain. Powdered rhizome used to for fever and diarrhea. (12)
- In Jamaica, used for stomach pains. (17)
Others
- Plant is used in making brooms.

Studies
• Antinociceptive: Aerial parts of Malvastrum coramandelianum showed antinociceptive activity in acid-induced writhing test in mice. Effects are comparable with acetylsalicylic acid. (1)
• Anti-Inflammatory / Analgesic: Study showed M coromandelianum water extract inhibited hind-paw edema induced by carrageenin and exhibited analgesic activity in the formalin test. (2)
• Anti-Staphylococcal: Study showed the water extract of MC had good inhibitory activity against both methicilin-resistant and methicillin-sensitive staphyloccocus aureus and also showed a low killing effect. (3)
• Antioxidant: Various extracts of the leaf of three plants, M. coromandelianum, T. purpurea, and Clitorea ternatea, were tested for antioxidant potential. Screening suggested flavonoids. Leaves of all three plants exhibited antioxidant properties and can serve as free radical inhibitors or scavengers. M. coromandelianum was not as potent as the other two plants. (5)
• Antidiabetic / Antihyperlipidemic / Leaves: Study evaluated aqueous extracts of leaves of Malvastrum coromandelianum on alloxan-induced diabetic rats. Results showed antidiabetic activity with significant reduction in fasting blood glucose levels and antihyperlipidemic activity with normalization of lipid profile. (7)
• Chronic Toxicity Study: A chronic toxicity study of a water extract in Wistar rats at doses of 0.2 to 20 g/kbw per day for 60 days did not produce toxicity in the test animals. (8)
• Wound Healing : Study evaluated the effects of topical administration of an ethanolic extract of Malvastrum tricuspidatum ointment on two types of wound models in wistar rats. Results showed wound healing properties with faster epithelization and higher wound contraction in the incision model, and increase tensile strength in the incision model. (9)
• Antibacterial / Antifungal / Irritant: Study evaluated various extracts of Malva parviflora and Malvastrum coromandelianum for antibacterial, antifungal, and irritant activities. Results showed similar patterns of antibacterial activities against E. coli, and slight variations against Proteus vulgaris, Bacillus subtils, and Staphylococcus aureus, and the same activities against Aspergillus niger and A. oryzae. Application of hexane, chloroform and aqueous extracts on the inner surface of ear of male albino rabbits caused an irritant response. (10)
• Immunomodulatory: Study evaluated an ethanolic extract of whole plant in experimental models of immunity in Swiss albino mice. Results showed the extract to possess potential for augmenting immune activity by cellular and humoral mediated mechanisms. (11)
• Hypoglycemic: Study evaluated extracts and fractions of dried powder of M. coromandelianum for hypoglycemic activity in normal and alloxan-induced diabetic rats. At doses of 4 g/kbw, an MC-1 extract showed significant hypoglycemic activity in alloxan-induced diabetic rats. Other fractions failed to show hypoglycemic activity. (13)
• Antipyretic / Analgesic / Anti-Inflammatory: Study of an aqueous extract of whole plant and root of M. coromandelianum showed lowering of rabbit fever in fever induced by typhoid-paratyphoid vaccine, decreased mice writhing, inhibition of ear edema and decrease in permeability of blood capillary in abdominal cavity of mice. Results suggest antipyretic, analgesic, and anti-inflammatory effects. (14)
• Study of Glucose-Lowering Effect / No Efficacy: A double blind, randomized controlled trial evaluated the glucose-lowering efficacy of a water extract of M. coromandelianum in type 2 Diabetes patients. In this study, MC in dosage of 1,200 mg/day dose showed no glucose lowering efficacy in type 2 diabetes. (18)
• Antidiarrheal / Leaves: Study evaluated the in vivo antidiarrheal effect of ethanolic extract of leaves of M. tricuspidatum in rats, evaluated by castor oil, magnesium sulfate and charcoal. Results showed significant (p<0.05) activity against castor oil-induced diarrhea. It also inhibited magnesium sulfate induced enteropooling and significant reduction in gastrointestinal motility in charcoal meal test. (19)

Availability
Cultivated.