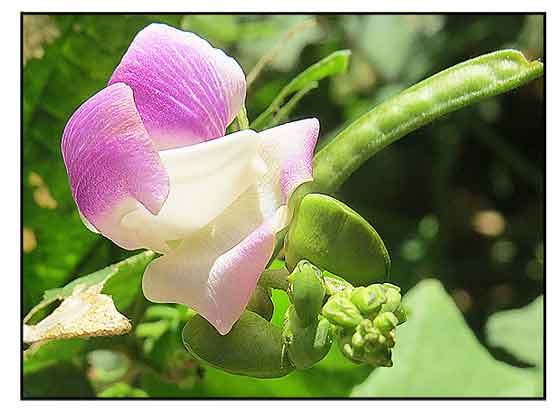 Gen info
- Leptospron is a small genus of flowering plants in the legume family, Fabaceae. It belongs to the subfamily Faboideae. Species in the genus were formerly considered to belong to the genus Vigna. (4)
- Studies on embryological characteristics suggest Vigna adenantha is possibly better classified in the genus Phaseolus. (1)
Botany
Vigna adenantha is a perennial climbing herb up to 4 m long, with tuberous roots; stem twining, glabrous or sparsely hairy, rooting at the lower nodes. Leaves alternate, 3-foliolate; stipules oblong-ovate, 3–6 mm long, base slightly cordate, apex acute, conspicuously veined; petiole 1–14 cm long, rachis 0.5–2 cm long; petiolules 3–4 mm long, hairy; leaflets ovate to rhombic, lateral ones slightly asymmetric, (2.5–)5–10(–14) cm × (1.5–)2.5–6.5(–8) cm, base rounded or truncate, apex obtuse to acute, sparsely appressed-hairy on both sides, venation reticulate. Inflorescence an axillary false raceme 5–30 cm long, 6–12-flowered; peduncle up to 25 cm long, rachis 2–7 cm long. Flowers bisexual, papilionaceous; pedicel 2–3 mm long, with ovate-oblong bracteoles 3–4 mm × 2 mm; calyx with tube 3–4 mm long, the 3 lower lobes falcate or narrowly oblong, 3–5 mm long, the upper pair fused into a short, bifid lip, sparsely pubescent; corolla with almost circular standard, 1–2.5 cm × 2–2.5 cm, rose or white with green veins and a green basal eye surrounded by violet-purple inside, wings c. 3 cm long, white-tinged violet, green and yellow at the base, keel c. 5 cm long, with a long beak, spirally incurved for about 3 turns, white to violet-blue; stamens 10, 9 fused but upper one free; ovary superior, appressed-hairy, style slender, strongly curved. Fruit an oblong pod 7–15 cm × 0.5–1.5 cm, slightly curved, flattened, glabrous or slightly hairy, 9–15-seeded. Seeds reniform, 5.5–7.5 mm × 4.5–6 mm × 2.5–5 mm, dark reddish brown; hilum central, small, white. (3)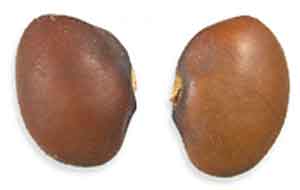 Distribution
- Introduced; naturalized. (5)
- From Luzon to Mindanao, in thickets bordering swamps, streams, etc., at low and medium altitudes.
- Listed at Plants of the World Online as 'Native'. (2)

Constituents
- Study revealed a good forage containing 17.4% crude protein and 0.18% P. (3)

Parts used
Roots, whole plant.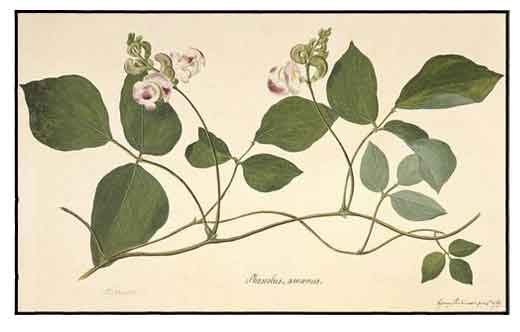 Uses
Edibility
- Green pods and ripe seeds are eaten as emergency food.
- In Liberia, plant is cultivated for edible tuberous roots, which are cooked and eaten.
- In India, roots tuberous roots eaten in times of scarcity.
Folkloric
- In Nigeria, decoction of whole plant used for treatment of gonorrhea, and mixed with rice water for the treatment of diabetes.
- In India, decoction used for bowel complaints and stricture. Roots used to stop excessive bleeding. (6)
Others
- Fodder: In Sudan, cattle browse the plant. Forage contains 17.4% crude protein and 0.18% P.
- Fiber: Used for weaving.

Studies
• No studies found under Leptospron adenanthum, Phaseolus adenanthus, and Vigna adenantha.
Availability
Wild-crafted.
Seeds in the cybermarket.