Botany
Asparagus is an erect, unarmed, branched herbaceous perennial herb, growing up to 1 meter in height. Leaves (scales) are very minute, and the cladodes (branchlets) fascicled, slender terete, 0.5 to 1.5 centimeters long. Flowers are axillary, fascicled, solitary or in pairs, pedicelled, the perianth straw-yellow or greenish yellow, about 5 millimeters long. Fruit is globose, 6 to 10 millimeters in diameter, fleshy red when ripe.

Distribution
- Cultivated in Manila and other large towns as an ornamental.
- Grown in Baguio and Chinese gardens for its vegetable.
- Imported tips are bleached and whitish, the Baguio grown ones, greenish.
- Native of Europe.
- Now cultivated in all temperate and subtemperate countries.
Constituents
- Root yields asparagin, a greenish yellow resin, sugar, gum, albumen, chlorides, acetate and phosphate of potash, malates, etc.
- Fruit contains grape-sugar and sparagancin, a coloring matter.
- Seeds yield a fixed oil, aromatic resin, sugar, and a bitter principle--spargin.
- Amino acids and inorganic mineral contents were found much higher in the leaves than the shoots.
- An 1891 study identified methanethiol (a sulfur compound, also known as methyl mercaptan) present in the urine of some asparagus eaters, absent in others.
- Asparagusic acid and its derivatives, such as dihydroasparagusic acid, are sulfur-containing compounds found in asparagus but not in other related vegetables.
Properties
- Asparagin imparts the characteristic strong urine smell, and believed to stimulate the kidneys.
- Considered mild aperient, diuretic, sedative, laxative.
- Green resin is believed to be calming to the heart.
- Studies suggest numerous medicinal properties: antispasmodic, anti-inflammatory, diuretic, diaphoretic, demulcent, immunomodulating, laxative, and sedative.
- Fruit is considered poisonous to humans.

Parts used
Whole plant, roots and seeds of ripe fruit.

Uses
Edibility / Nutritional
- A much desired vegetable, especially the tips.
- Contains many vitamins and minerals: Vitamins A, B1-6-12, C, E, and K, calcium, magnesium, zinc, dietary fiber, rutin, niacin, folic acid, iron, selenium, among others.
Folkloric
- Green resin used for flatulence, calculous affections, cardiac dropsy, rheumatism, and chronic gout.
- Given in doses of 1 to 2 grains, combined with potassium bromide, for cardiac dropsy and chronic gout.
- Water in which asparagus was boiled, although disagreeable, is good for rheumatism.
- In Brazil, roots considered a powerful diuretic.
- Roots also used for bronchial catarrh and pulmonary tuberculosis.
- In Tehran, roots are burned and smoked to relieve toothaches.
- Rhizome is used as cardiac sedative, palliative, diuretic, and laxative.
Others
- Hangovers: Considered a useful supplement for hangovers.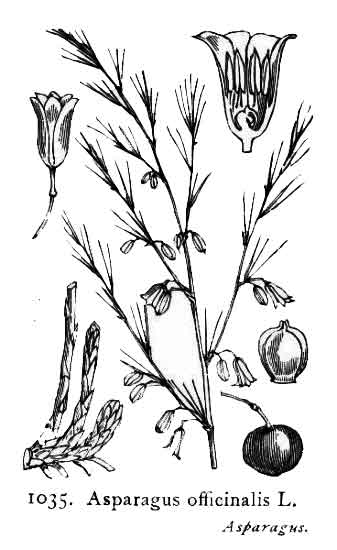 Studies
• Hepatoprotective / Hangovers: Study showed treatment of HepG2 human hepatoma cells with a leaf extract suppressed more than 70% of a marker of reactive oxygen species (ROS). Cellular toxicities induced by H2)2, ethanol, or CCl4 were significantly alleviated with the leaves and shoot extracts. The enzymes that metabolize alcohol--alcohol dehydrogenase and aldehyde dehydrogenase--were up-regulated by more than 2-fold. Results suggest the mechanisms for alleviation of alcohol hangover and hepatoprotection against toxic insults, and a use for the typically discarded parts. (3)
• Antioxidant / Natural Free Radical Scavenger / Oligosaccharides: Study isolated oligosaccharides--1,2,3,4,6-pentakis-O-α-D-Glucopyranose、1,2,3,4,6-pentakis-O- Galacto- pyranose、2,3,4.5,6,-pentakis-pentakis-O-D-Glucose、pentakis-O-Glucopyra-nose and 2,3,4,5,6-pentakis-O-mannosend. Results showed the A. officinalis oligosaccharides to be a natural free radical scavenger and antioxidant. (4)
• Asparagus Urine Smell: The Myth: The asparagus urine with its unusual smell has long been attributed to sulfur-containing compounds. Some most people emit the strong odor of asparagus urine, some people don't. The article by John H. Studies suggest two separate traits: some people secrete the compounds in their urine but can't smell them, while some people don't secrete the compound but can smell them in other people's urine. An 1891 study identified methanethiol (a sulfur compound, also known as methyl mercaptan) present in the urine of some asparagus eaters, absent in others. A 2001 study, isolated 12 different sulfur compounds in the vapors of asparagus urine, absent in normal urine, which included methanethiol and dimethyl sulphide, to which were attributed the distinctive odor. Results suggest a clear variation in two different traits: excretion of sulfur compounds in urine after eating asparagus, and the ability to smell those compounds. A simple dominant one-gene character is suggested for excreting. The genomic smelling/non-smelling trait still needs to be identified. (From Asparagus urine smell: The myth / Myths of Human Genetics / John H. McDonald, University of Delaware) (5)
• Steroids / Roots / Anti-Cancer: Study of roots yielded one novel steroid, sarsasapogenin O, and seven known steroids. The compounds demonstrated significant cytotoxicities against human A2780, HO-8910, Eca-109, MGC-803, CNE, LTEP-a-2, KB and mouse L1210 tumor cells. (6)
• Antioxidant / Antibacterial: Study showed highest antioxidant activity from an in vivo grown plant extract. An ethanolic extract showed antibacterial activity against Bacillus cereus. (7)
• Comparative Studies on Bioactive Compounds in Different Varieties: Study evaluated and compared the bioactive compounds in ten varieties of Asparagus officinalis, especially asparaginiase and flavone and rutin contents in roots, leaves, and spears. Asparaginas activity was significantly higher in roots than spears and leaves. Flavones and rutin were higher in the leaves than roots and spears. (8)
• Asparaginase: Asparaginase, one of the important bioactive compounds in the Asparagus plant, has been reported to have curative potential in cancer treatment. Study evaluated the asparaginase activity in the A. officinalis plant. Asparaginase activity was found significantly higher in the roots than in spears and leaves. The activity was higher in the middle of the spears. A7 variety showed the highest asparaginase activity, while A1 showed the lowest. (10)
• Effect on Immunological Reaction of Lymphocyte / Sarcoma Model: Study evaluated the function of erythrocyte in S180 mice treated with Asparagus officinalis polysaccharide on immunological reaction of lymphocytes in a sarcoma mouse model. Results showed A. officinalis polysaccharide can improve erythrocyte function of S180 mice. (11)
• Amelioration of Insomnia: Study evaluated aqueous extracts of asparagus for anti-insomnia effects and safety. Results showed aqueous extracts of asparagus might ameliorate a variety of symptoms of insomnia. There was significant decrease in time to fall asleep and increased sleep time. No side effects were found. Strong anti-insomnia effect was found at dose of 25 grams per day. (12)
• Antitumor Effect / Saponins / Induction of Apoptosis In Hepatoma Cell Line HepG2: Study investigated the effect of saponins from Asparagus on proliferation and apoptosis in the human hepatoma cell line HepG2. Asparagus saponins inhibited the growth of HepG2 cells in a dose-dependent manner through a mitochondrial-mediated and caspase-dependent pathway. Results suggest a potential agent for the treatment of hepatocellular carcinoma. (13)
• Effect of Cooking on Rutin, Glutathione and Antioxidant Activity: Study evaluated the cooking methods and duration that allowed greatest retention of rutin and glutathione and antioxidant activity. Rutin was heat stable, leaching up to 22% of that found in uncooked spears. Glutathione decreased with increased cooking duration. Antioxidant activity increased or remained unchanged after cooking, regardless of method or duration. Results suggest green asparagus is moderately resistant to phytochemical losses during cooking; however, minimizing duration may optimize benefits from consumption. (14)
• Interaction with Lithium: Asparagus may cause moderate interactions in lithium. Taking asparaagus with lithium might decrease the excretion of lithium, increasing drug levels and cause serious side effects. (15)
• Positive Oogenesis Effect / Effect on Hypothalamic-Pituitary-Gonadal Axis Hormones / Roots: Study evaluated the effect of aqueous extract of asparagus roots on the hypothalamic-pituitary-gonadal axis hormones and oogenesis in female rats. Aqueous extract dose dependently significantly increased serum levels of GnRH, FSH, LH, estrogen, and progestin hormones, together with increase in ovarian follicles and corpus luteum. (16)
• Anxiolytic / Stems: Study evaluat3ed the anxiolytic-like activity of aqueous extract of asparagus stem using elevated plus maze (EPM) and Vogel conflict tests (VCT) in mice. Results showed strong anxiolytic-like effects at dose of 1.5 and 3.0 g/kg (250 and 500 mg sarsasapogenin per KBW) in experimental models of anxiety. (17)
• Improvement of Memory Impairment Attributed to Change in Intestinal Microflora: Study evaluated the effectiveness of Asparagus officinalis aqueous extract of stem (AEAS) on improving learning and memory behavior in scopolamine induced amnesia model in male mice. Treatment increase the relative abundance of Verrucomicrobia and Saccharibacteria in phylum. MS increased the proportion of bacteria (Lachnospiraceae and Parabacteroides) that may be related to the memory impairment function of AEAS. (18)

Availability
Wild-crafted.
Extracts in the cybermarket.