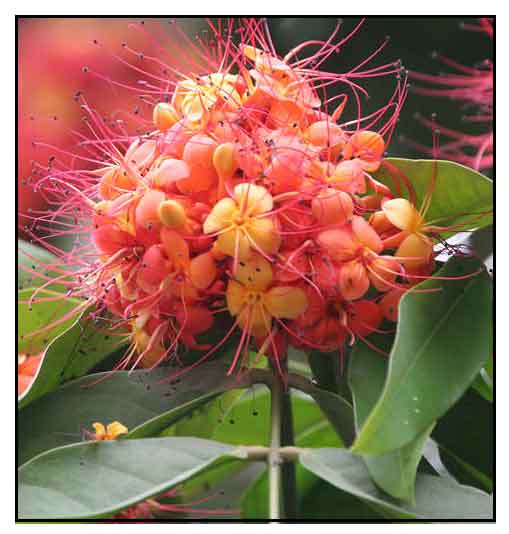 Gen info
- Asoka tree is considered sacred throughout India, frequently found in royal gardens and planted close to temples. It is a recurrent element in Indian art and mythology, with a Yakshi holding the branch of a flowering Shook tree. It is also considered a sacred tree in Hinduism, worshiped in Charita, the first month of the Hindu calendar.
- Asoka means "without sorrow," a reference to the bark's reputation for keeping women healthy and youthful. Buddha was believed to have been born under this tree. (27)
Botany
Asoka is usually a small tree growing up to 10 meters high, slow-growing when young. Bark is dark brown, gray or black. Leaves are alternate, and even-pinnate, 15 to 25 centimeters long with with 3 to 6 pairs of leaflets. Leaflets are oblong or oblong-lanceolate, often blunt , up to 22 centimeters long. Flowers are fragrant at night, orange red or red, depending on age. Corymbs are 18 centimeters across. Pod is up to 25 centimeters long.
Distribution
- Introduced to the Philippines.
- Native to Jawa, Laos, Malaya, Myanmar, Sumatera, Thailand, Vietnam.
- Cultivated in India to the Malay Peninsula.
- Classified "Vulnerable" by the IUCN Red List of Threatened Species. (Jan 1977) (42)
Constituents
- Study isolated two flavonoids, two tannins (ellagic acid, catechin, quercetin and quercitrin) and 3,4-dihydroxy-benzaldehyde and 3,7,11,15-tetramethyl hexadecen-1-ol compounds.
- Bark contains an estrogenic compound, ergosterol.
- Phytochemical analysis yielded ß-sitosterol, flavonoids, flavone glycosides, anthocyanins, fixed oil in flower; bark yielded different catechols, sterols, tannins flavonoids, glycosides, leucopelargonidin and leucocyanidin. Seed and pod yielded oleic, linoleic, palmitic, and stearic acid, catechol,, epicatechol, and leucocyanidine. Leaves and stem yield quercetin, quercetin-3-O-α-L-rhmanoside, kaempferol 3-O-L-rhamnoside, amyrin, ceryl alcohol and ß-sitosterol. (see study below) (10)
- Phytochemical screening of dried leaf and flower extracts yielded alkaloids, flavonoids, tannins, saponins, glycosides, and phenolic compounds. (see study below) (30)
- Phytochemical screening of chloroform, ethanol, methanol, and aqueous flower extracts yielded tannins, proteins, steroids, glycosides, carbohydrates, saponins, and flavonoids. Alkaloids were absent in all four extracts. HPTLC assay of methanol extracts of flower and leaves confirmed the presence of gallic acid. (33)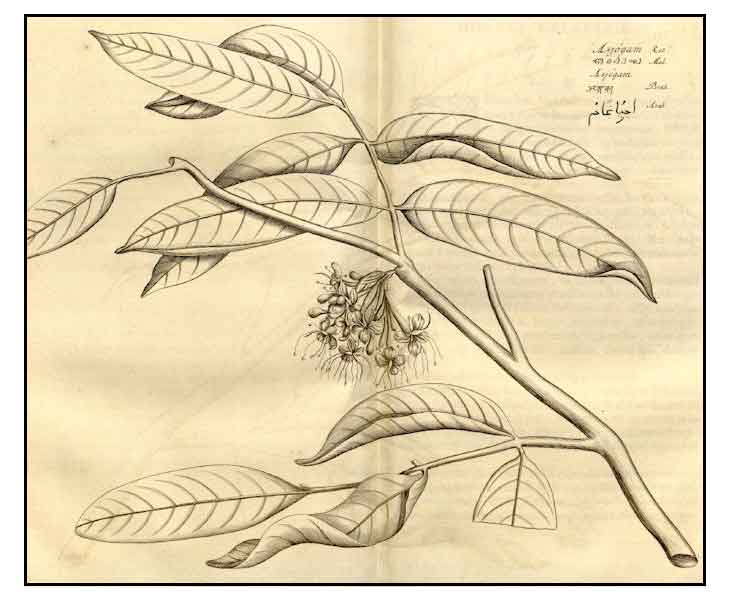 Properties
- Considered feminine-specific.
- Considered astringent, uterine sedative.
- Bark is considered bitter, astringent, refrigerant, anthelmintic, demulcent, styptic, stomachic, constipating, febrifuge, and demulcent.
- Studies have shown antibacterial, larvicidal, antifungal, oxytoxic, analgesic, anthelmintic, hypoglycemic, CNS depressant, cardioprotective, cytotoxic, anti-inflammatory, anticonvulsant, anti-arthritic, anti-platelet aggregation, anti-diarrheal, anti-cataract, anticancer, anxiolytic, insecticidal, analgesic properties.
Parts used
Bark, leaves, seeds, flowers.

Uses
Edibility
- Young leaves and flowers are edible.
Folkloric
- No reported folkloric medicinal use in the Philippines.
- Bark used in menorrhagia due to fibroids, leucorrhea and internally bleeding.
- Used for dysmenorrhea.
- Leaf juice mixed with cumin seeds used for stomachaches.
- Bark, seeds, and flowers used in Ayurveda and Unani systems of medicine. Early Indian Materia Medica, 1500 AD, mentions the plant as a uterine tonic used for menstrual disorders.
- Flowers used for cervical adenitis, biliousness, syphilis, hyperdipsia, hemorrhagic dysentery, hemorrhoids, and scabies.
- In India, bark used as uterine sedative.
- In Pakistan, used for excessive uterine bleeding.
- Also used for depression.
- Used for internal bleeding, hemorrhoids, hemorrhagic dysentery.
- Bark extract used for menorrhagia.
- Juice of flowers used as coolant against biliousness.
- Bark used as astringent and uterine sedative.
- Used as tonic; also used for rheumatism, skin diseases, and urinary disorders.
- In India, Sri Lanka, Bangladesh, and Pakistan, Asoka bark is used by women for the treatment of menorrhagia, and other menstrual and uterine disorders. In Ayurveda, used in the treatment of wounds, poisoning, tumors, diarrhea, worm infestation, abdominal swelling. In Unani medicine, used for anorexia, dermatitis, indigestion, animal bites, and as hair tonic. (26) In India, juice of flowers consumed as tonic by women with uterine disorders. (40)
Others
- Worship: A sacred ornamental tree for Buddhists and Hindus, considered the tree under which Buddha was born. (46)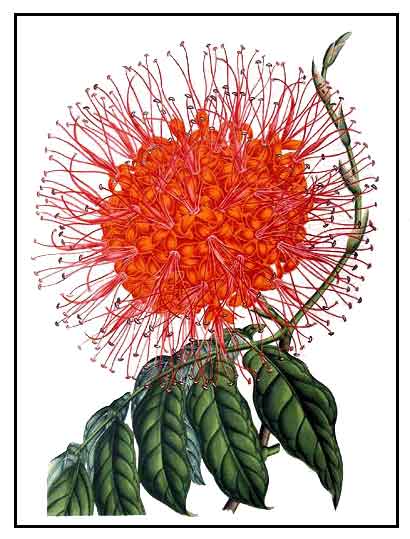 Studies
• Lead Decontamination: Study explored the effectiveness of S. indica leaf powder a surplus low value agricultural waste in removing Pb (lead) ions from aqueous solution. Results showed that Saraca indica leaf powder can easily be envisaged as a new, vibrant low cost biosorbent for metal clean up operations. (2)
• Larvicidal: Petroleum ether extract of leaves and chloroform extract of bark were effective against the larvae of C. quinquefasciatus. (3)
• Antibacterial: In-vitro study evaluated the ethanolic and methanolic extracts for antibacterial activity against E coli and S aureus. Although the extracts were inferior to the chloramphenicol control, they exhibited antibacterial activity even at low concentrations. (2) Various extracts of leaves of S. indica were used to evaluated for antibacterial activity against E. coli and B. subtilis. A methanolic extract showed the strongest activity against both bacteria. (24)
• Antimicrobial / Stem Bark / Leaves: Various extracts of stem bark were tested for antibacterial and antifungal activities. A methanolic extract showed strongest activity against both bacteria and fungi. (6) Study evaluated various extracts of leaves for antibacterial activity. Acetone, chloroform, methanol and petroleum ether extracts showed significant activity against only Gram positive bacteria. Water extract was active against Bacillus subtilis and Bacillus megaterium. Fresh leaf juice and acetone extracts showed high antimicrobial activity against G+ organisms. (47)
• Estrogen Stimulatory Effect: Study has shown stimulatory effect on ovarian tissue and may produce an estrogen-like effect that enhances the repair of endometrium and stops bleeding.
• Hypoglycemic Effect: Study of methanolic bark extracts of Saraca indica showed reduction of glucose levels in STZ-induced diabetic rats. (7)
• Anthelmintic: Ethanolic and methanolic extracts of S. indica exhibited dose-dependent anthelmintic property. Both extracts were more potent than the control. The presence of alkaloids, glycosides, terpenoids, tannins and flavonoids may be the responsible phytochemicals for the anthelmintic activity.
• Analgesic: Extracts exhibited a dose-dependent analgesic activity. Significant activity was noted in the tail immersion method, with highest activity after 90 minutes like that of the standard drug. (9)
• CNS Depressant Activity / Leaves: Study evaluated different extracts of Saraca indica leaves for central nervous system depressant activity using pentobarbitone induced sleeping time and locomotor activity using actophotometer. The methanol extract produced the most significant dose dependent CNS depressant activity. (10)
• Anti-Inflammatory / Analgesic / Bark: Study evaluated S. asoca using Carrageenan-induced hind paw edema test for anti-inflammatory effect in rats and hot plate test for analgesic effect in Swiss albino mice. Results showed evidence of anti-inflammatory and possibly analgesic properties of bark. (11)
• Cardioprotective / Cyclophosphamide-Induced Cardiotoxicity: Study evaluated an alcoholic extract of bark against cyclophosphamide induced cardiotoxicity. Biochemical, ECG, and histopathology reports suggest a cardioprotective effect attributed to antioxidant activity. (12)
• Antihyperglycemic / Antioxidant / Leaves: Study investigated various extracts of leaves for antihyperglycemic and antioxidant properties in mice. Results showed significant reduction of blood glucose in diabetic mice, with the methanol extract showing the best results. All the extracts showed significant antioxidant activity. (13) Study evaluated the anti-diabetic and antioxidant activities of S. indica leaves on PTP1-B assay and DPPH assay. Results demonstrated antidiabetic and antioxidant potential. The potent activity was attributed to flavanoids and glycosides present in the extract. (29)
• Analgesic / Leaves: Study evaluated the analgesic activity of various leaf extracts of Saraca indica by tail immersion method and formalin induced pain method in albino mice. Results showed analgesic activity with the extracts exhibiting significant activity in tail immersion method. (14)
• Anthelmintic / Leaves: Study evaluated various extracts of leaves for anthelmintic activity against adult earth worms Pheretima posthuma. A methanol extract showed better anthelmintic activity when compared to standard drug albendazole. (15)
• Catechins / Antimicrobial Activity: Study evaluated the antimicrobial activity of S. asoca and its correlation with catechins. Catechin and (+)-epicatechin and biosynthesis related compound were up-regulated in regenerated bark and leaves extracts. Results showed a correlation of antimicrobial activity with catechins present in S. asoca samples. (16)
• Anti-Arthritic / Anti-Inflammatory / Seeds: Study evaluated an acetone extract of seeds of S. asoka for anti-inflammatory treatment for arthritis in Freund's adjuvant-induced arthritis in Wistar albino rats. Results confirmed significant nontoxic, antiarthritic, and anti-inflammatory pharmacological effect of S. asoca extract, attributed to the presence of flavonoidic compounds and lowering of prostaglandin levels in the blood. (17)
• Cytotoxicity / Human Cervical Cancer HeLA Cell Line / Bark: Study evaluated the invitro cytotoxicity of crude methanolic extracts of bark on HeLa cell lines using MTT assay. The extract showed highly significant percentage inhibition with IC50 of 14.63 µg/mL. Results showed significant antitumor and cytotoxic effect against human cervical cancer HeLa cell line. Activity may be due to flavonoids and polyphenolic components in the bark. (18)
• Anti-Platelet Aggregation: Study evaluated various extracts off Saraca indica for their ability to inhibit CaCl induced platelet aggregation in vitro. Scanning electron microscope images showed various leaf extracts were effective against platelet aggregation, and suggests a potential template for development of new herbal antiplatelet aggregation agent. (19)
• Anticonvulsant / Skeletal Muscle Relaxant / Anxiolytic: Methanol solvent extracts of leaves were evaluated for pharmacologic properties. The anticonvulsant effect, skeletal muscle relaxant activity, anxiolytic effects suggest S. indica induces a depressant activity on the CNS. (20)
• Anti-Diarrheal / Stem Bark: Study of dried stem bark extracts of S. asoca showed significant antidiarrheal property in castor oil-induced diarrhea in albino rats. Loperamide was used as standard drug. (21)
• New Labdane Diterpene / Antifungal / Anticancer / Leaves: Study of hydroalcoholic extract of leaves yielded new labdane diterpene, along with 10 known sterols and flavonoids. The new compound, 6,9-epoxy marrubiinic acid, showed significant antifungal activity against Geotrichum candidum. It also showed potential cytotoxicity against human cancer cell lines. (22)
• Cataract Prevention in STZ-Induced Diabetic Rats: Study evaluated the effect of S indica flowers extract and fractions on in vitro aldose reductase, high glucose induced cataracts in goat lens and in vivo STZ induced cataract in rats. Results showed significant amount of aldose reductase inhibitory activity. The ethyl acetate produced maximum effect attributed to high phenolic and flavonoid content with the potential to inhibit rat lens AR and also in vitro antioxidant activity —activities which may prevent cataractogeneisis in glucose containing lens organ cultures and in invivo STZ-induced diabetic rats. (23)
• Antioxidant / Antibreast Cancer / Bark: Study of bark extract of Saraca indica showed antioxidant and antibreast cancer activity. Toxicological study suggests the extract is safe to use and a potential for use as complementary and alternative medicine for breast cancer therapy. (28)
• Antimicrobial / Dried Leaves and Flowers: Study of various extracts of dried leaves and flowers of Saraca asoca showed antibacterial activity against all bacterial species tested viz., Bacillus sp, Klebsiella sp, Staphylococcus sp, and Pseudomonas aeruginosa. Antimicrobial activity was highest on Bacillus sp. (see constituents above) (30)
• Antibacterial / Antioxidant / Bark, Flower and Leaves: Study evaluated various extracts of bark, flower, and leaves for antibacterial and radical scavenging activity. A methanol bark extract showed maximum DPPH radical scavenging activity at concentration of 200 µg/mL. Antibacterial activity was evaluated against four bacterial strains viz., gram-negative E. coli, P. aeruginosa, and K. pneumonia and gram-positive S. aureus. Antibacterial activity was flower > bark > leaf for gram negative bacteria, and bark > flower > leaf for gram positive bacteria. (31)
• Flavanol Glycosides / Anti-Inflammatory / Bark: Study evaluated the anti-inflammatory activity of 10 compounds isolated from a methanol extract of bark. Compounds 6 (3′-deoxyepicatechin-3-O-β-d-glucopyranoside) and 8 (3′-deoxycatechin-3-O-α-l-rhamnopyranoside) were found to have in vitro and in vivo activity. (34)
• Oxytoxic Effect: Study showed an oxytoxic effect in rat and human isolated uterine preparations.
Estrogen-primed or gravid uterus was more sensitive to an alcoholic extract. Pentolinium bitartrate completely blocked the oxytoxic effect (Bhandary et al., 1995) (35)
• Toxicity Study: Various solvent extracts i.e., petroleum ether, chloroform, methanol and water were administered up to 2000 mg/kbw. There were no toxic symptoms or mortality reported (Verma et al., 2010). (35)
• Antioxidant / Hematoprotective / Bark: Study evaluated the antioxidant and hematoprotective activity of a methanolic bark extract of Saraca indica. Hematoprotective activity was studied in phenylhydrazine induced anemic rats evidenced by significant decreases in Hb, RBC, increased MCV and WBC. Treatment with S. indica bark extract at dose level of 400 mg/kg significantly reversed the affected parameters towards normal value. Antioxidant and hematoprotective effect may be due to its phenolic compounds. (36)
• Antimutagenic / Genoprotective / Bark: Study evaluated S. indica bark extract for antioxidant, antimutagenic, and antigenotoxic properties in Swiss albino male mice in vivo. Results showed antimutagenic activity in Salmonella strains in the presence and absence of metabolic activation. The bark extract also showed in vivo antigenotoxic property against CP (cyclophosphamide) in vivo. Extract also showed antioxidant property on thiobarbituric acid reactive species assay. (37)
• Antifungal / Leaves: Study evaluated methanolic extracts of leaves of Eucalyptus citriodora and Saraca indica individually and in combination against fungal isolates isolated from male dogs with general dermatitis and recurrent chronic pyoderma and clinical isolates of dermatophytes, Candida and Aspergillus sp. All three extracts showed promising antifungal activity. (38)
• Cytotoxicity / Analgesic / Anthelmintic / Bark and Leaves: A methanol bark extract showed moderate cytotoxic activity when compared to standard drug vincristine sulphate. The extract showed significant central analgesic activity in mice in both acetic acid induced writhing test and tail-flick tests. A leaf extract showed significant anthelmintic activity against earthworms Pheretima posthuma on measures of time of paralysis and time of death. (39)
• Estrogenic / Flowers: Study evaluated the estrogenic potential of ethanolic extract of Saraca asoca flowers using ovariectonized (OVX) female albino Wistar rat model. HPTLC revealed the presence of was phytoestrogens markers quercetin, kaempferol, ß-sitosterol, and luteolin at 1.53 mg/g, 0.924 mg/g, 4.481 mg/g, and 2.349 mg/g, respectively. Results showed estrogenic potency supported by plasma marker enzymes and hormones, Effect was attributed to the phytoestrogen contents. (40)
• Silver Nanoparticles / Anthelmintic / Antibacterial / Leaves: Study reports on simple and efficient bioreductive synthesis of silver nanoparticles using Saraca indica leaves extract. The silver nanoparticles were more potent compared to aqueous extract of S. indica leaves as evidenced by less time to paralysis and death of earthworms with the AgNPs. (41) Study reports on a biogenic method of synthesis of silver nanoparticles using leaf extract of S. indica. Antibacterial activity of synthesized AgNPs against E. coli DH5α showed a minimal inhibitory concentration (MIC) of 20 µg/ml. (44)
• Radioprotective: Study evaluated the radiation mitigating effect of hydroalcoholic extract of Saraca indica against mice exposed to whole body gamma radiation. Pretreatment showed a significant increase in animal survival time, inhibition in decline of hematological parameters, and increase in number of spleen colony-forming units, along with increase in enzyme markers and lowered lipid peroxidation. The radiation mitigating effect may be due to free radical scavenging, elevation in antioxidant status and reduction in lipid peroxidation. (43)
• Antiproliferative / Antikeratinizing / Anti-Estrogenic: Study evaluated the effect of S. asoca on estrogen-induced endometrial thickening of rat uterus. Results showed antiproliferative and antikeratinizing effects of Saraca asoca in uterus endometrium possibly through anti-estrogenic and anti-inflammatory properties. (45)
• Insecticidal against Stored Grain Pests / Leaves: Study evaluated a methanol extract of leaves for effect on controlling insect infestation of stored food commodities viz. maize, rice, cowpea, and wheat flour. The methanol leaves extract exhibited insecticidal activities against different developmental stages of the four target insect pests viz. Ostrinus nubilalsiis, Spodoptera littoralis, Callosobruchus maculatus and Tribolium confusum. The larvicidal activity was directly related to the exposure time and concentration of the methanol extract. (48)
• Locomotor Activity / Bark: Study evaluated the effects of Saraca indica methanolic extract of bark on CNS in rats measuring locomotor activity using actophotometer. Doses of 200 and 400 mg/kg significantly caused a marked reduction in locomotor activity of rats. Effect may be due to GABAergic inhibition in the CNS via membrane hyperpolarization which leads to a decrease in the firing rate of cortical neurons in the brain or due to direct activation of GABA receptor by the extract. (49)

Availability
- Wild-crafted.
- Numerous Ashoka-based herbal/drug formulations in the cybermarket.