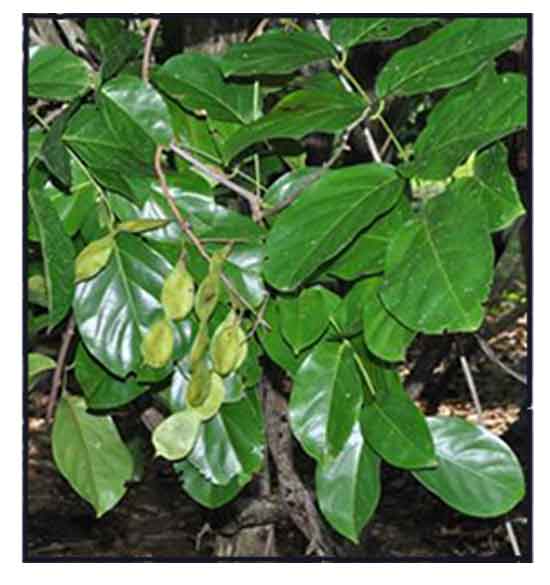 Gen info
- Aganope is a genus of flowering plants in the family Fabaceae, containing 11 species, ranging from across sub-Saharan Africa, South and Southeast Asia, and New Guinea.
Etymology: The genus name derives from Greek aganos, meaning kindly or gently, reference to which is unclear. Species epithet heptaphylla derives from Greek words hepta (seven) and phylla (leaf), referring to the imparipinnate leaves of the plant with seven leaflets. (3)
Botany
Aganope heptaphylla is a shrub, or sometimes taking the form of a woody climber. leaves are spirally arranged, stalked, imparipinnate, with 3, 5, 7 or 9 leathery leaflets whose blades are egg-shaped to egg-shaped-oblong, hairless, and 10–12.5 by 5–7.5 cm. Flowers grow on terminal flowering shoots that are 15–30 cm long; flowers are greenish and 1.5 cm long. Fruits are strap-shaped pods, about 10–20.5 by 3.8 cm, with wavy margins. (3)
Distribution
- Native to the Philippines.
- In thickets, secondary forests, etc., at low and medium elevation.
- Also native to Andaman Is., Assam, Bangladesh, Bismarck Archipelago, Borneo, Caroline Is., India, Jawa, Malaya, Maluku, Myanmar, New Guinea, Nicobar Is., Solomon Is., Sri Lanka, Sumatera, Thailand. (1)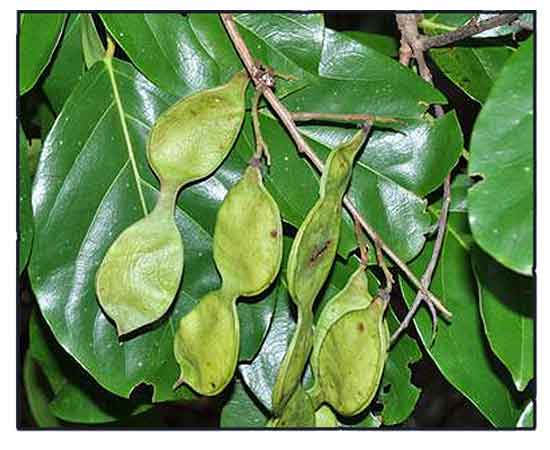 Properties
- Reported insecticidal, antibacterial and poisoning use.
Toxicity concerns
- The plant contains rotenone, traditionally used as a fish poison.
- Rotenone is classified by the WHO as moderately hazardous, mildly toxic to humans and other mammals, but extremely toxic to many insects and aquatic life, including fish. In fish, the lipophilic rotenone is easily taken up through the gills or trachea, not as easily through skin or GI tract. (2)
- The lowest lethal dose for a child is 143 mg/kg, but human deaths are rare because rotenone causes vomiting. Deliberate ingestion can be fatal. The compound decomposes on exposure to sunlight and lasts for 6 days in the environment. (2)

Parts used
Bark, roots.

Uses
Edibility
- Leaves are edible, raw or cooked.
- Leaves used as culinary flavoring.
Folkloric
- No reported folkloric medicinal use in the Philippines.
- In Bangladesh, leaves and seeds used for bacterial infections. Also used for poisoning. (4)
Others
- Fish poison: Contains rotenone, which is traditionally used as fish poison. (•) The Alangan Mangyan of Oriental Mindoro, pound and soak the roots in the middle of the Dulangan and Catuiran Rivers to poison and stupefy the many fishes, shrimps, and eel. (5)
- Tannin: Bark is a source of tannin.
- Insecticidal: Rotenone is widely used as an insecticide. It is effective against a range of horticultural pests (aphids and caterpillars) and external body parasites (ticks, lice, fleas, and flies). In the plant, it is most abundant in the bark and roots. The bark is dried and powdered for insecticidal use. (2)
- Cordage: Stems used for tying and binding.

Studies
• No studies found.
Availability
Wild-crafted.