Etymology
- Ashitaba literally means "tomorrow's leaf", which derives from the Japanese words ashita (tomorrow) and ba (leaf), which relates to the plant's ability to regenerate new leaves after taking cuttings.
- Angelica derives from Latin for "angel". Keiskei derives from Ito Keisuke, the 19th century Japanese botanist, recognized as the father of modern Japanese botany.
- Another common name for A. keiskei is "Shin-sun cho", meaning 'a precious herb used by God'.
Botany
Ashitaba is a herbaceous, perennial plant growing to a height of 50 to 120 centimeters. Roots are stout, conic, or cylindric. Flowers are hermaphrodite (having both male and female organs). Plant is self-fertile and regenerative. Harvesting a leaf at the break of day often results in a new sprout growing overnight.
Distribution
- Endemic to Japan; especially in the Seven Islands of Izu.
- Of recent interest and cultivation in the Philippines for its herbal medicinal benefits.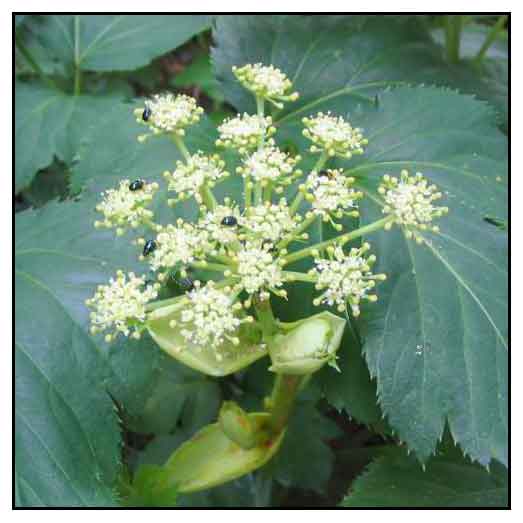 Constituents
- Substantial in vitamin B12 and chalconoids.
- All genus members contain furocoumarins.
- Roots have yielded psoralen, bergapten, xanthotoxin, and angelicin.
- Study isolated seven compounds: 1-cerotol (1), daucosterol (2), stigmasterol (3), quercetin-3-O-β-D-glucopyranside (4), luteolin-7-rhamno-glucoside (5), luteolin-7-O-α-D-glucpyranoside (6) and steviol-l3-O-β-glucopyranoside 19-β-glucopyranosyl ester octaacetate (7). (5)
- Study of leave isolated six chalcone compounds,  2′,4′,4-trihydroxy-3′-[2-hydroxy-7-methyl-3-methylene-6-octaenyl]chalcone (1), 2′,4′,4-trihydroxy-3′-geranylchalcone (2), 2′,4′,4-trihydroxy-3′-[6-hydroxy-3,7-dimethyl-2,7-octadienyl]chalcone (3), 2′,4-dihydroxy-4′-methoxy-3′-[2-hydroperoxy-3-methyl-3-butenyl]chalcone (4), 2′,4-dihydroxy-4′-methoxy-3′-geranylchalcone (5), and 2′,4-dihydroxy-4′-methoxy-3′-[3-methyl-3-butenyl]chalcone (6). (see study below) (28)
- Roots yielded a prenyl chalcone, xanthoangelol, together with known compound 4-hydroxydericin. (39)
- Study isolated five substances from EtOAc-soluble fraction of roots identified as xanthoangelol (1), 4-hydroxyderricin (2), and xanthoangelols B, E and F (3-5). (see study below) (50)
- Study of Angelica keiskei leaves isolated six chalcone compounds, 2′,4′,4-trihydroxy-3′-[2-hydroxy-7-methyl-3-methylene-6-octaenyl]chalcone (1), 2′,4′,4-trihydroxy-3′-geranylchalcone (2), 2′,4′,4-trihydroxy-3′-[6-hydroxy-3,7-dimethyl-2,7-octadienyl]chalcone (3), 2′,4-dihydroxy-4′-methoxy-3′-[2-hydroperoxy-3-methyl-3-butenyl]chalcone (4), 2′,4-dihydroxy-4′-methoxy-3′-geranylchalcone (5), and 2′,4-dihydroxy-4′-methoxy-3′-[3-methyl-3-butenyl]chalcone (6). (see study below) (65)
Properties
- Considered tonic, diuretic, appetite stimulant, wound healing and anti-infective.
- Fumocourmarin increases sensitivity to sunlight and may cause photodermatitis.
- Studies have suggest anti-cancer, antibacterial, antiviral, hepatoprotective, antioxidant, antiproliferative, chemopreventive, antidiabetic activities.



Parts used
Roots, leaves, stems.

Uses
Edibility / Nutrition
- Consumed as vegetable and medicine for hundreds of years.
- Leaves, roots and stems are edible.
- Leaves are eaten raw or cooked.
- Roots are cooked or pickled.
- In Japan, used in the preparation of soba, tempura, socho, tea, ice cream, etc.
- Rich in vitamins, minerals, and dietary fiber.
Folkloric
- In Japan, the yellow sap from stems and stalks once used for external treatment of smallpox.
- Roots traditionally used as diuretic, laxative, analeptic, and galactagogue.
- Used as remedy for bowel disturbances, dysuria, arthritis, and immune diseases.
- In Chinese medicine, believed to activate Qi and Xue. Use in the treatment of menstrual problems. Also believed to increase kidney yin and yang qi.
- Used as lactagogue, to increase mother's milk.
- Used in Indonesia for blood sugar lowering effects.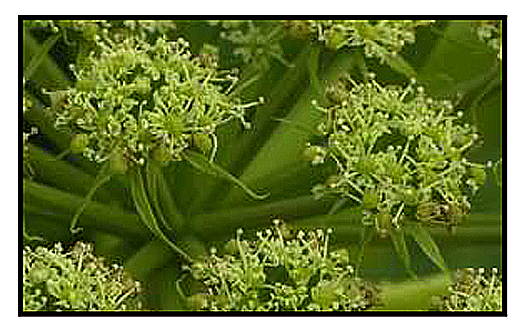 Studies
• Cosmetic Toxicity Study / Leaf Extract: Study evaluated aqueous and ethanol fractions of leaf extract for toxicity when used for cosmetic purposes using the acute eye irritancy test. No changes or damage was seen in terms of ocular or corneal lesions, corneal turbidity, eyelid swelling or discharge. The extracts showed promise as cosmetic ingredients. (2)
• Xanthoangelols / Inhibition of Inflammatory-Induced Plasminogen Activator Inhibitor: Ashitaba exudates yielded xanthoangelol and xanthoangelols B and D which significantly inhibited TNFα-induced PAI-1 production. Results suggest Ashitaba can decrease elevated PAI-1 production, and daily consumption might maintain anticoagulant status by inhibition of elevation of PAI-1 under inflammatory conditions. (3)
• Chemopreventive / Chalcones, Coumarins and Flavanones / Exudate: Study of an ethyl acetate fraction of stem exudates yielded 17 compounds, viz., five chalcones, seven coumarins, and three flavanones. All compounds, except for 10, 16, ad 17, exhibited potent inhibitory effects on EBV-EA (Epstein-Barr virus early antigen) induction in Raji cells, known to be a primary screening test for antitumor-promoters. Results suggest the chalcones, coumarins, and flavanones from the stem exudates may be useful as a chemopreventive in chemical carcinogenesis, and may also be valuable as food ingredients. (6)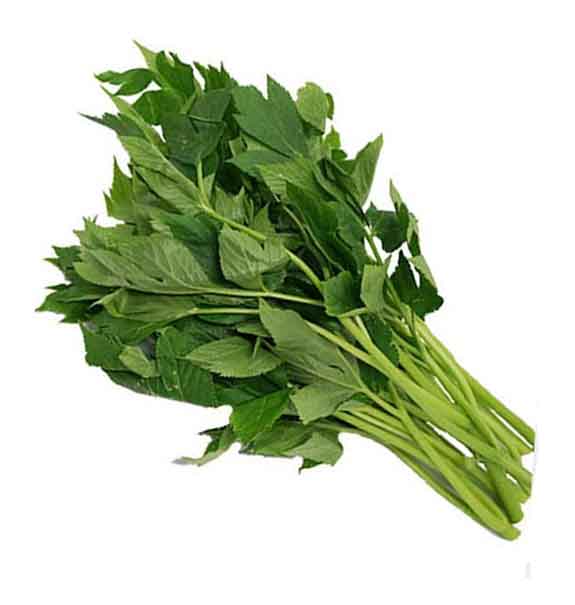 • Chalcones / Adiponectin / Anti-Metabolic Syndrome: Study of an ethanol extract yielded xanthoangelol, 4-hydroxyderricin and six chalcones. The chalcones markedly increased the expression of the adiponectin gene and production of adiponectin in 3T3-L1 adipocytes. Results suggest potential benefit in preventing the metabolic syndrome. (7)
• Antitumor / Leaves: Study evaluated a leaf extract of A. archangelica on growth of Crl mouse breast cancer cells in vitro and in vivo. Results showed antiproliferative activity in vitro and antitumor activity in vivo. The antiproliferative activity could not be attributed to xanthotoxin or furanocoumarins alone. Flavanoids and polysaccharides present in the leaves might have contributed to the antitumor activity. (8)
• Anti-Inflammatory / Leaves: Study of an n-hexane fraction of A. keiskei showed an anti-inflammatory effect, probably mediated through down-modulation of iNOS and COX-2 gene products by blocking the signaling pathways of MAPKs and NF-kB. (9)
• Antiproliferative / Hepatocarcinoma Cells: Study showed Angelica keiskei chalcone can increase the expression of Caspase-3 and Bax protein in mice, and inhibit the proliferative activity of mice hepatocarcinoma cells. (10)
• Angiotensin 1-Converting Enzyme Inhibitor / Antihypertensive: An ACE inhibitor was extracted from an 80% ethanol extract of leaves. The antihypertensive effects on spontaneously hypertensive rats were observed by long-term administration and by single intravenous administration. (11)
• Antitumor / Antimetastatic / Xanthoangelol / Roots: Study evaluated the antitumor and antimetastatic effects of various fractions from a 50% ethanol extract of roots. Study isolated xanthoangelol which showed inhibition of tumor growth in LLC-bearing mice as well as lung metastases, and prolonged survival time in carcinectomized mice. The effects may be due to inhibition of DNA synthesis in LLC cells and tumor-induced neovascularization through inhibition of capillary-like tubes by vascular endothelial cells, and inhibition of binding of VEGF to vascular endothelial cells. (12)
• CCl4 Toxicity Exacerbation / Hepatoprotective on D-Galactosamine-Induced Hepatotoxicity: Study evaluated the hepatoprotective effects of a methanol extract of AK in rats with D-galactosamine and carbon tetrachloride hepatotoxicity. Results showed AK exerted protective effects on D-galactosamine induced hepatotoxicity. However, it exacerbated toxicity induced by CCl4, possibly through increase in activity of aniline hydroxylase, a cytochrome P450 isoenzyme responsible for the metabolic activation of CCl4. (13)
• Antioxidant Enzymes / Lipid Effects / Luteolin: Study on the feeding effects of AL and its processed products in rats fed on a high fat diet showed an increase in expression of antioxidant enzymes, reduced hepatic cholesterol content, and increased effective absorption of luteolin. (14)
• Effects on Metabolic Syndrome: Ingestion of Ashitaba green juice for 8 weeks significantly decreased visceral fat are, body weight, BMI and body fat. No adverse effects were observed. Results suggest a safe foodstuff or supplement for the prevention of metabolic syndrome. (15) This review summarizes current information derived from studies on effects of ashitaba on various pathological disorders associated with metabolic syndrome and discusses effects on blood glucose, obesity, lipid metabolism, and thrombotic tendencies of MetS. Despite numerous convincing studies on biologic activities on how ashitaba chalcones could positively impact human health, chalcones have not yet been developed as pharmaceuticals. Study suggests larger cohort studies of humans and to confirm possible medical applications from a clinical standpoint. (24)
• Inhibition of SARS-Cov Cysteine Proteases / Chalcone 6 : Two viral proteases of severe acute respiratory syndrome corona virus (SARS-CoV), a chymotrypsin-like protease (3CLpro) and a papain-like protease (PLpro) are attractive targets of anti-SAR drugs. Study isolated nine alkylated chalcones and four coumarins from A. keiskei. One of the chalcones, chalcone 6, showed potent inhibitory activity against the two viral proteases with competitive inhibition of 3CLpro and non-competitive inhibition with PLpro. (16)
• Antidiabetic / Chalcone : Ethanol extract of A. keiskei yielded two major chalcones, 4-hydroxyderricin (4HD) and xanthoangelol, that showed strong insulin-like activities via an independent pathway of peroxisome proliferator-activated-y activation. 4-HD specially showed preventive effects on diabetic progression in genetically diabetic KK-Ay mice. (17)
• Chalcones / Apoptosis in Stomach Cancer Cells / Stems: Study of stems identified two chalcones: xanthoangelol and 4-hydroxyderricin. The chalcones showed anticancer activity as evidenced by growth inhibition of human stomach cancer KATO III cells via induction of apoptosis. (19)
• Inhibition of PAI-1 Release from Human Endothelial Cells: Ashitaba exudate suppresses lipopolysaccharide (LPS)-induced plasma plasminogen activator inhibitor 1 (PAI-1), a risk factor for thrombotic disease in mice. Study evaluated the effects of ashitaba chalcones on PAI-1 levels in medium of stimulated human endothelial cells. Xanthoangelol inhibited PAI-1 production by 77.1%. Study suggests further research towards understanding the antithrombotic mechanism of ashitaba. (20)
• Antioxidant: Study evaluated three medicinal plants viz. Neem (Azadirachta indica), Ashitaba (Angelica keiskei) and Lemon grass (Cymbopogon citratus) for antioxidant activity and trace elements. Angelica keiskei yielded carotenoids (120), tocotrienols (11), tocopherols (3.7), Mg (167), Mn (1.6), Cu (1.2), Se (6.5) and Zn (7.7) in mg/kg. Of the three, ashitaba showed the highest antioxidant activity. (21)
• Effect on Body Weight and Visceral Fat / Double Blind Pilot Study / Chalcone: A two-part randomized, placebo controlled double blind pilot study evaluated the effect of ashitaba chalcone powder on body weight and visceral fat in slightly obese adults. There was no significant differences in primary endpoints or safety measures. There was a significant reduction of visceral fat and body weight in the treatment group at 8 weeks compared to baseline. Study sowed evidence of safety of ashitaba chalcones at dose of 200 mg/day for 56 days in humans. (22)
• Antihyperglycemic / No Cholesterol Effect / 7-Day Study: Study evaluated the effect of ashitaba in patients with elevated blood glucose and blood cholesterol levels . Ashitaba leaves and stems, where chalcones are most prominent, were separated from the plant, dried, and powdered. Results showed a seven-day consumption of Ashitaba reduced blood glucose level but not the cholesterol level. (24)
• Possible Antithrombotic Effects / Chalcones: Studies have shown that A. keiskei exerts activity that lead to prevention of thrombosis. Chalcones, xanthoangelol (XA) and 4-hydroxydelicin (4-HD), account for >90% of all chalcones identified in Ashitaba. Chalcones are found in leaves, stems, and roots, and are particularly abundant in yellow exudates from cut ends of stems. Whether or no specific amounts of Ashitaba chalcones are actually effective for preventing thrombotic disease in humans remains to be elucidated. (26)
• Improvement of Liver Function in Heavy Drinkers/ Clinical Trial: Alcohol induced oxidative stress and inflammatory response which can lead to hepatitis and cirrhosis. Previous studies have suggested antioxidant and anti-inflammatory properties, and that AKE could improve abnormalities associated with alcoholic liver disease. A randomized double-blind clinical trial for 12 weeks using heaving drinkers consuming more than 35 units weekly. AJE treatment showed significant decrease in GGT levels, with no significant difference in AST and ALT levels between AKE- and placebo-treated groups. Results suggest AKE supplementation might improve liver function in heavy drinkers. (27)
• Chalcones / Inhibition of IL-6 Production in TNF-α-Stimulated MG-63 Cell / Leaves: Study isolated six chalcone compounds from the leaves of A. keiskei. Among the isolates, compounds 1-3 showed potent inhibitory activity of IL-6 production in TNF-α-stimulated MG063 cell. The inhibitory activity may be affected by the presence of C-4' hydroxyl group in the chalcone moiety. (see constituents above) (28)
• Effect on Lipid Metabolism in Stroke-Prone Spontaneously Hypertensive Rats: Study evaluated the effect of dietary A. keiskei on lipid metabolism in stroke-prone spontaneously hypertensive rats. Results showed an elevation of serum HDL levels and a reduction of liver triglycerides. (29)
• Extraction Efficiency of Phytonutrients / Antioxidant: LC-ESI-MS/MS analysis identified chlorogenic acid, chalcones, and glucosides of luteolin and quercetin as major components. A. keiskei grown in three different conditions showed range in lutein content of 205-265 mg/kg dw, trans-ß-carotene 103-130 mg/kg dw, and total phenols 8.6-9.7 g/kg. Study indicates phytonutrients rich in AK can be extracted partially using ethanol/water and substantial loss of ß-carotene can occur during storage at 4ºC within 2 months and lutein at room temperature within 12 months. (30)
• Chalcone / Effect on Microvessel Density and VEGF Expression of Hepatocarcinoma Cells: Study evaluated the effect of AK chalcone on microvessel density and vascular endothelial growth factor (VEGF) expression on mice hepatocarcinoma cells. Result showed AC could inhibit tumor angiogenesis effectively. Inhibition mechanism may be associated with the down-regulation of VEGF. (31)
• Nanoethosomal gel from leaves for burn treatment: The WHO reports 265,000 deaths a year worldwide due to burn wounds (direct contact with heat or radiation, radioactivity, electricity, friction or chemicals). A collaborative research invented a transdermal delivery therapy with ashitaba leave in the form of a "nanoethosomal gel" for healing burns, The new vesicular carrier improved delivery through the skin. The size of the nanoethosomal vesicles can be modulated from microns to 10 nano microns,increasing bioavailability, penetrating the intercellular space, while also improving the target specificity of the drug. The trial was performed on burns induced on Wistar rats and showed significant results. (33)
• DMC / Natural Compound with Anti-Ageing Properties: Study reports on the identification of the flavonoid 4,4'-dimethoxychalcone (DMC) in the plant Angelica keiskei, as a natural compound with anti-ageing properties. External DMC administration extends the lifespan of yeast, worms and flies, decelerates senescence of human cell cultures, and protects mice from prolonged myocardial ischemia. DMC also induced autophagy, which is essential to its cytoprotective effects from yeast to mice. In Asian traditional medicine, the plant has been ascribed longevity and health-promoting effects. (34)
• Attenuation of Hyperlipidemia and Hepatic Steatosis Caused by Western Diet in C57FK/6J Mice: Study evaluated the protective effects of A. keiskei juice against hyperlipidemia and hepatic steatosis in WD-fed mice. AK significantly attenuated WD-induced increase in plasma triglyceride and VLDL (p<0.001) and hepatic triglyceride (pM0.001). Results suggested daily consumption of AK juice may have potential to prevent WD-induced NAFLD development through mitigation of intestinal barrier damage, intestinal lid absorption, and hepatic ER oxidative stress. (35)
• Prevention of Adiposity in High-Fat Diet Fed Mice: Two main chalcones, 4-hydroxyderricin and xanthoangelol, from Ashitaba have been demonstrated to modulate lipid metabolism in 3T4-L1 and HepG2 cells. This study investigated the effects of Ashitaba extract on adiposity in mice fed a high-fat diet. Ashitaba extract suppressed HF diet induced body weight gain and fat deposition, reduced plasma cholesterol. Ashitaba extract can possibly prevent adiposity through modulation of lipid metabolism through phosphorylation of AMPK in adipose tissue and liver. (36)
• Chalcones / Suppression of Melanogenesis by Targeting BRAF and PI3-K: In melanoma, both BRAF/MEK/ERK and PI3-K/AKT signaling pathways are activated through multiple mechanisms, which results in cell cycle progression and prevention of apoptosis. Study found Ashitaba chalcones, 4-hydroxyderricin (4HD) and xanthoangelol (XAG), suppressed melanoma development by directly targeting both BRAFV600E and P13-K, which blocked activation of downstream signaling. which led to induction of G1 phase cell cycle arrest and induction of apoptosis in melanoma cells. Findings suggest 4HD and XAG are promising chemopreventive or potential therapeutic agents against melanogenesis that act by targeting both BRAF and P13-K. (38)
• Improvement of Immune Response in Mice Vaccinated with Rabies Vaccine. Study determined effect of ethanol extract of leaves on immune response on IL-2, IFN-? Ba;b/C mice vaccinated with rabies vaccine. Results showed Ashitaba significantly increased levels of IL-2 (p<0.05). Study used a simple randomized design. The extract can improved the immune response of IL2 and IFM-? mice vaccinated with rabies vaccine. (41)
• Anti-Amnesic / Scopolamine-Induced Memory Impairment: Memory impairment is a common symptom in patients with Alzheimer's disease (AD). Study evaluated the effects of AK on scopolamine-induced memory impairments in mice using passive avoidance Y-maze, and the Morris water maze tasks. Acetylcholinesterase (AChE) activity evaluated the cholinergic antagonistic effect of AK in the hippocampus and AK effect on phosphorylation of cAMP response element-binding protein (CREB) and expression of brain-derived neurotrophic factor (BDNF) were evaluated by Western blot assays and immunochemistry. Results showed AK significantly attenuated scopolamine-induced cognitive impairment in mice. Increased AChe activity caused by scopolamine was significantly attenuated. Study suggests AK may be useful i preventing deficit of learning and memory caused by AD and aging. (42)
• Isobavachalcone / Chalcones / Apoptosis in Neuroblastoma: Study evaluated six chalcones from Angelica keiskei and two chalcones from Humulus lupulus for cytotoxicity in two human neuroblastoma cell lines (IMR-32 and NB-39) and normal cells by MTT assay. All chalcones exhibited cytotoxicity against neuroblastoma cells, and two of them (isobavachalcone and xanthoangelol H) had no effect on normal cells even at high concentration. Results suggest isobavachalcone induces apoptotic cell death in neuroblastoma via the mitochondrial pathway and has no cytotoxicity against normal cells. Isobavachalcone has potential as an efficacious and safe drug for the treatment of neuroblastoma. (43)
• Alkylated Chalcones / Influenza Virus Neuraminidase Inhibition: Bioassay-guided fractionation isolated six alkylated chalcones (1-6) from A. keiskei. The chalcones were evaluated for their ability to inhibit influenza virus NA hydrolysis. Compound 3, 2-hydroxy-3-methyl-3butenyl alkyl (HMB) substituted chalcone (IC50=12.3µM) showed most potent inhibitory activity. All NA inhibitors screened were found to be reversible noncompetitive inhibitors. (44)
• Antitumor / Antimetastatic / 4-Hydroxyderricin / Roots: A previous study reported a 50% ethanol extract and xanthoangelol inhibited tumor growth and metastasis to lung in Lewis lung carcinoma (LLC)-bearing mice. This study evaluated the effects of 4-hydroxyderricin on tumor growth and metastasis to the lung and liver in subcutaneous and intrasplenic LLC-implanted C57BL/6J female mice. Hydroxyderricin at dose of 50 mg/kg orally inhibited the tumor growth and inhibited metastasis and prolong survival time in mice after removal of subcutaneous tumors by surgical excision. Results suggest the antitumor and antimetastatic activities of 4-hydroxyderricin may be modulated by the immune system and the inhibition of angiogenesis. (also see study 12) (45)
• Skin Irritancy and Phototoxicity Testing / Cosmetic Use Potential: Acute skin irritancy and phototoxicity tests assessed whether aqueous and ethanol fractions of A. keiskei induce skin irritation and phototoxicity. Skin of rabbits or guinea pigs was treated with fractions (100 mg/dose). Results showed the fractions did not induce toxicity in the skin of test animals assessed by anatomical and pathological observations. Results suggest potential for use as cosmetic ingredients. (46)
• Antimalarial / Roots: Chalcones is one of the compounds having antimalarial activity. Study evaluated the antimalarial activity by in vitro assay of Ashitaba root extract against Plasmodium falciparum strain 3D7 using concentrations of 100, 10, 1.0, 0.1 and 0.01 µg/ml. Results showed inhibitory activity7 with IC50 of 1609 µg/ml compared to chloroquine with IC50 of 0.007 µg/ml. (47)
• Xanthoangelol / Apoptosis in Neuroblastoma: Neuroblastoma is the most common solid tumor in children. A recent study showed xanthoangelol, a major chalcone constituent of stem exudates induced caspase-3-dependent apoptosis in neuroblastoma cells. Study showed xanthoangelol triggers oxidative stress by generation of reactive oxygen species and induces apoptosis through release of cytochrome c and activation of caspase-9 in IMR-32 cells. Pretreatment with antioxidant. vitamin E, prevented the increase of ROS and apoptosis induced by xanthoangelol. Results showed xanthoangelol induces apoptosis by increasing ROS and targeting DJ-1—a mechanisms that may be an effective therapeutic approach for advanced neuroblastoma. (48)
• Anti-Myopathy Effect / Hydroxyderricin: Study evaluated the anti-myopathy effect of chalcones from ethanol extract of AK (EAK) in cellular and animal models of dexamethasone induced muscle atrophy. Among compounds isolated from EAK, 4-hydroxyderricin was the most most effective principle in stimulation myogenesis of C2C12 myoblasts via activation of p38 mitogen-activated protein kinase (MAPK). Results showed the ethanol extract and the active principle, 4-hydroxyderricin, can overcome muscle atrophy through double mechanisms of decreasing muscle protein degradation and activating myoblast differentiation. (49)
• Artery Relaxation / Chalcones / Roots: Study isolated five substances from EtOAc-soluble fraction of roots identified as xanthoangelol (1), 4-hydroxyderricin (2), and xanthoangelols B, E and F (3-5). Compound 3, xanthoangelol B, inhibited the phenylephrine-induced vasoconstriction most strongly. Results showed compounds 1, 2, 4 and 5 inhibit phenylephrine-induced vasoconstriction through endothelium-dependent production of EDRF/NO and/or through reduction of the [Ca2+]i elevation without affecting EDRF/NO production. (50)
• Nephroprotective / Cytotoxicity / Stem and Leaves: Study investigated the cytotoxicity and nephroprotective activity of ethanol extract of A. keiskei on N-acetyl-p-benzoquinone imine (NAPQI) induced human embryonic kidney (HEK293) cell line. The WST-8 assay showed cytotoxicity IC50 of ASE=2322 µg/mL and IC50 of ALE=2283 µg/mL. Nephroprotective activity assay revealed ASE possesses nephroprotective activity against NAPQI-induced HEK293 cell line at 1161 µg/mL. Results showed lower concentrations of ASE (stems) and ALE (leaves) (<2000 µg/mL) are not toxic to HEK2993 cell line, and only ASE showed activity to protect the HEK293 cell line against NAPQI damage. Results suggest potential as a plant-based nephroprotective drug. (51)
• Inhibitory Activity on Dipeptidyl Peptidase-IV / Sap: Study isolated a chalcone compound, 4-hydroxyderricin (4-HD) from an ethyl acetate fraction of yellow sap from A. keiskei. In vitro study showed the 4-HD inhibits DPP-IV (IC50=81.44 µM) compared to sitagliptin (IC50 0.87 µM). Results suggest potential for DPP-IV inhibition, but suggests further structure modification of 4-HD by introducing a polar moiety (-OH) to obtain a strong activity as DPP-IV inhibitor. (52)
• Silver Nanoparticles / Antibacterial: Study reports on a novel approach for synthesizing large-sized silver nanoparticles using A. keiskei water extract. Study evaluated the bacteriostatic and bactericidal effects of AgNPs against food -borne pathogen Listeria monocytogenes. Results showed the AgNPs could damage the membrane integrity of L. monocytogenes cells and induce release of nucleic acids from the cells, thereby disrupting cell reproduction. The MIC and MBC of AgNPs against Listeria monocytogenes were 12.5 and 25 µg/mL, respectively. (53)
• Attenuation of Bile Duct Ligation-Induced Liver Injury / Roots: Study evaluated A. keiskei root extract (AKE) effect on alleviating liver injury, inflammation, and fibrosis in mouse models of acute cholestasis induced by bile duct ligation. Oral administration of root extract (200 or 500 mg/kg) attenuated hepatocellular necrosis and significantly reduced serum levels of bile acids and bilirubin in BDL mice. AKE treatment decreased liver inflammation, oxidative stress, and fibrosis. AKE also suppressed the NF-kB pathway, suggesting a possible mediator of its anti-inflammatory activity. Results suggest potential for treating cholestatic liver disease. (54)
• Inhibition of Platelet Aggregation: Study has reported on the ability of major chalcones, xanthoangelol (XA) and 4-hydroxyderricin (4-HD) from roots to inhibit platelet aggregation. Study evaluated the anti-platelet activities of Ashitaba exudate and its constituent chalcones using mouse-tail bleeding models that reflect platelet aggregation in vivo. Ashitaba exudate and the major chalcone subtype XA, suppressed lipopolysaccharide (LPS)-induced shortening of mouse tail bleeding. Results suggest the major chalcone subtype in Ashitaba, XA, has anti-platelet activities in vivo. (55)
• Xanthoangelol / Apoptosis in Neuroblastoma and Leukemia Cells / Stems: Xanthoangelol, a major chalcone constituent of stem exudates of A. keiskei, was evaluated for cell toxicity and apoptosis-inducing activity in human neuroblastoma (IMR-32) and leukemia (Jurkat) cells. Xanthoangelol induces apoptotic cell death by activation of caspase-3 in neuroblastoma and leukemia cells through a mechanism that does not involve Bax/Bcl-2 signal transduction. Results suggest potential for xanthoangelol as treatment for neuroblastoma and leukemia. (56) (also see 48)
• Xanthoangelol / Inhibition of Endothelin-1 through Suppression of NF-kB / Roots: Study evaluated the effects of xanthoangelol, xanthoangelol D, E, and F, isolated from the root of A. keiskei on NF-kB activation and ET-1 gene expression in cultured porcine aortic endothelial cells (PAECs). Results showed xanthoangelol D may be useful for the treatment of various vascular diseases involving NF-kB activation. (57)
• PTP1B inhibitors / Stems: (PTP1B (Protein tyrosine phosphatase 1B) is a negative regulator of the leptin and insulin signaling pathways and is related to obesity and diabetes.) Study isolated three new chalcones, xanthoangelols K-M (1-3), together with 19 known compounds from the stems of A. keiskei. Among them, six chalcones, xanthoangelol K (1), xanthoangelol (4), xanthoangelol F (5), 4-hydroxyderricin (6), xanthoangelol D (7), xanthoangelol E (8), and a coumarin, methoxsalen (17), showed strong PTP1B inhibitory effect with IC50s of 0.82, 1.97, 1.67, 2.47, 3.97, 1.43, and 2.53 µg/mL, respectively. Compound 1 inhibited PTP1B with characteristics typical of a competitive inhibitor. (58)
• Hypotensive / Lipid Regulatory / 4-Hydroxyderricin: Study evaluated the effect of 4-hydroxyderricin, a chalcone from the yellow liquid of stems, on blood pressure and lipid metabolism in SHRSP (stroke-prone spontaneously hypertensive rats). Rats were fed diets containing 0.07% 4-hydroxyderricin for 7 weeks. Results showed dietary 4-hydroxyderricin produces suppression of the elevation of systolic blood pressure, reduction of serum VLDL and a decrease in hepatic triglyceride content in SHRSP. (59)
• Antisecretory Gastric Effects / Xantoangelol and 4-Hydroxyderricin: Study showed two chalcone derivatives, xanthoangelol (1) and 4-hydroxyderricin (2) isolated from A. keiskei, inhibited pig gastric H+, K+-ATPase with IC50s of 1.8 and 3.3 µM, respectively. The compounds inhibited proton transport in-vitro in a dose dependent manner. Compound 1 at 100 mg/kg i.p. significantly inhibited acid secretion and formation of stress-induced gastric lesions. Results suggest the antisecretory effect of xanthoangelol is due to inhibition of gastric H+, K+-ATPase. (60)
• Antidiabetic / Flavonoid-Rich Extract / Leaves: Flavonoid-rich ethanol extract from A. keiskei (FREE-AK) leaves were studies for hypoglycemic and hypolipidemic effects in STZ-induced diabetic mice. FREE-AK uptake exhibited marked decrease in fasting blood glucose and significant improvement on glucose tolerance in diabetic mice. FREE-AK treatment at dose of 800 mg/kbw resulted in reduction in total serum triglyceride level. Results showed hypoglycemic and hypolipidemic effects in STZ-induced diabetic mice. FREE-AK may have potential as dietary treatment for type 2 diabetes. (61)
• Xanthine Oxidase Inhibition / Chalcones: Study isolated principle phenolic compounds (1-16) from A. keiskei. The abundance of chalcones (12-16) decreased as follows: root bark (10.51 mg/g) > stems (8.52 mg/g) > leaves (2.63) > root cores (1.44 mg/g).The chalcones were responsible for the xanthone oxidase inhibition by the plant. The most potent inhibitor, xanthoangelol inhibited XO with IC50 of 8.5 µM. Chalcones 12-16 exhibited mixed-type inhibition characteristics. (62)
• Hepatoprotective / Acetaminophen Hepatotoxicity / Leaves: Study evaluated the protective effect of ethanol extract of A. keiskei on acute hepatotoxicity induced by acetaminophen in HepG2 human hepatocellular liver carcinoma cells and HepaRG hepatic progenitor cells. Ak ethanol extract downregulated apoptosis via intrinsic and extrinsic pathways against AAP-induced hepatotoxicity. Results suggest AK can be a useful preventive agent against acetaminophen-induced apoptosis in hepatocytes. (63)
• Monoamine Oxidase Inhibition / Xanthoangelol and 4-Hydroxyderricin: Monoamine oxidase inhibitors (MAO) are widely used as antidepressants. Activity-guided fractionation of extracts isolated two prenylated chalcones xanthoangelol and 4-hydroxyderricin and a flavonoid, cynaroside. The three compounds are major active ingredients that inhibit the MAOs and DBH activities. Xanthoangelol is a nonselective MAO inhibitor, and a potent dopamine ß-hydroxylase (DBH) inhibitor. IC50s of xanthoangelol to MAO-A and MAO-B were calculated at 43.4 and 43.9 µM, similar to iproniazid, a nonselective MAO inhibitor used for depression. Hydroxyderricin is a potent selective MAO-B inhibitor and also mildly inhibits DBH activity. Results suggest the two prenylated chalcones, xanthoangelol and 4-HD are potent candidates for development of combined antidepressant drug. (64)
• Inhibition of IL-6 Production: Study of Angelica keiskei leaves isolated six chalcone compounds. Compounds 1-3 appeared to have potent inhibitory activity of IL-6 production in TNF-α-stimulated MG-63 cell. The inhibitory activity may be affected by presence of C-4' hydroxyl group in the chalcone moiety. (see constituents above) (65)
• Improved Insulin Resistance and Hypertriglyceridemia: Study evaluated the effect of A. keiskei on insulin resistance and hypertriglyceridemia in fructose-drinking rats as a model of metabolic syndrome in male Wistar rats. Treatment with AE enhanced expression of acyl-CoA oxidase 1 (ACO1), medium chain acyl-CoA dehydrogenase (MCAD), ATP-binding membrane cassette transporter A1 (ABCA1) and apolipoprotein A1 (Apo-A1) genes. Results suggest AE improved the insulin resistance and hypertriglyceridemia of fructose drinking rats. (66)
• No Effect with Dietary Supplementation / Clinical Trial: Randomized single-blind placebo controlled clinical trial evaluated the antidiabetic effect of Angelica keiskei. Dietary supplementation of 500 mg ashitaba capsules 3x daily for two weeks did no exhibit glucose lowering effects among type II diabetic patients maintained on oral anti-diabetic medications. (67)
• Antimalarial / Leaves: Study evaluated the activity of Ashitaba leaf ethanolic extract as an antimalarial drug to Plasmodium flaciparum strain 3D7, using five concentrations i.e., 0.01, 0.1, 1.0, 10 and 100 ppm. Highest inhibitory effect was seen with concentration of 100 ppm with percent inhibition of 79.47 ± 26.91%. The 50% inhibition showed half maximal inhibitory concentration (IC50) of 2.09 ppm, compared t positive control of chloroquine with IC50 of 0.007 ppm. The leaf extract exhibited very active antimalarial activity7 with IC50 value of less than 5 ppm. (68)
• Effect of Drying on Polyphenol and Antioxidant Properties / Leaves and Stems: Study evaluated the effect of drying methods i.e., natural drying (ND), convective drying (CD), freeze-drying (FD), and vacuum oven drying (VOD) on polyphenolic content and antioxidant capacity of stems and leaves. Freeze-dried products showed the lowest color differences compared to fresh, and also the highest retention of main polyphenol components i.e., quercetin, luteolin, and chlorogenic acid, and antioxidant activity (DPPH and FRAP), followed by ND. The leaves exhibited stronger antioxidant activity and contained higher phenolic content than stems. While the results suggest that FD is the superior drying technique, the high cost of FD may limit its application. Natural drying could be the alternative method if expense is a concern. (69)
• Chalcones / Inhibition of Zika Virus Replication Proteins: Docking studies suggested chalcones can inhibit ZIKC NS3 protease and NS5 polymerase. Study evaluated the anti-ZIKV activity of three chalcones, 4-hydroxyderricin (4HD), xanthoangelol (XA), and xanthoangelol-E (XA-E) purified from a methanol-ethyl acetate extract of A. keiskei. The chalcones 4-HD, XA, and XA-E inhibited ZIKV NS3 protease. XA displayed inhibitory activity in an assay designed to measure activity of the ZIKV NS5 RdRp. The chalcones 4-HD and XA-E displayed anti-ZIKV activity and low cytotoxicity. Their simple structures and relative ease of modification makes the chalcones attractive candidates in the search of anti-ZIKV therapeutics. (70)
• Antituberculosis / Stem: Study evaluated the sensitivity of Mycobacterium tuberculosis (Mtb) H37Rv strain to A. keiskei stem extract. Phytochemical analysis yielded secondary metabolites viz. flavonoid, polyphenol, tannin, monoterpenoid and sesquiterpene, quinon, and saponin. Anti-TB test showed active activity of ethanolic extract against Mtb H37Rv strain with MIC ranging from 6% to 8%. Results suggest a prospective natural anti-TB drug. (71)
• Inhibition of Melanin Biosynthesis / Chalcones: In search of whitening agents, chalcones from the stems of A. keiskei viz., xanthoangelol, xanthoangelol H, deoxyxanthoangelol H, and deoxydihydro-xanthoangelol H were evaluated for effects on tyrosinase and melanin formation in B16 melanoma cells. All the chalcones inhibited melanin formation in B16 melanoma cells, with low cytotoxicity. (72)
• Effect on Obesity Induced Increase in Plasminogen Inhibitor-1: Plasminogen activator inhibitor-1 (PAI-1) is the primary physiological inhibitor of tissue plasminogen activator. Excessive amounts of PAI-1 disrupt fibrinolytic balance and promote a prothrombotic state. Study evaluated the effects of ashitaba yellow exudate (AE) on enhanced PAI-1 levels in Tsumura Suzuki obese diabetic (TSOD) mice. AE decreased plasma PAI-1 levels by suppressing both adipose tissue retention of PAI-1 protein and liver PAI-1 production in TSOD mice. Diet supplementation with AE may help prevent thrombotic disease or alleviate the risk of thrombotic diseases and suppress metabolic state in obese individuals. (73)
• Ashitabaol A / Free Radical Scavenging Activity / Seeds: Study isolated a new sesquiterpenoid, ashitabaol A, from the seeds of A. keiskei. Ashitabaol A exhibited free radical scavenging activity. (74)
• Anti-COVID-19 / Inhibition of 3CLpro Activity / Chalcones: The virally encoded chymotrypsin-like protease (3CLpro) from severe acute respiratory syndrome coronavirus 2 (SAR-CoV-2), which facilitates the replication of SARS-CoV in host cells, is one potential pharmacological target for the development of anti-SARS drugs. Various pure compounds, including polyphenols, terpenoids, chalcones, alkaloids, biflavonoids, flavanones, anthraquinones and glycosides, have shown potent inhibition of SARS-CoV-2 3CLpro activity with 50% inhibitory concentration (IC50) values ranging from 2-44 µg/mL. Angelica keiskei possess a variety of secondary metabolites, including coumarins, flavanones, and chalcones. Xanthoangelol E, an alkylated chalcone, and xanthoangelol B had the strongest inhibitory activity against 3CLpro, with IC50 values of 11.4 and 22.2 µmol/L, respectively. Both act through competitive inhibition of SARS-CoV 3CLpro. In silico docking simulations suggested the chalcones fit very well into the pocket (substrate-binding) of 3CLpro. Alkylated chalcones, with the exception of coumarins, showed dose-dependent inhibitory action. The most effective inhibitor was xanthoangelol E, which presents as a candidate for a COVID-19 therapy strategy. (75)
• Xanthoangelol / Inhibitory Activity on α-Glucosidase: Study isolated xanthoangelol (XA) from the yellow sap of A. keiskei and evaluated its effect on α-glucosidase and dipeptidyl peptidase (DPP-IV) by in silico and in vitro methods. Acarbose and sitagliptin were used as reference drugs. The XA inhibited both α-glucosidase (IC50 14.45 µM, acarbose 207 µM) and DPP-IV (IC50 10.49 µM; sitagliptin 0.87 µM). Results suggest the XA isolated from the yellow sap of AK has potential for further development as inhibitory of α-glucosidase and DPP-IV. (76)
• Inhibitory Effect on Atopic Dermatitis / / Inhibitory Activity on α-Glucosidase: Study evaluated the anti-atopic dermatitis effect of A. keiskei extract using a DNFB-induced animal model of atopic dermatitis symptoms. A. keiskei was prepared by extraction with DW, 50% ethanol, and 100% ethanol in addition to fresh juice. All extracts reduced the thickness levels of ears and ear epidermis against swelling by DNFB inducement, especially in the aqueous-extract treated group. mRNA expressions of matrix metalloproteinases (MMPs) were not observed, indicating alleviation of AD in an MMP-independent manner. Results suggest AK extract has an inhibitory effect on atopic dermatitis, and may be a useful biomaterial for the development of cosmeceuticals. (77)
• Inhibition of Melanin and Tyrosinase Enzymes / Cream formulation of Leaves: Excessive sun exposure results in increase activity of the tyrosinase enzyme and amount of melanin in the skin, which causes hyperpigmentation. Study evaluated the effect of Ashitaba leaves 8% extract cream formulation in inhibiting the increase of melanin and tyrosinase enzymes compared to hydroquinone 4% cream in ultraviolet B-exposed guinea pig (Cavia porcelluus) skin. Results showed the 8% ashitaba cream extract inhibited the increase of melanin as effective as hydroquinone cream, and inhibited increase in tyrosinase enzyme, not as effective as hydroquinone cream. (78)
• Xanthoangelol / Preventive of Dextran Sulfate Na-Induced Colitis / Roots: Study evaluated the effects of xanthoangelol on diarrhea and inflammation in the large intestine of IBD model mice with 3% dextran sulfate sodium (DSS)-induced colitis. Xanthoangelol (25 mg/kg) reduced the Disease Activity Index (DAI) of colitis. It attenuated DSS-induced reductions in RBC and platelet counts and prevented DDS-induced mucosal ulceration and eosinophil infiltration. Xanthoangelol also reduced DSS-induced increases in colonic MCP)-1, IL-1ß, and TNF-α levels. Results suggest potential treatment for IBD (79)
In the news
• Secret of longevity in plant that appears to slow aging: News item reports on a Japanese plant that may contain a compound which could slow aging. The compound is found in Angelica keiskei Koidzumi plant. Researchers identified it as flavonoid 4,4'-dimethoxychalcone, a natural compound with anti-aging properties. (32)

Buyer beware !
• Ashitaba has been getting a lot of press, being touted as the new "miracle" herb. However, a lot of potted "ashitaba" being sold locally from roadside herbal gardens and mall stalls, intentionally or unintentionally, is actually Sabungai (Gynura procumbens) rather than ashitaba (Angelica keiskei). (See Sabungai)
Availability
- Cultivation.
- Seeds, plants, leaf powder, and tea products in the cybermarket.