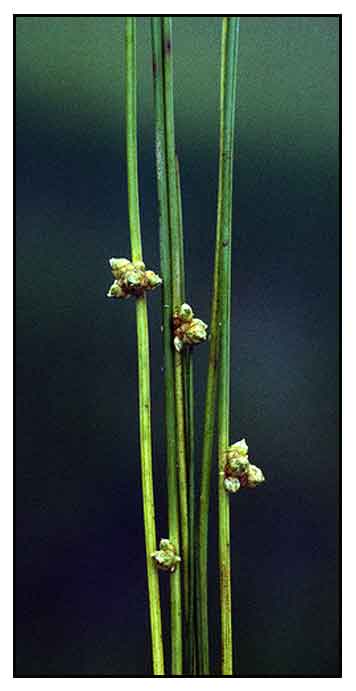 Botany
Apurau is an erect, non-rhizomatous perennial glabrous plant growing up to 20 to 50 centimeters high. Stems are densely tufted, smooth, hollow, rather spongy, terete, leafless, and when dry, often transversely septate. Spikelets are 7 to 30, crowded, ovoid to oblong, 1 centimeter long or less. Glumes are ovate, about 4 millimeters long. Nuts are 3-angled, dark-brown to black and shining, obovoid, about 2 mm long. Hypogynous bristles are absent.
Distribution
- In open, wet places in settled areas at a low altitude in Luzon Provinces of Cagayan, Ilocos Norte, Pangasinan, Nueva Ecija, Rizal and Laguna.
- Also occurs in the Old World tropics.
Constituents
- A methanolic fraction of seeds showed an excellent source of phenolic compounds and antioxidants. Alkaloids and saponins were 0.0265 g and 0.0808 g/100 g, respectively. Highest phenolic, flavonoid, and flavanol contents were 26.6733 mg GAE 100 mg, 9.568 µg CE 100 mg, and 5.81 mg RE 100 mg, respectively. (see study below) (5)
- Nutritional composition of S. articulatus seeds (g/100g) yielded moisture 8.19 g, ash 4.95 g, protein 0.15 g, fat 6.15 g, crude fiber 20.53 g, carbohydrates 80.56 g, food energy 311.935 Kcal. Mineral content yielded (ppm) iron 0.85, copper 0.10, manganese 1.21, zinc 0.13, potassium 62.55. Trace elements and heavy metals (ppm) yielded arsenic 0.34, lead 0.17, and nickel 0.02. (5)
- Study of biomass of three medicinal weeds (S. articulata, R. palustris, E. rothiana) yielded very high K, Ca, and Fe contents. Polyphenols, flavonoids, P, , Cl and Mg were identified at moderate levels. (8)
Properties
- Considered purgative.
- Studies have suggest antibacterial and antioxidant properties.

Parts used
Whole plant.

Uses
Edibility
- In India, seeds of Scirpus articulatus are eaten as granular sweets. (5)
- Roasted endosperm from nuts used in the preparation of delicious foodstuff.
- For the preparation of Laddu. The soft puffy endosperm is eaten with warmed sweetened milk or prepared with melted sugar or gur. (8)
Folkloric
- In India, plant is used as a purgative.
- In the Jaipur district, used for vomiting.
- In Ayurveda, leaves and fruits used for pain, fevers, body aches. (6)
- In Bangladesh, roots and branches used for baby's vomiting and diarrhea. The juice from well-grounded roots given to babies before breakfast.
- In Africa, used for pain and fevers.
- Others
- Veterinary: Whole plant given as cattle food to increase lactation. (6)
Studies
• Nutrient Removal Potential: Study evaluated the nutrient removal capacity of Lemna major (floating macrophyte) and compared with Scirpus articulatus (emergent macrophyte) in hypertrophic mesocosms held in situ. (3)
• Nutritional / Antioxidant / Antibacterial / Seeds: Study evaluated underutilized seeds of Scirpus articulatus for nutritional and antioxidant potential. Nutritional profiling showed an excellent source of phenolic compounds and natural antioxidants in the methanolic fraction. The methanolic extract of seeds showed good antioxidant potential of ABTS (IC50 0.75 mg/ml and FRAP 979.90 µg BHTE 100 mg). Findings suggest a new valuable ingredient for food and nutraceutical preparations. (see constituents above) (5)
• Antibacterial / Seeds: Study evaluated the antibacterial activity of seed extracts against gram-positive ( S. aureus, S. epidermis, and B. subtilis) and gram-negative (E. coli and P. mirabilis) bacterial strains. A zone of inhibition was observed for all the methanolic fractions of seed, with no zone of inhibition with hexane and chloroform fractions. (5)

Availability
Wild-crafted.