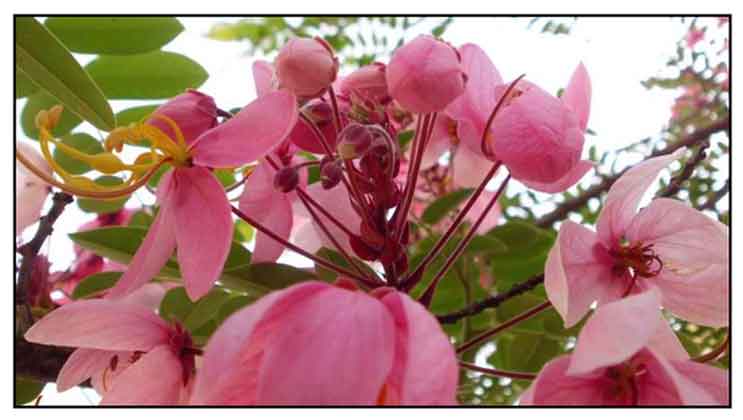 Botany
Apostola is an unarmed tree, attaining a height of 10 meters or taller. Leaves are about 30 centimeters long, divided into 5 to 12 pairs of oblong to elliptic-ovate leaflets, with acute tip. Leaves shed before flowering starts. Flowers are clustered, pale pink at first, become bright pink, fading to white with age. Fruit is cylindrical, 40 to 60 centimeters long, 0.5 to 1 centimeter wide, green when young, becoming black as it ripens. Seeds are numerous along the entire length of the fruit.
Cassia nodosa is very similar to Cassia javanica, differing mostly from the latter in the absence of spines on the trunk and branches.
Distribution
- Introduced.
- Garden cultivation.
- Indigenous in the Eastern Himalayas to the Malay Peninsula.
Constituents
- In a study for primary metabolites, pods yielded the highest amount of soluble sugars, lipids, phenols, DNA, and chlorophyll; the leaves, ascorbic acid, proteins, RNA and carotenoids; and in stems, starch. (4)
- Leaves yielded a new chromone, 5,4'-dihydroxy-7-methyl 3-benzyl chromone, along with three known flavonoid compounds as unsubstituted flavone, kaempferol-3-o-rhamnoside and quercetin-3-o-arabinoside. (7)
Properties
- Hypoglycemic, antifertility.

Parts used
Leaves, flowers.

Uses
Folkloric
- No reported folkloric medicinal use in the Philippines.
- Closely related and/or considered synonymous to Tindalo (Cassia javanica). Folkloric uses are shared.

Studies
• Hypoglycemic: Study investigated the hypoglycemic effect of C. nodosa leaves on normal and STZ-induced diabetic rats. Unlike acute, subacute treatment showed highly significant reduction of blood glucose (40.29%) compared to standard drug gibenclamide (63.51%). (3)
• Nodososide: Study isolated a new anthraquinone glycoside, nodososide, from the alcoholic extract. Hydrolysis of the compound yielded d-glucose and an aglycone, nodosin. (5)
• Antifertility / Kaempferol-7-O-glucoside: Study isolated flavonoids from C. nodosa and evaluated it for antifertility activity. Study yielded a new flavonoid kaempferol-7-O-glucoside which when fed to rats reduced fertility in male rats by 95%, with significant reduction of sperm concentration of testes and epididymides, with reduced motility of cauda epididymal sperm. (6)
• Antioxidant: Study evaluated the methanolic extracts of leaves of seven Egyptian Cassia species using the DPPH scavenging activity method. Cassia nodosa was 3rd in antioxidant potency. (8)
• Antimicrobial / Kaempferol-7-O-Glucoside: Study isolated flavonoids from different parts of C. nodosa and evaluated for antimicrobial activity. Flowers yielded the highest levels of flavonoids, with higher levels of total quercetin and kaempferol(F+B) and kaempferol-7-O-glucoside. Quercetin was highly effective against E. coli, A. flavus, A. niger. F. moniliforme and R. bataticola. (9)
• Antimicrobial / Leaves: Study investigated the antimicrobial activity of sequential extracts of leaves of Cassia nodosa against S. aureus, S. typhi, E. coli, P aeruginosa and fungi including A. flavus, A. niger, F monilliformae and R bataticola. Results showed most of the extracts were effective against all the test organisms. (10)
• Study on Primary Metabolites of Cassia Sp: In a study of Cassia species for primary metabolites, it was found that C. nodosa leaves had higher levels of starch, lipids, chlorophylls and nucleic acid. Phenol content was also high in the leaves of C. nodosa. (11)
• Anthraquinones / Emodin and Rhein / Antimicrobial: Study evaluated the antimicrobial activity of isolated anthraquinones from different parts of C. nodosa against various bacterial and fungal strains. Phytochemical screening yielded Emodin and Rhein. Emodin showed maximum activity against F. moniliforme, while Rhein was more active against A. flavus. (12)
• Acute Toxicity Study: Acute toxicity study using OECD guideline in male Wistar albino rats (200 to 250 g) showed the drug to be safe up to 2 g/kg body weight. Test dose of 0.5 g/kbw was chosen for efficacy studies. (14)
Availability
Wild-crafted.