General info
- Anthurium is the national flower of Mauritius. It ranks ninth in the global flower trade. (4)
- Anthurium is second, only to orchid, among tropical cut flowers. It is a member of the family Araceae which consists of 108 genera and approximately 3750 monocotyledonous species. (6)

Botany
Anthurium is an evergreen perennial plant that can grown to a meter in height. Leaves are large, dark, glossy, oblong or heart-shaped, up to 30 centimeters in length. Each leaf is held on a 30 to 60 centimeter petiole. Flowers are slender, finger-like or tail like spadix above a shiny, waxy, crinkled, heart-shaped spathe, red to bright orange.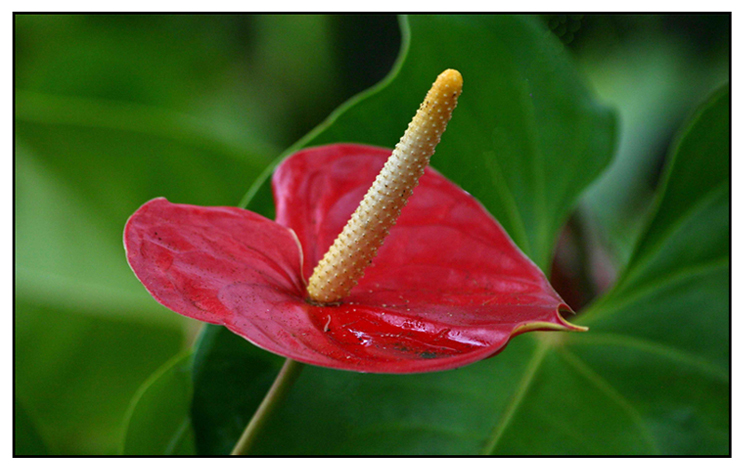 Distribution
- Introduced.
- Ornamental cultivation.
- Grows well in the Baguio area.
- Popular pot or cut flower because of its longevity.
Constituents and Toxicity
- Whole plant, especially the sap, yields calcium oxalate crystals. Also contains proteolytic enzymes that can induce histamine release and cause allergic reactions in sensitive individuals. (2)
- Leaves and stems contain minute, sharp crystals, or raphides of calcium oxalate that can cause swelling and burning of the lips, mouth, and throat, and sometimes, difficulty swallowing and breathing. The calcium oxalate crystals can also cause irritation of the skin and eyes. (2)
- Occasional reports of intense eye and skin itching when in close proximity, without actual contact, raising the possibility of airborne allergens.
P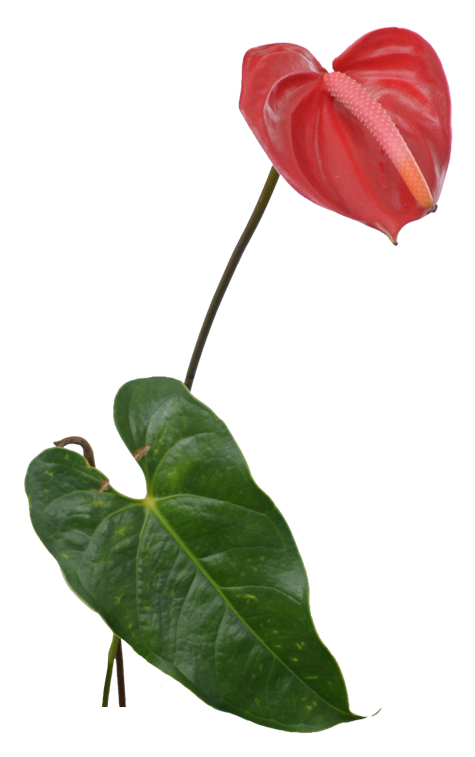 roperties
- Plant components known to cause allergic reactions.
- Considered antimicrobial, air-filtering.

Parts used
Flowers, leaves.

Uses
Folkloric
- No reported folkloric medicinal use in the Philippines.
- Elsewhere, flower ash reportedly used to treat boils.
- Crushed leaves rubbed on caterpillar sores.
- In China, reportedly used for rheumatic pains.

Studies
• Air-Filtering: In the NASA Clean Air Study, Anthurium adraeanum is in the list of indoor plants that may remove toxic agents from the air, helping neutralize the effects of sick building syndrome. As an air-filtering plant, anthurium removes formaldehyde, ammonia, xylene and toluene. (1)
• Formaldehyde Removal: Anthurium andraeanum was in the top 15% of 40 woody and herbaceous foliage plants tested for formaldehyde removal. (5)
Management of Oxalate Poisoning
• Symptoms: Ingestion can cause painful irritation and blistering of the mouth and throat, hoarseness and dysphagia.
• Prehospital Care: Decontaminate mouth, eye, and skin by physically removing all plant material. Treat eye and skin exposure with copious water irrigation. (3)
• Emergency Department Care: Remove any plant material from the oral cavity. If airway compromise is ruled out, patient may be allowed to drink cold liquids, eat crushed ice, or frozen desserts for relief. Oral swishing of diphenhydramine elixir may provide anesthetic and antihistamine effects. Laryngeal edema should be treated with antihistamines. No data supports the use of steroids for laryngeal edema caused by oxalate-containing plants. (3)
Note: Anthurium andraeanum's air-filtering property seems to be negated by the risk of calcium oxalate exposure.
Availability
- Cultivated.
- Seeds in the cybermarket.