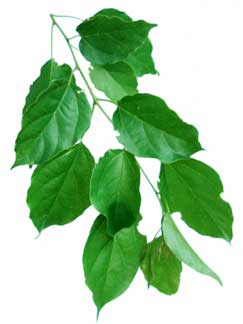 Botany
A tree growing to a height of 5 to 10 meters, deciduous and smooth or nearly so. Leaves are alternate, ovate to oblong-ovate or elliptic-ovate, 6 to 10 cm long, with entire or undulate margins, pointed tip and with pointed, rounded or heart-shaped base. Flowers are stalkless, white or yellowish-white, about 7 mm long and borne in lax inflorescences 5 to 10 cm long. The calyx is ovoid. The corolla tube no longer than the calyx with spreading and reflexed lobes. Throat of the corolla and stamens are hairy. Fruit is a drupe, yellowish white or pinkish, ovoid, 10 to 13 mm long with a rather scanty pulp and a hard stone. The persistent calyx in the fruit is broadly funnel-shaped, enlargede and about 8 mm diameter.
Distribution
Throughout the Philippines.
Common in secondary forests and thickets and low and medium altitudes.
Constituents
Bark contains a large amount of tannic acid.
Fruit pulp contains sugar, gum, extractive matters and ash.
Bark contains a principle similar to "cathartin."

Properties
Fruit is considered demulcent; the bark, astringent and tonic.
Parts used
Leaves, fruit, seeds, bark.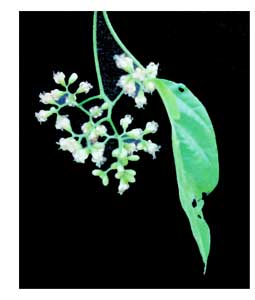 Uses
Folkloric
The bark is moistened an applied to boils and tumors to hasten ripening.
Also used for headaches and stomachaches.
Bark is used as antidyspeptic and as febrifuge.
Powdered bark used for mouth ulcers.
Infusion of bark used as gargle.
The bark juice, mixed with coconut milk, is used to relieve colilcky pains.
In Java and Bengal, the bark is used as a tonic.
In Java, the bark is used for dysentery; and with pomegranate rind, used for fevers.
The bark are rubbed on the teeth to strengthen them.
Leaves used for ulcers and headaches.
The highly mucilaginous fruit is used for coughs and ailments of the chest, uterus and urethra. In large quantities, used as a laxative.
In Bengal, fresh fruit is used as laxative and pectoral.
In Java, fruit used for gonorrhea.
In Punjab and Cashmere, dried fruit used as expectorant.
Kernels, powdered and mixed with oil, used for ringworm.
In Pakistan, used as tonic and refrigerant; for irritation of urinary passages, alleviation of thirst and dry cough.
In Ayurveda, leaves and stem bark used for dyspepsia, fever, diarrhea and leprosy.
Others
Plant bast provides material for making of rope.
From the fruit, the white gelatinous substance is used as glue.
Fish are cooked wrapped in leaves.
In Burma, the leaves substitute for cigar wrappers.
Edibility
In India, the translucent pulp of the fruit is sweet and edible; sometimes, pickled.
In Pakistan, ripe fruit eaten raw, green, eaten as vegetable.
Studies
• Antiulcer Activity: (1) Study yielded flavonoids in all three extracts of CD tested and showed significant anti-ulcer and cytoprotective effects against gastric ulcer in rats.
• Hepatoprotective : Study of the methanolic extract of Cordia dichotoma studied its hepatoprotective action in male Wistar rats with carbon tetrachloride induced liver damage.
• Wound Healing: Study of fruit extracts of C dichotoma showed significant wound healing activity on three different models, viz. excision, incision and dead space wound models on albino rats.
• Anti-Inflammatory: Study of C. dichotoma seeds extract yielded alkaloids, glycosides, saponins, tannins and carbohydrates. Screening showed the ethanol extract and aqueous fraction of C. dichotoma possess acute anti-inflammatory activity.
• Antioxidant: Study of methanolic extract of seeds and leaves of C. dichotoma showed positive antioxidant activity in a concentration dependent manner. The activity was more pronounced in leaves as compared to seeds.

Availability
Wildcrafted.